Nimbus Nut Brown Ale
| Nimbus Brewing Company
BA SCORE
83
good
65
Reviews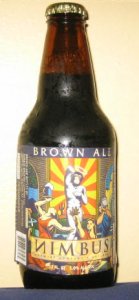 BEER INFO
Brewed by:
Nimbus Brewing Company
Arizona
,
United States
nimbusbeer.com
Style:
English Brown Ale
Alcohol by volume (ABV):
5.00%
Availability:
Year-round
Notes / Commercial Description:
No notes at this time.
Added by mzwolinski on 11-23-2002
Reviews: 65 | Ratings: 112
3.87
/5
rDev
+6.6%
look: 3.5 | smell: 4 | taste: 4 | feel: 4 | overall: 3.5
I moved to Tucson earlier this year, and picked up a six-pack of Nimbus Nut Brown Ale because the wiggy artwork on the carrier caught my eye, and I noticed that it's a local brew. Whenever possible, I like to support local micro-breweries, and so I bought this beer. Glad I did; it's a winner!
As stated, it's a nut-brown ale, with just a hint of coppery red. Pours out smoothly, and produces a tan head about 1.5 inches high. Smell and taste are rich and slightly fruity. It's a bit thick and rich for long sessions, but certainly worthy of an occasional quaff. I'll be buying this again, although not on a regular basis.
Update, June 2009: I still like this beer, but now buy the Nimbus Monkeyshine more frequently.
★
720 characters

3.58
/5
rDev
-1.4%
look: 4 | smell: 3.5 | taste: 3.5 | feel: 4 | overall: 3.5
Appearance – 12 oz bottle obtained in a trade with Gueuzedude. Poured into my snifter, it has a white two and a half finger head. The beer itself is dark brown with a ruby hue when held to the light. Nice rings of lacing and acceptable head retention.
Smell – An unusual smell that I was not expecting. Fruity and floral more than anything, but there is an aroma I just don't recognize. There is also some bitter coffee in the aroma.
Taste – The flavor is similar to the smell, but with a lightly toasted aspect. Sweet, but balanced by some earthy hops and some roasted grains.
Mouthfeel – Medium body with medium carbonation.
Drinkability & Notes – A solid brown ale, personally I prefer my browns more to the nut end than the ester end. But, definitely a drinkable version.
★
793 characters
3.76
/5
rDev
+3.6%
look: 2 | smell: 3.5 | taste: 4 | feel: 4 | overall: 4
Great label art! Thanks to Gueuzedude for the sample.
Boy beer. Initially poured all foam. Excessive head, but wonderful amber of red, clear. Great color.
Fairly deep malt character pushing chocolate in the aroma. Also a light fruity quality.
Malt dominates the flavor, but character is fairly subtle. Slight roast, moderately dry with very little bitterness. Nice flavor profile.
Nice feel. Moderate carbonation and fine, which adds some fullness.
This is a nice solidly flavored beer. Not sure what's up with the excessive carbonation.
★
544 characters
4.42
/5
rDev
+21.8%
look: 4 | smell: 4.5 | taste: 4.5 | feel: 4 | overall: 4.5
A deep, dark brown with a tan head and some lacing. Wow, this beer smells great, distinctly of chocolate and coffee grounds. Taste is more of the same, an excellent roasted bitterness with some chocolatey sweetness to balance it out. I've been extremely impressed with the two Nimbus beers I've had. The Brown Ale is almost robust enough to be a porter. I really wish I had more than one bottle of this.
Many thanks to Gueuzedude for this beer.
★
447 characters
4.13
/5
rDev
+13.8%
look: 4.5 | smell: 4 | taste: 4 | feel: 4 | overall: 4.5
courtesy of my secret santa Gueuzedude,
poured a frothy tan colored pillowing head with a nice clear brown color. excellent sweet roasted/toasted grainy nuttiness, caramelly and a bit chocolatly and bready also. Decent amount of hops at first in the taste followed a very balanced and drinkable mouthfeel. decent hop character throughout this brown mostly in the taste and not in the aroma. a very nice a respectable offering here, excellent job imo.
thanks for chance Gueuzedude.
★
484 characters
3.13
/5
rDev
-13.8%
look: 3.5 | smell: 3 | taste: 3 | feel: 3 | overall: 3.5
I'm surprised I have never tried this beer before, I've seen it around but never picked it up. I think I even missed their booth at the AZ Beerfest.
Pours dark brown with a large tan head. Nice lacing.
Aroma is sweet and malty, with a faint scent of hops.
flavor is roasty,light coffee, light chocolate, light bitter.
Highly quaffable. I think I'll be trying more of their beers in the neer future.
★
411 characters
4.38
/5
rDev
+20.7%
look: 4.5 | smell: 4 | taste: 4.5 | feel: 4.5 | overall: 4.5
I really like this beer. I had it first from a bottle at Brooklyn Pizza in Tucson, but finally got it on tap at the source.
The color is a quite dark brown, maybe a bit garnet. It was kind of dark in the brewery. Like most of their beers, nice head.
Smell is pleasant and slightly nutty.
A nutty, roasted caramel flavor balances a mild bitterness and subdued hop bite.
Very very drinkable. Goes well with a variety of food (Mexican, pizza, burgers). I think this is a good "gateway" beer for your macro friends.
★
525 characters
3.85
/5
rDev
+6.1%
look: 3.5 | smell: 3.5 | taste: 4 | feel: 4 | overall: 4
Had a strange sour intial smell to it, one I wouldn't associate with a dark brew. That disappeared and gave way to a soft chocolate aroma. First taste was cocoaish and roasted malt, very nice texture, seemed to want to go dry, but a little sweetness emerged with each sip, like there might be honey in it.I'll buy it again.
★
323 characters

3.75
/5
rDev
+3.3%
look: 4 | smell: 4 | taste: 3.5 | feel: 3.5 | overall: 4
This beer smells like a roasty porter. It is dark brown in color, with notes of deep red when it is held up to the light, quite clear as well. It is topped by a cream to tan head. This beer tastes very malty up front (roasted malt flavors), and finishes with a bit of harsh roast malt graininess / astringency. I've always felt that this nut brown was a bit out of balance, perhaps it would be a bit better as a light porter. This is a light bodied example, though it does have a solid malt mouth feel to it. No real detectable hop presence, which is fine. If you like your brown ales with a fairly strong roast character then this is the beer for you.
★
652 characters
3.68
/5
rDev
+1.4%
look: 4 | smell: 3.5 | taste: 3.5 | feel: 4 | overall: 4
Dark brown color, medium white foamy head. Aroma is nutty and sweet. Medium bodied nut brown ale. Roasted malts are nutty and sweet, touch of fruit. Hops are slightly spicy. Mouthfeel is full and round. Finish is crisp and clean. Aftertaste is slightly bitter
★
259 characters
3.6
/5
rDev
-0.8%
look: 3.5 | smell: 3.5 | taste: 3.5 | feel: 3.5 | overall: 4
Originally sampled on 16 May 2003. Nimbus Nut Brown Ale has a nice roasty/toasty aroma with an opaque brown color and a large tan head. The flavor is lightly with a very pleasant nutty taste. It has a a edium body. This is a quite drinkable beer. thanks beerguy101
★
264 characters
3.5
/5
rDev
-3.6%
look: 3.5 | smell: 3.5 | taste: 3.5 | feel: 3.5 | overall: 3.5
Ahh Nimbus. The people with probably the worst brewery web site ever (as of the time of the review at least)…
Nimbus Brown Ale really actually looks brown. So many brown ales look black, or even reddish in normal light. Of course, a bright light can tease some red through the dark body, but ambient room lighting reveals a truly brown beer, juxtaposed aesthetically well below a tan head that fades a little faster than I would have hoped. A moderate aroma of dry, chocolate malts and highly roasted coffee beans sets the stage for a roast-fest, which is exactly what this beer offers. I drank a lot of this beer while on my recent Tucson visit and I was impressed with the roastiness I got. It's not so much chewy, or sweet, or toasty, or even burnt, like a Dry Stout. This one is just roasty. It tastes like the skin on a well roasted marshmallow—the kind that DIDN'T catch on fire. The chocolate malt in the aroma becomes increasingly pronounced as the beer warms. The flavor driven by this particular ingredient expands right along with the rising temperatures, lending the characteristic earthy dryness. Slowly, the dryness becomes pretty intense, even as the sweetness builds the closer to room temp the liquid gets. The hops are very understated—sweetness mitigators only.
I'm all for brown ales. In fact, I think they're an under-appreciate style that I wish brewers would put more effort into, as opposed to brewing one because they think they should. However, this brown ale is not in the style that I really like: it was not quite sweet enough, and the apparently high % of chocolate malt in the grist created a fairly overwhelming presence in the finished beer. In fact the dry earthiness began to border on metallic. Still, this was a good beer. If I were of the ilk that craved chocolate malt earthiness, I would actively search this beer out. It's not flawed, it's just not my style. Therefore, I won't penalize it sharply it for it's chosen flavor characteristics, which I personally believe lend a slight harshness to the overall character of the beer.
★
2,087 characters
3.5
/5
rDev
-3.6%
look: 3.5 | smell: 3.5 | taste: 3.5 | feel: 3.5 | overall: 3.5
Pours a clear dark brown, the head is light chocolate, frothy, long lasting, with decent lace. Nose is nutty sweet, malt, caramel, the front is sweet, and the top is middling in its feel. Finish is moderately carbonated, somewhat dry, well hopped, and a quite drinkable beer. A middle of the road "Nut Brown", drinkable and worth a try but may be a bit too sweet for many as it was for me.
★
389 characters
3.58
/5
rDev
-1.4%
look: 4 | smell: 3.5 | taste: 3.5 | feel: 3 | overall: 4
I don't normally remark on the packaging, but it appears that they have their own unique shaped bottle with an "nb" raised in several places around the neck. Very distinct with a nice label as well! A slightly hazy, deep russett body is topped by a full, big-bubbled foamy head that holds exceptionally well and leaves nice lace throughout the glass. The aroma is perfumy - floral but also soapy - over a mildly nutty malt. The body is medium/light but a somewhat aggressive carbonation foams up in the mouth giving it a larger impression. The flavor is softly malty with some light caramel and chocolate, as well as a good amount of grassy and earthy hop flavor. It finishes dry with some astringency and a lingering earthy hop flavor - and another touch of the soapiness initially found in the aroma! Personally, I also found the full level of carbonation a bit unsettling as it masked some of the subtler malt flavors, and I couldn't really enjoy the beer until it settled down a bit. Not really worth the effort although the label was nice!
★
1,044 characters
4.22
/5
rDev
+16.3%
look: 4 | smell: 4.5 | taste: 4 | feel: 4 | overall: 4.5
Dark brown in color with a two finger, creamy head which persists all the way down, leaving a nice lace along the glass. Bit of sediment at bottom of bottle. Aroma is intensely nutty, with just a bit of caramel. Mouth is malty and sweet. Fairly well-carbonated and gives the impression of being medium bodied, though it becomes more full as the beer warms and the carbonation settles. Slightly dry finish and subtly hopped, with a very pleasant nutty aftertaste.
★
462 characters
Nimbus Nut Brown Ale from Nimbus Brewing Company
3.63
out of
5
based on
112
ratings.