Fred - Golden Special

Brouwerij De Molen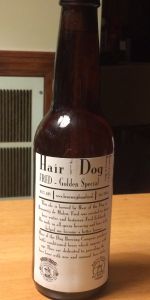 Write a Review
Beer Geek Stats:
| Print Shelf Talker
Style:

ABV:

10.7%

Score:

87

Avg:

3.95

| pDev:

7.09%

Reviews:

9

Ratings:

From:

Avail:

Retired (no longer brewed)

Wants

Gots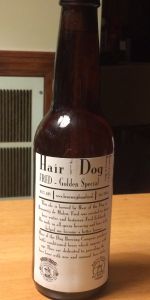 Notes: Collaboration with Hair of the Dog Brewing Company

joaopmgoncalves from Portugal
4.36
/5
rDev
+10.4%
look: 4 | smell: 4.25 | taste: 4.5 | feel: 4.5 | overall: 4.25
Poured to an Ora et Labora taster.
A: The body is coppery with a hint of red and brownish. The head pretty much doesn't exist having literally no existence, no retention nor lacing. But that's not a bad thing on this style.
S: The aroma is incredible of a barleywine that was poured tons of honey on it. There's also some belgian candi on it.
T: The taste is incredible, having a big sweet front of honey, belgian candi, malt sweetness and just a minimal flower-y profile. It's delicate and delicious. In the back, it softens to a brilliant and crisp finish.
M: Body is medium to high having some licquor-y touch. Sweetness is high. Alcohol is not unnoticed but it's smooth. Finish is great.
O: This is the first beer that I have where Hair of The Dog has laid their hands on. Great experience so far.
Jan 17, 2018

mothman from Minnesota
4
/5
rDev
+1.3%
look: 4 | smell: 4 | taste: 4 | feel: 4 | overall: 4
Golden color with white head and lace.
Has a herbal and fruity sweeetness flavor. Honey and blossoms. Some odd spices show, but in a good way. Belgian candy syrup. Sweet malts.
Medium bodied. Lively carbonation.
A very flavorful beer. Enjoyable golden ale.
Nov 27, 2016
Phyl21ca from Canada (QC)
3.95
/5
rDev 0%
look: 3.5 | smell: 4 | taste: 4 | feel: 3.75 | overall: 4
Bottle: Poured a hazy golden color ale with a small foamy head with light retention. Aroma of sweet malt notes with light apricot notes and residual sugar is quite nice. Taste is a nice mix between some sweet malt notes with some alcohol and apricot with some pale butterscotch notes. Body is about average for style with good carbonation and some warming alcohol notes. Enjoyable and well balance nightcap.
Nov 25, 2016

Hat_Fulla_Beer from Canada (AB)
3.77
/5
rDev
-4.6%
look: 3.5 | smell: 4 | taste: 3.75 | feel: 3.5 | overall: 3.75
330ml bottle poured into tulip.
Pours a murky orange with a thin ring of head around the edge of the glass. Lots of floaties.
Smells of toffee pudding with raisins, dried dark fruit with honey, sweet orange zest, noticeable alcohol and perfumed floral hops.
Tastes of more raisin toffee and honeyed fruit, spicy stewed orange slices, warming booze and more mild bitter hops.
Feels soft and sticky. Full bodied with light carbonation. Finishes dry.
Verdict: Recommended, but not really worth the price.
Aug 14, 2016

mattsander from Canada (AB)
3.05
/5
rDev
-22.8%
look: 3.75 | smell: 3 | taste: 3 | feel: 3 | overall: 3
Leave it to De Molen to somehow worsen Hair of the Dog's QC standards, this is insanely oxidized and was a drain pour for us. Tried 2 bottles. It is carbonated to some degree.
Mar 30, 2016

LiquidAmber from Washington
4.24
/5
rDev
+7.3%
look: 4 | smell: 4.25 | taste: 4.25 | feel: 4.25 | overall: 4.25
Poured into a Gulden Draak tulip. Pours a hazy caramel orange with a 1/8" white head with good retention and light lacing. Aroma of caramel malt, dark and light stone fruit, hints of orange and toffee. Flavor is candi and caramel malt, apricot and peach, hints of orange and grassy hops. Finishes with more robust citrus and grassy hops and a light spiciness, perhaps coriander, although it may be the hops. Nice medium to heavy body with peppery carbonation, a bit surprising because it poured with little overt carbonation from the bottle. A lighter take on an English barleywine style, with more light stone fruit than the typical darker ones, like plums. Bright candi and caramel malt base with a pleasant light hopping in the finish. I doubt I can find another of these to age, but I do wonder how it would compare to an aged darker fruit barleywine. HotD Fred has a much more traditional English barleywine aroma, with the same light fruit, but also hints of plum and more dates and figs; much more caramel. Flavor follows, with a mixture of light and dark stone fruit, dates, rich caramel malt with toffee notes, much less noticeable hopping, although there is a lingering light grassy hop aftertaste. I liked both of these a lot, but in a blind taste, I'd never guess that they were the same beer brewed to the same formula. The De Molen Fred is much brighter with light fruit flavors, great carbonation and American style hopping. HotD Fred seems to have a much more English profile, with dark fruit and caramel and some uncharacteristic hopping, but not as much as in the De Molen. The ABV was very well coverd in the De Molen, but the HotD was slightly boozy. Both are great fresh and invite cellaring for a few years. Well done.
Mar 21, 2016
StonedTrippin from Colorado
3.94
/5
rDev
-0.3%
look: 3.75 | smell: 4 | taste: 4 | feel: 4 | overall: 3.75
having never had the hair of the dog version, its impossible to say whether or not this is much like the original, but i love both of these breweries, and i love de molen as much as anyone, so i was happy to see these come around here in colorado. fun stuff, really strong, but maybe a little below my expectations. sort of a hard beer to classify, outside of the useless "strong ale" genre. it has belgian elements, particularly on the yeast front, definitely less de molen in that regard than anticipated, the yeast in their beer is always so distinct, and this is different for sure. the grain is strong and sweet and thick, mostly barley im sure, but if there was wheat or oats in here i wouldnt be surprised, it has a lot of body. seems a little messy to me really, between all the sugar and the booze, sort of like a deconstructed tripel or something, its good, but its not perfect. the booze is distracting, seems like it would have done better at 8% abv really. i also know these beers are designed by hair of the dog to age, so perhaps it needs a little time. i was surprised to see all the carbonation, i thought beers like this and adam were intentionally flat. maybe they were done slightly differently at de molen. this seems to have parts of both breweries, but maybe not their best parts. worth picking up, but it makes me more thirsty to try the original than anything else. still real excited to try the others in this series!
edit: turns out it just doesnt do all that well when its warm. its amazing when its a little cooler than it was when i had it the first time, frothy and less boozy, really distinct and delicious. sort of an old ale i guess in terms of style, i appreciated it a lot more with a little chill. boosting a few scores to reflect the cooler (slightly older) version of this. perhaps a few months downstairs has brought it together, although this feels more drastic than i imagine would be likely for just a couple of months...
Mar 04, 2016
biboergosum from Canada (AB)
3.74
/5
rDev
-5.3%
look: 3.5 | smell: 3.75 | taste: 3.75 | feel: 3.75 | overall: 3.75
330ml bottle - looks like they kept with the ode to Fred Eckhardt with this re-brewing effort.
This beer pours a slightly hazy, bright medium copper amber colour, with one rather skinny finger of weakly puffy, somewhat bubbly, and mostly caked dirty white head, which leaves a bit of pinprick star pattern lace around the glass as it quickly blows off.
It smells of bready and doughy caramel/toffee malt, some edgy rye graininess, mixed dark fruits (besotted plums, raisins, and dates), estery alcohol, and tame leafy, floral, and herbal hop bitters. The taste is fairly sweet caramel and toffee up front, a bit of orange or grapefruit citrus vodka heat, some muddled earthy black fruitiness (like they've all been stewing together), more perfumed boozy notes, and a strange herbal and musty hop bitterness.
The carbonation is quite low and easy to miss in its very plain frothiness, the body a solid middleweight, and generally smooth, just that sense of mawkish alcohol warming providing a minor cloyingness. It finishes on the sweet side, the malt not stepping off the gas, while the fruit-tinged wowee juice relaxes to a certain extent.
Overall, a basic big and boozy and fruity cocktail, this one is - lots of everything to go around. Maybe the engorged ABV could have been a touch more integrated, but in the end, it's easy enough to sip away at, pondering this brave new beer world we choose to inhabit.
Feb 25, 2016

Jwale73 from Rhode Island
3.77
/5
rDev
-4.6%
look: 4 | smell: 3.75 | taste: 3.75 | feel: 3.75 | overall: 3.75
330ml bottle served in my DFH chalice. Bottled 20-07-2015 indicated in the back label. Pours slightly lighter in color than unpasteurized cider with a loose, quarter inch, frothy, off-white head that quickly dissipates into a frothy slick towards the shoulders. Nose expresses figs, toffee and fusel alcohols. Taste consistent with nose; however, there are also some light metallic notes and a light, medicinal bite at the finish. Mouthfeel is light-medium in body (but closer to light) with a mild carbonation; it could use a little more body in my opinion. Overall, it's my understanding that this is just Fred brewed at De Molen; however, having had the original Fred, I feel like this is a bit of a lesser version. The bottle says indicates a best before date of 20-07-2020; however, I don't see it holding up well in the long run. It's already seeming to express some oxidized notes.
Nov 22, 2015
Fred - Golden Special from Brouwerij De Molen
Beer rating:
87
out of
100
with
22
ratings