Hel & Verdoemenis - Bruichladdich BA

Brouwerij De Molen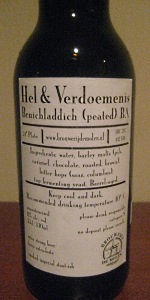 Write a Review
Beer Geek Stats:
| Print Shelf Talker
Style:

ABV:

11%

Score:

91

Avg:

4.15

| pDev:

10.36%

Reviews:

10

Ratings:

From:

Avail:

Retired (no longer brewed)

Wants

Gots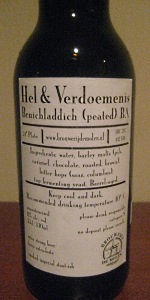 Notes:

kitch from Hong Kong
4.43
/5
rDev
+6.7%
look: 3.75 | smell: 4.5 | taste: 4.5 | feel: 4.25 | overall: 4.5
A 330ml black waxed bottle, bottled on 19th August 2015, with a best before date of 19th August 2040. Poured into a snifter glass.
Appearance: Black in colour with no head and no lacing.
Aroma: Sweet dark malt, chocolate, coffee, light peat, leather, smoke, whisky.
Taste: Sweet dark malt, whisky, light peat, smoke, coffee, chocolate, caramel, with hints of vanilla.
Mouthfeel: Medium to full bodied with soft carbonation.
Overall: An enjoyable RIS with good balance of peat, that doesn't overwhelm the nice chocolate and coffee flavours. I tried the brett version of this just before opening this bottle, and did not understand the brett. This was just so much better without the brett.
Jan 29, 2021
josanguapo from Spain
2.29
/5
rDev
-44.8%
look: 3 | smell: 2.75 | taste: 2 | feel: 2 | overall: 2.25
De Zombier. En copa Teku. Viendo Umbrella Academy 1x04. Cuerpo ligero pero con presencia de alcohol y una mezcla entre ahumado y ligera acidez que no mola mucha y oculta las notas a madera
Mar 13, 2019
Everydayoff from Thailand
4.18
/5
rDev
+0.7%
look: 3.5 | smell: 4.25 | taste: 4.25 | feel: 4 | overall: 4.25
330ml bottle poured into a snifter. Bottled 08/15, consumed 12/17.
It pours opaque black that mixes with some deep brown hue without head but just some bubble popping up and quickly gone with just some trace of lacing on the glass-side.
Heavily peaty in the aroma with notes of smoke, peat, and toasted woody barrel. Also there are notes of dark malt, dark bread, some roasted sour, caramel, mild chocolate, some cocoa powder, and some spicy whiskey-like.
The taste is still big and bold with loads of peaty smoke and toasted woody barrel. Roasted malt provides slight sourness along with dark malt with its dark bread, some chocolate, caramel, and sweetness. It is sweet but not cloying. Alcohol is concealed with just a hint of spiciness.
Pretty big body but not that so sticky with low carbonation through the palate, the mouthfeel is quite smooth and luscious while the finish is wet at first before turning to semi-dry at the end.
This is pretty straightforward peaty big Stout with so much to offer for the sake of deliciousness. Alcohol is well hidden making it to be good sipper.
Dec 24, 2017
jrenihan from Canada (ON)
4.09
/5
rDev
-1.4%
look: 3.75 | smell: 4 | taste: 4.25 | feel: 4 | overall: 4
You have to like the Islay malts (I do), but this is quite a nice BA stout. The scotch comes through strongly but there is minimal heat. Very smooth for 11%.
Sep 30, 2017
Phyl21ca from Canada (QC)
4
/5
rDev
-3.6%
look: 4 | smell: 4 | taste: 4 | feel: 4 | overall: 4
Bottle: Poured a pitch-black color stout with a nice small dark brown foamy head with light retention and minimal lacing. Aroma of peat notes with some light roasted malt with some light residual sugar notes also noticeable. Taste is a mix of peat malt notes with roasted malt with some black chocolate notes with light warming alcohol notes. Body is full but not as creamy as I was expecting. Nice presence of peat notes as I was expecting but body was slightly thinner than what I am used from this brewery.
Sep 28, 2017

Marius from Netherlands
4
/5
rDev
-3.6%
look: 4 | smell: 4 | taste: 4 | feel: 4 | overall: 4
33cl bottle, at home. Pitch black pour, thick and oily, with a thin tan head that is slow to rise to the surface. Smells of peated whiskey, smoke, cherries and chocolate. The taste follows the same notes. Full bodied, low carbonation, smooth mouthfeel and with a smokey bitter-sweet aftertaste.
Nov 11, 2016
StonedTrippin from Colorado
4.55
/5
rDev
+9.6%
look: 4.5 | smell: 4.5 | taste: 4.5 | feel: 4.5 | overall: 4.75
nothing beats the best de molen beers, and this is without question one of their best i have ever had. just so high on these guys right now, nobody is doing what they are, and the execution of everything is so impressive. this is a huge imperial stout type aged in scotch whiskey barrels, and seems to have a brett element to it, intentional or not. i know they sometimes do brett editions of things, and i reckon this is one of them, although i do not see a separate listing for that here. this is one of the more complex beers i have had this year, so stoked on it. it is dark chocolate brown, thick and soft, almost nitro looking with the creamy lighter brown head, pretty beer, gentle looking. it smells like roasted coffee, leather and freshly lit cigar, molasses, raisin, oak smoke, wet peat, booze, drying farmhouse yeast qualities, warming alcohol, and coziness. the flavor is a lot like that, just coming in these beautiful complex layers that ebb and flow with one another. meaty, leathery, smokey at first, smooth and sweet and chocolaty and rich after that, raisin and bran muffin and caramel too, the scotch barrel and the weird yeast really take the lead at the end, some bitterness from the roast, unbrewed coffee beans, but also some drying bretty funk balanced by smoked whiskey, mature oak, and plenty of alcohol. its amazing how much this barrel and this yeast change the base beer, i wonder how long its been in there and if the wild yeast elements are intentional or not, they have to be right? so smooth and big on the palate, so complex. this is one of the most distinctive and memorable beers ive had in a real long time. absolutely top quality!
Sep 20, 2016
SABERG from Massachusetts
3.96
/5
rDev
-4.6%
look: 4 | smell: 4.25 | taste: 3.75 | feel: 4 | overall: 4
Enjoyed on draft at Armsby Abbey, poured into a 10 oz tulip
L - Black as can be, very little in cap, the light that enters is consumed.
S - Cocoa, vanilla, dark fruit, alcohol, phenolic on the nose, huge roast notes.
T - Follows the nose a bit, the barrel comes through in wave after wave, first the base beer, then dark fruits
bakers chocolate and the barrel rolls in. Scotch edges, not to be trifled with. Alcohol is up front and never leaves.
M - Thick, complete coating, amazing in body, the gentle carbonation guides toward a long finish.
O - An undeniably robust stout, the scotch barrel adds sharp elements, but the combination may not be better than the components.
Cheers
May 09, 2016

Jugs_McGhee from Louisiana
3.5
/5
rDev
-15.7%
look: 3.5 | smell: 3.5 | taste: 3.5 | feel: 3.5 | overall: 3.5
A De Molen Hel & Verdoemenis variant aged in barrels formerly used to house whisky from my favourite Scotch distillery? Sign me up! Okay, it's not Octomore or Port Charlotte - but apparently those variants exist as well. Props to De Molen for picking a great Scotch barrel...now let's see how it drinks.
BOTTLE: 6.50 euro @ De Kaapse in Rotterdam. "Hel & Verdoemenis Bruichladdich (peated) BA." 330ml. 11% ABV. Bottled 19/08/15. Best before: 19/08/40. Brown glass. Unbranded black wax-ed over pry-off crown cap.
Hopped with Saaz and Columbus. EBC 297. 102 EBU.
Upon removal of the cap, it's evident this bottle is damn near overfilled - the beer is practically to the brim.
HEAD: Foamy and frothy. Khaki colour. Good thickness. Lumpy uneven consistency. Leaves no lacing as it recedes. Retention is actually nice for the high ABV - ~4 minutes at best.
BODY: Opaque black. No yeast particulate can be seen within. A true ink-black/jet-black; no light gets through this one at all.
It's a nice look for a barrel aged imperial stout, but the head could be darker and more vibrant, with a better complexity. It could also be longer lasting.
AROMA: Hello, Scotch. Peat punches through in all its glory - sure, more would be wonderful, but this is mere Bruichladdich, not Octomore. Wood barrel. Scotch-y smoke.
The barrel character - robust beast that it is - eclipses the base entirely. If you blindfolded me, I wouldn't pick up on the dark malts, chocolate malts, and additional nuances that I'm must lurk beneath the surface (having tried the base beer myself, and being familiar with the style).
Aroma does tend towards the bitter end, but if that is what it takes for the peat to come through, I'm fine with that.
Aromatic intensity is average.
TASTE: Bruichladdich Scotch is marvelous here, but where is the base beer? Peat, faint smoke, wood barrel (I wouldn't call it recognizably oak, and there's no toastiness or richness to it). No whisky spice or bourbon nonsense (e.g. vanilla, coconut). The base barely pokes in at all...okay, some generic dark malt sweetness, sure, maybe some light chocolate malt, but nothing else. How disappointing.
It's worth noting that the alcohol is barely noticeable - which is damned impressive at 11% ABV. I'm reticent to call this balanced given the barrel completely overwhelms the base beer, but it isn't badly built for a barrel aged imperial stout; at least the barrel is recognizable, and I'd argue most discerning drinkers (of beer and whisk[e]y alike) could distinguish Scotch as the barrel, and experts might even suspect Bruichladdich as the distillery given its peat flavour.
Not the world-class imperial stout I hoped for having tried the wild turkey variant amongst others, but still likable for what it is. Depth of flavour could be better. Flavour intensity is below average for an imperial stout. Flavour duration is average.
TEXTURE: Slightly rough on the palate from the peat. Oddly thin up front, yet somehow thick and viscous in the body and towards the back end before abruptly thinning out again. That unevenness is strange, and doesn't work in the beer's favour. Well-carbonated - perhaps perfectly so. Full-bodied. Smooth and slightly dry. Dryness is especially pronounced about the finish, which has a nice effect of naturally encouraging the next sip - if only to resolve one's parched palate.
There's no perfect harmony of texture and taste here, but the mouthfeel is a nice change of pace from the increasingly porter-like smooth wet textures we're seeing in predominantly American beers in this style. Not a return to form, but a start towards one perhaps.
OVERALL: Likable stuff, but not the mind-blowingly good brew I hoped for given the combination of probably my favourite De Molen beer and my favourite distillery. I'm hoping the Octomore/Port Charlotte is better (and peatier, if that's a word). This isn't worth 6.50 euro a bottle by a long shot, but as a Bruichladdich devotee it's nice to see a brewery using their barrels. I guess it's better that this isn't excellent - I'd hate for the word to get out and then all of a sudden I'd find it impossible to buy Bruichladdich Scotch (or for Bruichladdich barrels to become the next craze like Pappy barrels currently seem to be). I do applaud the infrequent motor oil-like mouthfeel, which is a special treat - and a throwback to the style's origins.
In spite of its many flaws, its central Bruichladdich Scotch flavour is just too irresistible.
High B- (3.50) / WORTHY
Mar 26, 2016
biboergosum from Canada (AB)
3.96
/5
rDev
-4.6%
look: 3.75 | smell: 4 | taste: 4 | feel: 3.75 | overall: 4
330ml black wax sealed bottle, an Imperial Stout aged in Bruichladdich distillery barrels - the label unnecessarily including the word 'peated' in the title.
This beer pours a solid black abyss, with the barest of basal cola edges, and one very skinny-ass finger of wanly foamy, and mostly just bubbly brown head, which leaves a bit of low-lying mitochondrial lace around the glass as things slowly subside.
It smells of acrid smoked peat (vegetal, briny, and meaty), bittersweet chocolate, roasted caramel malt, a subtle earthy nuttiness, tar, black licorice, and a small metallic booziness. The taste is gritty and grainy medium cocoa nibs, lightly toasted caramel malt, a softer biscuity toffee sweetness, weirdly tame peaty whisky notes - mostly vegetal, with only a suggestion of smoke - chewing tobacco, cafe-au-lait, a hint of burned rubber, and more well-behaved alcohol 'warming'.
The carbonation is quite understated in its meekly applied frothiness, the body on the heftier side of yer typical middleweight, and way, way more smooth than it has any right to claim, given the production parameters. It finishes off-dry, the roasted character of the choco-malt starting to really give the Islay barrel smoke a run for its palate-prickling money.
Ok, so I set out to evaluate this offering as if I actually liked the style of whisky barrel used, which, of course, I do not. Turns out that I didn't have to, as the Scottish seacoast character (for all its, um, 'charms' when distilled into a beverage) is rather quiet in its so-called peaty nature here. In the end, easy to drink, with only a mild smokey dram sideshow.
Feb 15, 2016
Hel & Verdoemenis - Bruichladdich BA from Brouwerij De Molen
Beer rating:
91
out of
100
with
27
ratings