Borefts Stout
| Brouwerij De Molen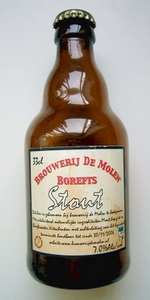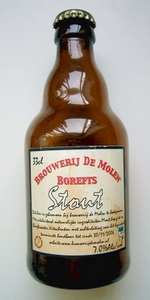 BEER INFO
Brewed by:
Brouwerij De Molen
Netherlands
brouwerijdemolen.nl
Style:
Foreign / Export Stout
Alcohol by volume (ABV):
7.00%
Availability:
Limited (brewed once)
Notes / Commercial Description:
No notes at this time.
Added by paterlodie on 05-05-2006
This beer is retired; no longer brewed.
HISTOGRAM
Ratings: 9 | Reviews: 7
Reviews by johnnybravo:
3.98
/5
rDev
+7%
look: 4.5 | smell: 4 | taste: 4 | feel: 3.5 | overall: 4
I had this stout bottled and on tap several times. It really is a deliceous beer that asks to be drank again. It's a stout and it has all you'd expect from one. Black color, light brown firm head, good lace in the glass. Light sweet, bitter, roasted, coffee en well hopped. Especially for a Dutch stout it's exceptional and exceptionally good.
343 characters
More User Reviews:


3.11
/5
rDev
-16.4%
look: 2 | smell: 3.5 | taste: 3 | feel: 3.5 | overall: 3
The Stout speeds out of the bottle and just made it to the glass because it was close by. The head is enormus with very large bubbles.
The aroma is sweet, with hints of molasses and of high alcohols and overwelming CO2 gasses.
The taste is full bodied and quite sweet, dark roasted malts balances the taste. In the aftertaste the dark malts dominate. tones off liquorice. Less alcoholic than other export stouts, that makes the sweetness more dominant in the taste.
466 characters
4.32
/5
rDev
+16.1%
look: 4 | smell: 4.5 | taste: 4.5 | feel: 4 | overall: 4
A black, dark ruby red color with a small head, which sticks to the glass.
Smell is nice, burned malt, with some liquorice notes, very mild and clean yeast profile.
Taste of malt with burned malt and liquorice, with some roasted malt and maltbitterness. The beer is sticky and has a full body. Drinkability is near perfect.
What seperates this from other stouts, is it's deep taste, while still being very drinkable and mild. This comes close to the perfect stout.
475 characters
3.47
/5
rDev
-6.7%
look: 3 | smell: 3.5 | taste: 3.5 | feel: 3.5 | overall: 3.5
BB 30-11-2006. Litle of presence cause of mahony collored beer but with a nice thick and quiet well lasting beigebrown head. Nose has good maltchocolate, creemy and bit sweetmustycaramellic. Taste is burnt and sweetbitter with good alcoholnote and sour touched ending. Mouthfeel is full but missing some creamy touch for a stout. Good drinkable beer, full of taste.
365 characters
3.06
/5
rDev
-17.7%
look: 4 | smell: 3 | taste: 3 | feel: 3 | overall: 3
Found at Bert's Bier Huis in Utrecht, Holland.
APPEARANCE: Dark brown with some carbonation evident. Creamy off-white medium sized head. Some bubbles visible at the top, but no popping. Dissipates to a thick film, which persists, and there's some lacing left down the sides. I'd like it to be a little darker for a stout, but a decent looking brew.
SMELL: Malt barley. Some dark fruits and raisins mostly. Pretty average.
TASTE: Malt barley again and some alcohol is evident. Strong, but no real bite. The Dutch have something called "sweet wood," and there's a bit of that there as well. Cedar maybe. Dark fruits, like a Belgian double. Bitter aftertaste.
PALATE: Pretty dry. Medium body and medium smoothness. The medium carbonation is appropriate as well.
OVERALL: Drinkable beer. Reminds me more of a Belgian dubbel as opposed to a stout. Enjoyable beer, but average at best. I wouldn't go look for it.
916 characters
3.82
/5
rDev
+2.7%
look: 3.5 | smell: 4 | taste: 4 | feel: 3.5 | overall: 3.5
Dark-brown in colour with deep-red shades, a big but readily shrinking head and plenty of carbonation.
Sweetness in the nose is both like fruit and molasses and chocolate too. The aroma is also slightly pungent and roasted, hoppy as well. Yeast cannot be missed either.
The taste is bitter and burnt (like espresso) and has a dry, nutty character (especially towards the finsih). A salty, licorice note is defining as well.
Mouthfeel isn't as creamy as I expected; much rather it is fizzy and somewhat thin.
I don't feel that confident in saying much about the beer's style or stout interpretation. But it seems to be moving in the direction of the darker and stronger (my bottle states an ABV of 7,7%) Belgian beers (like Rochefort) and utilizing this to come up with something new. Tasty!
796 characters
4.03
/5
rDev
+8.3%
look: 4.5 | smell: 4 | taste: 4 | feel: 4 | overall: 4
Purchased at the foreign beer bar, Catford Beerfest, SE London, early May 2006. Bottle-conditioned, it comes in a 330ml, short-neck, classic Belgian brown bottle. BB 30/11/2006, served cool in a large Burgundy bulb wine glass.
A: very elegant appearance--dark ruby hue with a 2cm thick off-white creamy head, with superb retention and the residual thin carpet on the top never breaks; seen against light, the carbonation is very lively, nearly fierce~~
S: sweet chocolatey note, faintest hint of roast malts, plus a welcomed sour-sweet nutty edge of roast nuts; after swirling, a hallmarked Belgian dark ale's fruitiness (sticky black-plum preserve) and perfumy brown-sugary note, with considerable input from yeasts, expands in the air. Overall the aroma is better than most Belgian/Dutch breweries' attempts at Stouts--not too sweet and rather balanced.
T: mildly roasty-bitter, rough and chewy nutty, and faintly chocolate-malty upfront... quickly leading to a profoundly dryish bitter aftertaste (more dryish than bitter) of roast malts, black sugar and licorice with lots of chewy tea-leafy hops and a subtle touch of sourness of dark fruits, very much like a good quality dryish English Mild. Rather clean finish, with a tinge of dark malts in the end.
M&D: very smoothly textured, the lively fizziness is much softened on the palate than the appearance suggests. Not quite full-bodied nor full-flavoured for a 7.0%abv. dark ale, the texture and the finishing touch are even a bit thin for a "Foreign Stout" as it's categorised here. The plus is, it's crafted more in line with a robust English Mild, as far as my limited experience is concerned, and that comes all the more pleasant and quaffable to me as a "Mild drinker" (yes, I am indeed, Rich!). Well worth a try, if not least for its different features than any kind of stout.
1,844 characters
Borefts Stout from Brouwerij De Molen
Beer rating:
3.72
out of
5
with
9
ratings