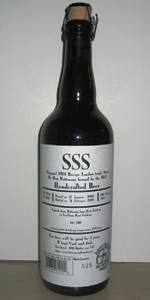 BEER INFO
Brewed by:
Brouwerij De Molen
Netherlands
|
website
Style:
Foreign / Export Stout
Alcohol by volume (ABV):
9.99%
Availability:
Rotating
Notes / Commercial Description:
"based on a 1914 London Style Porter Recipe"
Added by NEhophead on 06-22-2008
Reviews: 64 | Ratings: 115

3.7
/5
rDev
-4.9%
look: 4 | smell: 4 | taste: 3.5 | feel: 4 | overall: 3.5
750ml bottle, #340/696
*Original 1914 Recipe London tripel Stout by Ron Pattinson brewed at the Mill
*1.094-1.020, 34.7 EBU, EBC Colour 194.7, 9.99% ABV.
*Brewed on 17Jan08, Bottled on 21Feb08.
Served at just above cellar temp (I've had it there for only a few months) into an impy pint, SSS is a hazy dark, bright garnet with a creamy tan head with long last that leaves light, foamy lace. Another one of these paler dark beers from DeMolen, again in this case, I really have no idea how historically accurate it is, but I dig the ruby glow. Think brown porter.
Smell is muted but pleasant, herbal hops and a bit of roasted malt.
Taste is pretty good, smooth, for such a big stout it's not that robust. The alcohol provides a drying, bitter note, accentuated by the bittering hops and roasted malt, but otherwise, it's got a dusty cocoa flavor that is abruptly cut by the fusels that linger on the finish. There's also a pretty strong leafy, herbal hop flavor, some caramel and milk chocolate.
Mouthfeel is full of creamy carbonation, not to heavy for the size, but yeasty and a bit solvent like.
Drinkability is pretty good, but it wasn't my favorite DeMolen. Being an expensive one-off, I'm sure it's one and done, even if I'm glad I got to try it. I enjoyed the historical underpinning, but wish they had provided more back-story.
★
1,342 characters

3.68
/5
rDev
-5.4%
look: 4 | smell: 3.5 | taste: 4 | feel: 4 | overall: 3
Bought this one a year or more ago at Pizza Port Carlsbad. Finally got around to opening it.
A: The pour is very dark brown, almost black, with a short lived tan head.
S: Quite a lot of roasted malt on the nose. Some mild to moderate coffee character with a nice dark chocolate thing going on. Maybe a touch of coffee grounds, too.
T: Licorice and dark, roasted malts start things off. Some coffee flavor, but not a ton, with a touch of bitter dark chocolate. Maybe just a touch of overripe dark fruits toward the back end.
M: Medium in body with a moderate carbonation.
O: Surprisingly straight-forward for a De Molen beer, though not necessarily within the given style.
★
676 characters

3.65
/5
rDev
-6.2%
look: 4 | smell: 4 | taste: 3.5 | feel: 3.5 | overall: 3.5
A: Black and opaque and rather muddy looking with a thick foaming head; a thin head stays; wonderful lacing
S: Pine, sweet hops dominate; there is a soury funkiness that is rather unpleasant
T: A nice, roasted malt quality but there is something funky in the aftertaste; bitter and a tad watery; coffee is strong too, but the slight chemical quality is off puting
F: More thin than I would like; a bit creamy but not as much as you would want for the style
D: Decent but its strong and not as balanced as it should be which makes it a bit hard to drink lots of.
★
565 characters

3.65
/5
rDev
-6.2%
look: 4 | smell: 4 | taste: 3.5 | feel: 3.5 | overall: 3.5
2008 bottle #461 poured into a tulip.
Pours a dark brown out of the glass and sits a bit lighter than I would expect in a stout of this size, showing a deep copper when held up to light.
The aroma is pretty good, with lots of dark roasted malts, semi-sweet chocolate and some coffee. There are hints of lactose and oats as well.
The taste is slightly different with a fruit character that I didn't get in the aroma. It has a slightly metallic-like aftertaste that's not too pleasant. The chocolate becomes much more powdery with a deeply roasted malt backbone.
The mouthfeel is light to medium bodied with good carbonation and is extremely dry in the finish.
As an export stout, this one is decent, but it doesn't really hold up to the majority of impy stouts out there at the same ABV.
★
791 characters

3.62
/5
rDev
-6.9%
look: 3.5 | smell: 4 | taste: 3.5 | feel: 3.5 | overall: 3.5
1 pt 9.4 fl oz brown bottle; caged & corked.
Served in an oversized wine glass.
Bottle number: 317.
Brewed on January 17, 2008; bottled on February 21, 2008.
Deep molasses-brown in color. Carbonation-filled off-white head that settles as a thin, creamy sheet. No lasting lace to mention
Creamy, milk chocolate with hints of roasted espresso. Rough floral hops admist bitter chocolate and light toffee. Sharp, acidic hints of alcohol.
Bitter dark chocolate and unsweetened caramel. Notes of bland tea along an earthen floral hop profile. Licorice and saffron spices. The alcohol presenece is dull, but warming following the rough finish.
Full bodied; rough, earthen, and slightly dry in texture. The alcohol component adds a touch of slickness to the muddy mouthfeel.
Billed as the "original 1914 recipe London triple stout by Ron Pattinson brewed by the Mill". Certainly drinks like an export stout that is a little more bland and rough than most of the style.
★
980 characters
3.6
/5
rDev
-7.5%
look: 4 | smell: 4 | taste: 3.5 | feel: 3 | overall: 3.5
Review from notes during our blind tasting. Thanks to Bob for bringing this. Been wanting to try this for a while and was quite a surprise when unveiled.
Poured dark brown, probably a dark chocolate brown with an egg nog colored head that was rather scant. It wasn't murky but definitely not clear. Nose is booming with alcohol. Very little else, maybe a hint of roast and some dark chocolate. Let's let this sit and warm up for a bit.
Ah yes, there we are. We served it too cold. Now I'm gathering much more complexity. The aforementioned chocolate gives a nice cocoa sweetness followed by a burnt toast flavor. Then the ash. Oh man this is an ashy beer. And the alcohol is still quite prominent. It's a bit harsh and the very light body doesn't really help IMO. It's a two dimensional beer: a couple of flavors + alcohol. Good, but not great.
★
846 characters

3.52
/5
rDev
-9.5%
look: 3.5 | smell: 4 | taste: 3.5 | feel: 3.5 | overall: 3
750mL bottle poured into snifter - thanks to CarolinaKevin
Pours a browned color with some brighter almost reddish hues in the light. A layer of opaque head rests on top and retains well, leaving patchy lacing on the glass.
Cocoa powder and chocolate in the nose with some roasted malt tones. A touch of alcohol warmth with hints of dark fruit and burnt sugar. Slight mustiness as well.
Touch of hops up front, quickly swept away by some layers of malts. Roasted and warm with cocoa and dark chocolate. Almost a touch of Belgian-like yeast, which was a bit odd, but seemed to work somewhat. Warming booze towards the finish with some residual sweetness.
Fuller medium body, decent carbonation, pretty smooth and chewy on the palate. Not bad, but probably not worth the price point, and I had a hard time picking up on some of the flavors.
★
845 characters

3.46
/5
rDev
-11.1%
look: 4 | smell: 3 | taste: 3.5 | feel: 4 | overall: 3.5
2008 Vintage. Bottle number 10 of 616
Pours dark brown, settles virtually black. Tan head of a couple fingers adorns. Aroma is rich malts, roasted malts, bitter chocolate and dry cocoa powder. Slight yeast esters and maybe some stale hop notes. Taste is much more chocolate and cocoa, or even a bakers chocolate. Rather roasted and toasty. Some yeast esters and a hint of oxidation. Feel is near full, with a bit elevated carbonation, but a creamy, dry finish.
May be better fresh. Not sure I would age one the full 5 years it claims.
★
537 characters
3.45
/5
rDev
-11.3%
look: 5 | smell: 2.5 | taste: 4 | feel: 2.5 | overall: 3.5
Tons of info on the label, including "Original 1914 Recipe London triple Stout." Brewed 16 Feb. 2011, bottled 21 March 2011. Bottle # 1116 of 1182. 9.99% ABV.
Ok, this is only one of two caged beers that doesn't twist off in exactly six turns. The other was some U.S. beer. Sure the Belgians would never break such tradition. Once uncorked it offers a superbly opaque dark brown (darkest brown) liquid, topped with an absolutely gorgeous light tan head of fluffy stuff, stiff and long lasting. Sheets of mocha lace left on the glass. This thing looks legendary.
Aroma is immediately problematic. Has that stiff, coin-like whiff of something way too mineral/chemical, which masks what seems to be a very bitter roast smell. Also a bit phenolic, chemical, plastic. Uh oh.
Taste isn't as bad as the smell suggests. If you like bitter dark roast mainstream coffee (like Folgers or something) and the allure of powdered chocolate milk mixes (Quik). These are the prevailing flavors, along with a decidedly mineral snap. Alcohol plays into the taste, in a good way, giving it a nice glow that helps keep it on the enjoyable side. Pretty huge layer of smoke; raisin too. In fact, with warming, raisin abounds. Hops are definitely big, bigger than I imagine they were in 1914, betraying the citrus-y ghost of U.S. influence.
I would like this beer a little more if the texture weren't so tingly and sharply carbonated. It's smooth enough but not at all stout-ish, neither in the traditional nor amped-up super-thick American sense. Feels like a bubbly IPA of some kind. Bothers me, as this demands a much milkier texture.
Love the shit out of this brewery's Heaven & Hell (one of the best-ever stouts), but SSS is merely okay. It fails biggest in the Smell and Mouthfeel categories. It has redeeming elements too, but considering how transcendent H&H was, I'll be sipping on it with less enthusiasm than expected.
★
1,912 characters

3.38
/5
rDev
-13.1%
look: 4 | smell: 3.5 | taste: 3.5 | feel: 3 | overall: 3
On-tap at Holy Grale at their De Molen Tap Takeover Event.
A - Pours black, mocha-colored head, thin collar.
S - Dark chocolate, toasted malts, light roast, light coffee.
T - Pretty much right in line with the nose with a mix of bitter dark chocolate, toasted bready notes, malts, some coffee beans. Alcohol is well-hidden for 10%. Finish is chocolate & roast.
M - Medium body, over-carbonated, creamy finish.
O - A decent Export Stout (of some sort) but not something I'd really go after again. I didn't hate this beer, but I also didn't think it was good enough to order again or seek out a bottle of.
★
609 characters

3.18
/5
rDev
-18.3%
look: 3.5 | smell: 3 | taste: 3 | feel: 3.5 | overall: 3.5
Big thanks to Kevin for sharing this one!
A-pours a jet black liquid with a thinner light tan colored head.
S-notes of dark chocolate with a fair bit of slightly burnt coffee, sweet malts in back with notes of plums and dark cherries.
T-dark chocolate, hints of vanilla up front, ashy coffee, slightly burnt and bitter, malt sweetness with plums and dark cherries.
M-silky smooth and soft on the palate, medium body, slightly less than I would have enjoyed, with light carbonation but holds.
D-not the most fantastic stout, lacks balance in flavor and complexity but doesn't do anything wrong. that ashy bitter coffee flavor is something I find in a lot of foreign made stouts such as mikeller and I'm not a huge fan.
★
722 characters

2.87
/5
rDev
-26.2%
look: 3.5 | smell: 4 | taste: 2 | feel: 4 | overall: 2.5
Brewed August 4, 2010, bottled September 15, 2010, drank June 10, 2012.
A - amber brown light through center of glass. Off-white head is tighter than any other that I have seen.
S - mildly toasted malts, dark chocolate, dark fruit and a hint of caramel.
T - this might be off... odd bitter yeast, toasted malts, dark chocolate. The off taste goes away after a few drinks, but it is still bitter.
M - Good thickness and coating. Very mild tingle on tongue and throat.
O - I would like to try another bottle to see if the taste is the same. However as it stands it is a pass.
★
578 characters

2.62
/5
rDev
-32.6%
look: 4 | smell: 2 | taste: 3 | feel: 3 | overall: 2
Batch 2008 #194. Pours an opaque darkness with an excessive stiff light tan head that fades quickly to spotty patterns of lacing. The chalky NECCO chocolate smell seems really stale and oxidized cardboard...yuk. It tastes just like it smells...malty without sweetness the mouth feel has a tangy character. Finishes almost dry. A tough swallow..pour.
★
349 characters
2.58
/5
rDev
-33.7%
look: 4 | smell: 3.5 | taste: 2 | feel: 2 | overall: 2.5
Thanks to angrybabboon for half of this bottle.
Appearance: Black with some dark brown at the edges. Head is creamy, tan, and lingers for the duration of the drinking experience. Minimal lacing. Pours thick and heavy.
Smell: Booze, dark fruit, cocoa. Loads of booze and heat. Very sweet. Raisins for days. It almost smells like a young, and I mean young, barleywine. Caramel, chocolate, raisins and booze. I'm serious about this booze things. Are we sure this is a porter, and an English one at that? It's complex and intense, but lacks that distinct minerality.
Taste: Loads of cocoa. Raisins and of course, tons of booze. Big sweet malts and the faintest touch of grassy hops linger in the back. Cocoa-dusted raisins. Bready quality on the back. Minerality hides, but sneaks through in small amounts. Tastes like a fusion of a Belgian quad and an English barleywine. I think I'm missing something here...a porter.
Mouthfeel: Too much carbonation. Bubbly, but smooth overall. A little thin overall, and with the high carbonation, it really loses in the long run. Drinkability falls as a result.
Overall: This is not a bad beer, it's just not the beer it says it is. I'm missing something or anything akin to an English porter and the carbonation really detracts from something that might better fall in the nebulous Belgian Strong Dark Ale category.
★
1,355 characters
SSS from Brouwerij De Molen
87
out of
100
based on
64
ratings.