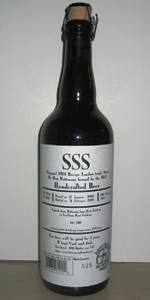 BEER INFO
Brewed by:
Brouwerij De Molen
Netherlands
|
website
Style:
Foreign / Export Stout
Alcohol by volume (ABV):
9.99%
Availability:
Rotating
Notes / Commercial Description:
"based on a 1914 London Style Porter Recipe"
Added by NEhophead on 06-22-2008
Reviews: 65 | Ratings: 116

3.98
/5
rDev
+2.3%
look: 4.5 | smell: 4 | taste: 4 | feel: 3.5 | overall: 4
Poured a fairly dark brown with a decent amount of red highlights making its way through when held up to light. Head is super huge and frothy. The craters are impressive in this brown frothy masterpeice. Smells of dark fruit and smokey. Taste super malty and musty. Hints of dark fruit and coffee. Feel is kinda thin but nice.
★
326 characters

4.3
/5
rDev
+10.5%
look: 4 | smell: 4 | taste: 4.5 | feel: 4 | overall: 4.5
Look: Dark-brown-black color with a tiny brown head.
Smell: Smoke, coffee, liquorice, soy sauce, chocolate.
Taste: The taste follows the nose; coffee, liquorice, chocolate, soysauce, spicy herbs. Not very bitter in the aftertaste, just enough to keep the beer balanced.
Mouthfeel: medium-low carbonation, medium mouthfeel
Overall: Perfectly balanced traditional triple stout. Happy that I finally tried!
★
406 characters
4.06
/5
rDev
+4.4%
look: 3.75 | smell: 4 | taste: 4.25 | feel: 3.75 | overall: 4
Easter 2014
Friend brought this over, after aging 3 of the 5 years recommended on label. Brewed 16Feb2011; bottled 21Mar2011. Bottle #814 of ?
Appearance: Stout; thick head on pouring that didn't linger too long. Bubbles were small and uniform.
Smell: Reminded me of port.
Taste: Very smooth, fruity. Not so much roast.
Mouthfeel: Thin compared to many stouts.
Overall: Very impressed. Don't know if the port characteristics would have continued to develop if aged another two years, but it hardly matters.
★
506 characters
3.83
/5
rDev
-1.5%
look: 4 | smell: 3.5 | taste: 4 | feel: 4.5 | overall: 3.5
[email protected]
Cafe
A: Dark as a black hole with a nice beige, creamy, head.
S: Darl caramel, Berries, Bitter chocolate, Coffee, Leather.
T: Chocolate, Grain, Anise, Salty licorice, Leather, Coffee.
M: Very thick and quite salty at first but gets a bit sweeter as it warms up with a nice touch of chocolate.
A good stout!
★
324 characters

2.87
/5
rDev
-26.2%
look: 3.5 | smell: 4 | taste: 2 | feel: 4 | overall: 2.5
Brewed August 4, 2010, bottled September 15, 2010, drank June 10, 2012.
A - amber brown light through center of glass. Off-white head is tighter than any other that I have seen.
S - mildly toasted malts, dark chocolate, dark fruit and a hint of caramel.
T - this might be off... odd bitter yeast, toasted malts, dark chocolate. The off taste goes away after a few drinks, but it is still bitter.
M - Good thickness and coating. Very mild tingle on tongue and throat.
O - I would like to try another bottle to see if the taste is the same. However as it stands it is a pass.
★
578 characters
3.99
/5
rDev
+2.6%
look: 3 | smell: 4 | taste: 4 | feel: 4.5 | overall: 4
this beer is lighter (in color) than expected. light penetrates all the way through the body and it is more of a really dark brown than a black. the smell is bursting with cherries and similar sweet dark fruits, though there are hints of chocolate and roasted malts as well.
the first thing i thought upon tasting the beer was that it resembles what i think a mix between a fruit lambic and an imperial stout would taste like. as the smell suggests, cherries are all over the place, accompanied by plum. there is a hint of the [almost] 10% alcohol, and some sweet, dark chocolate. a nice and smooth roasted coffee aftertaste.
the mouthfeel is nice and thick, though a little over-carbonated and the drinkability is limited to one 750ml bottle, though that is still certainly a lot.
★
784 characters
3.9
/5
rDev
+0.3%
look: 4 | smell: 4 | taste: 4 | feel: 4 | overall: 3.5
bottle thanks to greggerino...
bottled 09 May 2008, bottle number 17 of 413
OG 1090
FG 1016
EBC Colour 194.7
pours thin brown color, but once it is in the glass is a nice deep deep brown with a nice three fingers of head. bobbling around like an ice cream float. nice. MUCH better than the Hel & Verdoemenis... which is not carbonated at all.
chocolate an coffee on the nose also smells creamy. like a bit of dairy in it.
taste is very thin, coffee and bitter. It is just ok for me... had it after a piece of chocolate and it was great, but not really for me. As this warms, the roastieness is coming out more... and it is very dry, which is a nice touch. I wish it was a bit thicker, but it is an good example of its style.
NOT worth the pricetag on its head though.
for an original recipe out of 1914 London... they were not drinking too badly back then, not bad.
★
869 characters
3.98
/5
rDev
+2.3%
look: 4.5 | smell: 4 | taste: 4 | feel: 3.5 | overall: 4
A: Very dark brown when held up to the light but otherwise appears black. Generous size beige head which slowly faded. All good here.
S: Chocolate and faint coffee/roasted malt aromas.
T: The chocolate features most prominently with the roasted malts/coffee flavors in the background. At times I picked up a faint sour taste. I would never have guessed this was 10% ABV
M: Fairly light body with good carbonation.
O: Good beer but I wonder if the flavors would have been more upfront earlier in it's life.
Bottle #407 bottled on May 23, 2008.
★
547 characters
3.75
/5
rDev
-3.6%
Poured from small bottle (purchased at K&L in Redwood City, CA) into a chalice glass.
Very dark brown color. Almost no head or carbonation... possible seepage from bottle-cap, which had some weird residue?
Smell is toasty and chocolatey, but it smells slightly sour.
Taste is very peaty, toasty. Dry, but not sour. Flat mouthfeel (again, possibly from defective capping, rather than intentional). Strange but tasty enough.
★
425 characters
4.46
/5
rDev
+14.7%
look: 3.5 | smell: 5 | taste: 4.5 | feel: 3.5 | overall: 4.5
This rare beer was the last one on the shelf thank you beer gods!! The head starts off good with decent retention. The nose is very complex with hints of soy sauce and salty taffy. The taste starts with caramelized dates and brown sugar. The next wave fades into a dry spicy English hops profile. The mouth feel is medium to full body. I rated the drinkability high for good reason that this brew is 9.9% and has no heat with a smooth well balanced finish. This stout was worth the $17. Happy new year to all...
★
511 characters

4.05
/5
rDev
+4.1%
look: 4 | smell: 4 | taste: 4.5 | feel: 3.5 | overall: 3.5
It took a few minutes to let the bottle warm up, but as it opened it let off hints of molasses, soy, even a touch of fish sauce. It really put into perspective the term, umami that so aptly describes many of the stouts I've been tasting (especially since quitting cigarettes). Meaty, earthy, salty, deliciousness.
★
313 characters
3.87
/5
rDev
-0.5%
look: 4 | smell: 4.5 | taste: 3.5 | feel: 3.5 | overall: 4
2008
A: Dark brown with a 2 finger beige head
S: Nutty chocolate, mellowed dark fruits, and some sweet raisin.
T: Slight tang, cacao, muddled espresso, and some bitter resinous hopping. OK in it's own right but not too well connected. Nice chocolatey finish.
M: A bit thin and highly carbonated.
D: An easy drinking FES for the ABV and some good flavors but price and slight tang would deter me from seeking this out again.
★
431 characters
4.12
/5
rDev
+5.9%
look: 4 | smell: 4.5 | taste: 4 | feel: 4 | overall: 4
Written on the bottle: "Original 1914 recipe London-style stout by Ron Pattinson brewed at The Mill". Bottle #107
To the eye the beer is very dark brown, black almost, and carries a rather big and lasting brown head that leaves some nice lace. Some miniscule carbonation is visible.
To the nose the brew manifests a roasted and caramelized whiff of malts, slightly chocolate-like and very fruity (plum). Still dominantly a salty, rather than a sweet smell -- it almost reminds me of an Indonesian dish or maybe of strong tea. Hops give a nice supporting performance.
To the palate, flavours of sugary sweetness and sourness are balanced out just right, with a very dry and slow finish and a herbal hop accent in the background. A beautifully composed taste in which the alcohol is hardly noticeable. The beer's body might be a little thin for a stout and could have been a bit more creamy. But it still is an enjoyable drink with the proper amount of carbonation (especially pleasing considering the flatness of some other beers from this brewery).
I don't know all that much about stouts, much less about any "original recipes". I do know that I enjoyed this one very much and I consider it one of the better beers from De Molen.
★
1,234 characters

4.17
/5
rDev
+7.2%
look: 3.5 | smell: 4 | taste: 4 | feel: 5 | overall: 4.5
Bottle #280 bottled on 09-May-2008 and received from theminutemen.
Appearance: A light pour into my Spiegelau tulip yields a ton of head. The cork came off with a loud pop, but I wasn't expecting quite this much carbonation from something bottled in 2008. The head tops a very dark liquid that appears black, but when held up to the light, reddish hues seep around the edges. Decent head retention caps off a very interesting beer.
Smell: This beer smells like a chocolate covered espresso bean. Large amounts of sweet chocolate and vanilla malts are present tempered slightly by a coffee bitterness. Can barely pick up the earthiness of the UK hops, but there is a definite breadiness and a bit of toasted notes that are discernable.
Taste: The nose did not disappoint as I'm picking up all kinds of sweet coffee, chocolate, caramel, and vanilla flavors. The finish is all brown sugary goodness. I don't get any of the earthiness that I got in the nose, and there's not a whole lot of hop bitterness either. But, the flavor combination is very well done, and everything finishes superbly.
Mouthfeel: The mouthfeel on this beer is ridiculous. I was expecting something a little bit heavier with some coating abilities based on the sweetness found in the nose. What I got was something a lot lighter, but this doesn't diminish the beers ability to take over and dominate the palate. The start and finish are amazingly smooth. I couldn't imagine a better mouthfeel for an export stout.
Drinkability: I'm glad this is a 750ml bottle, because I think I would be highly disappointed if I could only have one glass of this. The sweetness is well done; it's not overly cloying or stomach sickening, and the mouthfeel is smoother than anything I've had in a while. I'm stoked that I got the chance to try this, and I'm looking forward to sharing a bottle with friends sometime in the near future, as this beer is smooth enough that, in my opinion, even non-beer geeks would be able to enjoy it.
★
2,013 characters
4.05
/5
rDev
+4.1%
look: 3.75 | smell: 3.75 | taste: 4.25 | feel: 4.25 | overall: 4
This is one of the 696 bottles from the 1/17/08 brew date.
This pours with a nice tan head which lingers somewhat briefly. Color is a dark brown with ruby highlights on the edges. It really has great color if you know about the changes in red wine. The smell is sweeter than the taste, with some roast, caramel and grains.
The mouthfeel is medium, lighter than a typical stout. It's fermented quite dry. So smooth... it's got to have oats. Medium roast, chocolate. I love this beer, but tastes more like an amazing porter. No apparent alcohol but with an OG of 1094 it's there. It doesn't taste like an FG of 1020. Seems too dry.. Just a beautifully smooth beer.
Overall this beer is fantastic. The label states good for 5 years, and this is almost 6, but very enjoyable.
★
774 characters
SSS from Brouwerij De Molen
3.89
out of
5
based on
116
ratings.