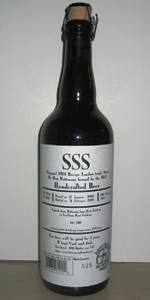 BEER INFO
Brewed by:
Brouwerij De Molen
Netherlands
brouwerijdemolen.nl
Style:
Foreign / Export Stout
Alcohol by volume (ABV):
9.99%
Availability:
Rotating
Notes / Commercial Description:
"based on a 1914 London Style Porter Recipe"
Added by NEhophead on 06-22-2008
Reviews: 65 | Ratings: 117
4.46
/5
rDev
+14.7%
look: 3.5 | smell: 5 | taste: 4.5 | feel: 3.5 | overall: 4.5
This rare beer was the last one on the shelf thank you beer gods!! The head starts off good with decent retention. The nose is very complex with hints of soy sauce and salty taffy. The taste starts with caramelized dates and brown sugar. The next wave fades into a dry spicy English hops profile. The mouth feel is medium to full body. I rated the drinkability high for good reason that this brew is 9.9% and has no heat with a smooth well balanced finish. This stout was worth the $17. Happy new year to all...
★
511 characters
3.89
/5
rDev 0%
look: 3 | smell: 4 | taste: 4 | feel: 3.5 | overall: 4
Thanks to beergestapo for sharing this on 11/16/09.
A - Poured a muddy, chunky brown with lots of active carbonation and half a finger of beige head that settled into a thin ring of retention.
S - Initial aroma is quite chocolatey with a roasted malt character and a hint of coffee.
T - Pleasant roasted malt quality with a hint of chocolate and some bittersweet cocoa notes. Finishes with a hint of earthy bitterness, albeit rather subdued.
M - Medium bodied with a smooth, albeit a tad watery, texture. Finish is semi-dry with a touch of hop bitterness on the palate.
D - Surprisingly nice stout with plenty of chocolate and roasted malt goodness.
★
657 characters

3.65
/5
rDev
-6.2%
look: 4 | smell: 4 | taste: 3.5 | feel: 3.5 | overall: 3.5
2008 bottle #461 poured into a tulip.
Pours a dark brown out of the glass and sits a bit lighter than I would expect in a stout of this size, showing a deep copper when held up to light.
The aroma is pretty good, with lots of dark roasted malts, semi-sweet chocolate and some coffee. There are hints of lactose and oats as well.
The taste is slightly different with a fruit character that I didn't get in the aroma. It has a slightly metallic-like aftertaste that's not too pleasant. The chocolate becomes much more powdery with a deeply roasted malt backbone.
The mouthfeel is light to medium bodied with good carbonation and is extremely dry in the finish.
As an export stout, this one is decent, but it doesn't really hold up to the majority of impy stouts out there at the same ABV.
★
791 characters
3.99
/5
rDev
+2.6%
look: 3 | smell: 4 | taste: 4 | feel: 4.5 | overall: 4
this beer is lighter (in color) than expected. light penetrates all the way through the body and it is more of a really dark brown than a black. the smell is bursting with cherries and similar sweet dark fruits, though there are hints of chocolate and roasted malts as well.
the first thing i thought upon tasting the beer was that it resembles what i think a mix between a fruit lambic and an imperial stout would taste like. as the smell suggests, cherries are all over the place, accompanied by plum. there is a hint of the [almost] 10% alcohol, and some sweet, dark chocolate. a nice and smooth roasted coffee aftertaste.
the mouthfeel is nice and thick, though a little over-carbonated and the drinkability is limited to one 750ml bottle, though that is still certainly a lot.
★
784 characters
4.3
/5
rDev
+10.5%
look: 4 | smell: 4 | taste: 4.5 | feel: 4 | overall: 4.5
Poured from a corked and caged 750ml bottle into two 20oz imperial pints. Thanks to HeatherAnn for the assist!
Brewed on 17 Januari 2008
Bottled on 21 Februari 2008
Bottelnumber: 696 of 696
A: Pours a cola-brown color with reddish-mahogany tinting at the edges. Very creamy cocoa-brown colored head that tops out at about two-fingers and doesn't leave any lace in the glass.
S: Nice aromas of cocoa, lactose, toasted oats, raisins, roasted malt, dark chocolate, a hint of smoke, and brown sugar. I swirled the last two inches and poured all of the sediment into my glass and I was rewarded with a dose of milk chocolate and earthy yeast.
T: Excellent mixture, of cocoa, dark fruit, smoke, and dark chocolate. As it warms more complex flavors emerge; milk chocolate, lactose, oats, roasted malt, and tangy fruit. Flavors of caramel and cotton candy in the finish.
M: Starts off pretty smooth and creamy but quickly takes on a drier, bitter edge. Nice levels of sweet, creamy, and dry.
D: We found the drinkability to be quite high. I was expecting more of an alcohol presence but it was non-existant. The soft and creamy chocolate and oatmeal/lactose flavors & aromas made this one go down like a stout with half the abv!
★
1,227 characters
3.83
/5
rDev
-1.5%
look: 4 | smell: 3.5 | taste: 4 | feel: 4.5 | overall: 3.5
[email protected]
Cafe
A: Dark as a black hole with a nice beige, creamy, head.
S: Darl caramel, Berries, Bitter chocolate, Coffee, Leather.
T: Chocolate, Grain, Anise, Salty licorice, Leather, Coffee.
M: Very thick and quite salty at first but gets a bit sweeter as it warms up with a nice touch of chocolate.
A good stout!
★
324 characters
3.73
/5
rDev
-4.1%
look: 4 | smell: 3.5 | taste: 4 | feel: 3.5 | overall: 3.5
A - nice dark mahogany brew. took a vigorous pour to create a light tan head that quickly faded with no lacing.
S - dark malts, coffee and dark brown sugar
T - similar to the aroma but with a dark ripe fruit note and a noticeably abv note.
M - medium full bodied, medium carbonation with a residual brown sugar sweetness and a biting finish.
D - an interesting look back at a historic recipe. I think I'd like a better balance before I'd want to spend another $20 on one of these.
★
480 characters

3.7
/5
rDev
-4.9%
look: 4 | smell: 4 | taste: 3.5 | feel: 4 | overall: 3.5
750ml bottle, #340/696
*Original 1914 Recipe London tripel Stout by Ron Pattinson brewed at the Mill
*1.094-1.020, 34.7 EBU, EBC Colour 194.7, 9.99% ABV.
*Brewed on 17Jan08, Bottled on 21Feb08.
Served at just above cellar temp (I've had it there for only a few months) into an impy pint, SSS is a hazy dark, bright garnet with a creamy tan head with long last that leaves light, foamy lace. Another one of these paler dark beers from DeMolen, again in this case, I really have no idea how historically accurate it is, but I dig the ruby glow. Think brown porter.
Smell is muted but pleasant, herbal hops and a bit of roasted malt.
Taste is pretty good, smooth, for such a big stout it's not that robust. The alcohol provides a drying, bitter note, accentuated by the bittering hops and roasted malt, but otherwise, it's got a dusty cocoa flavor that is abruptly cut by the fusels that linger on the finish. There's also a pretty strong leafy, herbal hop flavor, some caramel and milk chocolate.
Mouthfeel is full of creamy carbonation, not to heavy for the size, but yeasty and a bit solvent like.
Drinkability is pretty good, but it wasn't my favorite DeMolen. Being an expensive one-off, I'm sure it's one and done, even if I'm glad I got to try it. I enjoyed the historical underpinning, but wish they had provided more back-story.
★
1,342 characters
4.8
/5
rDev
+23.4%
look: 4.5 | smell: 4.5 | taste: 5 | feel: 4.5 | overall: 5
(Served in an Imperial Nonic)
Bottle # 635
Brewed on 17/1/8
Bottled on 21/2/8
A- This beer has a black body with a glow of dark brown at the very base. There is a creamy bubbly head that last for a good while and a strong carbonation of tiny bubbles gliding up the glass.
S- Even during the pour, there is a rich black roasted malt aroma with some light smoke and fruit notes that becomes more earthy as the beer warms.
T- This beer has a dark smooth roasted black malt flavor with some black grain notes and a soft nougat flavor. There is a soft charcoal note and a faint chicory note at the finish. An earthy hint turns tart at the finish that lingers for just a second.
M- This beer has a medium-light mouthfeel after the head is gone and a slight slippery texture to it. There is no real alcohol heat even after the beer warm a bit.
D- This beer has a nice deep roasted flavor with some good depth to it. This makes a nice session beer but at 10%ABV it will be a short session. There is no need for any age on this beer it is ready to drink now.
★
1,055 characters

4.35
/5
rDev
+11.8%
look: 4.5 | smell: 4.5 | taste: 4.5 | feel: 4 | overall: 4
Bottle # 119 out of 696.
Pours out kind of dark but light does penetrate as if it was a really dark root beer. Very effervescent because the bubbles are sticking to the bottom of the glass. Lots of small brown suds here.Some lacing around the pint glass.
Smell is coffee and chocolate. Pretty strong because you smell this right out of the pour.
Fills up the room with a wonderful coffee aroma.
As it warms up it has a sugary maltyness.
Taste is very mellow and malty sweet with the golding hops coming through. This is an all around great beer.
Mouthfeel is dirty but perfect for what this is supposed to be.Some alcohol is present in the aftertaste but it doesn't seem like a 10%er.
Drinkability is way good here but this is a rare bird and as high as the abv is I think one should watch out!
★
794 characters
4.12
/5
rDev
+5.9%
look: 4 | smell: 4.5 | taste: 4 | feel: 4 | overall: 4
Written on the bottle: "Original 1914 recipe London-style stout by Ron Pattinson brewed at The Mill". Bottle #107
To the eye the beer is very dark brown, black almost, and carries a rather big and lasting brown head that leaves some nice lace. Some miniscule carbonation is visible.
To the nose the brew manifests a roasted and caramelized whiff of malts, slightly chocolate-like and very fruity (plum). Still dominantly a salty, rather than a sweet smell -- it almost reminds me of an Indonesian dish or maybe of strong tea. Hops give a nice supporting performance.
To the palate, flavours of sugary sweetness and sourness are balanced out just right, with a very dry and slow finish and a herbal hop accent in the background. A beautifully composed taste in which the alcohol is hardly noticeable. The beer's body might be a little thin for a stout and could have been a bit more creamy. But it still is an enjoyable drink with the proper amount of carbonation (especially pleasing considering the flatness of some other beers from this brewery).
I don't know all that much about stouts, much less about any "original recipes". I do know that I enjoyed this one very much and I consider it one of the better beers from De Molen.
★
1,234 characters
4.1
/5
rDev
+5.4%
look: 4 | smell: 4 | taste: 4 | feel: 4 | overall: 4.5
Beautiful black and lace. Big malty aroma and coffee, bittersweet chocolate,carmel, Kent Golding hops in finish nice. Cocoa, some expresso, vanilla. Understated carbonation. Great drinking.Medium mouthfeel. Milk chocolate is the aftertaste.Found at State Line Liquor. Only 675 bottles in the batch.
★
298 characters

4
/5
rDev
+2.8%
look: 4 | smell: 4 | taste: 4 | feel: 4 | overall: 4
Bottle 352 / 696; Sampled July 2008
A reasonable pour produces a three-finger thick, lightly browned, tan colored head in my New Belgium globe glass. The beer sits with an almost black color (just barely a hint of deepest, dark brown to it), but shows a brilliantly clear, dark ruby hue to it when held up directly to the light. The aroma is rich and roasted; notes of burnt toffee, caramelized-burnt prunes, coffee liquor, burnt / slightly acidic burnt grain, sweet dark chocolate and in the finish a combination of roasted saltine crackers and overly toasted, but not burnt bread. With a touch of alcohol noticeable it can smell a touch like fermented prune juice (very burnt of course) at times.
Much lighter in heft than I was expecting, much less than a 1.030 finishing gravity would suggest. This still has a viscous feel to it and a heft that coats the palate, but I would guess that it was a couple alcohol percentage points less than it actually is. Sweet tasting, but no where near cloying; the sweetness accentuates substantial cocoa flavors as well as notes of roasted raisins and a touch of figs. Finishes with a lightly bitter roast malt note, a round hop bitterness and a hint of burnt acidity; each of these combined does not really balance out the sweet up front malt; they actually help to balance the sweet malt quite well it is just that the sweet malt plays a bit more of a role here. The roast profile reminds me a little of a full-city roast coffee that has been heavily influenced by dark chocolate.
Almost more than the roast character, both the fruitiness and the chocolate notes play a substantial role here. A bit more balanced, even more refined than the London-style Porter, there is enough sweet malt here to stand up to the ample roast character, but I think I like the Porter better than this beer. This is still quite tasty and definitely interesting. It drinks a lot easier than its 10% would suggest.
★
1,939 characters
4.14
/5
rDev
+6.4%
look: 4.5 | smell: 3 | taste: 4.5 | feel: 4.5 | overall: 4.5
Dark brown/burgundy color with a long lasting light tan foam. Aroma seems a little incomplete, with yeast smells and a touch of leather. Flavor is different, but quite outstanding. Not roasty or chocolate-like at all, but loaded with dark fruit flavors, caramel, toffee, peanut brittle and then on top of all that, the finish is nearly 20 seconds. Really complex flavor profile, nearly perfect. Not an Imperial Stout, but it's not claiming to be one. It's too bad the nose isn't so great, because this beer is nearly perfect in every other way.
★
544 characters

3.62
/5
rDev
-6.9%
look: 3.5 | smell: 4 | taste: 3.5 | feel: 3.5 | overall: 3.5
1 pt 9.4 fl oz brown bottle; caged & corked.
Served in an oversized wine glass.
Bottle number: 317.
Brewed on January 17, 2008; bottled on February 21, 2008.
Deep molasses-brown in color. Carbonation-filled off-white head that settles as a thin, creamy sheet. No lasting lace to mention
Creamy, milk chocolate with hints of roasted espresso. Rough floral hops admist bitter chocolate and light toffee. Sharp, acidic hints of alcohol.
Bitter dark chocolate and unsweetened caramel. Notes of bland tea along an earthen floral hop profile. Licorice and saffron spices. The alcohol presenece is dull, but warming following the rough finish.
Full bodied; rough, earthen, and slightly dry in texture. The alcohol component adds a touch of slickness to the muddy mouthfeel.
Billed as the "original 1914 recipe London triple stout by Ron Pattinson brewed by the Mill". Certainly drinks like an export stout that is a little more bland and rough than most of the style.
★
980 characters
SSS from Brouwerij De Molen
3.89
out of
5
based on
117
ratings.