Amarillo
| Brouwerij De Molen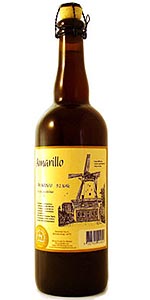 BEER INFO
Brewed by:
Brouwerij De Molen
Netherlands
brouwerijdemolen.nl
Style:
American Double / Imperial IPA
Alcohol by volume (ABV):
9.20%
Availability:
Year-round
Notes / Commercial Description:
Also known as Storm & Bliksem
Added by Sammy on 12-14-2008
Reviews: 64 | Ratings: 161
4.45
/5
rDev
+16.8%
look: 4.5 | smell: 4.5 | taste: 4.5 | feel: 4 | overall: 4.5
Served from a bottle to a Unibrou tulip glass
First of all, I had a major gush opening the bottle, then serving the beer I spilled some more in the floor, it gets a huge head when poured so be careful.
Appearance: It a murky dark amber with sediments on it, don't get me wrong it's a very inviting color.
Aroma: It was a very aromatic beer, just opening the bottle there was a rush of fruity smells straight to your nose, I got hints of peaches, tea and pines.
Palate: it is a full bodied beer, very effervescent, a little bit warming from the alcohol (the alcohol flavor it's not overwhelming at all), the aromas are representen in the palate as well.
Overall its a very inviting beer that I will repeat again, very fresh and refreshing as well that leaves you with a good buzz. Recommended
797 characters
3.97
/5
rDev
+4.2%
look: 3.5 | smell: 4 | taste: 4 | feel: 4 | overall: 4
Dark red beer with no head. Color is intriguing. Hoppy nose, but a little funky sour is in there too.
The first flavor is a sourness reminiscent of a red flanders ale. That faded within a second and was replaced by pine and floral hops. Quite good flavor actually, but lacked a lot of depth. Did what it did well.
Fairly normal carbonation level and good medium body. Quite drinkable.
386 characters
3.92
/5
rDev
+2.9%
look: 3.5 | smell: 4 | taste: 4 | feel: 3.5 | overall: 4
A gusher. Ain't that a bitch. The nose is quite resinous, a fair lick of pine driven hops - some citrus notes, nothing very tropical. Plenty of bite on the palate, nicely countered by the malt presence. I wouldn't describe this as a pretty beer by any means. Well balanced and expressive. There is a bit of that oily pine resin lingering in the finish but it's all good. Hope it doesn't gush next time.
402 characters

4.78
/5
rDev
+25.5%
look: 5 | smell: 4.5 | taste: 5 | feel: 5 | overall: 4.5
I've been itching to open this and try it, and boy am I not disappointed. As soon as I started to uncage the cork, it popped out, and then I dreaded the major gush, but it was not to be, thankfully.
Poured out with a monster head, so I let it settle before finishing my poor. Big billowing effervescent thick white foam on top, which disippitates into a one inch thick head. The liquid is a slightly murky orange-gold hue. It is possibly the most amazing beer I have ever seen and is so inviting.
Massive amounts of citrus fruit, with grapefruit, and hints of bitter orange come enveloping up from the glass. Slight nutty honey and a big hop resin grassiness just give way to more elaborate grapefruit aromas.
Initial tastes give some slight fruitiness and a big hop bomb in the mouth. From then on more fruits come through in the mouth, with big biscuity orange and grassy dry grapefruit. So very fresh and inviting it's hard to slow down on a 9.2% beer.
Silky smooth mouthfeel gives way to the effervescent sparkling feel that this beer seems to have. Just so slick and refreshing for something so high in alcohol. Easily one of the best beers I have ever had, and so amazingly drinkable. I think I may have to nab a few more.
1,232 characters
3.78
/5
rDev
-0.8%
look: 4 | smell: 3.5 | taste: 4 | feel: 4 | overall: 3.5
Pours much darker brownish amber than I would expect for the style. Very large crème head, thanks to it being on tap I am sure. Flavor is a thicker malt base with a sweet tone that seems slightly syrupy. But the hop tones are certainly here. Thick piney ones, but the malts are definitely working in on the mix. This is pretty nice and it starts off as an easy drinker but gets less so as it warms from some real noticeable boozy tones.
437 characters
4.3
/5
rDev
+12.9%
look: 4 | smell: 4 | taste: 4.5 | feel: 4 | overall: 4.5
Ive been interested in trying this brew ever since joel from cellarbrations carlisle got back from his europe trip and had sampled this over there and had said that it is a nice drop,it pours a murky,cloudy light orange hue with decent carbonation that leaves behind a creamy two finger head and lacing here,there and everywhere,the smell of this brew is a nice fruit punch bowl mix of tangerine,melon,pineapple and some light citrus,it has a nice full mouthfeel which is dominated by a citrus burst of tangerines,mandarins and valencia oranges with a nice feint tinge of lime bitterness right at the end and overall a great brew that i could drink all night,highly recommend and will buy more of cheers.
704 characters
4
/5
rDev
+5%
look: 4 | smell: 4 | taste: 4 | feel: 4 | overall: 4
on-tap at in de wildeman in amsterdam
coaster notes
appearance: served in a tulip on a monday afternoon in amsterdam - orange body, foamy white cap
smell: floral hops - tangerine, orange.
taste: good DIPA - grapefruit citrus, tangerine, melon, orange, caramel, peach.
mouthfeel: medium body, oily hops
drinkability: good
328 characters
4.42
/5
rDev
+16%
look: 4 | smell: 4.5 | taste: 4.5 | feel: 4 | overall: 4.5
A light coppery red body with a very slight haze. Big foam off-white head and light carbonation. The first thing that hits you is the aroma of big American west coast hops, lots of sweet grapefruit, citrus, pine and melon, with the slightest hint fudge in the back. There is a touch of biscuity sweetness at the front before the taste is overwhelmed by fruits, which follow the nose with grapefruit, lemons, mango, and heaps of pine. There is also a slight peppery spiciness, which sits beside the very subtle but firm sweet malty backbone. Smooth in the palete and a nice substantial body to support the flavours.
Wonderful beer! The best DIPA I have had that wasn't from a US brewer...in fact it really holds it's own against some of them.
743 characters
3.45
/5
rDev
-9.4%
look: 3.5 | smell: 3.5 | taste: 3.5 | feel: 3 | overall: 3.5
Apearance: A blond beer that is not completly clear.
Smell: Hoppy, the only thing I could smell were hops.
Taste: A really hoppy taste, like the smell. The beer is not bitter, which I would expect of a beer with such an amount of hop in it.
Mouthfeel: The mouthfeel is a bit fresh for me.
Drinkability: For a beer with an extreme taste, it is fairly easy to drink.
368 characters

4.04
/5
rDev
+6%
look: 4 | smell: 5 | taste: 3.5 | feel: 4 | overall: 4
And finally the last review of my beer tasting evening with RvDoorn...
A: Poured it in a Lindemans glass. A very dark yellow color a bit hazy. A huge viscous head that fades very slowly.
S: The smell reminds me instantly of the Karmeliet Tripel (actually the only tripel I like). Grainy, peachy and pleasant hops. Some floral scents.
T: Taste is comparable to the smell. However body is pretty light compared to the full smell and not sweet at all. Aftertaste is slighty bitter and a little acidic.
M: medium/high carbonation. Very light.
D: A nice beer from de molen allthough I wish it would live up a litle more to it's taste.
634 characters

3.97
/5
rDev
+4.2%
look: 4 | smell: 4.5 | taste: 4 | feel: 3.5 | overall: 3.5
Shared this bottle during a beer drinking session together with my beer buddy PapaEugene. I had several beers from Dutch brewery de Molen, and until now, really liked most of them. Bottle from Berts Bierhuis beershop in Utrecht. Poured into an Urthel glass. The beers pours an hazy dark yellow (amber-like) color with a high, creamy long-lasting white head.
The scent is fresh, full of sweet fruits (Peach, apricot), sweet caramel hops and a bit floral (like a typical tripel).
The taste is full of spicy hops with balanced acidity, in general much less sweet and fruity compared to the scent, with a nice bitterness in the end. The alcohol taste is medium-well hidden.
The mouthfeel is good. A bit watery maybe, with medium-high carbonation.
Overall, another good beer from the Molen. Not their best one though, but I would definitely not mind drinking it again.
870 characters

3.52
/5
rDev
-7.6%
look: 3.5 | smell: 4 | taste: 3.5 | feel: 3.5 | overall: 3
Had this one from a 75cl bottle. I poured a large white head that stayed long.
The aroma has a lot of hopnotes with lots of fruitiness, grapefruit, citrus and pine.
in the taste the balance is a little strange, the hoppyness is so dominant that it overwelmes the rest of the taste.
In the aftertaste the hopnotes are lingering. It is a good beer but with a little more body the balance will improve.
Nice beer.
412 characters

4.02
/5
rDev
+5.5%
look: 4 | smell: 4.5 | taste: 4 | feel: 4 | overall: 3.5
This is very well carbonated as a careful pour produces a tulip filling, five-finger thick head that is a light tan color. The beer is a lightly red stained honey color and shows an almost brilliantly clear, red-orange stained gold color when held up to the light. The aroma smells sticky with hop notes of candied citrus zest, tangelo, lychee, ripe-concentrated berries, but also some herbal notes and a touch of grassiness. The hops really make the aroma exuberantly fruity smelling. Towards the finish, when you really dig around, I get a soft subtle note that smells a bit like ripe cheese; soft but more significant is some malt influence aromatics of toasted crackers, and crushed pale malt. As the beer warms up the nose picks up a bit more funkiness that is sort of musty along with the previously mentioned ripe cheese. Definitely an enjoyable nose to smell for a spell.
Lightly sweet up front, the beer has an ample carbonation that froths up out of the slightly viscous stream of beer as it flows across the tongue. The beer is not heavy, but I do prefer my Double IPAs a touch lighter on the palate (this is still pretty quaffable for a beer of this strength though). In the finish is a lingering hop bitterness as well as a menthol and pine like herbal hop character; A touch of alcohol heat seems to bring out this last note a bit more as well, the sharp menthol especially really lingers on the tongue. The hop influenced fruitiness in the flavor leans more towards bright berry flavors as well as notes of candied orange zest and ample lychee. A touch of grassy hop character becomes noticeable after a bit as does some cracker like malt and of course a more prominent sweet malt character that boosts the fruit-leaning hop notes. The subtle funkiness of the aroma (despite getting even more accentuated with my second pour) really isn't much noticed in the flavor, it perhaps contributes a touch of phenolic character that mixes with the sharper herbal hop notes and hot higher alcohols.
Where the aroma was all fruit hop character the flavor has a mix of fruit and herbal hop character. This is definitely a nice beer, it can get a little harsh and alcoholic in the flavor at times, but you can't have everything with a 9.2% abv beer.
2,254 characters
4.1
/5
rDev
+7.6%
look: 4 | smell: 4 | taste: 4 | feel: 4 | overall: 4.5
This is a different beer than the winter warmer, 77EBU Challenger,Saaz and Dryhopping with Amarillo.
Lots of amarillo, initially some acid into the stomach (was not too crazy about the Saaz ) then a citrus taste,good carmel malting full mouthfeel. Very tasty.Orangey colour, good head.
I had on tap 2.5 years later andnowhere as good.
334 characters
Amarillo from Brouwerij De Molen
3.81
out of
5
based on
161
ratings.