Hel & Verdoemenis
| Brouwerij De Molen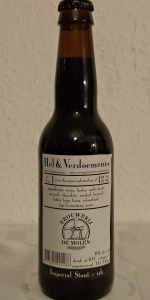 BEER INFO
Brewed by:
Brouwerij De Molen
Netherlands
|
website
Style:
Russian Imperial Stout
Alcohol by volume (ABV):
10.20%
Availability:
Rotating
Notes / Commercial Description:
No notes at this time.
Added by paco1029384756 on 01-22-2009
Reviews: 210 | Ratings: 622
4.25
/5
rDev
+2.9%
look: 4 | smell: 4 | taste: 4.5 | feel: 3.5 | overall: 4.5
A: Dark brown with plenty of small floaters in the liquid. A small dark beige head settles rather fast and leaves basically no lacings.
S: Huge roasted aromas - very powerful. It actually turns to burnt every now and then. Roasted malts, heavy roasted coffee, charred wood, spices, chocolate, faint licorice, perhaps some fruity notes. There is also noticeable hints of rather fresh hops. Light alcohol. Very powerful smell, but not very balanced due to the massive roasted character.
T: Wonderful coffee flavors - espresso, heavy roasted and almost burnt coffee, tannins. Big sweet malty backbone with a distinct roasted character. Rich notes of dark chocolate. Some licorice and dark fruits, but they don't really manage to balance the deep roasted flavors. Very faint notes of hops. The finish is powerful with a coffee-like roasted bitterness, some alcohol, spices and lingering notes of general roasted flavors.
M: The body is full, but kind of light compared to some other examples of the style. Quite a lot of carbonation as well making the beer seems rather lively. Towards the end, it gets a little smoother.
D: I really liked this one, but with the richness of the roasted flavors of coffee and malts, it's rather demanding. So it's definitely a sipper. Would absolutely like to try it again, and since I have another one in the cellar, I will.
★
1,361 characters
4.1
/5
rDev
-0.7%
look: 4.5 | smell: 4.5 | taste: 4 | feel: 3.5 | overall: 4
750ml bottle. Bottle #034, Brewed on 14 August 2008 & Bottled on 18 September 2008.
Poured a dark black color with a larger sized off white head. Aromas of chocolate, roastiness, some smokiness, licorice and lighter dark fruits. Tastes of roast, coffee, chocolate, some dark fruits, and licorice. Medium alcohol burn in the finish.
★
333 characters
4.77
/5
rDev
+15.5%
look: 4.5 | smell: 5 | taste: 4.5 | feel: 5 | overall: 5
Thanks to Nick at LiquorMax for getting this stuff in.
Botte #19
Great stout, right up with the greats. Thick viscous liquid pours a dark murky brown with a silky espresso head that settles to a thin lace.
Fantastic nose of rich bready malts, chocolate, coffee, molasses, dark ripe pitted fruits and dank sticky hops.
Taste reaches equal complexities with superb balance. Fudge brownies, figs, raisins, nutty malts, roasted malts, anise and bitter hops.
Thick body has delicate carbontion and is only enhanced by adding the yeast.
Delicious stuff. Top knotch.
★
566 characters

3.93
/5
rDev
-4.8%
look: 4.5 | smell: 4 | taste: 4 | feel: 4 | overall: 3.5
Picked up a bottle from West Lakeview, drank some by itself and mixed the rest with a Black Albert to make a "Black Damnation". Bottle #48 of 282. Served in a pint glass.
A - Gusher! Ridiculous mocha foam with incredible retention and tons of lacing - we must have poured five glasses before the foam stopped bubbling out of the bottle. Dark, dark, brown color with some obvious sediment. If it hadn't been a gusher it would have been nearly perfect.
S - Huge maltiness with lots of chocolate, coffee, and also a ton of dry hopping (apparently Hallertau, according to the bottle), that provides some fruitiness. It's also quite boozy.
T - Not that far from the black IPA I had earlier in the day, but with a bunch of woodiness and more chocolate. The aftertaste is full of both hoppy and roasty bitterness. Pretty boozy in the flavor. Doesn't seem to taste infected (like the previous review), but I didn't have another bottle to compare against.
M - Medium body, lots of residual stickiness. Smooth and creamy, with a warming sensation. Could be a bit bigger for such a strong RIS.
D - It's boozy - and the flavor gets a little palate destroying. The texture is really nice though, and it goes down really easy.
I found blending with Black Albert really improved things, but made me wonder why I didn't just drink the Black Albert on its own, as the blend was still less satisfying. Also, adding the 13% Black Albert to the 10.2% Hel & Verdoemenis somehow made things LESS boozy - the ABV could definitely be hidden a little better in the De Molen.
★
1,555 characters
4.38
/5
rDev
+6.1%
look: 3 | smell: 5 | taste: 5 | feel: 2 | overall: 4
Let me just start by saying that my bottle was most likely infected. For this reason, I did not slam it on the mouthfeel or appearance.
When I opened the bottle, it gushed immediately. I poured as quickly as I could into a few glasses, but it was 90% foam. Once the foam subsided, the wonderful smell of chocolate and caramel came forward. The taste was also full of chocolate with a bit of roast. It was creamy and thick like you would expect from a proper IRS. Since it was likely infected, this stout was way overcarbonated. The bottle said to age for up to 25 years, but that might be dangerous. I would caution anyone cellaring this beer. It could be infected and end up as a bottle bomb. I am shocked that there are only 282 bottles of this. I had bottle 138 last night and bottle 100 in the cellar. I hope my other bottle is not infected.
★
846 characters
3.2
/5
rDev
-22.5%
look: 3 | smell: 3 | taste: 3.5 | feel: 3 | overall: 3
Bottle. Pours black with absolutely no carbonation. Aroma of burnt toast, bitter burnt chocolate. Flavor is also incredibly burnt with some chocolate and roasted malt notes. Some alcohol presence. The flatness of the beer was off-putting too. I don't know if this beer was "off" or not, but I did not enjoy it. There were some good moments in tasting this beer, but overall the odd (ie burnt) moments overruled.
6/3/7/3/14 (3.3/5)
★
431 characters
4.68
/5
rDev
+13.3%
look: 3 | smell: 5 | taste: 5 | feel: 3 | overall: 5
Pros: Such a unique and big flavor. Incredibly malty, rich, delicious. Finish is 20+ seconds, dark chocolate, espresso, peanut butter, fudge, dark fruit, resin hop. Terrific flavor.
Cons: The low carbonation level does hurt many factors of the beer, but it is such an exquisitely brewed offering, it's only a minor issue.
An amazing beer. A great beer for the cellar.
★
369 characters
4.6
/5
rDev
+11.4%
look: 4.5 | smell: 4.5 | taste: 5 | feel: 4.5 | overall: 4
Poured into a Westmalle chalice. Nice black body with a light tan head that dissipated quickly.
Smells of dark chocolate, espresso, malt, and very small hints of hops.
Taste is similar to the smell, but more complex with a slight fruity booziness and a little more hoppiness at the finish. Very complex and elegant, it reminds me of good quality dark chocolate; roasted bitterness balanced by a light fruitiness.
The mouthfeel is excellent. Whereas most imperial stouts seem to be thick and heavy, this has more of a medium mouthfeel and low carbonation, making it a little more light and smooth which allows me to better appreciate the balance of flavors.
For a big imperial stout (my bottle says 11.9% instead of 10.2%), this is remarkably drinkable. I still wouldn't have more than a glass or so at any given time, even if I could afford it, but the alcohol really isn't too noticeable.
Overall, this was a very nice imperial stout, and I think I'm going to have to pick up another bottle or two to set aside for a special occasion.
★
1,040 characters
4.53
/5
rDev
+9.7%
look: 4.5 | smell: 4 | taste: 5 | feel: 4 | overall: 4.5
We have the good fortune to live close enough to the brewery that we occasionally stop in to stock up on beer and as an added benefit have some of Pepe's excellent cooking.
Brewed on August 27, 2008 and bottled on September 26, 2008. Bottle 141.
Poured into a Molen snifter which they use for their porters and stouts, Hell & Damnation poured with a huge head that continued to mushroom over the glass as it sat. The head is dark and rich with bubbles of various size -- beautiful! It quickly dissipates leaving a thin and uneven layer on the top of the beer leaving a bit of lacing on the side of the glass (very different experience from Paco -- due to his traveling across the Atlantic? In the end, not all that different as our dissipated very quickly). The beer itself is a beautiful dark rich brown, bordering on black with a hint of red.
The scent is a complex combination of what you expect to smell in an imperial stout (malt, burnt sugar or molasses) along with the smell of hops that tells you this will not be that simple. The smell of alcohol is not as strong as you would expect from the 10.2% ABV.
Expectations are high regarding taste as Molen is renowned for their imperial stouts and porters -- and this does not disappoint! Heavily roasted malts, chocolate and molasses all very well balanced against the relatively (for a RIS) strong taste of hops. It finishes with burnt sugar, and hops! Truly wonderful!
This beer fills your mouth. The carbonation is low but far from flat. Here in the Netherlands on a cold and rainy Friday night...I could drink this all night long...the combination of big stout and hops is very compelling...the problem is they didn't brew enough to make the drinkability question relevant -- there was only 282 bottles in this batch and we need to lay down the remainder of our stash as it will only grow better with age.
★
1,869 characters
4.37
/5
rDev
+5.8%
look: 3.5 | smell: 4 | taste: 5 | feel: 4 | overall: 4
Pours a nice deep black color, but there is absolutely no head and random bubbles along the ring of the glass could hardly be considered lacing.
Scent of rich chocolate, roasted malts, raspberries, some honey, molasses, faint hops, and some warming alcohol in the end. Deep and complex, but nothing amazing.
Taste of rich chocolate, strong roasted malts, anise, vanilla, and some alcohol. Finishes with strong roasted malts and alcohol warming. This is a truly excellent Imperial Stout, as strong as it is there is a marvelous balance and perfectly warming alcohol, definitely worth a purchase, even at the high price.
Mouthfeel is full bodied and heavy, but flat, it's like drinking chocolate milk, but I like it for some reason, even though I have disliked beers with low carbonation in the past.
★
807 characters
Hel & Verdoemenis from Brouwerij De Molen
92
out of
100
based on
210
ratings.