Hel & Verdoemenis Misto B.A.
| Brouwerij De Molen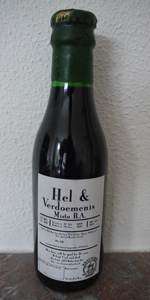 BEER INFO
Brewed by:
Brouwerij De Molen
Netherlands
brouwerijdemolen.nl
Style:
Russian Imperial Stout
Alcohol by volume (ABV):
12.00%
Availability:
Rotating
Notes / Commercial Description:
No notes at this time.
Added by tpd975 on 07-08-2010
Reviews: 31 | Ratings: 76
4.35
/5
rDev
+1.6%
look: 4.5 | smell: 4.5 | taste: 4.5 | feel: 4 | overall: 4
[email protected]
A: Darkish brown with a , wee, beige head.
S: Bourbon, Caramel, Roasted malts, Hint of overripe fruit.
T: Liqorice, Vanilla, Chocolate, Dark caramel, Portwine and a hint of alcohol.
M: Velvety smooth with an edge of bitterness and alcohol. Low carbonation.
This is a fine stout from Herr Menno. Very smooth and highly drinkable. I would wish for a little more residual sweetness and a wee bit more body but other than that this is superb. Impressive.
472 characters

4.17
/5
rDev
-2.6%
look: 4 | smell: 4.5 | taste: 4 | feel: 4.5 | overall: 4
Bottle poured into a small snifter. Black with a thin mocha head that settles to a ring. Nose is ashy, smoke, a bit of anise, charcoal, dry baker's chocolate. Very nice, I love that ash quality in a barrel aged imperial stout. Nice, prickly carbonation in the mouth. At first a bit sweet, anise, licorice. Segues into that oak and charcoal. Dusty. Wow, I love it. Boozy and hot, but of course that's to be expected. A complete win on the marriage of anise and ash, my two favorite qualities for a barrel aged stout. Some astringent quality that may go hand in hand with the heat hurts the finish a bit.
602 characters
4.5
/5
rDev
+5.1%
look: 4.5 | smell: 4.5 | taste: 4.5 | feel: 4.5 | overall: 4.5
Bottle: Poured a pitch-black color stout with a very thin dirty brown bubbly head with minimal retention and not lacing. Aroma of well balanced roasted malt light lactic notes and warming scotch notes. Taste is also a well balanced affair between some well rounded scotch notes and a full body stout with lactic notes and light dry black chocolate. Body is about average with very low carbonation and no apparent alcohol. So easily drinkable yet so tasty I wish I could have this on a regular basis.
499 characters

4.25
/5
rDev
-0.7%
look: 4 | smell: 4 | taste: 4.5 | feel: 4.5 | overall: 4
Alfrantzell shared this one, thanks Arne.
Pitch black and surprisingly more carbonated than the bottle of regular Hel & Verdoemenis I drank a few months back. Rich chocolatey aroma, barrel aging is evident, lending notes of vanilla, musty wood, toasted oak, a little nuttiness and anise. The flavors are nicely rounded, dark chocolate, vanilla, biscuit, anise and blackened malt. The body is rich and full, the finish tannic and roasty. Another great De Molen beer.
466 characters
4.3
/5
rDev
+0.5%
look: 4 | smell: 4 | taste: 4.5 | feel: 4 | overall: 4.5
Another one-off from De Molen. Even if they don't all work out wonderfully, I really appreciate their drive to experiment. This one worked out beautifully.
Found this at The Cracked Kettle in Amsterdam.
From a 18cl bottle into a snifer.
Brewed 23 July 2009 and bottled 08 June 2010.
Bottle 1058 of 2483.
OG: 1105
FG: 1027
APPEARANCE: Pours out black and produces a small mocha colored head that quickly fades to a wisp and ring. Black body with zero carbonation evident. A slight ring remains with a nice swirling wisp but leaves no lacing down the glass. Looks nice.
SMELL: Roasted malts, with some nice bourbon and vanilla notes from the barrel. Some coffee notes with dark chocolate and booze in there as well. A big nose on this one, and smells very nice.
TASTE: Lots of roasted malts, vanilla and bourbon, as well as coffee and bitter chocolate in the taste profile. Some caramel sweetness and boozy elements make an appearance as well. A long, bold aftertaste of bitter coffee, chocolate, bourbon and some burnt, roasted malt as well. A treat.
PALATE: Medium body and lower end carbonation. Creamy on the palate, goes down slightly prickly with s small burn at the back, and finishes nicely mouth-coating. Very nice indeed, but a bit of a heavier burn for my liking.
OVERALL: A great barrel aged stout, and you can definitely taste the resemblance to the Wild Turkey BA. Very flavorful and enjoyable, and just the right amount of carbonation to bring it to life. Admittedly I'm not a huge fan of the base beer, but this aged version was a real treat. Give it a try if you get the chance.
1,609 characters
4.2
/5
rDev
-1.9%
look: 4 | smell: 4 | taste: 4.5 | feel: 4 | overall: 4
Huge Thanks to SeaBass Bottle 723 of 2483
A: Pours a nice dark black hue. Small tan head which dies to a tight ring. Spotty lace.
S: Mild aromas really for a RIS. Smokey, peaty, and charred. Deeply roasted malt, chocolate, mild dark fruit.
T: Wonderful rich flavors. Earthy, lightly peated with hints of smoke. Chocolate and coffee are there with hints of booze.
M: Medium in body, light carbonation.
D: Very good, tasty brew, one I am honored to have tried.
473 characters
Hel & Verdoemenis Misto B.A. from Brouwerij De Molen
4.28
out of
5
based on
76
ratings.