Stout & Hop
| Brouwerij De Molen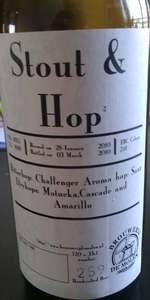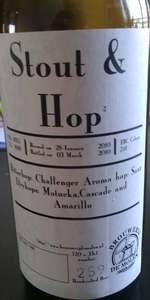 BEER INFO
Brewed by:
Brouwerij De Molen
Netherlands
brouwerijdemolen.nl
Style:
American Black Ale
Alcohol by volume (ABV):
9.20%
Availability:
Limited (brewed once)
Notes / Commercial Description:
No notes at this time.
Added by TMoney2591 on 07-16-2010
This beer is retired; no longer brewed.
HISTOGRAM
Ratings: 15 | Reviews: 12
1.98
/5
rDev
-38.3%
look: 1 | smell: 3 | taste: 2 | feel: 1 | overall: 1.5
Got this at De Bierkoning.
From a bottle into a snifter
APPEARANCE: Foam started to creep up the neck upon opening. Never a good sign for a stout. Pours out a muddy, dark brown color and produces a large, four finger, thin, bubbly looking, tan head that sticks around forever. A dark, muddy brown with too much carbonation. Head eventually fades to a thick foam cap and leaves some chunky lacing down the glass. Pretty muddy looking and the head is quite ugly really.
SMELL: Some roasted malts, with hints of chocolate, pine and citrus grapefruit notes. Definite mixture of stout and an IPA. A good dose of alcohol shows through as well, although the nose is relatively mild at best.
TASTE: Follows the nose with roasted malts up front, with some pine and grapefruit through the middle and into the finish. A good does of alcohol bangs its way through, making the brew a little tough to take. Another reviewer mentioned cleaning products, and this isn't too far off. Aftertaste is quite boozy, with hints of roasted dark chocolate and bitter citrus hops. The alcohol just gets a little carried away here and dominates the rest of the flavor profile.
PALATE: This is where the beer falls apart for me. Thin body and over carbonated. Airy and abrasive on the palate, it goes down quite rough and finishes somewhat dry on the palate. Burped my way through this one. Not creamy or smooth enough, and the carbonation was just out of control.
OVERALL: I'd like to say I got a bad bottle of this one, but De Molen often has trouble with their carbonation. Usually their problem is releasing flat beer, but this one was simply a bottle of carbonation with a little bit of overly alcoholic beer inside. These guys make some fantastic stuff, but this is definitely not one of them. Drain enjoyed half the bottle. I'd give this one another go of course, but if you can only choose one, pass on this and try one of their others.
1,926 characters

2.3
/5
rDev
-28.3%
look: 2.5 | smell: 2.5 | taste: 2 | feel: 3.5 | overall: 2
On-tap at Beachwood BBQ
A: The pour is a very muddled and cloudy brownish sort of color with a mild off-white head.
S: The nose exhibits some hop character with pine and some mild grapefruit notes. Some very minimal chocolate and roast notes from the stout. A definite alcohol and solvent aroma that overwhelms pretty much everything else.
T: What is going on here...some chocolate covered grapefruit and pine notes from the hops. A very sharp alcohol flavor along with a distinct Pine Sol sort of vibe. A bit of weird yeasty esters too. Nothing really melds in this beer.
M: The body is medium with a moderate level of carbonation.
D: This beer is just a total mess. It seems like this could be a good idea (sort of like a black and tan), but it just does not work out and the cleaning product flavor doesn't do much for me.
830 characters
2.38
/5
rDev
-25.9%
look: 3 | smell: 2.5 | taste: 2 | feel: 3 | overall: 2.5
Tried this beer at Max's Tavern in Baltimore, MD. It was the first (and still, only) of this style, and I'm not sure that I'd try it again. Perhaps this one was just a misrepresentation though. I could taste the "stout" and the "hop," but there really wasn't much balance between the two. It was almost like drinking a bad black 'n tan, two totally separate beers.
364 characters
2.48
/5
rDev
-22.7%
look: 3.5 | smell: 3 | taste: 2 | feel: 2.5 | overall: 2.5
a delusion for this imperial stout. too bitter, no drinkable. not good!
a delusion for this imperial stout. too bitter, no drinkable. not good!
a delusion for this imperial stout. too bitter, no drinkable. not good!
a delusion for this imperial stout. too bitter, no drinkable. not good!
287 characters

2.65
/5
rDev
-17.4%
look: 3.5 | smell: 3.5 | taste: 2 | feel: 3 | overall: 2.5
On tap at Churchkey.
Relatively see through brown pour with no head Bam! Huge hit of hops on the smell. I was shocked! Honestly smells like an IPA. Medicinal taste. Too many hops mixing with the roasted qualities of a stout make this pretty strong and just not pleasant tasting. Heavy body and heavily carbonated. Almost stings your palate. Clean finish tho. Strange taste. Not a stout at all. Too hoppy.
405 characters

2.76
/5
rDev
-14%
look: 2 | smell: 3.5 | taste: 2.5 | feel: 4 | overall: 2
Pour is a cloudy brownish blackish mess with a decent looking mocha head. Considering neither a stout nor an IPA should look muddy, I don't think this looks good. Aroma of pine, dark chocolate, grapefruit rind, and Windex (solvent). Flavor definitely has some nice hops hidden away in it, piney, fruity goodness, but it is really muddled in a chocolatey nutty malt backbone that is seriously tweaked out on what seems like Belgian esters. I'm definitely picking up a Belgian yeast wth lots of esters that throws any kind of Cascadian Dark Ale goodness for a loop. It does not go well and ends up solvent and messy. Body is the high point probably, some malt thickness is evident, but it makes its way around the mouth nicely with good medium carbonation to match. The messy solvent finish really kills this for me, and drinking a glass was a chore. Combined with a poor appearance, you can see what this did to my scoring.
922 characters

3.1
/5
rDev
-3.4%
look: 4.5 | smell: 4.5 | taste: 2.5 | feel: 2.5 | overall: 2.5
Poured on tap at ChurchKey DC into a snifter as part of a tasting. Listed as a Russian Imperial Stout.
A very large laced caramel head collar, sitting on a big dark brown black chestnut and walnut body. Lots of stickiness is visible very aggressive looking beer.
Nose is a giant ambush. A HUGE rush of cinnamon to the nose, what the hell? Where did that come from... just MASSIVE. Gives way a little to some anisette/licorice and malt. But bringing the aggressiveness to the fore front.
I get excited about what is to come next for taste and I get a ridiculous watery and wet sensation that brings NOTHING from the nose at all on the palate. NOTHING, no cinnamon, licorice, or malt. Mild weak whoppers candy malt and a strange small hop finish that is barely detectable.
I was going to rate this average overall, but when I think about it more, my reaction is would I ever want to have this again, and the answer is a flat out obvious no. Pass on this one.
960 characters

3.56
/5
rDev
+10.9%
look: 4 | smell: 3 | taste: 3.5 | feel: 4 | overall: 4
Had on tap at Beachwood BBQ. Just something I have never heard of so why not give it a try.
Pours a cloudy dark brown with a thin ring of khaki bubbles. It does leave some nice sheets of lacing down the entire glass.
Scent is very mild. Some coffee and roasted malts making up the majority, with a hint of floral hops.
On the fence about how I feel about the taste here. Tastes like a stout and ipa blend. Coffee and chocolate and those roasty flavors without that heaviness. Nice bitter bite in the finish.
Mouthfeel is pretty creamy. Drinkability is pretty good. Not sure it wowed me very much.
600 characters

3.85
/5
rDev
+19.9%
look: 4 | smell: 4 | taste: 4 | feel: 3.5 | overall: 3.5
Served in a snifter at ChurchKey.
Another reason to love the CK: every now and again you find some random beer no one's heard of before. This one pours an opaque dark brown topped by somewhere around a finger of ecru micro-foam. The nose comprises chocolate, a healthy dose of citrus hops, toffee, biscuits, and some oak. The taste continues the perceived conflict between hoppy citrus notes and the opposing chocolate and roast contingent. The epitome of a black IPA. The body is a light medium, with a light moderate carbonation and a dryish finish. Overall, a solid black IPA, but not altogether special or truly great. Definitely worth a shot, though.
658 characters
3.87
/5
rDev
+20.6%
look: 3.5 | smell: 4 | taste: 4 | feel: 4 | overall: 3.5
On tap at Max's today.
The beer pours a brownish amber color, looking more like a brown ale than an IPA. The beer has decent head retention and a fair amount of sticky lacing. The nose is a bit odd for an IPA as well. There is some underlying hoppy citrus, but I also get some milk chocolate, licorise and light coffee. Flavors replicate the nose pretty closely, though it's hard for me to accept that this is supposed to be a DIPA. At most there's some light hoppy bitterness in the finish, though it blends in well with the coffee and chocolate. It also helps to dry out this fairly dry, flavorful DIPA. Mouthfeel is medium bodied, with a fairly long, bitter finish. Drinkabiltiy is pretty good, though the combination of flavors makes for slow going.
Interesting beer. Not sure it's something I'd want to have to often, but am glad I had the opportunity to try it.
869 characters
4.1
/5
rDev
+27.7%
look: 4 | smell: 4 | taste: 4 | feel: 4 | overall: 4.5
On-tap at Beachwood BBQ, appears to be a Double Black IPA,
A: Pours a muddy, ruddy brown with an off-tan head, good lace.
S: Green hop nose, pine, hint of roast.
T: Some mild roast and dark chocolate flavours are there. There is a good balance with the strong hop flavour - pine, sweet green herbs, cedar bark. Tastes a lot like a hoppy porter.
M: Medium-bodied, smooth, creamy.
D: A real good beer, one of the best Black IPAs I've had, the flavours are in sync with each other, that's what makes it work.
510 characters

4.62
/5
rDev
+43.9%
look: 4 | smell: 4.5 | taste: 5 | feel: 4 | overall: 4.5
Picked this up at the beer store at the De Molen Brewery. Dark brown, almost black pour with huge three finger head with good retention and great lacing. Huge juicy, perfumy, nose with tons of citrus and hops with a nice caramel malt sweetness as well as subtle roasty notes and a touch of cocoa. The taste is an amazing explosion of fresh hops and citrus, complemented nicely with a great roasted malt smokiness. All the best from the world of IPA with juicy hints of pine and grapefruit, as well as all the best from a stout with chocolate notes and roasty espresso. It leans a little more towards the IPA, but overall it's very well balanced. A little more carbonated than others in this style, but it doesn't detract at all. Currently, Black IPA's are my favorite style. Never thought Sublimely Self Righteous could be topped, but this just may have done it. Not sure what beer the other reviewers were drinking, because this didn't resemble any of them. Not sure I've ever given a beer a 5 for taste, but this one deserves it. An amazing beer from an amazing brewery!
1,072 characters
Stout & Hop from Brouwerij De Molen
Beer rating:
3.21
out of
5
with
15
ratings