Zomer Hop
| Brouwerij De Molen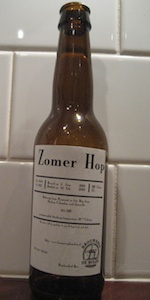 BEER INFO
Brewed by:
Brouwerij De Molen
Netherlands
brouwerijdemolen.nl
Style:
American IPA
Alcohol by volume (ABV):
6.20%
Availability:
Rotating
Notes / Commercial Description:
25EBC / 46EBU / 15,6 ºP
Pale & Cara malts. Sladek Columbus & Cascade (late hop). Bermagot fruit
Added by DeanMoriarty on 11-05-2010
Reviews: 15 | Ratings: 39

4.12
/5
rDev
+5.4%
look: 4 | smell: 4.5 | taste: 4 | feel: 4 | overall: 4
330ml bottle. (Bottled on Nov´11,enjoyed on Jan´14). Golden color, chill haze appearance. Off-white foam, creamy crown & copious rings. Caramel, delicate citric, herbal & spicy aromas. Gentle citric & yeasty upfront. Light to medium body. Moderate carbonation. Oily mouthfeel. Kind heat & caramelish flavor overwhelmed by arising & clean citric bitterness in the middle. Bitter finish. Citric & perfumed aftertaste. Bitterness is so clean & delicate in this Big One beer!!
474 characters
3.58
/5
rDev
-8.4%
look: 4 | smell: 3.5 | taste: 3.5 | feel: 4 | overall: 3.5
750ml bottle received via Growling at the Moon from imstillthegman. Corked & caged. Thanks for the brew, Guy!
Pours into my tall 2009 Pioneer stein, well, first it overflowed everywhere on my desk. Once it settle down, THEN it poured with a still huge 5+" eggshell head, over the cloudy amber brew. Head recedes WOW SO slowly. Aroma is soapy with an undercurrent of pine.
Taste is sweet to start, soapy pine in the middle, and a moderately bitter close, and a lingering aftertaste that I can't quite put a finger, but not particularly complimentary. Mouthfeel is very smooth, with good drinkability once it can be put in the glass. Reasonably good brew, but hard to drink.
676 characters
3.98
/5
rDev
+1.8%
look: 4.5 | smell: 4 | taste: 4 | feel: 3.5 | overall: 4
A: Pours a hazy dark golden orange in color with light amounts of visible carbonation. The beer has a two finger tall dense off-white head that slowly reduces to a finger thick layer covering the entire surface of the beer. Significant amounts of lacing are observed.
S: Moderate to strong aromas of pine hops with some more moderate notes of herbal and grassy hops. Light amount of spicy/peppery yeast and some even lighter lemon/citrus.
T: Light malt body with moderate to strong flavors of pine, herbal, and grassy hops (in order of strength). There is also a light presence of lemon/citrus and some peppery yeast flavors.
M: Medium bodied with heavy amounts of carbonation. Very dry in the finish.
O: Enjoyable and refreshing, I could see this be a great light IPA for the summer. Glad I got the chance to try this one though it might have been better on an even hotter day.
882 characters
4
/5
rDev
+2.3%
look: 4 | smell: 4 | taste: 4 | feel: 4 | overall: 4
A: The beer is cloudy yellowish brown in color. As soon as the cage was taken off, the cork exploded out of the bottle and launched up in a collision course with the ceiling. It poured with a four finger high white head that has excellent retention properties, never completely fading away and consistently leaving a thin head covering the surface and lots of lacing down the sides of the glass.
S: There are moderate aromas of citrusy hops in the nose along with some notes of grassy hops.
T: Like the smell, the taste has citrusy and grassy flavors. There are faint hints of lemongrass and a light amount of bitterness.
M: It feels medium-bodied and a bit crisp on the palate with a moderate amount of carbonation.
O: The drinkability of this beer makes for a perfect "summer" IPA. It's easy to drink and also has some refreshing lemon citrus flavors. There's a nice amount of hops in here for an IPA (compared to Double IPAs).
936 characters
4
/5
rDev
+2.3%
look: 4 | smell: 4 | taste: 4 | feel: 4 | overall: 4
Reviewed from notes.
Hazy straw color, big fluffy whipped-cream head head that sticks around and leaves good lacing on the surface of the glass. Smells and tastes very doughy, yeasty, with a Saaz spice accent over the top of a peachy fruitiness and grassy herbal garnishes. Gets a bit of biscuit malt flavor and floral aroma as well when it warms up. Very drinkable soft light texture and carbonation.
Very summery, indeed! To my mouth, the hopping intensity lies somewhere between PA and IPA. Sticks to a simple hopping trio of spice, floral, and herbal tones and nails them perfectly in balance against the malts. I'm glad I had a chance to try this one. Straight 4's across the board.
689 characters
3.33
/5
rDev
-14.8%
look: 3.5 | smell: 3 | taste: 4 | feel: 2 | overall: 3
Pours a solid orange cloudy color with a super huge white head that fills the glass and takes quite a while to recede leaving lacing all the way down the glass.
Aromas begin with quite muddled to be honest. ooking beer. Some citrus/orange mixed with some herbal mixed with some earthy hops. All a top of a biscuity toasted pilsner maltiness. Belgian yeast esters emerge more and more as it warms.
The tastes are more up front than the aromas with an initial bitter citrus, spicy hop combo. Then you are greeted with some more pear and orange rind fruity sweetness. Floral undertones emerge more and more as it warms.
The mouthfeel is where the beer fails though, way overcarbonated for the medium body. The bubbles continue to scrub your palate preventing you from enjoying the sublte, yet pleasant flavor profile. Finish is uber dry also because of the ample hops and over carbonation.
Overall this was a good beer ruined by improper carbonation. Another reason I am not a fan of these Belgian IPAs because bottle conditioned Belgian ales are often higher in carbonation which is fine for some style but not ones with this much citrus and floral hop character and so little malt backbone. Makes the flavor almost taste soapy. Can't recommend.
1,249 characters
4.17
/5
rDev
+6.6%
look: 3.5 | smell: 4 | taste: 4.5 | feel: 4 | overall: 4
Appearance: Pours a slightly orange gold into a Sam Adams pint glass. Huge, fluffy white head is very active and almost seems like a living creature. Curtains of bubbles stream from the bottom.
Smell: The hops are front and center, and you definitely know that an IPA is coming, but they're not overpowering. I get some flowers, a little pine and a little grassiness, all of which I suspect comes from the hops. There's also a faint hint of Belgian yeast-style pepperiness. All in all, very intriguing.
Taste: Wow, there is a lot of hoppy goodness going on here, and it works really well. The flowers, pine and grassiness remain, together with a citrus element that I didn't initially pick up in the nose. I suspect there's a Belgian yeast at work as well, because that nice subtle spiciness remains. There's a malt backbone that holds it all together but largely remains in the background, letting the hops take center stage. It finishes dry and fairly crisp. The brewer did some very complex work with the hops here, and we the drinkers benefit.
Mouthfeel: The relatively high carbonation keeps the beer light to medium bodied. It seems to work here; even with the admirable balance, lower carbonation might have left this one a little heavy feeling.
Drinkability: Quite high.
1,292 characters
3.95
/5
rDev
+1%
look: 4 | smell: 4 | taste: 4 | feel: 3.5 | overall: 4
750ml, 4/27/12
Victory tulip
A: Pours a light orange yellow color. Hazy as hell. Two fingers bright white head. Tons of carbonation. Big pop on the cork, actually burst out of cage.
S: Still get lots of hops on the nose. Fruit (citrus/melon) and pine but not overboard. Don't know what yeast strain they are using but I get that traditional Belgian spice.
T: Right on the front of the tongue, I get a floral pine hop flavor. Seems like the hops have held up pretty well in the couple of months since bottling. I do get lots of that hop flavor and minimal malt backing. It's a solid balance bit definitely more hops. Dry finish.
M: Medium bodied. Carbonation is high and prickly. Makes it lighter than it is. Almost too high.
728 characters

4.04
/5
rDev
+3.3%
look: 3.5 | smell: 4.5 | taste: 4 | feel: 3.5 | overall: 4
Poured from 750 mL bottle into shaker pint glass.
A: Pours a slightly hazy light golden hue with high carbonation producing a large 3+ inch white head that lasts for a long while.
S: Hop aroma hits from a couple feet away... Citrus, melon, peppery spice, peach, hint of floral notes, and a dash of grassy saaz hops. Quite fresh, fragrant, and complex.
T: Citrus, peach, subdued pepper, dry grass, hints of floral and herbal notes. Follows aroma fairly closely. The high carbonation seems to augment the various and sundry hop notes...as this dies down, so does the beer as a whole.
M: Medium body. A ton of tingle from the carbonation. Initially spicy and dry, turning moderately bitter in the finish. Slightly sweet malt lies in the background.
D: A nicely complex and drinkable summer brew. Good on its own or with a (grilled) meal.
834 characters

4.07
/5
rDev
+4.1%
look: 3.5 | smell: 4 | taste: 4 | feel: 4 | overall: 4.5
Pours a lightly hazed golden straw color, huge plume of prickly white head, took a while to settle, lacing is light. Scent brings floral and citrus notes, grassy quality, lightly sweet pale malts, light mineraly note. Taste follows suit, very clean and crisp pale malt taste with nice floral, citrusy and grassy but lightly bitter hop profile. Lighter side of medium bodied, crisp, dry. Nice take on the American IPA with a pale malt base and avoidance of any crystal malts it appears.
485 characters
4
/5
rDev
+2.3%
look: 4 | smell: 4 | taste: 4 | feel: 4 | overall: 4
Pours a straw-yellow color with a monster cream head. The head is huge and sits atop the beer throughout the entire drink and sticks to the glass all the way down.
Smell has a ton of hops in it. Both fruit and floral hops. Lots of grassy and earthy smells and a bit of citrusy goodness too.
The taste has some very nice fresh hops to it. A lot of grassy and floral type hops. A malt backbone is very light, almost like a belgian single.
Mouthfeel is very nice. Very thin, but I don't mind that in a seasonal. A bit of a crispness makes it even more refreshing.
A good IPA. Different than any I have ever had. Almost a cross-breed between and American IPA and a European pale ale. Nice balance and definitely a well-crafted brew.
730 characters
3.93
/5
rDev
+0.5%
look: 4.5 | smell: 4 | taste: 4 | feel: 3 | overall: 4
750ml served in a Sam Adams perfect pint glass.
A - 3 fingers of billowing foam that looks like an ice cream float. The head just sits and sits finally forming a sudsy cap. Loads of 1/4 " thick lacing.
S - Bright hop aromas, lemon and mandarin citrus, melon, apples, floral, hints of lavender, fresh bread,
T - Sweet malt upfront followed by citrus pith, grassy bittering hops, melon and lots of tropical fruit come through and compliment the sweet malt. A green grassy bitterness rides through mixing with a semi-powdery dryness on the finish.
M - Medium body, medium carbonation, oily center, semi dry finish.
I was expecting more of a Belgian IPA but this falls in the American category. Sweet malt but not too sweet. Lots of hop flavor and aroma with a decent amount of bitterness. Citrus really starts taking over as it warms. A solid IPA.
851 characters

3.65
/5
rDev
-6.6%
look: 4 | smell: 4 | taste: 3.5 | feel: 3.5 | overall: 3.5
#BOTG 92, and another Rare beer club selection.
When I undid the cage, the cork jumped out of the bottle. After the bubbles flood the bottle it chills out, ready to pour. Poured from bottle into New Belgium glass (a new favorite). Pours a solid orange cloudy color, crazy head fills the glass and takes awhile to recede. It leaves lacing all the way down the glass. Really nice looking beer. Smell- I know its a hop aroma, but it smells like plastic to me tonight. Not awful, but its there. Some citrus/orange rind flavors as well. Taste- wow. this is crazy. A lot of competing flavors, I'll try to jot them all: a bitter blast hits my tongue, its followed by a juicy pear/mango/orange rind malt sweetness. It is followed by a tangy/citrus sour and then again a bitter ending. This is a crazy and interesting hoppy beer, but its not too balanced, and has some competing flavors that I am not sure are integrated too well. Overall, its drinkable, and I was glad for the chance to taste it. Another interesting one from the rare beer club.
1,039 characters
4.28
/5
rDev
+9.5%
look: 5 | smell: 4.5 | taste: 4 | feel: 4 | overall: 4.5
Bottle: Poured a dirty beige color ale with a super huge foamy head with good retention and some good lacing. Aroma consists of dry hoppy notes (Saaz) and some citrus notes (Amarillo) with a rustic malt backbone. Taste is a super well balanced mix between some dry hoppy notes with floral undertones and some citrus notes with a rustic malt backbone sustaining the whole mix. Body is full with limited filtration and super good carbonation with no apparent alcohol. I very much enjoyed this one and thought that the mix between Saaz and Amarillo hops was great.
561 characters

4.37
/5
rDev
+11.8%
look: 3.5 | smell: 4 | taste: 5 | feel: 4 | overall: 4
Picked up a 33cl bottle from De Bier Koning in Amsterdam for 2.35 euros, by recommendation from the shop keep after asking for a good American style IPA, and poured it into a stemmed tulip glass.
Printed on the bottle: Brewed - 5/5/10 & Bottled on - 6/14/10, Bittering Hops - Premiant & late hop Saaz, Dry Hop - Columbus & Amarillo, 41.6 EBU's
A: Pours a hazy copper/brownish hue (definitely unfiltered), nice head that lasts for half the beer, leaving tons of lace and a slight amount of chunky sediment at the bottom of my glass.
S: Good hop - grassy, floral and resinous, with some sweet carmel, yeast and grainy malt in the mix too, but the hop dominates in a nice way.
T: Has a real small batch (homebrew) flavor that is nice, super hoppy - sweet, fresh cut grass, very resinous and herbal, with strong malts that balance the massive hoppiness without dominating the overall taste. Extremely well balanced and a proper take on California style IPA.
M: Medium bodied, slightly sticky, with light carbonation that works nicely with this brew. Overall smooth drinker with a creamy finish.
D: Real easy drinker with nice bitterness. I would definitely post up on these all night.
1,188 characters
Zomer Hop from Brouwerij De Molen
3.91
out of
5
based on
39
ratings.