List & Bedrog Oak Aged
| Brouwerij De Molen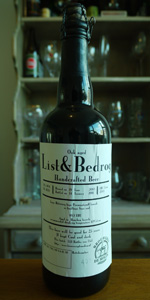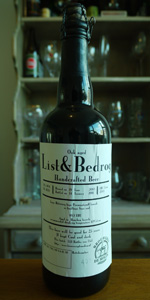 BEER INFO
Brewed by:
Brouwerij De Molen
Netherlands
brouwerijdemolen.nl
Style:
Russian Imperial Stout
Alcohol by volume (ABV):
11.90%
Availability:
Limited (brewed once)
Notes / Commercial Description:
Imperial stout aged in Oak and Bourbon barrels. Brewed 19 June 2010 and bottled 14 January 2011. A total of 753 large 75cl bottles were filled.
Added by Jeffo on 02-17-2011
This beer is retired; no longer brewed.
HISTOGRAM
Ratings: 13 | Reviews: 10
Reviews by kojevergas:

3.94
/5
rDev
+4.2%
look: 3 | smell: 4 | taste: 4 | feel: 4 | overall: 4
Served on-draught at De Molen in July 2010. "List & Bedrog" (Deception and Deceit, as translated by our waiter). Served into a De Molen stem-goblet. Reviewed from notes.
A: Pours a one finger beautiful tan colour head of lovely cream and thickness, but bad retention (classic De Molen carbonation issues). Colour is a nontransparent solid black.
Sm: Vanilla, caramel, cream, coffee, chocolate. A mild strength aroma. Surprisingly, no alcohol comes through.
T: Lovely cream-laced open gives way to a rich body with all the notes from the nose stacked atop. Well chosen malts comprise the complex foundation. No roast comes through (unfortunately), but there're certainly coffee notes. Built very well for the style. Exquisite. Well balanced.
Mf: Thick enough to support the flavours. Smooth and wet. I'd prefer more dryness and coarseness (especially on the climax), but this texture works with the flavours here.
Dr: High ABV is well concealed. Very fairly priced (at least at De Molen) and very easy to drink. The quality can't be denied. I'd love to try this one again. Shockingly, the oak hardly came through.
B+
1,126 characters
More User Reviews:
4.23
/5
rDev
+11.9%
look: 4.5 | smell: 4 | taste: 4.5 | feel: 4 | overall: 4
Jeepelers creepelers, this is a rather delightful beer.
Appearance: Nothing unique, but beautiful to look at all the same. A mocha-beige head atop end-of-the-universe black. Maybe the only time I'd ever feel comfortable using the term Onyx (but in relation to mid-90s aggro-hiphop groups of course - "Slam! Huh duh duh, huh duh duh, let the boys be boys!")
Smell: Marmite; freshly baked pain au chocolat in a Parisian bakery; high-end vanilla ice cream; some oak; and, of course, roasted malt. Is it ever wrong to wish a beer might morph into human form so as to cradle you in its arms?
Taste: The most surprising element is how smooth this beer is. I was expecting a big, bourbony cat o' nine tails across the face ala Goose Island's various iterations of BCB stouts, but no - the bourbon aging in this is gentle, like being massaged by a petite Japanese lady who holds her hand to her mouth and titters when you apologise for having an erection.
Upfront you get oak and dark chocolate. The middle is alcohol heat, brewer's yeast (the aforementioned Marmite smell) and Ca Phe Chon coffee. The finish is vanilla and bitterness.
Mouth-feel: An unctuous, low-carbonated stout. The only reason I haven't given it a five is because I'd like it even thicker.
All in all this a genuinely wonderful stout that I wish more of you could try, but unfortunately only 700-odd bottles were made so too bad.
Enjoy your KBS, you filthy bastards.
1,441 characters

4.33
/5
rDev
+14.6%
look: 4.5 | smell: 4 | taste: 4.5 | feel: 4 | overall: 4.5
Jeffo sends me yet another beer I didn't know existed. Bottle #385/753. Bottled 1/14/11. Poured into my trusty Founders snifter.
A - Pours fairly dark with a nice, thick and tan head. Slowly turns in to a nice lacing. It doesn't seem to be too thick, but looks like a pretty good stout. The head sticks nicely to the side of the glass upon swirling.
S - I can smell the barrel as soon as I start to pour the bottle. Very strong charred oak barrel aroma. Wow....if you don't like whiskey, you won't like this aroma. If you like whiskey, this aroma is outstanding. It is like taking a deep breath of an open bottle of bourbon but without the alcohol burn. However, as it warms, I do get a little alcohol in the aroma that just seems a little unfavorable.
T - Roasted malts, dark fruits toward the end mixed with bourbon. A slight amount of fudge quickly turns to coffee. Coffee dominates the end of this one, which seems to be a common factor in quite a few of the De Molen RIS bottles. I detect barely anything related to the high +10% of this one...very nice. The coffee mixed slightly with a bourbon flavors really stick to the tongue between sips. It isn't the vanilla/toffee flavor that get in a lot of BA RIS, but instead dark fruits mixed with a slightly charred oak. It really takes me about 8oz before I find that vanilla/toffee flavor. Very nice. I think the way that the coffee covers the ABV instead of the sweetness in many RIS is quite nice.
M - I'm not too happy with the over-carbonation that I get upfront on the tongue. The rest of the mouthfeel is great, but I've gotta dock some points here. It just seems a little too light on the tongue at first. After some ounces are consumed, it does get much better.
O - I'm impressed with this one and would happily get another bottle. It reminds me of Ivan, but with more barrel flavor and likely a bigger kick. For a BA RIS, I am pretty happy. I really like the coffee flavor I get from some of the De Molen. This isn't as good as the HV Wild Turkey, or the blended Black Damnation 666 for that matter, but it is a very nice beer. For sure worth the Bud Light w/Lime that I traded Jeff for this one. I really should have shared this one.
2,205 characters

4.55
/5
rDev
+20.4%
look: 4.5 | smell: 4.5 | taste: 4.5 | feel: 4 | overall: 5
Bought this bottle from de Molen beer shop in Bodegraven.
Bottle number 413 out of 753.
Poured into a snifter.
Black with a two finger mocha head that doesn't stay around too long.
Lots of chocolate and coffee on the nose. Some more subtle hints of the barrel in the back.
Taste follows the nose quite a bit. Chocolate and coffee. The barrel is present but not over powering.
Medium to full body. Thick but smooth and a little alcohol upon a fairly neutral finish. Good amount of carbonation for the style.
This is one fantastic stout. It has a high abv but it still goes down fairly smooth. Good thing I picked up a couple more of these because I'mvery curious to see how this one holds up after a couple of years.
Try to get your hands on one.
753 characters

4
/5
rDev
+5.8%
look: 4 | smell: 4 | taste: 4 | feel: 4 | overall: 4
75 cl bottle poured into my CBS tulip glass
Pours pitch black colour with medium beige head
Aroma of roasted malts, oak, liquorice notes, bourbon, tar, peat and caramel.
Flavour of cocoa, bourbon, oak, chocolate , mild syrup notes, roasted malts, caramel , vanilla and sugar candy.
sweet palate, strong carbonation, dry finish.
Very nice !
341 characters


3.04
/5
rDev
-19.6%
look: 4 | smell: 2.5 | taste: 3 | feel: 4 | overall: 3
Thanks to Alex for sharing this via Jeffo.
A - Black beer that's a little brown on the edges when held in the light. Tan head made up of fine bubbles that left a little bit of stick on the glass.
S - Smells hot, with too much booze, some solvent, and some permanent marker. There's is some licorice and bourbon with a little chocolate and oak as well. the solvent and marker smell is a turn off.
T - Less permanent marker and solvent than in the nose, but it's still a bit boozier than it should be. There is some char and bitterness with bourbon, chocolate, and slight coffee. There is underlying oak in there. This beer had some stuff to work with, but the bad solventy booze hurt it.
M - Medium bodied with moderate carbonation.
O - Don't care a ton for this beer, the nose and flavors are off. Has a good dose of char like a European stout, maybe with some time this might get better.
893 characters

4.4
/5
rDev
+16.4%
look: 4.5 | smell: 4.5 | taste: 4.5 | feel: 3.5 | overall: 4.5
Got this one at De Molen in Bodegraven.
Imperial stout aged in Oak and Bourbon barrels.
From a 750 into a snifter
Brewed 19 June 2010 and bottled 14 January 2011
Bottle 409 of 753
APPEARANCE: Pours out absolutely pitch black, thick and sludgy looking. Perhaps the baddest pour on a De Molen stout yet. Just evil. A delayed cascading effect yields a small, medium-thinner looking, mocha colored head with decent retention. Pitch black in the glass and thick looking. First pour shows higher levels of active carbonation for the style, though subsequent pours show no carbonation at all. Head slowly fades to a good, full wisp and a ring. A thick ring remains and a lovely swirling wisp decorates the top of the brew, leaving dots of lacing down the glass. Menacingly intimidating and wonderfully beautiful at the same time.
SMELL: Big nose on this one for sure. Roasted malts, smoky notes and dark chocolate. Definite oak and bourbon qualities, with hints of vanilla as well. Lots of barrel on this one, but the base beer definitely holds its own. Well put together and very enticing.
TASTE: Roasted malts, smoky malt and some dark chocolate up front. A good dose of oak and bourbon through the middle, with some nice hints of vanilla as well. Quite boozy, with lots of whisky after the swallow, and a good amount of heat in the end. The big, bold, and persistent aftertaste has it all. Lots of the roasted malt and pure chocolate from the base beer, as well as plenty of oak, bourbon and vanilla flavors from the barrel. The two work really well together, complimenting instead of dominating. A big, barrel aged stout with lots of complexity and flavor.
PALATE: Medium body and medium, soft carbonation. Creamy smooth on the palate, goes down smooth with a bit of heat at the finish and a slight burn after the swallow. Finishes slightly mouth-coating. Nicely carbonated and very creamy, though a touch hot still.
OVERALL: Fantastic. This is De Molen at its best, and I had no idea it was even in the works. A big, flavorful, and extremely well integrated barrel aged imperial stout that drank away far too easily. The carbonation is done just right on this one as well, which is something we can't say about all their big stouts. Luckily this one worked out beautifully. It's still a little hot perhaps and could do really well with some time in the cellar, but I'm glad I got to give this one a go fresh. If you've got the chance to pick up a bottle of this one, do so. Highly recommended.
2,504 characters

2.98
/5
rDev
-21.2%
look: 3.5 | smell: 3 | taste: 3 | feel: 3.5 | overall: 2.5
Thanks, Alex. Poured into Darkness snifter.
A - Pours black, pretty much flat, looks like motor oil.
S - Bitter roasty notes, char, some malts, black licorice, bourbon. Pretty boozy and lots of oak. Maybe some black marker in there too.
T - Similar to the nose. Too hot, too young, needs time. Lots of okay booze, huge char notes, bitter hops. Really not into this one...hard to even sip.
M - Full, flat, creamy finish.
O - Gotta say pass on this one...too hot and oaky for me. I'd say it's a sipper, but I don't even want to sip this beer. Can't recommend...below average for me.
585 characters

3.44
/5
rDev
-9%
look: 4.5 | smell: 3 | taste: 3.5 | feel: 3.5 | overall: 3.5
Thanks to Jeffo for this one. Bottle #413 of 753. Served in a Hair of the Dog tulip.
A - Creamy and voluminous dark mocha foam settles to a thick cap, leaving a few stray splotches of lace. Black body, with a glint of brown at the edge of the glass.
S - Lots of alcohol here - solvent, bourbon, and oak predominate, with chocolate, licorice, and umami in the periphery. It's kind of an odd aroma, as it's boozy and hot relative to the other flavors, but also sort of understated at the same time.
T - I like the taste a fair bit more. Lots of dark roast and charred malts, dark chocolate, bitter espresso, and a bit of permanent marker that thankfully dissipates as the beer warms up. There's still a good deal of oak and bourbon, but this isn't hot in the same way the aroma is.
M - Chewy, medium body that seems a bit light for almost 12%. Dry and tannic finish, moderate carbonation, and plenty of alcohol warmth. Appropriate for the dead of winter, but definitely a sipper.
D - I imagine this will appeal greatly to European palates that hate the diabetic imperial stouts brewed in the US. It's too chary and boozy for my tastes, although I think I enjoyed it significantly more than my friends did. One of the few De Molen beers where I actually believe it might last as long as the promised 25 years.
1,311 characters
4
/5
rDev
+5.8%
look: 4 | smell: 4 | taste: 4 | feel: 4 | overall: 4
From notes, obtained via JeffO from a trade way back when, at least a year ago...thanks Jeff!
Med full bodied, sprtizy, oily, and creamy mouthfeel (don't experience all those at once in a stout very often) with a solid carbonation.
Rich malt sweetness (brown sugar) with undertones of oak. Strong woodiness throughout with hints of smoke and a solid bakers chocolate note as well. Finishes wtih a strong presence of licorice, oak, and dark cherries.
Overall: super smooth (abv is well hidden) it's unique and straightforward but with a nice amount of depth.
Thanks again JeffO for the trade, hopefully one of these days we will be able to meet up and share a beer together...think this years Borefts will be the time!!!
723 characters
List & Bedrog Oak Aged from Brouwerij De Molen
Beer rating:
3.78
out of
5
with
13
ratings