Hel & Verdoemenis Wild Turkey B.A.
| Brouwerij De Molen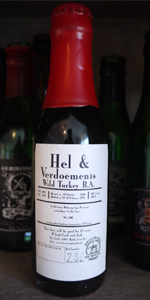 BEER INFO
Brewed by:
Brouwerij De Molen
Netherlands
brouwerijdemolen.nl
Style:
Russian Imperial Stout
Alcohol by volume (ABV):
11.00%
Availability:
Rotating
Notes / Commercial Description:
No notes at this time.
Added by doopiedoopiedoo on 02-26-2011
Reviews: 38 | Ratings: 101
4.42
/5
rDev
+6%
look: 4 | smell: 4.5 | taste: 4.5 | feel: 4 | overall: 4.5
Thanks to Cavie for sharing this bottle. Excited to try this one.
The beer pours a dark brown color with a tan head. The aroma is heavy on the roasted malt and chocolate, with an overwhelming amount of bourbon mixed in. I also get quite a bit of oak mixed in on the aroma.
The flavor is also great. I get a lot chocolate and roasted malt, as well as all of the notes you expect from a bourbon-barrel aged beer: wood, vanilla, maple and whiskey. There is also a little bit of coffee, although it is faint and overpowered by the other flavors. The alcohol is quite noticeable.
Medium carbonation and thick, chewy mouthfeel.
Glad I got to try this one, as it didn't disappoint.
681 characters

4.42
/5
rDev
+6%
look: 4 | smell: 4.5 | taste: 4.5 | feel: 4 | overall: 4.5
Jeffo and I had an IP trade over in Belgium. He hands me this block of beers that have been wrapped in cardboard and tape. He says "Stick this [stuff] in your luggage and you're good to go". I get home to find that, among other sick bottles, he's included a bottle of this treasure. I'm pretty sure my wife gets sick of me yelling in happiness when I open boxes/packages like this one.
A - Near black pour into a La Chouffe (Magic Chouffe) tulip. All 18cl of it...haha. Good head, thin lacing. Lacing returns with every swirl, then goes back down to thin layer.
S - Chocolate, vanilla, bourbon. Nice aroma going on here. I get a good amount of the fudge and bourbon mix. It seems to take on the barrel well without overpowering the nose.
T - Starts mild as what I'd call a typical stout, then quickly makes a smooth transition to vanilla and light bourbon. Bourbon is smooth and pleasant. Bourbon flavor gives a noticeable amount of wood in the back part of each taste...best stated as a light charred oak. This mixes with coffee at the end of the flavor. Coffee remains for entire last 1/2 of the flavor, with mild vanilla lingering. When flavor sits on the tongue between sips, coffee dominates. Bourbon "sting" is a little bit evident, esters clear the nose but don't dominate or burn the tongue. Slight chocolate/fudge at the end, but only noticeable after a few sips. Really not as much fudge as the nose would indicate. 13%? Wow, I literally just noticed this (I wrote that down while tasting). Really not evident at all. Much less evident than, for example, in a bottle of BCBS. I would've guessed around 9% based on style and barrel aging.
M - Medium, smooth and works well with the beer. Quite enjoyable and appropriate. Carbonation remains throughout the entire serving.
O - Very good beer. I didn't quite get the upfront fudge that the aroma lead me to anticipate, but the bourbon was right on target. I sipped it slowly since I only had one (18cl bottles are BS, btw), but I would've returned for multiple servings at a bar or if I could have bought a case.
2,075 characters

4.47
/5
rDev
+7.2%
look: 4 | smell: 4.5 | taste: 4.5 | feel: 4.5 | overall: 4.5
I am drinking bottle 804 of 1560 bottles, which was bottled around 14/21 February, 2011. ABV is 13%.
Body is very dark brown. Aggressive pour into a brandy snifter produces only a slight tan head, that quickly dissipates into a fine ring, with swirls of light suds on the surface.
Smells of dark roasted malt, whiskey alcohol, vanilla, dark fruit, prunes, and oak. A lot going on with this.
Tastes of dark roasted malt, a little powdery char, luscious dark fruit, sour but also sweet, and pretty boozy from the whiskey. Has a nice hoppy bitter finish, but not as bitter as I'd expect for a 99.9 EBU beer.
Body is medium, and there is a bit of a sticky sweetness, and just a small amount of carbonation. Overall, tastes pretty smooth.
This is a great RIS, very flavorful and very potent, in taste and in alcohol. This beer makes a perfect desert beer or night-capper.
875 characters
4.47
/5
rDev
+7.2%
look: 4 | smell: 4.5 | taste: 4.5 | feel: 4.5 | overall: 4.5
18cl bottle #1520, shared with drowland. Pours jet black without a head. Slight bourbon aroma, sweet vanilla. Taste is roasty coffee, the bourbon comes out and burns slightly going down, even then, hides the 13% wonderfully. Very ashy. Sweet and delicious. I'm quite sure that this lives up to the top 50 hype, very, very good. A great example of the beer showing the characteristics of the Bourbon.
401 characters

4.47
/5
rDev
+7.2%
look: 4 | smell: 4.5 | taste: 4.5 | feel: 4.5 | overall: 4.5
Bottle shared by Thorpe recently served side by side by side with the base beer and Misto B.A. versions, quite a cool thing to do. This was the winner (by a nose) to me.
Again, beer is black, very little head, low carbonation, no lacing, looks like a barrel aged stout to me.
Aroma is better in this one, much much more bourbon, still quite smooth, nice follow up roastiness and mild vanilla and oak. I'm looking forward to this.
I want a beer to push back a little, it is easy to overdo it but still, this beer is sweet, has the bourbon almost immediately, doesn't finish too harshly, leaves you wanting more. It's sweet but not cloying, bourbon flavored but not hot. Mouthfeel is great, it is a good beer all around. This one had the most aggressive and complex flavor profile, that's why it wins for me.
Pours a near-black color with a very thin mocha head that dissipates pretty quickly and leaves just a few bubbles behind. The nose has a ton of bourbon, though it's pretty smooth. Roast and chocolate in the background along with some mild vanilla and booze. The flavor is dominated by the bourbon, though no complaints here as it is quite nice. Oak and vanilla plus some chocolate. Body is a bit boozy and not quite as smooth or creamy as the Misto version. Really nice, still. Great beer; this was a really fun comparison set.
1,339 characters
4.51
/5
rDev
+8.2%
look: 4.25 | smell: 4.5 | taste: 4.5 | feel: 4.75 | overall: 4.5
Bottled: 28 January 2013.
Were the normal version had a huge head yesterday this does not. A thin film of tan head that fizzes away quickly. Very different from the huge frothy head yesterday that stayed on forever.
Still a dark beer with some reddishes at the bottom of the glass.
You can still smell the base beer, a pretty roasty and charred stout but added to that is an unmistakenly boozy nose. Whiskey for sure. Some coffee still there as well. Vanilla from the casks. Interesting!
Taste then...
Interesting, I think the base beer is subdued a little by the barrels. As expected. It appears less fruity than the original with more of an oaky, vanilla, bourbon flavour to it. The barrels do not overpower the beer however. The fruitiness (or more like malty sweetness) that it has is still there with a oaky/vanilla-ish flavour from the Wild Turkey. Very very complex, especially for me a non-bourbon/whisk(e)y drinker.
Not alcohol from the actual beer.
Very smooth, probably even more than the original. Could be the additional 1% ABV this bottling has. Even less carbonation too. A nice full and oily body.
A very enjoyable beer. It is much better than the original? I don't dare to say but it is different for sure. Well recommended. The 666 version I had long ago is maybe even better.
1,300 characters
4.53
/5
rDev
+8.6%
look: 5 | smell: 4.5 | taste: 4.5 | feel: 4.5 | overall: 4.5
18 cL bottle poured into a De Molen Eau de Vie glass at Kulminator. brewed Oct. 10 2010, bottled 14/21 Feb 2011. Reviewed 6/9/2011. Bottle 1487/1560.
Ar: Rich roast, full dark malt, whiskey (rough whiskey), vanilla, alchol, strong chocolate, mild burn/char
Ap: Low/medium dark tan head, good retention, thick black
T: Rich and full, roast, molasses, vanilla, strong whiskey, light smoke/char, dried dark fruit, strong chocolate, hop bitterness and unsweetened baking chocolate at end, raisin, brown sugar, toffee. A very full stout with good vanilla, roast, whiskey and char balance.
M: Smooth, alcohol warmth, low carbonation, full body, light alcohol bitterness, viscous
O: Very aggressive and very good, strong alcohol, very full and rich, amazing
755 characters
4.54
/5
rDev
+8.9%
look: 4 | smell: 5 | taste: 4.5 | feel: 4 | overall: 4.5
Massive thanks goes out to beeruser for sharing this one with funkydelic and I at an impromptu tasting! First batch (96 bottles)! Served from bottle into a Mikkeller sampler wine glass. Poured a massively dark brownwith a minimal light tan head. There was no lacing evident throughout the glass. The aroma was comprised of sweet malt, dark chocolate, wood, and dark fruit. The flavor was of sweet malt, roasted malt, dark chocolate, coffee, wood, and subtle sweet alcohol. It had a medium feel on the palate with mild carbonation. Overall this was just an excellent brew. The aroma on this one was excellent. So much so, it actually took me awhile to take my first sip as I kept going back to smell it over and over. Once it did hit my palate I knew I was in the presence of a great beer. The flavor was very complex and smooth. All aspects of this one just seemed to work in unison to make the others stand out. Really a great beer that I was very happy to have the opportunity to try!
986 characters

4.57
/5
rDev
+9.6%
look: 4.5 | smell: 5 | taste: 4.5 | feel: 4 | overall: 4.5
.18cl CLEAR nip bottle, I thought the glass was brown until the beer was poured out into a snifter shaped wine glass. A HUGE thanks to jeffo for this one.
Pitch black, no head but a slight hiss did escape the bottle
The smell is intense it's got port, bourbon, sweet dark chocolate, and vanilla with some slight coffee undertones. An absolutely decadent nose.
The taste is much more coffee and chocolate forward with bourbon taking a backseat but present in the heat and flavor towards the middle and the back.
This is some HOT beer in both mouthfeel and flavor it's quite boozy, more-so than most bourbon barrel aged stouts. There's also a considerable earthy character that's duly noted in many DeMolen stouts I've tried.
Overall this is the perfect size bottle (never thought I'd say that) for something this intense both in flavor and heat. Mouthfeel is oily slick, hot and has a light carbonation.
908 characters
4.64
/5
rDev
+11.3%
look: 4.5 | smell: 4.75 | taste: 4.75 | feel: 4.25 | overall: 4.5
Pours black with a very thin, Lmost non existent head. I smell bourbon, chocolate, nuts, and more bourbon. Tastes the same as smells with the nut and chocolate coming on strong in the end. Also a hop presence. The Bourbon and hop flow up through the nose. The booze also slaps you on the ass, and I asked "please may I have another". Not an overly bodied beer, which puts a little more emphasis on the Wild Turkey. This takes slightly away from smoothness. A very unique and exotic beer that I enjoyed!
510 characters
4.71
/5
rDev
+12.9%
look: 4 | smell: 4.75 | taste: 4.75 | feel: 4.75 | overall: 4.75
I think this is the best one i have had of the H&V series yet...roasted malts, chocolate, bourbon, wood, coffee and vanilla...perfect balance...not taken over bij de turkey barrel...smooth...again another great imp from Menno and the lafs...keep em coming please!
263 characters

4.83
/5
rDev
+15.8%
look: 5 | smell: 4.5 | taste: 5 | feel: 4.5 | overall: 5
Busted this out at our weekly tasting with funkydelic and thagr81us, big ole WOOT WOOT to Greg for hookin this thing up!! Bottle was from first batch (96 bottles)you can literally smell the rarity on the bottle..
A) Pours a small head of mocha foam with very tight carbonation, Very nice lacing and a beautiful pitch black stout lurks below!
S) Smells of brownies, dark fruit, anise,coffee, very mild on the barrel and a little booze to tickle the nose hair!
T) POW!! One of the most complex Belgian stouts I've ever encountered. The Wild Turkey barrel brings a very wood forward , vanilla-caramel almost coconut lusciousness. Nice earthy notes, hints of roasted coffee, chocolate,sweet maltyish thingie that all blends awesome with the barrel that is much more present than in the nose.
M) Medium-full body with a soft persistent carbonation. The body seems to have been thinned by the barrel a bit but not at all in a bad way, it still has plenty of sweet malty sugar and flavor for days!
O) Overall this brew was worthy of all the hype! I wish the bottles were larger but oh well the small serving size made sure we all really tasted the rarity!!! I could see it holding up for many many years in the cellar, it's got PLENTY of backbone!!
1,242 characters

4.92
/5
rDev
+18%
look: 4.5 | smell: 5 | taste: 5 | feel: 4.5 | overall: 5
I can't thank Erik enough for this amazing beer! poured into a snifter. Appearance is black and pours with a tiny head that quickly disappears looks to be medium thickness.
Smell is straight bourbon followed by unsweetened dark chocolate followed by some barrel, smells exciting. its almost like taking the cap off of wild turkey and smelling that. awesome
Taste follows the nose, bourbon first with dark chocolate, vanilla followed by some wood. I get some brown sugar in there followed by a nice alcohol burn. excellent, I need more of this stuff
Mouthfeel is pretty light compared to other big stouts, very little carbonation, alcohol is warming but nice.
I was very impressed overall by this beer. age would serve this beer well. pretty awesome beer in my opinion
771 characters
Hel & Verdoemenis Wild Turkey B.A. from Brouwerij De Molen
4.17
out of
5
based on
101
ratings.