Weer & Wind - Bourbon BA
| Brouwerij De Molen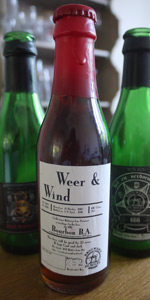 BEER INFO
Brewed by:
Brouwerij De Molen
Netherlands
brouwerijdemolen.nl
Style:
American Barleywine
Alcohol by volume (ABV):
16.20%
Availability:
Limited (brewed once)
Notes / Commercial Description:
No notes at this time.
Added by doopiedoopiedoo on 04-28-2011
This beer is retired; no longer brewed.
Reviews: 13 | Ratings: 31

4.51
/5
rDev
+11.1%
look: 3.75 | smell: 4.5 | taste: 4.75 | feel: 4 | overall: 4.5
Poured from a 330 mL bottle into a snifter. This was bottled on 12-12-2014.
Appearance: Pours a muddy brown and upon pouring leaves no bubbles. Just after settling, some bubbles slowly come to the surface, almost creating a thin tan head. (3.75)
Smell: Molasses, caramel coated raisins, oak, vanilla, dark chocolate, no heat evident. (4.5)
Taste: Rich caramel, light molasses, vanilla, plums, mild cherries, plenty of oak. Alcohol really well masked - better than almost any beer I've had, drinks more like 10%. (4.75)
Mouth-feel: A bit sticky, medium to thick body, with just a hint of carbonation. I'm glad it does have some carb though. (4)
Overall: Really well done barleywine. Nice sweet, but not overly sweet, caramel and molasses flavors with some nice dark fruits and chocolate as well. Highly drinkable for the size. (4.5)
★
837 characters

4.51
/5
rDev
+11.1%
look: 4 | smell: 4.25 | taste: 4.5 | feel: 5 | overall: 4.75
Appearance: Mahogany brown with medium bubbles on the body. Head is slightly off white just about a finger's length above the body.
Smell: Deep toffee scent. With hits of grapes and wine.
Taste: complex sweet. Has a grape feel to it that Is literally true dessert. Toffee and wine with a light sweet feel.
Mouth: Light to medium carbonation. Almost syrup like.
Overall: Ridiculously. Good brew, you have have an appreciation for English Barleywines. This definitely makes my top ten in this category and not to have it is a sin, drank another one earlier review coming soon that just get ready. Salud and enjoy with love!
★
630 characters

3.5
/5
rDev
-13.8%
look: 3.5 | smell: 3.5 | taste: 3.5 | feel: 3.5 | overall: 3.5
Pours amber color, off-white head, thin collar. Nose is dark fruits, caramel, toffee, burnt sugars, oak, and lots of booze. Flavor is lots of sweetness, hot hot booze, dark fruits, light vanilla. Full body, light carbonation, creamy finish.
Not something I could drink a lot of due to the high sweetness and booze, but at 16.2% I already saw that coming. A decent barleywine, but nothing to go too crazy over.
★
411 characters

3.68
/5
rDev
-9.4%
look: 4 | smell: 3.5 | taste: 3.5 | feel: 4 | overall: 4
Pours a flat copper color with minimal carbonation. Aroma is dominated by alcohol. Some bourbon, vanilla, and caramel are there, but mostly just booze. Taste is a bit more balanced, though still boozy. Vanilla, bourbon, oak, brown sugar, and toffee are also present. Plenty of caramel and some hints of dark fruit. Not bad if you can get past the extreme booziness of the nose.
★
377 characters

4.2
/5
rDev
+3.4%
look: 4 | smell: 4 | taste: 4.5 | feel: 4 | overall: 4
7/6/2012
Bottle shared by Jason. Thanks!
A: Reddish brown and still.
S: Maple and brown sugar meet toffee and caramel. Rich and decadent. Lots of bourbon and oak. Light vanilla.
T: Rich toffee and caramel with ample brown sugar. Firm bourbon presence with a little vanilla. Well hidden alcohol. Low earthy bitterness.
M: Upper medium to lower full body. Essentially still. Smooth and sticky with lots of warming.
Overall: A beast of a beer. A definite sipper but I really enjoyed it.
★
489 characters

3.25
/5
rDev
-20%
look: 3 | smell: 3 | taste: 3.5 | feel: 3.5 | overall: 3
Thanks to Jeffo for sending me one of these. Shared at the West Lakeview Liquors De Molen event. Served in a Glunz taster glass.
A - Dead still. Looks a bit like bourbon.
S - Bourbon, brown sugar, bread and grains, a bit of apple. To be honest, this smells more like a bourbon on the rocks after the water has melted than like a beer. Somewhat understated too, which is surprising.
T - The taste is also quite bourbon-forward, but isn't as cloying sweet as the aroma. Burnt sugars, treacle, touch of apple juice, and more bourbon. Reasonably enjoyable considering the ABV.
M - Full bodied, juicy, with no carbonation, and a hefty dose of warming alcohol.
D - It's a definite sipper, and not something I'd really be interested in revisiting. Perhaps this will mellow out in a few years - I'll leave it for someone else to discover. I was surprised by how many people got to share the tiny bottle.
★
900 characters
4.42
/5
rDev
+8.9%
look: 4 | smell: 4.5 | taste: 4.5 | feel: 4 | overall: 4.5
Bottle 18cl bourbon BA from april 2011, aroma some caramel vanilla some nuts, cinemon. Color amber/brown hazy, with small white head. Tasted is very sweet , body full little carbonation. A very good barley wine. I think this get better if you aging him for a couple of years.
★
275 characters

3.06
/5
rDev
-24.6%
look: 4 | smell: 3 | taste: 3 | feel: 3 | overall: 3
Thanks, Evan.
Has a hazy rusty appearance without much carbonation, just a thin film.
Smells very sweet with an undercurrent of booze. Brown sugar and stewed fruits, some oak but nothing that screams bourbon. Not overly aromatic on the whole.
Tastes extremely sweet, heavy on the brown sugar, caramel and other sweet things. A little bourbon and oak, but it's faint. The sweetness is pretty overwhelming. There's some fruitiness in the form of sweetened stewed fruit. Pretty full bodied and syrupy with no carbonation. Not my favorite from De Molen, very one dimensional and cloying.
★
586 characters
4.73
/5
rDev
+16.5%
look: 5 | smell: 4.5 | taste: 5 | feel: 4.5 | overall: 4.5
I got this bottle from the Hop duvel in Gent Belgium.
Bottle number 183, bottled 19th of April 2011.
A - Hazy amber red colored beer, like tea indeed. No head, whatsoever, no carbonation. It looks like wine almost all the way.
S - Wine tones, wood and bourbon, very nice and interesting.
T - It is beer alright, but what a surprise. Sweet syrup, spices, caramel, brown sugar, a hint smoked malt, sweet orange liqueur, just a tiny bit of bitterness to tell you its beer.
M - incredibly smooth for such a high ABV, nice warming alcohol in the back and totally not overwhelming. Some smooth carbonation.
O - This is heavenly beer syrup, really good and really unique. It doesn't look like beer, it doesn't smell like beer, only when you have taken a gulp you will know it is beer. Fantastic.
I had to try this beer again so here I am (31th of December 2011):
A3 - I am missing a head, as I did on the fist time I saw the beer. That time I found it exceptional.
S4,5 - A barrel scent - beautiful.
T4,5 - A very sweet beer with vanilla, caramel, bourbon, oak wood and some tiny bits of hoppiness. Near perfect blend with absolutely no alcohol to be discovered!
M 4,5 - A soft carbonated body with almost no bitterness whatsoever. It coats the inside with a beautiful softness of tones.
O4 - A very nice barley wine, still very good but this time the sweetness countermands me. I don't drink barley wines often but due to this one I will try it more often.
★
1,463 characters
4.75
/5
rDev
+17%
look: 4.5 | smell: 4.5 | taste: 5 | feel: 5 | overall: 4.5
A: tea colored, not as dark as one would expect, low carbonation and a sugary/syrupy thickness.
S: Flinstones vitamins, vanilla, wood, covered swirl=strong soft cheese funk.
T: pure refined sugar, a hint of tobacco smoke, a little bit of the cheese, herby sweet tea, sweet orange liqueur, no bitterness whatsoever. The tea and wood linger.
M: incredibly smooth for such a high ABV, the alcohol warmth lingers as long as the wood and tea.
O: Really good and really unique, it's like if you took sweet tea and aged it in an oak barrel.
★
538 characters
3.43
/5
rDev
-15.5%
look: 5 | smell: 4.5 | taste: 3 | feel: 2.5 | overall: 3
18 cL bottle poured into De Molen Eau de Vie glass at kulminator. Reviewed 9 June 2011. Brewed 15 Oct 2010, bottled 1/9 April 2011. Bottle 1487/1722.
Ar: Bourbon spice, wood, date, slight sourness to the bourbon spice, wood and bourbon dominate, caramel, sweet mild dried fruit, cedar?
Ap: very thick and smooth light tan head, great retention, beauiful maroon amber, lace
T: Sweet and bourbon, very woody, strong caramel, syrupy and sweet, honey, spicy wood, strong dates, spicy smooth bourbon is very strong, strong golden raisins, apricot in finish, strong syrupy/fruity sweetness
M: Full and syrupy, low carbonation, alcohol warmth at end, ends very sweet
O: Delicate, flavors are in balance well but it is way too sweet, nice bourbon and wood character, perhaps having some darker malt character would help
★
816 characters
4.22
/5
rDev
+3.9%
look: 3.5 | smell: 4 | taste: 4.5 | feel: 4.5 | overall: 4
Got this one at the brewery in Bodegraven.
From an 18cl bottle into a mini snifter
Brewed 15 October 2010 and bottled 1/9 April 2011
Bottle 1564 of 1722
OG: 1150
FG: 1030
Note: According to inside sources, this is Bourbon BA Bommen & Granaten.
APPEARANCE: Pours out quite syrupy and yields a small, medium looking off-white head with decent retention. Head quickly fades to a ring and faint wisp. Deep maroon or rosewood red in color with medium, slow moving carbonation evident. Looks thick and syrupy in the glass. Ring remains and leaves touches of lacing down the snifter.
SMELL: Definite barrel up front. Lots of nice bourbon, vanilla and oak aromas. Caramel malt, toffee and some slight hints of red fruits in there, but the barrel is much more prevalent here. Very bold and enticing, full of nice barrel notes.
TASTE: Caramel sweetness with toffee and sweet red fruits up front. The taste is surprisingly more balanced between the base beer and the barrel. Bourbon flavors show up midway through with some nice vanilla and oak flavor of course, and a big burst of flavor at the swallow. Some caramel sweetness with a nutty touch, and lots of wonderful barrel notes mesh well in the bold and lingering aftertaste. Just a slight bit of heat, though you'd never know it was over 16%. Very flavorful and enjoyable, and a great mesh between the base and the barrel.
PALATE: Medium-full body with lower levels of carbonation. Just right if you ask me. Heavy and thick on the palate, syrupy as well, goes down smooth with an ever so slight burn and finishes quite sticky and mouth-coating. This is a big palate that hides the ABV incredibly well.
OVERALL: Admittedly I'm not the hugest barleywine fan, but pretty much anything De Molen throws in a barrel turns out like gold, and this is no exception. The bourbon barrel on this one added a great dimension to an already flavorful base beer, and the two worked together extremely well. This is not one for the faint of heart, but certainly one worth checking out. Moreover, if you can get your hands on a few of them, put one away for a while. I can imagine this would age very gracefully. Recommended.
★
2,170 characters

4.42
/5
rDev
+8.9%
look: 4 | smell: 4.5 | taste: 4.5 | feel: 4 | overall: 4.5
18cl Bottle
number 1655 out of 1722
Brewed on Oct 15th 2010
Bottled April 19th 2011
Poured into a snifter.
A hiss upon opening. Good!
Smells of malts, maple syrup, dark fruits, bourbon and oak.
Tastes of sweet malts, oak, vanilla and bourbon.
With a medium body and moderate amount of carbonation, a bit of heat from the 16.4% ABV. Loads of flavor that linger for a while.
I was not sure what to expect of this one. I was pleasantly surprised. It's not a session beer by any means but will do well as an after diner drink. If you like barrel aged barley wines this one is recomended.
★
589 characters
Weer & Wind - Bourbon BA from Brouwerij De Molen
4.06
out of
5
based on
31
ratings.