Mooi & Machtig - Cognac BA
| Brouwerij De Molen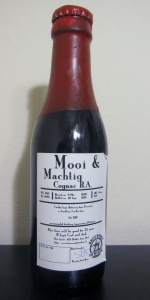 BEER INFO
Brewed by:
Brouwerij De Molen
Netherlands
brouwerijdemolen.nl
Style:
English Barleywine
Alcohol by volume (ABV):
17.40%
Availability:
Limited (brewed once)
Notes / Commercial Description:
No notes at this time.
Added by rvdoorn on 06-03-2011
This beer is retired; no longer brewed.
Reviews: 6 | Ratings: 25
4.67
/5
rDev
+4.5%
look: 4 | smell: 4.5 | taste: 5 | feel: 4.5 | overall: 4.5
One I managed to miss when it was released a few years back, which didn't make me feel all that good about myself as a participant on this planet. While having dinner at De Molen a couple weeks ago, we were extremely lucky to have PP bring a couple of the remaining nips to our table so we could all share together. Thanks very much PP. Very generous of you.
From a 18cl nip into a tasting glass
Brewed 9 October 2009
Bottled 20 September 2010
Bottle 105 of 624
APPEARANCE: Pours a small, off-white head with good retention. Maroon red in color, opaque, with no real carbonation evident. Head fades to a thin wisp and ring. A ring remains until the end with dots of lacing down the glass.
SMELL: Lots of cognac, wood, vanilla and caramel notes on the nose. Toffee, brown sugar and red fruit from the base beer play a nice companion to the cognac barrel. Bold and enticing for sure.
TASTE: Follows the nose very well. Sweet toffee, caramel and brown sugar up front, with some red fruit notes, berries, and a good dose of cognac, oak and vanilla at the swallow. Bold and impressive finish with a wonderful balance of caramel, sugary sweetness from the barleywine, and woody cognac from the barrels. A touch of booze supports the fun, though nothing close to the 17% advertised. Outstanding stuff.
PALATE: Fuller body with lower levels of carbonation. Smooth and silky on the palate, velvety smooth going down and finishes rather mouth coating. No burn at all. A little less sticky would be appreciated, but let's not get nit picky with a 17% ABV and an FG at 1.030.
OVERALL: I didn't want to like this, as I'd missed it and was hoping I hadn't missed much. Unfortunately, it's outstanding. The barleywine is great and the cognac barrel just oozes satisfaction on so many levels. The balance is increadible and there is very little booze to speak of, making this just a wonderful treat of a drink. Thanks again for sharing this with us PP, and don't be afraid to make more of this guys. Highly recommended.
2,015 characters

4.17
/5
rDev
-6.7%
look: 3.5 | smell: 4 | taste: 4.5 | feel: 4 | overall: 4
Two nips generously shared by ChrisPro. Served in a Hill Farmstead tulip.
A - Very faint wispy foam settles to nothing. Transparent dark orange-brown body. Largely what you'd expect from a 17.4% barleywine.
S - Smells a lot like cognac, but cut with barleywine. Spicy alcohol, brown sugar, treacle, red fruits and licorice, a perhaps a slight burnt sugar flavor. Even though it's boozy, I would have guessed 12%.
T - The taste has more honey, caramel, and rumcake from the base barleywine and less intense cognac sweetness. Again, hefty doses of red fruits, cotton candy. Drinks like a cordial, but surprisingly restrained alcohol for 17.4%.
M - Full body, minimal carbonation, chewy texture, and a nicely dry and oaky finish. Again, pretty much what you'd expect from a high-ABV barleywine.
D - Really mellow and easy to drink - I could easily handle an 18cl bottle on my own. Works significantly better than Weer & Wind, as the spirit and beer integrate better here. I've heard there's some stellar bottles and some merely good ones, and this was more of the latter. I'm happy I have a bottle of my own, as this should hold up pretty well.
1,146 characters

4.36
/5
rDev
-2.5%
look: 3 | smell: 4.5 | taste: 4.5 | feel: 4 | overall: 4.5
On-tap at Holy Grale at their De Molen Tap Takeover Event.
A - Pours a reddish/rusty color, slight off-white head, wisps.
S - Very sweet, lots of burnt sugars, oak, caramel, malts, cherries, smooth booze, vanilla, and red licorice. Loads of rich sweetness, in both candy & fruit form with an excellent smooth boozy note.
T - If you're a fan of sweet barleywine's (like I am), then I think you'll approve of this beer. Burnt sugars, fruity, candies, oak, vanilla, and some sherry. Alcohol is really well-hidden for 17.4%...simply amazing. Finish is super-sweet, super-rich candy.
M - Medium to full body, light carbonation, creamy syrupy finish.
O - The best De Molen beer of the event, by a long shot. I ordered another one of these and it really hit me after I finished the pour (even though it was only 6oz). Alcohol is hidden, flavors are spot-on, and it's just really good...a sipper for sure. Recommend.
914 characters
4.74
/5
rDev
+6%
look: 3.5 | smell: 4.5 | taste: 5 | feel: 4.5 | overall: 5
I had this beer pored in by Menno Olivier himself at the Alvinne Craft Beer Festival 2012. What a great moment.
A - A thick off white head floats on a brown beer, there is no visible carbonation.
S - Barrel aged oak, cognac and chocolate.
T - Not to sweet at all and so incredible tasty and easy to drink. There is absolutely no alcohol in this beer!! And that for a 17,4% ABV!! Tones of chocolate, wood, cognac, vanilla, etc. So incredible soft to drink.
M - Soft carbonated and no alcohol!!! Absolutely amazing.
O - An excellent brew, no question about it. Menno asked me if he should bottle it - duh!! This beer was for me the festival winner by far, so brilliantly done.
679 characters
4.5
/5
rDev
+0.7%
look: 4.5 | smell: 4.5 | taste: 4.5 | feel: 4.5 | overall: 4.5
18 cL bottle split two ways poured into De Molen Eau de Vie glass. Served at cellar temp at kulminator. Reviewed 10 June 2011.
Ar: Toasty, sweet grape, excellent toastiness, dried mild fruit (figs, dates, prune) alcohol, port-like, graham cracker
Ap: Clear ruby, low white head, good retentoin, legs
T: Sweet grape (green and mild red), prune, syrupy (but pleasant0 sweetness, honey and caramel, excellent delicate toast, very rich, similar to pale port in the richness, grape, toast and balanced sweetness. Date, fig, mild raisin, very sweet but very good. strong graham cracker
M: full body, low carbonation, amazingly smooth alcohol, nice toasty and sweet finish
O: Excellent, doesn't taste too sweet, an amazing beer, very close to being too sweet but the alcohol and toastiness balance
795 characters

4.42
/5
rDev
-1.1%
look: 4 | smell: 4.5 | taste: 4.5 | feel: 4 | overall: 4.5
Bought this beer some time ago in the molen beershop. Bottle number 594.
Look: Hazy amber with no head.
Smell: Very sweet caramel, maple syrup, fruits and some cognac.
Taste: Sweet caramel, honey, vanilla, maple syrup, warming alcohol and with hints of cognac.
Mouthfeel: very balanced body, with no carbonation, sticky mouthfeel
Overall: Lovely barley wine, very nice desert beer. Only a bit carbonation would make this beer perfect.
435 characters
Mooi & Machtig - Cognac BA from Brouwerij De Molen
4.47
out of
5
based on
25
ratings.