Geboren & Getogen
| Brouwerij De Molen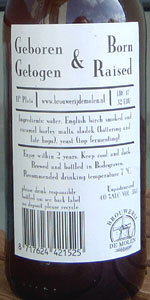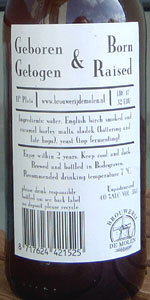 BEER INFO
Brewed by:
Brouwerij De Molen
Netherlands
brouwerijdemolen.nl
Style:
Smoked Beer
Alcohol by volume (ABV):
4.00%
Availability:
Limited (brewed once)
Notes / Commercial Description:
No notes at this time.
Added by rvdoorn on 08-11-2011
This beer is retired; no longer brewed.
HISTOGRAM
Ratings: 10 | Reviews: 6
Reviews by corby112:

4.03
/5
rDev
+29.6%
look: 4.5 | smell: 4 | taste: 4 | feel: 4 | overall: 4
Draft at The Farmers' Cabinet in Philadelphia, PA.
Pours a hazy, pale golden orange color with a 1.5 finger frothy white head. Great retention slowly fading into a lasting ring that coats the glass with soapy lace.
Smokey pale malt aroma with hints of burnt oak, charcoal, biscuit and bacon. Can smell subtle hints of bsse with biscuity malt and light fruit notes.
Medium bodied with a slight creamy texture and a nice amount of hickory smoke. Toasted oak and hints of charcoal and bbb but not a complete smoke bomb. Nice elements of base with biscuit, grass and light fruts. Well balanced with decent smoke character that doesn't overpower the other notes.  Easy to drink with a crisp hop bite in the finish.  
718 characters
More User Reviews:
3.75
/5
rDev
+20.6%
look: 4 | smell: 4 | taste: 3.5 | feel: 3.5 | overall: 4
Poured on tap into a tumbler at ChurchKey DC.
A very soapy but tight head if that is ever possible, with lots of classic rauchbier like stickiness. Body is crystal clear yellow/amber gold and always maintains a collar while drinking.
Nose is a mild whispy camp fire smoke bbq charcoal. Dark meats kind of pork tenderloin with decent carbon and char sense.
Taste is a very light bodied char, but most fireplace ash and charcoal. Malts sort of are muted and don't come forward behind a wet body, no doubt due to the low abv.
For what this is and what is presented getting the idea that this is a light abv smoked beer, this pretty much tastes like one and is fairly ok. I am not however blown away or real excited about this to want and have it again, but this is about what I expected going in. Too bad it wasn't better than I hoped, but it was alright.
856 characters
3.18
/5
rDev
+2.3%
look: 2 | smell: 4 | taste: 3 | feel: 3 | overall: 3
Dirty caramel body, big head with big sparkling bubbles. Looked like some crazy foam packing material on top of pond water.
Big smoked pork nose and some lemony hops.
Quick smokiness up front then a hoppy astringency in the after taste that sort of killed the beer for me. It had a really nice smoked pork flavor but the bitterness hanged and lack of sweetness made this beer seem exceptionally dry and crisp. Mouthfeel felt rather thin and well carbed.
455 characters

2.5
/5
rDev
-19.6%
look: 4 | smell: 4 | taste: 2.5 | feel: 1 | overall: 1
Served on-draught into De Molen stemware at De Molen in Bodegraven. Reviewed from notes taken July 2010.
A: Pours a 2.5 finger head of soft cream, lovely thickness, and great retention. Body colour is a semitransparent gold-copper.
Sm: Ham! Bacon. Cream. Smokey rauchbier-esque notes, but noncommital and restrained. A mild strength aroma.
T: Ham meat, bacon, but no real smokey rauchbier notes. Bittering hops do come through. It's complex an dunique, but messy as well. My companion notes cooked carrots. Built interestingly, but somehow it's watery. The balance is all over the place.
Mf: Smooth, wet, watery, shite. Thin and weak. In a rauchbier? Really?
Dr: Too watery and bland to meet the potential suggested by its aroma. It could make an excellent cooking beer. I'd like to try it with a revised recipe; the makings of a good rauchbier are here but something went dreadfully wrong at some point.
D+
916 characters
3.58
/5
rDev
+15.1%
look: 2 | smell: 4 | taste: 4 | feel: 3 | overall: 3
Originally had this on tap at the brewery a while back. It was enjoyable, and paired well with the steaks and the company. This bottle, however, was picked up at De Bierkoning in Amsterdam.
From a bottle into a snifter
APPEARANCE: Bit of a gusher for sure. Watch out. Pours a huge, foamy, loose, white head that just won't quit. Could only pour half the bottle in. Cloudy gamboge orange with massive amounts of carbonation. Out of control. Head still mounding out of the glass after five minutes, but finally it fades to a good foam cap with piles of chunky foam down the sides of the glass. Not really that attractive, and the head was a pain with all that carbonation.
SMELL: Pale and caramel malts with some nice smoky notes. Smoked salami, but not overpowering. It's actually quite well put together.
TASTE: Pale malts, caramel, and some grassy hops. A smoky finish with some smoked meat and a good dose of bitter hops and pine. Smoky notes are well integrated and not overpowering. Mild yet lingering aftertaste is smoky with a good dose of grassy hops and bitterness. Actually quite enjoyable and refreshing.
PALATE: Medium body with higher levels of carbonation. Light on the palate, but still creamy, goes down smooth and finishes somewhat dry.
OVERALL: I enjoyed this one, though the bottled version was not nearly as full bodied and attractive as it was on tap at the brewery. Oh well. Unlike some of the German rauchbier out there, this one was well balanced and the smoke complimented instead of dominated. Worth checking out if you can make it to the brewery, but the bottled version is nothing to write home about.
1,643 characters

3.58
/5
rDev
+15.1%
look: 4 | smell: 3.5 | taste: 3.5 | feel: 4 | overall: 3.5
On tap at the molen. Poured into a the molen taste glass.
Look: the beer pours a orange-amber color with a medium white head.
Smell: Citrus hops, caramel and smoked malts
Taste: Dry fruity hops and smoked malts. Aftertaste is bitter, smoked with a hint of caramel
Mouthfeel: Thin-meidum body with medium carbonation
Overall: A bit watery, a bit too plain (smoke is too strong compared to the rest).
403 characters

Geboren & Getogen from Brouwerij De Molen
Beer rating:
3.11
out of
5
with
10
ratings