Rasputin Bruichladdich BA
| Brouwerij De Molen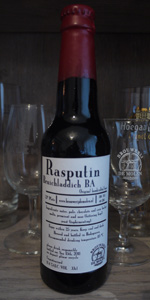 BEER INFO
Brewed by:
Brouwerij De Molen
Netherlands
brouwerijdemolen.nl
Style:
Russian Imperial Stout
Alcohol by volume (ABV):
11.40%
Availability:
Limited (brewed once)
Notes / Commercial Description:
No notes at this time.
Added by Jeffo on 10-02-2011
This beer is retired; no longer brewed.
Reviews: 10 | Ratings: 33
3.58
/5
rDev
-11.6%
look: 3.25 | smell: 4 | taste: 3.5 | feel: 3.25 | overall: 3.5
Thanks to jmgrub for sharing this one at his tasting.
Bottled 9/15/11.
Pours an almost opaque super dark brown with a foamy dark khaki head that settles to wisps of film on top of the beer. Small dots of lace form around the glass on the drink down either. Smell is of dark roasted malt, cocoa, scotch, and wood. Taste is much the same with a cocoa flavor on the finish. There is a mild amount of roasty bitterness on the palate with each sip. This beer has a low level of carbonation with an almost flat and medium bodied mouthfeel. Overall, this is a pretty good beer that is pretty tasty but has a better smell in my opinion.
631 characters

3.88
/5
rDev
-4.2%
look: 3.75 | smell: 3.75 | taste: 4 | feel: 4 | overall: 3.75
Bottle from Jeffo. Thanks! Served in a snifter.
A - White body settles to a thin collar and a few specks of lace. Very dark brown body with a touch of transparency to it.
S - Smokey, peaty scotch, sea air, a hint of iodine, roasted malts, charred wood, dark fruits, and a touch of red licorice. Somewhat understated.
T - The taste is sweeter, with more in the way of chocolate, nuts, and dark fruits, along with a good amount of roast. Peaty Scotch shows up late, and it's substantially more restrained than in the aroma. Alcohol is well-hidden.
M - Medium body that seems a bit thin for the ABV. Smooth texture, lower carbonation, and a bit of alcohol warmth that's consistent with the listed 11.4%.
D - Surprisingly restrained for a Bruickladdich barrel-aged beer, particularly taste-wise, and I enjoyed that. That being said, I was a bit underwhelmed; there's usually more flavor intensity to these De Molen offerings.
926 characters
4.05
/5
rDev 0%
look: 4 | smell: 4 | taste: 4 | feel: 3.5 | overall: 4.5
Poured from a 33cL bottle into a brandy snifter.
A: Brown, clear, mahogany. Good head, but short-lived.
S: Smells like Angel's Share brandy barrel. Deep, alcoholic, and fruity. The yeast smells a bit stale. Apples, plumbs, cognac. Raw licorice?
T: Yummy! Round, bourbony molasses and honestly not a lot else, not that it needs it. A touch of fruit and candy sugar. The aftertaste is has a lingering ashiness, but that's the only sign of Bruichladdich. Delicious, but can only give it a 4 due to lack of complexity.
M: A bit flat; no carbonation. Sticky and thick.
O: Great beer, very interesting, not really an Imperial Stout as much as a scotch-aged BSDA or something.
674 characters
3.7
/5
rDev
-8.6%
look: 3 | smell: 3 | taste: 4 | feel: 4 | overall: 4
Had this one at BOREFTS 2011, but thought it was a little weird. I'd already had my share of brews before trying it, so I thought I'd leave the review until I could sit down with a bottle. I enjoyed this way more last night than I did at the festival.
From a bottle into a snifter
Note: Bottled 15 September 2011
APPEARANCE: A clear brown pour produces a small, light tan cascading head that rises from the netherworld. Cool effect, but lousy retention means the head quickly fades to a faint wisp and ring. Black, transparent body and no carbonation evident, though it looks thick and syrupy. A ring and faint wisp remain leaving dots of laving down the glass. Thick, attractive brew, but the pour is a little too transparent for top marks.
SMELL: Too mild a nose. Roasted malts, light peat notes, with touches of toffee. Light oak and caramelized chocolate as well. Pleasant, but just too mild.
TASTE: This is much, much more impressive than the nose had suggested. Roasted flavors with some peat and sweet toffee. Oak, vanilla, and some caramel sweetness as well. Wonderful rum soaked chocolate at the finish as well. Bold and lingering aftertaste is roasted and peaty, with rum notes throughout. Very enjoyable and quite unique as well.
PALATE: Medium-full body with lower levels of carbonation. Thick, heavy and creamy on the palate, slick and oily as well, goes down smooth and finishes with a bit of a burn. Mouth-coating finish. A very good feel for such a big stout.
OVERALL: This was really good stuff. The nose was a little unimpressive, leaving me unprepared for the burst of flavor that was to come, but once that flavor did come, it was extremely enjoyable and interesting. This is anything but a standard imperial stout, so don't expect one. If you're into something different, give this a shot. Usually Rasputin is lack luster, but this one turned out really well. Another quality, flavorful barrel aged stout from De Molen. Keep up the good work gents.
1,984 characters
4.5
/5
rDev
+11.1%
look: 4.5 | smell: 4.5 | taste: 4.5 | feel: 4.5 | overall: 4.5
A: Black with a light brown ring of head.
S: Anise, smokey Scotch, and maybe some coffee in the nose.
T: Smokey scotch, caramel, oak, roasted malt, chocolate and malt notes.
M: Medium-full bodied and definitely smooth.
O: This is very tasty. It'd probably be more interesting if it were one of their smoked imperial stouts. Interesting, more complex and compelling than my notes might suggest. Definitely worth a try if you can find it.
440 characters
4.32
/5
rDev
+6.7%
look: 4 | smell: 4.5 | taste: 4.5 | feel: 4 | overall: 4
I bought this bottle at the brewery during the beer festival Borefts 2011.
A - A very dark brown beer with some red tones when you hold it against the light. Not much foam only a thin beige layer.
S - An inviting aroma of oak, cherry, chocolate and liquor.
T - What a wonderful taste of sweet candy, oak, chocolate, cherry, spices and liquor. The liquor is a bit too much present. This is special stuff, but the common Rasputin beer I like better. The cinnamon I have tasted in the regular version, I can not find back in this version.
M - The carbon dioxide presence is soft, the liquor is much more noticeable and the bitterness comes in the finish. The beer is not sticky.
O - The normal version was better, I think mainly because the usual beer had more carbon dioxide. It remains a good and special beer. Definitely something to go for.
849 characters
4.2
/5
rDev
+3.7%
look: 4 | smell: 4 | taste: 4.5 | feel: 4 | overall: 4
60th Review
Bottle to De Molen snifter
Enjoyed this tasty treat at Café 't Arendsnest while visiting Amsterdam - great beer bar serving excellent beer!
A: Medium brown. Solid single (bubbly khaki) on brilliant sky-high pour from the bartender. Very thin on pour.
S: Pronounced barrel/booze smell coming off the nose. Hints of caramel, bitter-sweet chocolate, and vanilla.
T: Sweet and bold. A very big presence of toffee/caramel, chocolate, and hint of coffee. Booze comes through start to finish, but not over-the-top here. Well-rounded.
M: Medium bodied with low carbonation. Unusually thin for the style, but definitely enjoyable.
O: A wonderful beer that I think will age quite well. I'm happy to have landed another bottle that I can cellar for a bit to see how this beer ages/develops over time.
809 characters
4.3
/5
rDev
+6.2%
look: 4 | smell: 4 | taste: 4.5 | feel: 4 | overall: 4.5
Nice wax covered bottle makes me think I'm going to have a snifter of Maker's Mark :)
Pours dark amber; not black as a stout. Very low carbonation. Nose is big vanilla with mild coffee. Flavor is, again, deep vanilla, with some spiciness. The finish is strong and alcoholic.
I quite like this beer, but it's a bit pricey.
323 characters
3.86
/5
rDev
-4.7%
look: 3.5 | smell: 4.25 | taste: 3.75 | feel: 3.75 | overall: 3.75
OK, first of all, this looks nothing like a stout. It pours a murky dark reddish brown with little or no carbonation. However, it smells delicious, there´s waves of sticky chocolate and hints of spice and vanilla.
It tastes quite different to regular Rasputin, in my opinion, but still not quite a stouty taste, it´s more like a really good barleywine. The alcohol is well hidden as is the whisky taste. I actually would have preferred a little more peat and smoke.
It´s very easy to drink and it should leave you looking for more. On the bottle it states you can store for 25 years, good luck with that, mine lasted a few days.
634 characters

3.98
/5
rDev
-1.7%
look: 4.5 | smell: 4 | taste: 4 | feel: 3.5 | overall: 4
Sampled from the bottle, and poured into a mini pint glass, My husband brought back a few bottles from a brewery visit in November 2011. The bottle date was Sept. 15, 2011. Sampled cold and let it warm up to 10 ºC (suggested serving temp). Overall highly quaffable and likable Russian Imperial stout-style; although on sweeter side, bitterness on the finish balances out the sweetness. Although I sampled it without any food - it pairs excellently with chocolate, or with things that contain chocolate (e.g peanut-butter cups, chocolate brownie cookies, etc).
(A)ppearance: Liquid chocolate brown, amber-mahogany when held up to light. I was surprised to find it had a red tint, and was not as opaque as others in this style. When poured it appears flat with no carbonation, and no head, minimal lacing.
(S)mell: Caramel on the nose.
(T)aste: Tastes of sweet molasses or dark brown sugar (particularly Belgian Candico dark brown sugar). Strong alcohol on the exhale.
(M)outhfeel: First impressions are sweet and a tad sticky. As the beer warms up it gives off more brown sugar and vanilla, and gets a more watery, bitter finish.
(O)verall: What could pass as a shrunken beer-bottle version of a Maker's Mark bottle is a tasty sweet stout that could easily be a specialty dessert beer. At 11.4 ABV% Rasputin Bruichladdich BA is a sweet, strong stout, perfect as a dessert, or perfect as a winter-warm up on a cold and dark evening. The presentation of the beer makes it feel special. About 5 cm of the neck and cap are immersed in red wax. The label, "Enjoy within 25 years" suggests that this beer can be cellared. It would be neat to see how this beer ages.
1,674 characters
Rasputin Bruichladdich BA from Brouwerij De Molen
4.05
out of
5
based on
33
ratings.