Klap Van De Molen
| Brouwerij De Molen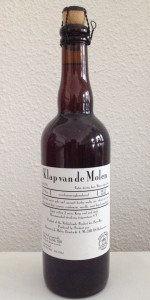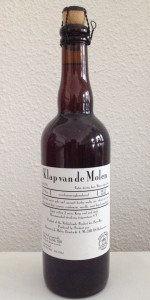 BEER INFO
Brewed by:
Brouwerij De Molen
Netherlands
brouwerijdemolen.nl
Style:
Herbed / Spiced Beer
Alcohol by volume (ABV):
9.80%
Availability:
Spring
Notes / Commercial Description:
No notes at this time.
Added by avalon07 on 05-18-2012
HISTOGRAM
Ratings: 13 | Reviews: 7

3
/5
rDev
-15.3%
look: 3 | smell: 3 | taste: 3 | feel: 3 | overall: 3
To me this one of the lesser De Molen beers. I didn't really enjoy it. With hardly any head and a caramel color it doesn't look great. The feel and taste are just not right. Overall just made a 3.
196 characters
3.95
/5
rDev
+11.6%
look: 3.5 | smell: 4 | taste: 4 | feel: 3.75 | overall: 4

4.37
/5
rDev
+23.4%
look: 3.5 | smell: 4.5 | taste: 4.5 | feel: 4.25 | overall: 4.25
A: Murky brown with almost no head, a few light brown bubbles.
S: Grape, brown sugar, cinnamon, caramel, spicy notes in the nose.
T: Red grapes, cinnamon, caramel, a touch of alcohol. Nice and spicy.
M: Medium bodied and smoothish.
O: This is one of the better De Molen beers. I really liked it a lot.
313 characters

4.1
/5
rDev
+15.8%
look: 3.75 | smell: 3.75 | taste: 4.5 | feel: 3.75 | overall: 4
Pours a murky caramel color not unlike dirty pondwater or Maudite. Head is nonexistent, even with a moderate pour. Aroma smells of caramel, orchard fruit, Belgian yeast, and a dash of spices.
The gross lack of carbonation is the first thing that comes to mind upon tasting. Crafting a brew this flat is a precarious proposition, as there's no carbonation to hide any imbalance in the flavor, but De Molen succeeds admirably here. This is simultaneously sweet, spicy, and slightly bitter, but very harmoniously so. Brown sugar with a touch of milk chocolate and dark fruit comprise the sticky malt sweetness. The spiced flavor is complex, with the bottle touting cinnamon, cardamom, anis, and laurel. None of the above asserts itself significantly, serving more to dress the malt than dominate it. Hops are present only enough to balance, and the yeast lends a distinctive Belgian character. The fluidity with which all of these components manage to meld is laudable. Did I mention this brew is nearly 10% ABV? You'd never know it though, as the complex flavor profile masks the alcohol magnificently, making this remarkably drinkable for its weight. The finish is also pleasantly drier than I would have expected for a beer with such substantial sweetness and alcohol.
My only critique, albeit mild, is the lack of carbonation, as a slightly perkier mouthfeel would have served this beer well, in my opinion. Other than that, this is an exceedingly well-balanced and complex brew that goes down smooth and easy in spite of its robust inebriating quality. I would be eager to try additional offerings from De Molen.
1,616 characters

3.67
/5
rDev
+3.7%
look: 3 | smell: 3.5 | taste: 4 | feel: 3.5 | overall: 3.5
A chilly bottle is poured into a Delirium Noel glass. Bottle is dated Nov. 15, 2011 and the label says to enjoy within two years.
The beer is an opaque brown liquid with slight tan head. The bubbles disappear quickly, leaving just a skim.
It has an interesting fruity aroma. Notes of plum, raisin, and anise are strong.
This tastes very much like a spiced beer. I taste anise, cinnamon, red grape, chocolate and caramel. Quite a blend of flavors! Sweetness is stronger than bitterness. There is some alcohol in there to remind you this is a strong beer.
The beer is a touch thick and is certainly sticky. Sweet and spiced coat clings to everything. Carbonation is average.
I don't recall having a strong spiced beer like this previously. I can't say that I'd seek it out again, but it is an interesting beer to try once.
826 characters
4.32
/5
rDev
+22%
look: 3.5 | smell: 4 | taste: 4.5 | feel: 4.5 | overall: 4.5
I'm not reviewing a lot these days but this one deserves reviews to get its rating.
2011-2012 Version as stated on label. Pours brown with a thick and fast fading khaki head.
Nose is full assertive fruit esters with lots of cooked strawberry tones; very fresh, fruity and inviting.
Mouthfeel is rich and creamy with a light and "fuzzy" carbonation that's pleasant. Flavor profile is "hit you over the head!" This may be a "love it or hate" kind of beer. Powerful and big full bold flavors.
Flavor profile is full of burnt maple, burnt syrup and dark brown sugar and molasses. There is a real "sweet to smoke to bitter" tone. Yet, there is a bright character to the flavors which makes it all work. I think aging this one will take away the bright character which may be why the bottle says to enjoy within 2 years. I agree. There is smoke, licorice and sherry. Simply put, a very complex and nice flavor profile and may be especially good with roasted meats, BBQ and the like.
Finish is smokey/maple/coffee bitter and pleasant. Finish is long and remnant of burnt toast that lingers in the mouth. I like this one a lot.
1,127 characters

2.77
/5
rDev
-21.8%
look: 3 | smell: 3.5 | taste: 2.5 | feel: 2.5 | overall: 2.5
On-tap. ½ Pint glass. Enjoyed on jul´12. Deep ruby color, quite clear appearance. Light beige froth, brief crown. Caramel malt, intense floral & herbal (laurel & fresh mint hints), sugar aromas with cinnamon hues. Flavor shows chocolate notes, sugar & candies, grapefruit hues. Low bitterness. Medium to high body, soft carbonation. Texture is oily, too much sugary. ABV very well hidden. Refreshing & fruity.
411 characters

3.59
/5
rDev
+1.4%
look: 3 | smell: 4 | taste: 3.5 | feel: 3.5 | overall: 3.5
A: Poured from a bottle to a pint glass. Had a brilliant ruby color and a somewhat clear consistency. There was a small amount of foamy head that quickly dissipated. Not much lacing.
S: A very spicy aroma: Ginger, cinnamon, and few others as well.
T: Very heavy on the spices: Caramel, ginger, cinnamon, and a bit of malt thrown in. Doesn't work 100% - there's a little harshness to it - but decent flavor.
M: A good amount of carbonation with a slightly harsh finish. Medium-bodied.
O: Not a bad beer, but there are better examples of herbed/spiced beers.
568 characters
Klap Van De Molen from Brouwerij De Molen
Beer rating:
3.54
out of
5
with
13
ratings