Rook & Leer BA

Brouwerij De Molen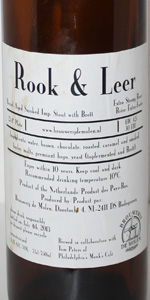 Write a Review
Beer Geek Stats:
| Print Shelf Talker
Style:

ABV:

11.5%

Score:

94

Avg:

4.32

| pDev:

11.57%

Reviews:

10

Ratings:

From:

Avail:

Retired (no longer brewed)

Wants

Gots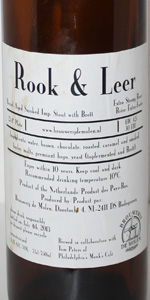 Notes: A collaboration between Tom Peters of Monk's Cafe and Menno that was brewed in September 2011. A smoked imperial porter that was aged in whiskey barrels with brettanomyces. His beer has a ton of beechwood smoked malt, so it will not have the phenols often associated with peat smoked malt. Rodenbach yeast added later.
3.76
/5
rDev
-13%
look: 4.25 | smell: 3.75 | taste: 3.75 | feel: 4 | overall: 3.5
Tried to be objective as I didnt realize this was a sour until after I ordered. This would have been great without the Rodenbach pitch though - totally ruined this one.
168 characters
2.91
/5
rDev
-32.6%
look: 3.5 | smell: 3.75 | taste: 2.5 | feel: 3 | overall: 2.5
750 mL bottle poured into a snifter.
Appearance - Black with no head. Thin collar of foam, though.
Smell - Smoke. Dark chocolate. Whiskey. Oak. Fudgy, but with a brightness I can't pinpoint.
Taste - And it's sour, how odd. Chocolate, but it's very brief. More roasted malts. Oak. Finishes with a peaty smokey flavor and a lingering tang.
Mouthfeel - Heavy. Low carbonation. Sour.
Overall - This is one strange beer. It's certainly a unique combination of flavors and I was not prepared for the sourness. The nose didn't suggest it at all.
543 characters

4.5
/5
rDev
+4.2%
look: 4.5 | smell: 4.5 | taste: 4.5 | feel: 4.5 | overall: 4.5
Bottled 2013. Enjoyed at Monk's Cafe (beer is collab with Tom of Monk's)
This is one of the most unusual and complex beers I have encountered. I will attempt to do this justice in words. Black motor oil pour with minimal lacing.
I smell dark fruits like a strawberry and plum jam, sweet and smoked malts, vanilla, chocolate and some acidity.
The smell carries over to the taste. I haven't been a huge fan fan of smoky beers in the past but this one integrates the smokiness into the flavor like my favorite Scotch, Lagavulin 16. The taste is imminently fruity and very much influenced by the rodenbach yeast. The fruit is fresher on the palate than it is on the nose. Fresh berries like BC backyard rye carries into a mild sourness that grows as you sip. There is a little oakiness and vanilla and finishes with some well integrated scotch and booze. I am left with a dry, smoky and woody finish.
The mouthfeel is viscous but is lightened by the acidity. Wonderful.
This beer is an experience in its complexity and intensity. Memorable and unusual. Perhaps best enjoyed by a warm campfire rather than a bar but I'm not complaining! I love this beer. My only complaint is that it is a touch too sweet for my taste.
1,218 characters

4.29
/5
rDev
-0.7%
look: 4.5 | smell: 4.75 | taste: 4 | feel: 4.25 | overall: 4.25
750ml bottle 11,5% Abv.
Served chilled in a snifter.
Bottled on: 04 July 2013
Good for 10 years.
Appearance: Wow, Rook & Leer is the darkest of the recent De Molen beers that I have had - appearing midnight black in the glass and a strong back light revealing only a sliver of deep red along the edge of the glass. A rough pour yields a good sized dark tan coloured head that lasts reasonably well and even leaves a few splashes of lacing clinging to the glass. A light swirl coats the glass in thin alcohol legs.
Smell: The initial nose is fantastic, offering loads of chocolate, sweet vanilla, whiskey, oak, and some sweet caramel/toffee. After a minute or two things really starts to open up, with tart cherries, lots of raisin, some earthy leathery notes, a touch of smoked malt, a tart Flanders Oud Bruin character, red wine and a little vinegar all becoming apparent. This is certainly one of the most complex noses I have come across and seems to be in a constant struggle between sweet and tart, with the sweetness just coming out on top.
Taste: The flavour is far tarter than I expected, with tart cherries, an earthiness, metallic notes (Flanders Oud Bruin like), musty old wood, red wine and a little vinegar dominating the initial flavour profile. Soon some smoke and leathery notes become apparent, alongside raisins and a little underlying sweetness. There is surprisingly little barrel character present in the flavour and the sweetness from the nose is only present in trace amounts.
This is by far the most sour stout I have had and I can't help but think I might have preferred the flavour with a little more of the base imperial stout or barrel character present to balance the tartness and sour flavours.
Mouthfeel: The body is just shy of full and seems as if it should have a certain stickiness to it, however the brett seems to have eaten this away resulting in an almost watery feeling in the finish. The carbonation is of a medium-low level and nicely creamy.
Overall: Rook & Leer is certainly one of the most interesting beers I have had this year and one I would love to have in the future to see how the brett changes the flavour profile.
On a side note I think the tartness in the flavour demands that this be reclassified as an American Wild Ale.
2,290 characters
4.33
/5
rDev
+0.2%
look: 4.25 | smell: 4.25 | taste: 4.5 | feel: 4 | overall: 4.25
On tap at Monks
Appearance: pitch black, small head.
Nose: Big sour cherry and lemon juice up front, plenty of smoky, peaty scotch and sweet vanilla underneath.
Flavor: So weird and so good. Big acidic kick up front with lets of vinous red wine character, then tons of smoke and chocolate and a peaty, oaky finish. So many things going on that all work wonderfully together. Alcohol is invisible.
Mouthfeel: A little bit on the thin side, but still decent.
Overall: Unique and awesome. Very happy to have gotten to try this one.
534 characters

4.49
/5
rDev
+3.9%
look: 4.25 | smell: 4.5 | taste: 4.5 | feel: 4.5 | overall: 4.5
One of the strangest beers ive ever tasted--its straight up funk barrel smoke sour bomb. i really wasnt expecting it to be so many different flavors because the waitress told me it was an imperial stout. bottome line, if you ever get the chance to try this beer--def do so.
FYI--had this in philly at monks cafe
312 characters

4.5
/5
rDev
+4.2%
look: 4.5 | smell: 4.5 | taste: 4.5 | feel: 4.5 | overall: 4.5
Couldn't pass this one up. Served from the tap into a tulip. Two finger cherry wood colored head dissipates slowly leaving subtle lacing. Aromas of smoke and cherries. Tastes starts with cherries moves to a wonderful smokey flavor and finishes with a sour kick reminiscent of a wild ale. This is a half wine half stout combination that is well worth checking out. That said, I feel Moa did it better with their Pinot noir imperial stout; this one is more like lambec, rather than a subtly wine flavored stout. Still a fun beer to drink.
536 characters

4.04
/5
rDev
-6.5%
look: 4 | smell: 3.75 | taste: 4.25 | feel: 4 | overall: 4
Have to review this one, based on just how goofy it is. Collaboration with Tom Peters from Monk's and De Molen. I was really glad to see this one on tap last night since I couldn't make the Monk's event during Philly Beer Week.
Served on tap into a tulip glass
A - Big, black imperial stout looking beer.
S - WTF is this?! Smoke, peat, funk, leather, a bit of cherry, and oak? Weird. Really weird.
T - Yep, really really different. Lots of dark fruits, moderate smoke that's covered up by more than moderate funk. Definitely some leather/tobacco notes and some acidity on the finish. I've never had anything quite like it.
M - Not really thick for 13%, and not exceptionally carbonated either. I actually was able to get through this glass surprisingly quickly given both how strong it is and how goofy the beer itself is.
O - Glad to try. This easily could've gone south and turned into something of a mess. Fortunately, it didn't, and instead it's one of the more complex beers I've had in a long, long time. Not necessarily the best beer, but if for whatever reason you see this one on a tap list, get it. It's worth the experience.
1,143 characters

3.86
/5
rDev
-10.6%
look: 4.5 | smell: 3.5 | taste: 4 | feel: 3.5 | overall: 4
Draft at Monk's Cafe in Philadelphia, PA.
Pours pitch black and opaque with a two finger light beige head that slowly fades into a lasting ring. Sporadic lacing.
Funky, smokey aroma with a really odd combo of funk, smoked malt and barrel notes.  Toasted oak and vanilla with funky brett and subtle acetic acid along with peated whiskey.  Really complex and weird but the malt profile is still evident.
Medium bodied with a combination of vinous fruit, acetic funk and smoked malt.  Lots of sweet dark fruit and whiskey barrel presence with spicy, boozy sweetness but it never becomes too hot.  Crazy complex but more sweet than expected with vinous fruit, whiskey and subtle smokiness underneath.  Decent peat but the sour/funky rodenbach and yeast notes are prominent.  Really weird but tasty.  No heat and the  sweetness balances out the whiskey and smoke making it easy to drink.
895 characters
4.5
/5
rDev
+4.2%
look: 4.5 | smell: 4.5 | taste: 4.5 | feel: 4.5 | overall: 4.5
First had: on tap at Monk's, Philly, PA
This was a collaboration of sorts between De Molen and Tom (owner of Monk's) and was released for Philly Beer Week in June 2012. The beer was described as a smoked imperial porter. The notes also said it is currently aging in wine barrels, but even in its "un-aged" state, this beer was incredible.
Served in a chalice, a dark, opaque, brown-black liquid with a small, solid beige head that displayed excellent retention and lacing--a bit surprising for a beer with such a high ABV. Aroma was literally like a campfire on a rainy night, with scents of smokey charred wood, musty grass, and roasted dark malts (though I'm not sure that last part is commonplace in a campfire, but you know what I mean). The smoke wasn't too heavy, which was nice. This seriously has to have been one of the most unique and complex beers I've ever tasted. Diverting from the aroma, the taste was actually surprisingly tart up front, flavors of high quality red wine; mid-palate brought in plums and chocolate-covered black cherries, dark malts and sugars, whiskey and spiced rum, with leathery smoke existing as an ever-present background flavor. Smooth mouthfeel, full body, very enjoyable, and despite being relatively young (brewed in September '11 I think), the alcohol was quite mellow. Great beer, and I hope to see it again.
1,354 characters
Rook & Leer BA from Brouwerij De Molen
Beer rating:
94
out of
100
with
55
ratings