Citra Single Hop
| Brouwerij De Molen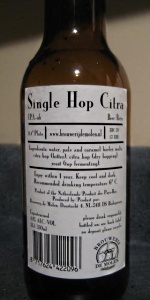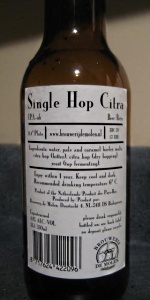 BEER INFO
Brewed by:
Brouwerij De Molen
Netherlands
brouwerijdemolen.nl
Style:
English India Pale Ale (IPA)
Alcohol by volume (ABV):
4.80%
Availability:
Rotating
Notes / Commercial Description:
No notes at this time.
Added by Arno on 08-05-2012
This beer is retired; no longer brewed.
HISTOGRAM
Ratings: 40 | Reviews: 13

4.16
/5
rDev
+10.9%
look: 3.75 | smell: 4.5 | taste: 4 | feel: 4 | overall: 4.25
Bottled on 22 Januari 2013.
A gold to light amber beer with haze, white head, reasonable lacing
This smells much more fruity than the To Øl Reparationsbajer that I had a few days ago. So that one has to be older. Never had anything with citra before as far as I know.
This smells nice and fruity with tropical fruits. Much less citrus than other American varieties though. Smells nice. The maltiness is quite light I think. Not strange, it only contains pale and some caramel malts. Only a tiny hint of pine.
The taste as it is is still cold is of light tropical fruits with quite some bitterness. Only a light, slighty bready maltiness. This is a beer to showcase the hop, not the malt so this is understandable.
As it warms the nice fruitiness comes out more.
Mouthfeel is quite thin, with plenty of carbonation.
Overall a pleasant little beer!
Highly drinkable at 4.8% and quite refreshing! A nice beer for summer for sure.
934 characters
3.96
/5
rDev
+5.6%
look: 3.75 | smell: 4 | taste: 4 | feel: 3.75 | overall: 4
330ml bottle, same ol' perfunctorily overdose of information label. Except for the "IPA-ish" notation - whatever could that mean?
This beer pours a hazy medium tarnished golden yellow colour, with three-to-four ambitious fingers of puffy, rocky, pillowy eggshell white head, which leaves a few random swaths of paint splatter lace around the glass as it slowly sinks away.
It smells of tart, somewhat thin generic citrus peel, grainy, lightly biscuit pale malt, softly musty tropical fruit - under-ripe pineapple, grapefruit rind, and edgy mango - a twinge of earthy yeast. The taste is neutered grapefruit, orchard drupe fruit, mandarin orange, biscuity caramel malt, and some late-arriving acerbic pine notes.
The bubbles are a tad sassy, but fall away to their more pedestrian duties soon enough, the body on the veritable light side, and kind of roughly smooth, the citrus edginess coming back to play here. It finishes just off-dry, the caramel-tinged pale malt barely keeping the lingering one-sided, bitter citrus hops at a standstill.
A weird classification here, given the purported effort at aping the hop-crazy Americans, and those Danes who love them. Bitter and citrusy, sure, but all with a sensible restraint, though not quite in the underwhelming vein of the English (style-wise). A decently hoppy, if sort of one-sided seeming IPA, and the ABV does well by its lower-proof nuance. I guess I now grok what the label means by 'ish'.
1,451 characters


3.99
/5
rDev
+6.4%
look: 4 | smell: 3.75 | taste: 4 | feel: 4 | overall: 4.25
£4 for 330ml bottle from Brewdog:
Slightly cloudy, orange to amber colour with a big looking head that is part foamy, part bubbly. There is some lacing left on the sides after a minute.
Citrus aroma to begin as expected and backed up with some subdued tropical fruits that consist mainly of mango and pineapple along light grapefruit and pine.
Citrus then some grapefruit and pine, both of which are a lot stronger here than in the nose. There is a lot of hoppy bitterness as well and the mango from the nose is in there too. Quite a nice tasting beer and easy to drink.
Medium bodied with a crisp refreshing feel, a nice citrus tang and some lively carbonation. The bitterness is definitely noticeable but it's not overdone.
A solid IPA and definitely well worth trying, not as strong or as bitter as some of the American style craft beers but a very welcome change. The beer was well-balanced and very easy to drink.
923 characters
4.15
/5
rDev
+10.7%
look: 4.5 | smell: 4.5 | taste: 4 | feel: 4 | overall: 4
A: Pours a clear light orange color, with a large creamy white head with slowly fades to a thin layer.
S: Smell is of citra, which is nice! Tropical fruits( mango, pineapple), some citruses, some yellow fruits (apricot), quite resinous, also a little bit vegetal. Very expressive nose.
T: Taste is not as expressive as the nose, but still good with tropical fruits and citruses. Some malt background that sweeten the palate, but a nice length on hoppy flavors (coming through waves). The bitterness is quite low given the fruitiness of this beer.
M: Mouthfeel is nice, a bit creamy, but the beer remains crisp and refreshing. Heavier than expected from the ABV which is nice.
O: A good example of the style, pretty much on citra, which I like, however better on the nose than on the palate. After all, a very good brew for a thirsty throat.
840 characters
4.07
/5
rDev
+8.5%
look: 4 | smell: 4.5 | taste: 4 | feel: 3.5 | overall: 4
Bottled on August 9, 2012. Poured in to tulip glass.
A - Slightly cloudy medium orange with a deeper amber hue in the middle. A huge amount (2+ fingers) of egg shell head formed and slowly reduced to a thin layer.
S - Mango, peach, tangerine, pineapple and grapefruit aromas create a fresh tropical fruit bouquet with s light caramel sweetness in the background.
T - The palate is not as fresh and intense as the nose indicated but provides shows tangerine, grapefruit, peach and mango flavours. A slight caramel malt sweetness is present in the background.
M - Medium body with a slight chew. Moderate carbonation.
622 characters


3.82
/5
rDev
+1.9%
look: 5 | smell: 3 | taste: 4 | feel: 4 | overall: 4
On-tap. ½ Pint glass. Enjoyed at the Freiburg on agt´12. Pale golden color. Foggy appearance. Froth is white, close, nearly creamy. Rocky crown leaves copious rings on sides. Strong aromas of pine, citric, tropical fruit & resins. Strong resiny flavor followed by heavy bitterness. Even tough standing up malts against hop attack provide a dense & flavorful palate. Medium body. Soft carbonation. Grapefruit & mango join hops to create a long bitter finish & fruity aftertaste.
479 characters

3.94
/5
rDev
+5.1%
look: 3 | smell: 4 | taste: 4 | feel: 4 | overall: 4
3.5 Appearance: Yellow, with a cloudy substance floating around, which looks kind of weird. White creamy foam. Not much foam, but nice lacing.
4.0 smell: Hoppy, citrus, mainly grapefruit.
4.0 taste: There is citrus together with some hoppy bitterness. Finished of with a slightly more bitter grapefruit kick.
4.0 mouthfeel: Thin, but somehow with a more medium finish. Gives it a creamy feel. Medium carbonation.
4.0 Overall: I don't like every "De Molen" beer, but this one goes down quite nicely. It's very refreshing. It's quite bitter, but the fruity undertone mellows it out. Also this one isn't as killing as most of the other "The Molen" beers regarding ABV, making it a nice refreshing summer beer.
713 characters
Citra Single Hop from Brouwerij De Molen
Beer rating:
3.75
out of
5
with
40
ratings