Hemel & Aarde - Bourbon BA
| Brouwerij De Molen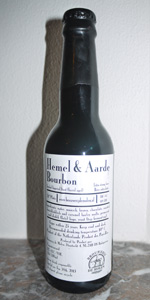 BEER INFO
Brewed by:
Brouwerij De Molen
Netherlands
brouwerijdemolen.nl
Style:
Russian Imperial Stout
Alcohol by volume (ABV):
11.00%
Availability:
Rotating
Notes / Commercial Description:
No notes at this time.
Added by Jeffo on 06-19-2013
Reviews: 2 | Ratings: 20

3.98
/5
rDev
+2.3%
look: 4.5 | smell: 4 | taste: 3.75 | feel: 4.5 | overall: 4
330ml bottle 11,0% Abv.
Served chilled in a snifter.
Bottled on: 30 Jan 2013
Good for 25 years.
Appearance: It seems that De Molens imperial stouts aren't quite as dark as they used to be. The beer still appears pitch black in the glass, however a fair amount of deep red becomes apparent when backlight. A rough pour yields a medium sized tan coloured head. The head actually lasts pretty damn well for a BA beer and fades to a small creamy cap that lasts most of the way down. Swirling lightly results in thin alcohol legs clinging to the glass.
Smell: I wasn't sure that Bourbon would be the best treatment for the earthy smoke of Hemel & Aarde, but based on the initial nose it seems to have worked reasonably well. There is a fair amount of sweetness with notes of vanilla, sweet cream and dark caramel/brown sugar; as well as a decent amount of earthy peat-smoked malt, a little roasted malt and a little chocolate. As the beer warms, the nose becomes oddly sweet and the smokey character seems to vanish.
Taste: The balance of the initial flavour is pretty good, offering a nice combination of bourbon, vanilla, sweet cream, peated malt and some roasted malt in the finish. There is some bitterness in the finish but not as much as I remember in previous variants. Sadly (similarly to the nose) as the beer warms the flavour seems to become far sweeter and looses most of the balancing smokey malt.
Mouthfeel: The body is just about full and quite sticky. There is a medium level of fairly smooth carbonation. As the beer warms and becomes sweeter the mouthfeel seems to become stickier.
Overall: A good beer from De Molen, but it just become too sweet and lost balance as it warmed. I far preferred the Islay whiskey BA versions and hope that the Wild Turkey version I will be opening tomorrow will be a little better.
1,838 characters
3.85
/5
rDev
-1%
look: 3.5 | smell: 3.5 | taste: 4 | feel: 4 | overall: 4
Got this one a while ago at the brewery in Bodegraven.
From a bottle into a snifter
Bottled 30 January 2013
24 Plato
IBU 108
APPEARANCE: A dark brown pour yeilds a 1+ finger, medium looking, tan head with good retention. Head slowly fades to a nice full wisp. Black body with no carbonation evident. Only a ring remains until the end leaving no lacing down the glass.
SMELL: Roasted and smoky malts, some bourbon barrel with light vanilla notes. Sweet cream and light chocolate as well. Pretty nice.
TASTE: Smoky and roasted beginning with some burnt malt and bourbon barrel at the swallow. A big and lingering aftertaste is roasted and smoky with bourbon, oak, vanilla and sweet cream, as well as some sweet milk chocolate and bitter dark chocolate underneath. Chocolatey and roasted with a bourbon barrel finish.
PALATE: Medium-full body with medium levels of carbonation. Creamy enough on the palate, goes down fine and finishes sticky. No bite.
OVERALL: Good stuff, but the base is a more impressive creation. The bourbon barrel adds more boozy flavors, but doesn't make the beer more enjoyable than the base beer is. On the other hand, the barrel doesn't dominate and hurt the base beer either. A good beer that I'll gladly drink a bunch of, but don't need to start picketting for another batch. Recent batches of the base beer have been excellent as is.
1,370 characters
Hemel & Aarde - Bourbon BA from Brouwerij De Molen
3.89
out of
5
based on
20
ratings.