Hel & Verdoemenis - Bourbon BA
| Brouwerij De Molen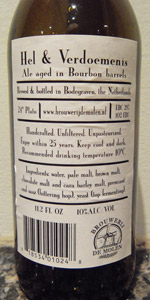 BEER INFO
Brewed by:
Brouwerij De Molen
Netherlands
brouwerijdemolen.nl
Style:
Russian Imperial Stout
Alcohol by volume (ABV):
10.00%
Availability:
Rotating
Notes / Commercial Description:
Aged for 20 months
Added by Dope on 08-23-2013
Reviews: 36 | Ratings: 157

2.76
/5
rDev
-35.5%
look: 4 | smell: 3 | taste: 2.5 | feel: 3 | overall: 2.5
330ml bottle. Tulip glass @ BierCab (Barcelona). Deep ruby color, cloudy appearance. Tan froth, lasting crown. Caramel malt, spiced aromas, hints of bitter orange & woody hues to the nose. Sugar & caramel malt at first sip. Medium body. Soft carbonation. All flavors & aromas are quickly overwhelmed by intense alcohol notes. Bourbon provides a harsh ABV sensation. Unbalanced.
377 characters
4.44
/5
rDev
+3.7%
look: 4.5 | smell: 4.25 | taste: 4.5 | feel: 4.5 | overall: 4.5
This practically oozed out of the tap as it had a thick body of jet black coloring. The head was a thin ribbon of foam with a nice creamy density.
The aroma was sweet vanilla and coconut with just a bit of coffee.
The flavors were more profound than the nose suggested as the coconut and vanilla were rich and robust. I also caught some chocolate malt a light bit of coffee an some smoky char. The Bourbon flavor is more an accompaniment and doesn't detract from the sweetness.
The feel is just as thick as the appearance would suggest with a deeply full swallow.
This is so well done and rivals any one of the Top 10 BA Stouts.
632 characters

4.56
/5
rDev
+6.5%
look: 4 | smell: 4.75 | taste: 4.75 | feel: 3.75 | overall: 4.5
January 28, 2013 bottling reviewed November 2013. Poured into a Great Lakes snifter. The beer pours out very black with just a trace of light peeking through the edges of the surface. Very low carbonation. As this is barrel-aged, I do not consider that a penalty. The nose has lots of rich, liqueur-like notes of vanilla, fudge, baker's chocolate, and bourbon.
Very full body and a nice, rich flavor. Lots of sweet malt up front, followed by some roasty, coffee-like bitterness. Right around mid-palate the bourbon notes charge in with their vanilla and oaky sweetness and alcohol warmth, enriching the flavor with toffee-like notes and pulling your chops into an irresistible smile. Nice bourbon warmth lingers on the finish with a hint of chocolate and coffee.
Overall, one of the better bourbon-barrel-aged stouts I've had recently. The malt, coffee, and bourbon flavors are the stars here, not dark fruit as in some others. The flavor profile of this one reminds me a lot of BCBS, except it lacks a bit of the body of that beer and is not quite as aggressive. Still, this is a wonderfully-made beer and the barrel-aging is very well done.
1,144 characters

4.49
/5
rDev
+4.9%
look: 4.25 | smell: 4.5 | taste: 4.5 | feel: 4.5 | overall: 4.5
Bottle to tulip.
A. Pours very dark amber - almost black - with a fine bubble light tan head that retreats to a slight rim of similar color and consistency. Low viscosity.
S. Sweet aromas of vanilla, toffee, milk chocolate, hazelnuts, and marshmallows. The bourbon/oak aroma is there, but not as prevalent as most ba stouts. Some booze vapors come out as the ale opens. Moderate fragrance.
T. Very delicate and balanced flavors. Not near as sweet as the nose would suggest. Major notes of dark malts, bourbon, bourbon-oak, and vanilla with a slight hop profile.
M. Quite thin with low carbonation. Full bodied. A little sticky. These traits combine to make this ale extremely smooth with little to no aftertaste.
O. A very delicate ale that has a great flavor and can go down extremely fast. An excellent ba stout. Kind of pricey at $9.99/12 oz., but worth a try for sure.
877 characters
4.57
/5
rDev
+6.8%
look: 4 | smell: 5 | taste: 4.5 | feel: 3.75 | overall: 4.75
Poured from the bottle into a snifter glass.
Out of the bottle pours very chestnut brown, and hits with a dark walnut brown to nearly black body. Lots of red hues on the edges as well. Head barely makes a finger, almost orange with a tan light one finger tall consistency. It falls quickly but always maintains a very large bubbled collar and simple whispy top.
What an absolutely gorgeous nose on this beer. Dense giant cookie dough and caramel biscuits. Coffee aromas and dark bitter chocolate, roast malts and just incredibly complex. I can't get over this biscuit cookie caramel angle it's just unreal and unlike any barrel aged stout I've had. Truly wonderful and impressive as all get out, so much going on here.
Palate comes with a real nice amount of flavors. The complexity continues matching from the bouquet, thick and doughy cookie, matching with a sense of dark chocolate and caramel. This is like biting into one of those chocolate centered caramel bars only better. Finish has a bit of hop action surprisingly hinting at lime and pine bitterness. Lots of roast coffee warmth to match and dark malt crackling char. Mouthfeel is the only thing that surprisingly lacks, it's slightly wet but the flavors all still manage to carry through wonderful. Hints of piping black licorice heat and warmth to match almost zambuca in a way.
A real stunner of a brew, just filled with lots of incredible complex flavors and qualities. So much here to enjoy even overlooking the slightly lacking body. In fact it now reminds me of biting into a bar of Twix sans peanut butter.. only... 100 times better.
1,606 characters
4.02
/5
rDev
-6.1%
look: 3.75 | smell: 4.25 | taste: 4 | feel: 3.75 | overall: 4
Bottled 1/28/13.
Pour into a snifter is absolutely, positively pitch black. Barely any psst when it was opened, but a small tan cap appears and quickly forms a bubbly ring which remains for the duration and leaves bits of lace. Smell is decadent, pretty bourbon forward with huge chocolate-covered cherries, caramel and coconut. Definitely on the sweet side with not much roast.
The taste is good but seems more muddled, and missing some of the the nuances brought by the scent. Definitely very bourbony and sweet with lots of chocolate, brown sugar and dark fruit, with some charred oak and light smoke to balance it out along with some hop bitterness. There is some oxidation taste mid-palate noticeable with almost every sip but not too much of an issue. Mouthfeel is oily with low-carbonation, a bit hot with alcohol, could use more heftiness. Certainly a sipper.
It's kinda harsh for my tastes but it grew on me after some time. Even with the 11.2oz bottle this is probably one that's good to split.
1,007 characters
4.32
/5
rDev
+0.9%
look: 4 | smell: 4.5 | taste: 4.25 | feel: 4.5 | overall: 4.25
Appearance- Basically pours up no head and therefore, has no retention. The glimpse of head that I got was a dark beige with hints of ochre while the body is an opaque, jet black. No lacing at all.
Nose- Absolutely lovely. Loads of chocolate and fudge- very much a fudge brownie. Some coffee notes. A good amount of coconut. A good amount of caramel as well with hints of vanilla and toffee. Some cocoa as well. A little bit of oak. Coffee notes become quite noticeable after some swirling.
Taste- Very reflective of the nose but the fudge and chocolate are even richer. Some coconut. Definite heat but that seems fitting for a beer like this. Ends a little on the finish from the Saaz hops. Some notes of raisins and cherries. Some woody and spicy hops go over the top. The thinness that I noted on the finish is really just a raisin and fig note that seems thin in comparison to the robust chocolate, fudge, cocoa, and coffee that dominates most of the flavor profile. Possibly could use some aging. Some oak is apparent while bourbon notes begin to become more evident, especially on the finish. Works well with conspicuous heat. Not very sweet for a Russian Imperial- even the fruit is dark and meaty. Amazingly complex malt bill. Very well balanced with lots of presence. Solid to almost great beer. The Saaz adds a little bit of chalk, earth, and grassiness that seems a little out of place. Still, a very good beer that is a notch below the phenomenal imperials I've had in the past. A little bit of licorice or anise on the finish as well.
Mouthfeel- Thick and heavy with slight notes of creaminess. A bit of syrup as well. Good amount of carbonation.
Drinkability- Very enticing and pretty easygoing for something that has this much heat. The alcohol does mellow out over time. However at 10 bucks a bottle, I can't see myself buying this for anything else other than a bottle share or a tasting.
Overall- Solid to almost great beer. Don't be too afraid of the sticker price, this is worth it. Whether it's worth repurchase is a question mark for me.
2,069 characters

4.37
/5
rDev
+2.1%
look: 4 | smell: 4.5 | taste: 4.5 | feel: 4 | overall: 4.25
11.2 oz bottle.
A: Pitch black with a very faint mocha head. Has great legs, though.
N: Rich mocha/dark chocolate covered espresso bean. Heavy amounts of vanilla/caramel/bourbon/oak. Some dark fruit.
T: Lots of bourbon. Quite sweet with oak acting as balance. Some moderate bitterness.
M: Oily, and medium-heavy body. Alcohol is very well-hidden.
O: This is far better than the regular version. It really is just about everything you'd want in a barrel aged stout. Plenty of flavor showing through, everything in coordination...I wish this didn't cost so much or I'd buy a case.
594 characters
4.47
/5
rDev
+4.4%
look: 4 | smell: 4.5 | taste: 4.5 | feel: 4 | overall: 4.75
De Molen Hel & Verdoemenis Bourbon Barrel Aged
Bottled: 1/28/13
A- pour yields a 1/2 finger mocha head that recedes quick leaving some lacing. Beer pitch black in color. 4
S- huge whiffs of rich chocolate, bourbon, toffee, coffee, fudge, slight vanilla. Alcohol is very well hidden. Smells excellent. 4.5
T- really excellent. Milk chocolate, toffee and caramel, fudge, coffee, bourbon, and some graham cracker. Very rich and pleasurable. 4.5
M- very smooth. Good lower-medium carbonation that suits the beer well 4
O- an absolute pleasure. One to seek out. Good drinkability in spite of the style and abv. 4.75
A
619 characters
4.7
/5
rDev
+9.8%
look: 4.25 | smell: 4.75 | taste: 4.75 | feel: 4.5 | overall: 4.75
I also have the beer dated 1/28/2013 (as the last, and only, reviewer).
black pour. no head. smells VERY similar to the Eclipse I just drank. could this be continuation of such blessedness? a deep, rich aroma of bourbon mixed with all the other 'typical' stout aromas . . . .
taste is . . . . wow! very similar to the Eclipse I just had. a continuation of nirvana, to be certain. incredible! a plain, black n white scripted bottle with an incredulous nectar contained within. the day started out not so promising but is finishing quite soundly. bourbon on the peripheral, imperial stout as the base, and happiness within . . . . not QUITE as smooth as the Eclipse, but very, very similar in taste. I had no idea what I was purchasing at the time.... a little LESS stable, and a little more unbalance (but not by much!) than the Eclipse, but what a great adventure in barrel-aged brewing. this is a great experience. do the Eclipse first, if you can; but this is a great secondary for comparing to...
999 characters

4.53
/5
rDev
+5.8%
look: 3.5 | smell: 4.25 | taste: 4.75 | feel: 4.5 | overall: 4.75
Bottle dated 28/01/13. Bottle specifically states "Ale aged in Bourbon barrels" and it's also 10% ABV and a smaller format (11.2ounce)- seems like a new variant.
A: Pitch black pour. Big and dense medium brown head. Head fades very slowly with excellent retention. However, literally zero lacing remains behind.
S: Big bourbon notes. Really nice bourbon too. Burnt sugar, toasted coconut and caramel. LOTS of toasted coconut in fact. Not boozy, surprisingly. Mild char and chocolate nestled below the barrel character but barely noticeable.
T: Wonderful. Sweet bourbon notes up front with caramel and burnt sugar. Super sweet and silky milk chocolate follows it. Whoa. Milk chocolate is impeccable here. Like slightly watered down chocolate syrup. Toasted sugars float in and out constantly, standing alone in the sticky, sugary finish. This is blowing my socks off.
M: Somewhat heavy, silky smooth and borderline creamy.
O: Whoa. I've had the regular H&V and it was pretty good. This bares little resemblance, it's a bourbon and chocolate dream. Period. It's even lower ABV than the base beer so I assume it must be a modified recipe. Flavors are bold and delicious, but well integrated and complimentary. Quite sweet. Super smooth drinking. Just delicious and a delight to drink.
1,300 characters
Hel & Verdoemenis - Bourbon BA from Brouwerij De Molen
4.28
out of
5
based on
157
ratings.