Salem Gold
| Foothills Brewing Company - Downtown Brewpub
BA SCORE
81
good
14
Reviews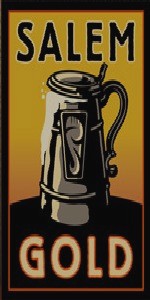 BEER INFO
Brewed by:
Foothills Brewing Company - Downtown Brewpub
North Carolina
,
United States
foothillsbrewing.com
Style:
American Blonde Ale
Alcohol by volume (ABV):
3.80%
Availability:
Year-round
Notes / Commercial Description:
No notes at this time.
Added by BeerAdvocate on 03-21-2005
This beer is retired; no longer brewed.
Reviews: 14 | Ratings: 32
3.63
/5
rDev
+6.8%
look: 4 | smell: 3.5 | taste: 3.5 | feel: 3.5 | overall: 4
A: The beer is crystal clear straw yellow in color and has a moderate to high amount of carbonation. It poured with a finger-high white head that died down but consistently left a thin head covering the surface.
S: There are aromas of grainy malts in the nose along with hints of floral and grassy hops. Bready malts begin to appear in the smell as the beer warms up.
T: Similar to the smell, the taste is filled with flavors of bready and grainy malts, but these are balanced off by a light to moderate amount of hop bitterness and hints of sweetness.
M: It feels a bit more than light-bodied on the palate and has a moderate amount of carbonation.
O: This beer is very easy to drink and has some refreshing properties. It would make for a nice selection on a hot summer day. I was very impressed with this one and think it is one of the best beers I have had in the style.
Note: This beer isn't normally bottled by the brewery and came in a 25 ounce bomber without any labels except for a Foothills bottle cap.
1,015 characters

3.6
/5
rDev
+5.9%
look: 3.5 | smell: 3.5 | taste: 3.5 | feel: 3.5 | overall: 4
Reviewed from notes.
Pours a light golden color with a bit of haze and a white head with pretty good lacing on the way down. The nose is light honey and malt with a bit of citrus. Taste is ligtly sweet malt. Light feel with a pretty good body, and this goes down quite easily.
277 characters

3.53
/5
rDev
+3.8%
look: 3.5 | smell: 3 | taste: 3.5 | feel: 4 | overall: 4
64 oz growler filled fresh @ the brewpub, into a couple of pint glasses.
Pours a clear pale gold, with a finger of creamy brite-white colored head. Retains with a thin frothy look, that leaves some adequate spotty lace back. The aroma is grainy malt sweetness, with some light citrus mixed in, giving this a mild tang in the nose. Some grassy hop character fills the nose out.
The taste is lightly toasted grains, with a (honestly, a bit more than I expected) blast of citrus and bittering hops. A touch sweet, fruity, and lightly drying in the finish, which shows off the evenness of the flavors. The mouthfeel is light bodied, with a sharpness to the carbonation that reflects the hop profile. Overall crisp and easy in the mouth, with some decent sized presence for the size of this.
You know, for what this is, this wasn't bad at all. Definitely offered a bit more in the flavor and feel than what I was expecting. I've tried "light beers" from other brewpubs that are far worse than this one.
1,003 characters
4.2
/5
rDev
+23.5%
look: 4 | smell: 4 | taste: 4.5 | feel: 4 | overall: 4
had a nice fluffy white head, but this quickly faded leaving a thin film on the top. Some very nice lace down the sides. Good presentation. Smell was out of this world! May have been the freshest smelling brew I have ever head. Smell was gooey fresh cut hops, like you broke it off the vine. Very strong as well. Fantastic, I could use this as an air freshner. Depp piney and citrus, pineapple like tones, with just the right amount of sweetnss, mixed in with a fresh cut grass smell, wonderful. The taste was very nice as well. Very nice, light and hoppy
555 characters

2.66
/5
rDev
-21.8%
look: 3.5 | smell: 2.5 | taste: 2.5 | feel: 2.5 | overall: 3
This was my least favorite beer at Foothills. Beer is yellow and clear with high carbonation, large bubbles, white head, no lacing.
Aroma is weak and grainy.
Beer is thin and has this grainy astringency at the end of the palate that made this beer seem really off. There is almost no flavor in the front half of the mouth and there is an aftertaste. Not my bag, there are much better blondes out there. The best thing about this beer is the low ABV and that's not saying much about the beer. I wouldn't have it again.
519 characters
3.33
/5
rDev
-2.1%
look: 4 | smell: 3.5 | taste: 3.5 | feel: 2.5 | overall: 3
The beer arrived on the bar crystal clear pale golden with a white low and persistent head.
The aroma was malty with a light caramel and just a slight bit of spicy hops. The aroma was also lightly fruity and a bit estery.
The flavor was light caramel with a low malt character and a moderate earthy quality. The flavor was lighly woodsy and had a decent level of bittering and a lightly grainy character.
The finish was dry wtih a lasting bit of husky graininess into the aftertaste. The body was medium light and watery. This just is not a very interesting beer.
Pint at Flying Saucer in Raleigh.
609 characters

3.58
/5
rDev
+5.3%
look: 3.5 | smell: 3 | taste: 4 | feel: 3.5 | overall: 3.5
Had on tap at Foothills.
A: Poured a clear fizzy yellow color, with a slight chill haze and mild head retention.
S: I didn't really get anything at all.... maybe so yeast and fresh H2O.
T: Lots of steeped grains and tons of flavor for a brew that only clocked in at 3.8%. It sort of had a "Corn Puff" aftertaste.
M: Crisp and refreshing, with very little sweetness, moderate carbonation, and virtually no lacing.
O: This was a nice example of the style and it would be a great brew on a hot day.
500 characters

3.25
/5
rDev
-4.4%
look: 3 | smell: 3 | taste: 3 | feel: 3.5 | overall: 4
Draft at the brewpub.
A - Clear golden color with a small white head.
S - Aroma is pale malt and grassy/floral hops. Nothing too exciting, but not bad for what it is.
T - Bready pale malt and grassy and floral hops. Pretty light, but with a nice clean hop finish. A little wheat in there as well. This is a pretty unremarkable beer overall, but decent for a generally unremarkable style.
M - Light body with medium carbonation.
D - Well, drinkability is high since this is a bit watery and mildly flavored.
511 characters

3.8
/5
rDev
+11.8%
look: 3 | smell: 3 | taste: 4 | feel: 4 | overall: 4.5
Grabbed a pint of this while I was taking a tour of the fine brewery. This brew came out a deep straw gold with minimal head, no lacing.
Smelled of sweet malt and a touch of the floral hops. Pretty average scent.
Taste was very well balanced, not bitter, not sweet. I'm getting some grainy/corn flavors, but also some malt. This beer is not that bad.
Smooth and creamy this one is. This beer is plenty quaffable. It's not the best beer in the world, or the brewery for that matter, but it is head and shoulders above the competition on like-style brews.
557 characters
3.23
/5
rDev
-5%
look: 3.5 | smell: 3 | taste: 3 | feel: 3 | overall: 4
Pale golden yellow with a fleeting head of loose white fluff.
Aroma of fresh biscuits, pale malts, and faint floral and earthy hops.
Flavor is a crisp entry of light toasty grain subtle pale malt balanced by a light hopping of floral and herbal, earthy hops. Very simple and a good crossover vehical for the swill drinkin masses. It's substantially better than Carolina Blonde, which was my natural comparison.
Lighter body and spritzy mouthfeel makes this very easy (and mindless) to drink. Good for what it is, but not my style.
539 characters

3.5
/5
rDev
+2.9%
look: 3 | smell: 3 | taste: 4 | feel: 3 | overall: 3.5
On tap in a shaker pint. Glowing dark gold body with a smallish white head that doesn't stick around long, but manages to leave some scattered lacing.
Blonde ales in general don't get much respect (and for good reason), but this one's not bad at all. Crisp grainy nose with an even crisper taste and a surprising, if brief, flash of lemony bitterness and a touch of green apple. Exceedingly clean finish with a touch of lingering light grains. Seems like it would make a great gateway beer.
491 characters

2.98
/5
rDev
-12.4%
look: 3 | smell: 2.5 | taste: 3 | feel: 4 | overall: 3
On draft at Foothills their own self in Winston-Salem.
A. Pale clear yellow, little head, quite still -- no evident carbonation.
S. Weak citrus hops, some honey, light malt. Nothing unexpected, which is good, but not very interesting, either.
T. Some corn (DMS?), basic Bud-like sour flavor, light and crisp, quite uninspiring and rather unpleasant sour "light" aftertaste. Oh well.
M. The best thing going here... clear, crisp, clean, watery, basic.
As usual, Foothills knows what they're doing, and has crafted a better BMC alternative... it doesn't do much for me, as it's a bit lifeless and I don't dig the style, but it's not terrible.
655 characters
3.09
/5
rDev
-9.1%
look: 3.5 | smell: 2 | taste: 3 | feel: 4 | overall: 4
trying this now at the carolina brewmaster meeting. experimenting with hops and this is the base. foothills guy says it's a wheat but seems like a blonde ale. sulfur smell, light and grassy. nice carbonation. better than bmc. easy to drink on a hot summer day. enjoyed other foothills better
291 characters
3.15
/5
rDev
-7.4%
look: 3 | smell: 3 | taste: 3 | feel: 2.5 | overall: 4
This would be a good session brew. A lower ABV beer.
Served in a pint mason jar at the Mellow Mushroom in Blowing Rock.
The beer was a light amber with a tint of orange. There was a creamy head that faded quickly. The smell was similar to a macro. The taste was of corn adjuncts. The mouthfeel had a small bite to it. The drinkability would be good. I think this beer could be sessioned all night long. A easy drinking beer.
430 characters
Salem Gold from Foothills Brewing Company - Downtown Brewpub
3.4
out of
5
based on
32
ratings.