Dismiss Notice
Dismiss Notice
Jade
| Foothills Brewing Company - Downtown Brewpub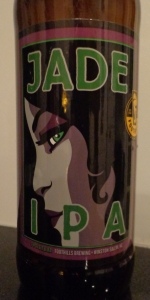 BEER INFO
Brewed by:
Foothills Brewing Company - Downtown Brewpub
North Carolina
,
United States
|
website
Style:
American IPA
Alcohol by volume (ABV):
7.40%
Availability:
Rotating
Notes / Commercial Description:
No notes at this time.
Added by Macky20 on 02-06-2011
Reviews: 139 | Ratings: 917
4.05
/5
rDev
-5.6%
look: 4 | smell: 4 | taste: 4 | feel: 4.5 | overall: 4
Big thanks goes out to my boy caSSino for bringing this one to share with me when he came to visit me due to my injuries! Reviewed live. Served from growler into a NoDa Brewing snifter. Pours a slightly hazy yellow-orange with a one finger white head that subsided to a minimal amount slowly. Maintained nice lacing throughout the glass. The aroma is comprised of sweet malt, pot, pine, earth, citrus, earth hop, and marijuana hop. The flavor is of sweet malt, earth, pot, citrus, earth hop, and marijuana hop. It had a light feel on the palate with medium-high carbonation. Overall this was a good brew. I was really surprised at how earthy this one was. The earthiness really sticks to your palate after each sip. Worth trying if you get the chance.
★
751 characters
4.62
/5
rDev
+7.7%
look: 4.5 | smell: 5 | taste: 4.5 | feel: 4.5 | overall: 4.5
Served from growler purchased 12/17 at brewpub
A - cloudy honor-colored brew with finger of tight bubbles. Tons of lacing.
S - tons of citrus with hints of floral notes.
T - bitter at the front, sweet citrus in the middle, more bitterness and grapefruit at the back. Quite good.
M - not as full-bodied as other top-notch DIPAs out there. Great aroma and taste but is moderately dry - personally prefer more sweet sticky finishes.
O - best IPA from NC hands down. Falls short of Coast Boy King and the other national brands (Hopslam...). Still excellent and glad I have another growler in the fridge.
★
608 characters
4.47
/5
rDev
+4.2%
look: 4 | smell: 4.5 | taste: 4.5 | feel: 4.5 | overall: 4.5
Appearance: The honey colored liquid is capped by an inch of foam that leaves relatively few traces behind
Smell: Citrus pith in spades
Taste: Like the aroma, the beer is dominated by citrusy pith from start to finish with the malt playing a nice supportive backbone role; great attenuation keeps this one from becoming overly sweet
Mouthfeel: Medium body with crisp carbonation
Overall: A great IPA; let's hope with the additional capacity that this beer becomes part of the regular rotation
★
496 characters
4.65
/5
rDev
+8.4%
look: 4.5 | smell: 4.5 | taste: 4.5 | feel: 5 | overall: 5
reviewed from notes on my last trip to winston last february. was thrilled to find this on tap as i was still reeling from missing the sex choc release.
Pours a merky amber color with a nice 1 finger frothy head that was slow to disappear, this just looks yummy. Smell is knock your socks off!! Citrusy hops all the way, unreal smell, orange and grapefruit in there. Taste is loaded down with citrus, with a fantastic dry hoppy finish. A bit of a grassy, pine taste, but one of the most citrus favored hops I have ever tasted. Went down ohh soo smooth, just right carbonation. This is so a keeper, cannot wait to get my hands on some more of this. Just awesome, really awesome brew.
★
683 characters

4.5
/5
rDev
+4.9%
look: 4.5 | smell: 4.5 | taste: 4.5 | feel: 4.5 | overall: 4.5
Had on tap at Foothills. Piney hops take a backseat to floral citrusy orange and grapefruit flavors. That being said this is not a one-dimensional hops only beer. Could (and did) enjoy several of these in a single session.
Overall great IPA. Had this on the same day as SC and was more impressed with Jade.
★
308 characters

4.52
/5
rDev
+5.4%
look: 4 | smell: 4.5 | taste: 4.5 | feel: 5 | overall: 4.5
My new favorite IPA made in North Carolina. This one had great citrus aromas with a nice floral component as well. Flavors were full on grapefruit and blood orange with only a hint of malt. I cannot wait to see what Foothills does with this one as I think it is head and shoulders above the competition for great IPA's in North Carolina. Alcohol is completely hidden on this one, just crisp citrus notes and a refreshing hop bite on the finish.
★
444 characters
4.79
/5
rDev
+11.7%
look: 4 | smell: 5 | taste: 5 | feel: 4.5 | overall: 4.5
Recently had a flight at Foothills Brewery and this seasonal easily stole the show. More in the West Coast style than Seeing Double or
Hoppyum.
A: light gold / straw. Decent lacing and nice head.
S: Sweet grapefruit, slight pine overtones. Smells awesome.
T: Great hoppy and citrusy taste up-front with a crisp finish. The hops linger for quite some time and is very enjoyable.
M: Good mouth feel , no overly carbonated and hides its 7% well.
Overall this is beer is pretty amazing. Would love to see this bottled at distributed on the East Coast. This should without a doubt be in Foothills regular rotation.
★
611 characters
4.92
/5
rDev
+14.7%
look: 4.5 | smell: 5 | taste: 5 | feel: 4.5 | overall: 5
Had this from the tap at Foothills and from a growler I took home with identical results.
A: Light gold with la couple fingers of fine white head. Lots of lacing as the head dissipated.
S: Loads of citrus welling up from the glass. Absolutely amazing smell from this IPA.
T: Citrusy lots of clean crisp flavor. The finish seems to last forever.
M: Light, crisp and very fresh. Effectively masking the 7.3 abv.
D: Very Very drinkable. I could drink this every day. An amazing beer.
Had this, the Hoppyum and Seeing Double while in Foothills and while the others were great, this beer impressed me the most.
★
612 characters

4.42
/5
rDev
+3%
look: 4 | smell: 4.5 | taste: 4.5 | feel: 4 | overall: 4.5
On a rare trip through Winston-Salem a week ago, my wife and I suddenly got thirsty and decided to stop for lunch and some beverages at Foothills. When we arrived, I inquired about the tap labeled "Jade IPA", which we were not familiar with. The bartender described it as a brewery only test batch IPA brewed with Citra, Cascade, and New Zealand Jade hops.
Orange under a thin head. Stinky fresh fruit, sweet pulpy juice aroma. Bitter, sticky, juicy, pulpy...citrus, pine sap, serious grapefruit, pineapple. Not much malt to be found here. Sticky, bitter, oily...dangerously delicious. Outstanding! Very happy to have stumbled upon this.
★
638 characters

4.62
/5
rDev
+7.7%
look: 4.5 | smell: 5 | taste: 4.5 | feel: 4.5 | overall: 4.5
I passed through Winston-Salem with a suitcase full of Surly beers, intending to land some Sexual Chocolate. I did, but I also fell a little into love with Jade.
Described to me as a hopped up West Coast IPA, the staff at Foothills seemed to love mixing this with Hoppyum and Seeing Double, their standard IPA and DIPA.
Those were fun, but I'll stick with the Jade, myself. Made with Jade hops from New Zealand, it's a clean, wildly aromatic monster, with not too much sweetness or bitterness to drink in abundance.
And I wanted to drink it in abundance. I think Caleb, the bartender, ended up pouring me samples of 11 beers, including the blends. I left with a growler of Jade**, my new best friend. Until the next cask of Tea Bagged Furious, that is.
The next day, my sister, whom I was visiting, discovered that she was an IPA girl when I opened the growler. This was a beautiful beer, and I will be surprised if they can keep the magic in a bottle.
**I also left with two of bottles of Sexual Chocolate and an Olde Rabbit's Foot. Two bottles of Darkness has a way of opening a stash.
★
1,092 characters
5
/5
rDev
+16.6%
look: 5 | smell: 5 | taste: 5 | feel: 5 | overall: 5
I havent tasted anything from foothills that I would speak badly of bedause they are all pretty exceptional, but I felt compelled to write something about this particular beer. In a word the Jade is awesome! The color is light with a light head, the aroma and taste are amazing, pact full of citrisy pungient sweet hop flavor leaving your mouth both wet and dry at the same time. Half way through a pint there is still lacing left at the top of the glass spidering its way down the wall. I had a growler filled one night and went back the next day to have it refilled. Im not trying to dis the Hopium, but I would love to see this beer become there year round IPA. I highly suggest this beer to anyone who is in or around the winston-salem area.
★
745 characters
4.37
/5
rDev
+1.9%
look: 4 | smell: 4.5 | taste: 4.5 | feel: 3.5 | overall: 4.5
Had a sample on tap as well, but am reviewing from the growler. Poured into a pint glass.
Appearance: Pours a clear, pale gold with two fingers of frothy, white head. Lots of bubles. The head subsided fairly quickly but left tons of lacing.
Smell: Wow. Lots of citrus/grapefruit, with undertones of pine. Reminds me a lot of HopSlam. Great smelling beer.
Taste: A lot like it smells. Grapefruit with a malt background, and a nice hop bite on the finish. The aftertaste lingers for quite some time. Very, very nice.
Mouthfeel: A little thin, and it feels slightly undercarbonated. I opened the growler less than 3 or so hours after leaving Foothills, so I don't think that's the reason.
Drinkability: This has become one of my favorite IPAs. Right now, it looks like this may be a one-time release - but hopefully they make this one more often. This is an outstanding IPA, and I would absolutely drink it again. Hopefully I'll be able to make it back before the batch runs out...
★
984 characters

4.24
/5
rDev
-1.2%
look: 4 | smell: 5 | taste: 4 | feel: 4 | overall: 4
Spencer at City Bev tipped me off to this limited release from Foothills. Super excited to try this one. Jade hops from New Zealand. Can't say as I've had any beer with these hops before. 7.00%, 75 IBUs. Let's get to it!
Came out a clear dark orange/gold. This is a little more pale than I expected. A small white head caps it off, but this leaves lots of sticky lacy rings on the glass. The aroma on this beer is nothing short of amazing. Very powerful scents of pineapple, grapefruit, orange, mango. Total citrus bomb! Slight peppery finish. I could smell this all freaking day. Perfect.
Nice mellow depth, with a crisp finish. The bubbles play lightly on the palate. This is a hop head's IPA for sure. Big bitterness all the way through, but more than that, the hops are juicy and full of flavor. Citrus tones lead the way, mild sweetness in the middle, but this is fleeting. Oily at times, but dries me out on the back end. It then finishes how it started: bitter. Great IPA that hit the spot. Get this while you can. It's not bound to last much longer.
★
1,060 characters

4.42
/5
rDev
+3%
look: 4 | smell: 4.5 | taste: 4.5 | feel: 4 | overall: 4.5
Took a trip to Foothills today with some buddies and learned that they were offering this IPA. It could be experimental, but I hope they keep it around for awhile. I liked it so much that I picked up a couple growlers, and will be back to pick up more.
Poured into pint glass producing a half finger of egg white head with good retention. Very light amber color. Aroma is extremely floral with sweet bread and nice pineapple and grapefruit notes hinting to black pepper to finish it off.
Nice well-balanced hop bite with pleasant grapefruit and piney finish. Very impressed with this one. It's not hard on the pallet, but pleasant enough to make the drinkability exceptional. Mouthfeel is great as well. This one tastes much more pleasant than the Hoppyum in my opinion... but I think that they should keep both around given the recent popularity of IPA's. Well done Foothills, I hope you keep this one. I'm gonna go finish this growler now.
★
945 characters
Jade from Foothills Brewing Company - Downtown Brewpub
95
out of
100
based on
139
ratings.