Carolina Blonde
| Foothills Brewing Company - Downtown Brewpub
BA SCORE
76
okay
40
Reviews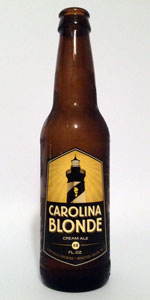 BEER INFO
Brewed by:
Foothills Brewing Company - Downtown Brewpub
North Carolina
,
United States
foothillsbrewing.com
Style:
Cream Ale
Alcohol by volume (ABV):
4.30%
Availability:
Year-round
Notes / Commercial Description:
No notes at this time.
Added by WoodBrew on 11-17-2011
Reviews: 40 | Ratings: 266

3.35
/5
rDev
+4.4%
look: 3 | smell: 3 | taste: 3.5 | feel: 3.5 | overall: 3.5
Cream ale
A: pale yellow, slight gold. Little to No head, clarity is nice
S: some grain, malt sweetness
t: clean, sweet, refreshing, smooth, 
M: light bodied and nice carbonation, the wheat gives it a nice smooth feel
O: overall a nice beer, would go down great at the pool
275 characters

3.2
/5
rDev
-0.3%
look: 3 | smell: 3 | taste: 3.5 | feel: 3 | overall: 3
Bottle poured into Great Divide pint glass. Appearance is a straw yellow color. Not very well carbonated. Quickly dies off.
Smells grainy and slightly adjuncty. Taste is crisp. The grains definitely stand out. As is typical with the style, there is very little hop character going out.
Mouthfeel is decent. The carbonation tastes better in the mouth than it appears in the glass.
Overall, it's an average beer. Nothing amazing, but it's certainly not a bad beer. If I wanted something to quench my thirst and was offered this, I would not turn it down. Cheers
562 characters
2.93
/5
rDev
-8.7%
look: 3 | smell: 2.5 | taste: 3 | feel: 3.5 | overall: 3
A: light and bubbly. Like a lemon color.
S: Light... yeasty... musty.
T: light... yeasty.... musty.... a little citrus.
M: Not bad. Light medium body.
Overall the most solidly average beer I have ever had. Better than a macro but doesn't really bring much of anything to the table.
289 characters
3.96
/5
rDev
+23.4%
look: 5 | smell: 4 | taste: 4 | feel: 4 | overall: 3.5
12 oz bottle poured into a pilsner glass.
4.3% ABV, 3 SRM, 15 IBUs.
Thanks for another NC beer Onenote81!
A - Small bubbles float lazily through the crystal clear pale straw yellow beer to a tall stark white head. Great retention leads to slow, sticky-forming rings of dense lacing. A gorgeous and refreshing-looking beer!
S - Husky, grainy pale malt holds down the fort while moderate notes of sweet corn emerge as an adjunct. It's also not insulting to say that this reminds of dumping dry malt extract into boiling wort. Not overly malty by any stretch of the imagination, but also not hoppy. Very light floral notes fall towards the back end.
T - The malt profile seems subsided, allowing spicy and floral noble hop attributes to emerge. That wort-like aroma carries through to the flavor where wheat dry malt extract meets grainy pale malt for a sweet finish kissed by a drop of honey.
M - High carbonation sparkles through the medium-light body as this soft cream ale finishes somewhat dry with just a hint of bitterness, intended more so to balance the sweetness.
O - Carolina Blonde is certainly not a terrible beer, but the smell and aroma keep bringing me back to feeling like I'm drinking an unfermented, carbonated bottle of light wort. Maybe it's aimed to the masses, maybe it's their every day lawnmower beer. All I know is in the end, Foothills' Carolina Blonde is a refreshing beer to kick back with.
1,422 characters

2.74
/5
rDev
-14.6%
look: 4 | smell: 2.5 | taste: 2.5 | feel: 3 | overall: 3
22 oz Bomber Poured in to pint glass
A: Poured a pale yellow, very clear with visible carbonation. Good fingers worth of head with good lacing.
S: I'm getting a little sweet malt, little grain and just a touch of hops.
T: Little malt, little citrus and a little hops.... Sadly everything is little... Pretty thin.
M: Light bodied with good amount of carbonation, with a smooth finish.
O: I was really hoping for more here, but over all pretty flat. Not bad on a hot day, but nothing to write home about.
508 characters
2.27
/5
rDev
-29.3%
look: 4 | smell: 2 | taste: 2 | feel: 3.5 | overall: 2
S: Clean, malty, grainy character, earthy. Slight plastic taste
L: Hazy, straw yellow, big creamy white head with good retention and lacing.
T: Very clean, light malt with a touch of spiciness. Low bitterness, slightly earthy. Malt character is extremely low.
M: Medium high carbonation, light bodied, effervescent.
Not good, almost an off flavor in the aroma. I expected a little more malt character for a cream ale. Could easily pass off as a light beer.
460 characters

3.49
/5
rDev
+8.7%
look: 2.5 | smell: 3.5 | taste: 3.5 | feel: 4 | overall: 3.5
12oz bottle into a pint glass.
Pours a crystal clear light gold with a tiny head that quickly faded away.
Aroma of hay, grass, and some bready malt. A touch of corn thrown in there too.
The flavor has some corn and cereal grain up front with a bed of breadyness underneath. Grass and hay hops are in there along with a light bitterness and a dry finish.
Overall, a tasty if not slightly boring blonde ale. Although not a lot is going on I couldn't really detect any off flavors and it is quite refreshing. Worth a try.
522 characters

3.33
/5
rDev
+3.7%
look: 3.5 | smell: 3 | taste: 3.5 | feel: 3 | overall: 3.5
Poured from bottle into a pint glass. Nice looking beer with a golden straw, hazy look. Apple cider quality with a nice 2 finger pillow off white head. Nose was of orange peel, citrus, biscuits and honey. Not overpowering, but adequate. Taste was similar to the nose with a nice straw, citrus hit on the front and the noble hops add a punch to the end. Not over the top hops, but a good balance. A bit on the sweet side, but again not overpowering. Feel is a bit on the watery side on the front with a good bit of carbonation to add to the dry finish. Overall- A decent Blonde with nice character and very sessionable. A bit on the sweet side which was a distraction for me. Good blend of hops and citrus notes. Not a bad beer, but nothing that stands out as spectacular. Wouldn't turn one down and the low price helps-
819 characters

2.9
/5
rDev
-9.7%
look: 3 | smell: 3 | taste: 3 | feel: 3 | overall: 2.5
[Best served in a Shaker glass]
The pour was a clear light yellow with a small (1 finger or less) white frothy head that diminished down to a very thin film and tiny collar creating some fair streaky lacing.
The aroma was of a grain malt, a grassy hop and a musty cobweb yeast with a hint of corn and not much else.
The taste was a bitter acidic with a pronounced grainy feel from the beginning and finished mildly hoppy with a slight metallic presence at the end. The flavor lasted an average time after the swallow with a slight bitterness and a mild metallic taste left to linger.
Mouthfeel was very light in body with a watery yet mildly dry texture and a prickly carbonation.
Overall a pretty basic brew that was more like a light beer than a Cream Ale, although it did have a decent bitter undertone to it...
819 characters

3.58
/5
rDev
+11.5%
look: 4 | smell: 3.5 | taste: 3.5 | feel: 4 | overall: 3.5
Served in what appeared to be a weizen glass at the Charlotte airport (long layover). Pours a straw gold with a translucent clarity. Head was half inch, rocky and bright white and eventually settled into a solid skim. Nose is clean and somewhat subdued - primarily biscuity malts and perhaps some citric acid. Taste consistent with nose; however, there is more of a cereal grain presence in the flavor profile. Mouthfeel is light in body with a lively carbonation and a clean finish. Overall, not a bad American Blonde. A decent, easy drinking session beer that pairs well with food, but there's nothing overly distinctive about this offering in my opinion.
657 characters

2.83
/5
rDev
-11.8%
look: 3.5 | smell: 3 | taste: 2.5 | feel: 3 | overall: 3
A: Poured from a bottle to a pint glass. Had a pale yellow color and a clear consistency. There was a half inch of foamy, somewhat long-lasting head. Good lacing.
S: Not a whole lot of aroma here, but there were traces of malt and grain.
T: Tasted of light hops, a fair amount of malt, a little citrus, and that grainy component. The flavor with this beer is pretty thin, watery and without character. Pretty forgettable.
M: A decent amount of carbonation with a slick finish. Light-bodied.
O: Not an offensively bad beer, but certainly unremarkable.
554 characters
3.33
/5
rDev
+3.7%
look: 3.5 | smell: 3 | taste: 3.5 | feel: 3 | overall: 3.5
A: Pours a golden yellow with a two foamy finger white head that has great retention. There is significant lacing on the glass.
S: Light aromas of grains, mostly cereal, as well as grassy hops and pale malts.
T: Flavors of bready/grainy malts with the grassy hops present. There is a very good balance to the beer and an overall lightness in the flavors. A touch of bitterness on the finish.
M: Light bodied with moderate carbonation - fairly smooth.
O: Very sessionable but nothing outstanding - have had several other beers from Foothills that I have enjoyed more than this one. Seems like the ABV for this beer is either very low or very well hidden.
658 characters
3.1
/5
rDev
-3.4%
look: 3 | smell: 3 | taste: 3 | feel: 4 | overall: 3
From notes 8/27/11
Pours a golden copper with ¼" of head that fades quickly to a thin lacing. Smells a bit musty with faint wheat notes and a little faint yeasty spice coming through. Taste is faint wheat, slightly yeasty, and just a hint of metal. Mouthfeel is crisp, smooth, and light.
A very sessionable beer, but a forgettable beer overall.
349 characters
4
/5
rDev
+24.6%
look: 4 | smell: 4 | taste: 4 | feel: 4 | overall: 4
A – Poured a very bright almost straw color golden yellow with a nice two finger high head of fizzy white lace that had a little bit of retention power to it, letting it stay around for a few moments before nestling down to just a thin film of froth across the top. Very nice apparent carbonation could be seen streaming up from the bottom of the glass to replenish what was there. Side glass lace was apparently not an issue and pretty much non existent throughout the session.
S – The aroma was very light. A nice base of light cereal grains and grass like aromas dominated the smell and was mixed in very nicely with a good amount of light yeasty smells. Hints of peach, pear, and especially banana were clearly evident here and all blended together very nicely to create a nice light, and bright aroma profile very befitting of the style.
T – The flavor was again very light and grainy with a very nice profile. The initial taste was of fresh cut grasses mixed with a good amount of light wheat flavors. There was a great little yeast profile added into this as well giving it a nice banana like flavor and swirling around with hints of peach and fig possibly, but very light. There was a touch of hoppiness to the finish, nothing extreme but just enough to dry it out and let it have a more then decent finish to it.
M – Very light bodied ale; this would almost come off as too thin if not for the large amounts of carbonation and the nice flavor profile. It had a very crisp and clean like quality to it, offering a sharp cut off while drinking. The carbonation was very good giving it almost a sparkling like quality at times, but mostly serving to keep it from feeling too thin.
D – Very highly sessionable ale here. I am not sure what the ABV here is, but it cannot be high as there was no hint of anything in this at all. A very light bodied ale that offered no signs of being filling in any way or of being anything but purely refreshing to drink. This would have been very easy to put down more then a few of without much difficulty at all.
Overall I thought this was rather nice for a nice sessionable blond ale. I had not ever had anything from Carolina before but it was nice to see that they obviously put some effort into what they do. This was definitely a quality ale and something I would like to enjoy again, especially on a warm day.
2,365 characters
3.06
/5
rDev
-4.7%
look: 4 | smell: 3 | taste: 3 | feel: 3 | overall: 3
Trying the Foothills Brewing Carolina Blonde at the Taste of Carolina at the B concourse in Charlotte, NC airport. The beer poured a clear golden color with thin white head that dissapates quickly....not much lacing. The smell includes hints of lemon and barley. The taste bursts with a tart lemon zing....the malt never realy kicks in to balance the beer. Teh mouthfeel is light to medium with big carbonation. Overall it is ok...would be great for the summer time.
466 characters
Carolina Blonde from Foothills Brewing Company - Downtown Brewpub
3.21
out of
5
based on
266
ratings.