Allyn's Cafe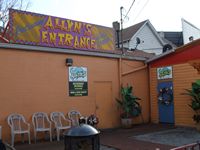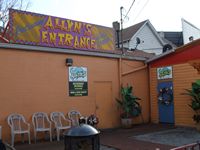 Bar, Eatery
3538 Columbia Pkwy
Cincinnati
,
Ohio
, 45226-2140
United States
(513) 871-5779 |
map
allynscafe.net
Notes:
Reviews by brewdlyhooked13:

brewdlyhooked13 from Ohio
3.8
/5
rDev
-3.6%
vibe: 3.5 | quality: 3.5 | service: 4 | selection: 4 | food: 4
So a lifelong Bud drinker tells me I need to check out this place called Allyn's Cafe in the downtown/East Side area of the city. I checked it out, so check it out...
It's on the smaller side for sure, if you're unfamiliar with the area you'd best use MapQuest. It's essentially on Route 50-East, a main thoroughfare for the downtown area, so you'll find it if you intend to.
On the smaller side, like I said, and at first glance I'm wondering if this is *really* the place I was told about. Fortunately, a corner seat is open at the bar and I inquire to the barkeep for a tasty bottle. For sure, they have a beer-list-club type thing with approximately 115 bottled beers to select from. Join up, they keep track of which beers you've tried, fame and fortune bestowed upon all who meet the required beer sampling criterion (interpreted - free appetizers!!). Pint glasses available upon request for those in the know...
Per one of the patrons ( I asked him a few ?'s regarding the chow). they do an above average job on their Mexican and rib-dinner offerings, so I am basing my score not upon direct experience but upon a hedged trust of a frequent customer. If you're in the downtown/east side vicinity, consider Allyn's, chances are you'll be happy with the libations, food, and live music!
Mar 18, 2005
More User Reviews:

Vczk2t15 from Ohio
3.43
/5
rDev
-12.9%
vibe: 3 | quality: 2.5 | service: 4.5 | selection: 4 | food: 2.5
Apr 01, 2016

CBrodbeck from Florida
3.93
/5
rDev
-0.3%
vibe: 4 | quality: 3.75 | service: 4.25 | selection: 3.75 | food: 4
Sep 15, 2015
BigDawg41 from Ohio
3.89
/5
rDev
-1.3%
vibe: 3.5 | quality: 3.25 | service: 4 | selection: 4.25 | food: 5
Gator pasta and Hopslam, say no more.
Mar 16, 2015

pwoods from Ohio
3.6
/5
rDev
-8.6%
vibe: 4 | quality: 3.5 | service: 3.5 | selection: 3.5 | food: 4
This was a pretty cool place and a nice change of pace if you're in the area and looking for a relaxed lunch. It looks like it could get pretty crowded at night, though. Really cool decor inside and a nice patio outside. They didn't have a huge selection but they had enough to keep me interested. Ended up get a 60 minute IPA. The quality they kept was pretty decent though you won't find the higher end beers or many Belgians here. The service was pretty good. It wasn't busy but the waiter was fast and attentive and knew a little bit about the beers. The food was pretty fast and everyone enjoyed their meal. Prices seemed fair from what I remember.
May 10, 2010
mikesgroove from South Carolina
4.14
/5
rDev
+5.1%
vibe: 4 | quality: 4 | service: 4 | selection: 4.5
Went a bit out of the way after the Hyde Park visits but it was well worth it. One of the most animated looking places from the outside with really bright orange paint and a mural of an alligator on the side. Stopped in around lunch time and the place was pretty much dead. I had just eaten at Dewey's so I was not really hungry so I decided to just take a gander at their list. Very impressive I would have to say. Everything was in bottles, well over 100 and priced for take out, albeit a little higher then some of the other package stores, but still not bad. The gentleman at the front greeted me as soon as I walked in and proceeded to go down the whole list with me. Most of the locals, lots of Belgians, and imports from France, Germany, and England. Overall this was a pretty cool stop, the allure of being able to eat and then take home some is very nice. I would definitely stop in here again.
Jan 15, 2008

TheBierBand from Ohio
4.13
/5
rDev
+4.8%
vibe: 3.5 | quality: 4 | service: 4.5 | selection: 4 | food: 4.5
I've been to Allyn's several times. Last time I had the Blackened Catfish. I tried a new beer that I've never tried before: Rogue's Dead Guy Ale. Both were excellent! I've had a variety of foods and beers there.... a great selection of bottled beers! The place is rather small and it can be hard to get a table there. But the friendliness of all people at Allyn's is what makes for it's charm. I usually go for one of their "Blackened" offerings as I LOVE the Louisiana Style of cooking. Overall, I give it a very good review!
Oct 10, 2006
RedLion from Ohio
4
/5
rDev
+1.5%
vibe: 3.5 | quality: 4 | service: 4 | selection: 4 | food: 4.5
Allyn's was a regular visit for me and my friends before I got married. There's always live music to listen to, and their food is great. I usually get the jambalya or gumbo, either comes with their fantastic cornbread. Their Tex-Mex offerings are pretty good too, but this is the place I go to when I need my Cajun fix. Always a variety of hot sauces on the tables.
They have this huge beer list which is great, but they can never manage to keep everything in stock. Invariably, the first beer I order will be sold out, and is a curse that still amuses my friends to no end. I ordered Miller Lite one time to prove the curse. Sold Out. It's the first bar I found to carry Xingu (when it's not sold out). They also carry all the Dixie products (when available). I've never been sure if this curse is because of high volume or bad planning.
The staff are really nice and patient. Sometimes a little chatty.
One of the owners has a room devoted to his beer stein collection, some of which are available for sale. This is my favorite room to eat in.
Within the past couple of years, you can now purchase beer and wine to go.
Allyn's is definately worth a stop if you're in the area.
Apr 30, 2005
Allyn's Cafe in Cincinnati, OH
Place rating:
3.94
out of
5
with
10
ratings