Weizen Bock
| Les Trois Mousquetaires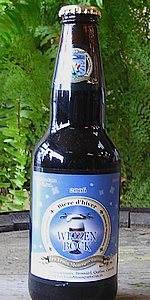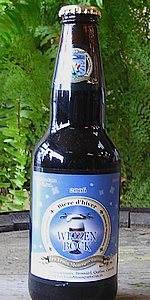 BEER INFO
Brewed by:
Les Trois Mousquetaires
Quebec
,
Canada
lestroismousquetaires.ca
Style:
Weizenbock
Alcohol by volume (ABV):
10.00%
Availability:
Winter
Notes / Commercial Description:
No notes at this time.
Added by Beersignal on 01-13-2007
This beer is retired; no longer brewed.
HISTOGRAM
Ratings: 9 | Reviews: 7
Reviews by CrazyDavros:
4.25
/5
rDev
+8.1%
look: 4 | smell: 4 | taste: 4.5 | feel: 4 | overall: 4.25
Pours copper with a large off-white head.
Nose shows booze, rum, raisins, treacle and bready melanoidin notes. Potent...
Very sweet flavours, more bready notes, golden syrup, soft booze and raisins. Very drinkable.
Could use a slightly more syrupy body.
256 characters
More User Reviews:
3.63
/5
rDev
-7.6%
look: 4 | smell: 3.5 | taste: 4 | feel: 3.5 | overall: 3
Pours a semi-cloudy, dark brown with a medium size tan head. The nose offers up dark fruits and spicewith a hint of malt. The taste starts out on a dark fruity path with dull plum notes....mid sip it turns towards the sweet end with more of a molasses type candiness along with the spices that begin to creep forward (clove etc). Towards the finish the fruit n spice picks up a slight medicinal quality & alcohol warmth also revealing a little bit of maltiness. The finish lingers quite nicely. The mouthfeel is soemwhat lively but fairly rich. When I think "weizenbock", i expect there to be that light, effervescent quality about it. The beer offers some decent complexity but expected it to be contrasted a little more with some of those true "weizen" qualitites. I think this lends to my lower score for drinkability.
Merci, Serge!
838 characters
3.56
/5
rDev
-9.4%
look: 4.5 | smell: 3.5 | taste: 3.5 | feel: 3.5 | overall: 3.5
Bottle: Poured a deep hazy brown color weizen bock with a big foamy brown head with great retention and good lacing. Aroma of sweet malt with some very subtle clove notes. Taste is dominated by sweet cookie dough malt with some dry figs/plums notes. Even though there is some complex layer in this beer, I thought that the sweetness from the malt was just overwhelming at the end and something fruitier or ester to cut down some of the sweetness would have been great. Overall, while this is a very good and complex beer I still feel the sweetness need to be balance.
567 characters

4.17
/5
rDev
+6.1%
look: 3.5 | smell: 4 | taste: 4.5 | feel: 4 | overall: 4
A: Dark-brown/black with ruby highlights; light tan head; very little retention; some lacing.
S: Spicy (pepper & cloves), molases, dark chocolate, dark fruit, alcohol (sherry?).
T: Molases, dark fruit, pumpernickel bread, light nuttyness, peppery spice, moderate bitterness, plenty of alcohol in the finish. Well-crafted and I'm seriously impressed by the depth of flavour. Although it's lacking in banana esters it's still very good. Maybe not quite a 4.5, but I'll be generous.
M: Moderate to full body, well-attenuated, higher than moderate carbonation.
D: Very drinkable for its strength.
605 characters
2.41
/5
rDev
-38.7%
look: 3.5 | smell: 2.5 | taste: 2 | feel: 4 | overall: 2
2007 vintage Weizen Bock sold produced as a winter offering. 341 ml bottle.
A- Big orange tinged beige head of large bubbles. Decreases rapidly but leaves a thick ring and some lacing. Colour black with ruby highlights. A dark red/brown if held up to a light.
S- Soy sauce up front. Hint of roast. An aromatic aroma that reminds me of the alcohol smell you get when opening a package of fondue cheese.
T- Alcohol character strong. Wheaty and fermented fruit flavours. Some sweetness. Some resemblance to a cherry liquor. Bitter finish of hops and roasted dark beer. But it just isn't quite right. Some salty, soy sauce like notes. All kinds of things going on that don't quite mesh together and some that are just plain off.
MF- Thick and chewy. Very full bodied. Smooth. Best aspect of the beer.
D- A sipping beer with a strange flavour I could't get used to. This combined with high ABV gives a low drinkability.
929 characters

4.5
/5
rDev
+14.5%
look: 4.5 | smell: 4.5 | taste: 4.5 | feel: 4.5 | overall: 4.5
3.88
/5
rDev
-1.3%
look: 4 | smell: 3.5 | taste: 4 | feel: 4 | overall: 4
2007 edition, 12oz bottle from La Trappe A Fromage in Gatineau. Pours very dark. Aroma is smoky but relatively faint, and completely misleading. First taste makes my head shake. Lots of flavour with cloying sweetness. The alcohol is evident... and welcomed, at the moment! I'm not getting much 'weizen' out of this weizenbock, but it's still a enjoyable drink.
360 characters
4.2
/5
rDev
+6.9%
look: 4 | smell: 4 | taste: 4.5 | feel: 4 | overall: 4
First review in a long long time so I thought I'd make it a good one. Liking this brewery more every time I open one of their offerings and I doubt this will disapppoint.
Pours dark as chocolate and hazy as weizen with a slick appearance that borders on oily. The head was thin from the get-go, but a raucous pour coaxed a decent cap of beige foam from the beer. Respectable lasting power and a bit of lacing.
Very malty up front with hints of candied fruit and christmas fruitcake over faint notes of cocoa. The aromas are fading, the attack is lively but as you keep whiffing they seem to diminish. Nice complexity however.
Quite full bodied, malty and sweet brew with firm notes of cocoa, vanilla and some blueberries in the mix. Subsequent tastes reveal toasted notes and a subtle but complex fruitiness that manages to rival the malt and alcohol signature. The finish is malty and mellow with warming alcohol to wind down the experience.
Great winter offering from Les Trois Mousquetaires. Hope this tradition repeats next year.
Santé
1,055 characters
Weizen Bock from Les Trois Mousquetaires
Beer rating:
3.93
out of
5
with
9
ratings