Dismiss Notice
Impériale Weizen Grande Cuvée
| Les Trois Mousquetaires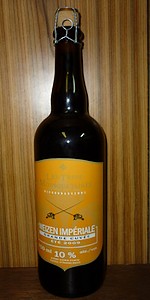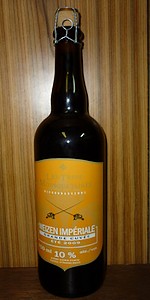 BEER INFO
Brewed by:
Les Trois Mousquetaires
Quebec
,
Canada
lestroismousquetaires.ca
Style:
American Pale Wheat Ale
Alcohol by volume (ABV):
10.00%
Availability:
Summer
Notes / Commercial Description:
ABV varies year to year.
Added by biboergosum on 09-04-2009
This beer is retired; no longer brewed.
HISTOGRAM
Ratings: 51 | Reviews: 41

4.22
/5
rDev
+7.9%
look: 4.5 | smell: 5 | taste: 4 | feel: 3.5 | overall: 4
A bottle from 'Ete [Summer] 2009', poured from a corked 750mL bottle into tulip glasses. A rich and hazy reddish orange beer that left a decent head with a moderate pour which left nice lacing throughout the session. A very intriguing looking beer. The nose on the beer was delectable. A light maltiness sat underneath prevalent esters of banana and spicy cloves. The alcohol was on the nose, but not at the forefront.
Quite a nice beer, with flavours of sweet malt and banana along with other fruit with the cloves all on the palate. The beer was well balanced without any lingering bitterness. There was a sweetness to it that was in no way cloying. Well balanced. The beer seemed maybe a little under-carbonated that left a bit to be desired, but overall a very drinkable imperial.
785 characters
4.23
/5
rDev
+8.2%
look: 4.5 | smell: 4 | taste: 4.5 | feel: 4 | overall: 4
On tap at Mondial de la Biere, and a clear winner for everyone who worked at our booth. Big kudos to the guys at 3M.
Cloudy amber pour with a fluffy white head. Great retention and lace. Big citrus aromas, blending with other esters and sweet spicy yeast. Flavour has an intriguing mix of fruit with pineapple, lemon and banana all playing their part in a nice malty body, which is capped by a beautiful hoppy bite of citrus and grass. Some caramel and candy notes also, which work well with clove-like spice. Alcohol is AWOL, and masterfully hidden. Medium body and carbonation work well.
A beautifully created imperial weizen, and the best I've come across. Congratulations on another success!
697 characters

4.27
/5
rDev
+9.2%
look: 4.5 | smell: 5 | taste: 4 | feel: 4 | overall: 4
750ml Bottle with cork cap.
Appearance: Beautiful murky caramel color with a hint of dried apricot.
Smell: amazing sweet English butter Toffee with Candied Strawberries. A nice mineral freshness buried amongst the sweetness.
Taste: Butter Toffee, Candied Fruits, Overripe banana. Very very rich and delicious.
Mouthfull: THICK and SMOOTH
Exceptional beer by another great Quebec brewery.
396 characters
4.29
/5
rDev
+9.7%
look: 3.5 | smell: 4.5 | taste: 4.5 | feel: 4 | overall: 4
Came in a 750ml corked and caged bottle. Swirl poured into a glass mug. Huge bubbly tan head on a hazy, nearly opaque yellowish brown. Good head retention. Big sweet malt smells. Lots of fruit and bread notes. Rich multilayered flavours. Bread banana, citrus. A non cloying sweetness. A nice dry hoppy finish. The 10% alcohol is not apparent. A medium body with moderate carbonation. Drinkability is very good. Only the high alcohol keeps it from being a session beer. An outstanding and original wheat.
503 characters

4.34
/5
rDev
+11%
look: 3.5 | smell: 4.5 | taste: 4.5 | feel: 3.5 | overall: 4.5
Bottle:
Poured a a clouded, spritzy amber ale with a large fluffy cap into my weizen glass....modest retention on the cap but it reduces to a surface lace that clings to the glass. Decent effervescence appears to be natural from bottle conditioning
Definitive aromas of ripe bananas, musty-yeasty bread and woody hops ( very nice!)
Rich malted wheat backbone, creamy mouth feel, medium bodied and bready-fruity in character
Rich mouthfull of non-cloying banana bread up front...absolutely glorious!...layered tones of spice ( clove, cinnamon) and delicate fruits in the middle fuse with wonderful herbal/woody Franconian noble hopping.... lightly drying in the finish which is punctuated with bubblegum-salted taffy tones mixed with medicinal bittering...bready after taste.
This is a brewed nectar that hides its substantial alcohol almost completely. I love this more substantial weizen!!! Probably the best brew from this brewer and certainly a brew that cinches them as my favorite Quebec micro brewer.
1,016 characters
4.35
/5
rDev
+11.3%
look: 4 | smell: 4 | taste: 4.5 | feel: 4.5 | overall: 4.5
Appearance: Cloudy and murky darker orange-ish hue with a minimal head, but one that lasts the entirety of the beer.
Smell: Butterscotch, banana and orange notes come through.
Taste & Mouthfeel: Has a very buttery smooth, velvet mouthfeel upfront. Tasting a bit of vanilla and slight bit of clove. Also, a very unripe banana taste hits you too. Slightly acidic orange taste hit midway through and ends with a smooth alcohol warmth. This is one excellent beer!
Drinkability: For a 10% abv beer, this one is very deceptive. It's so easy and smooth to drink that you could get in trouble...but that's a gamble i'm willing to risk. Only sad that this was the only one on the shelf, because I will be pestering the guy at my local beer store to restock this. Well worth trying!
778 characters

4.35
/5
rDev
+11.3%
look: 4 | smell: 4 | taste: 4.5 | feel: 4.5 | overall: 4.5
750ml corked and caged bottle poured into a Augustijn Grand Cru glass
Bottle is dated Été 2009.
A: The bottle opened with a nice "pop". It poured a deep amber and hazy with a nice light tan 3 finger head, which was less then you might have imagine from a wheat beer with a moderately aggressive pour.
S: The nose was sweet with honey and clove with a drop of banana and a whiff of pleasant alcohol.
T: The initial taste is a bit of a shock, as it didn't taste like your everyday wheat beer. It had the normal banana and citrus notes you find in a German Wheat, but also the warmth and sweetness you would find in a Barleywine. I also tasted a bit of bitterness midway. Near the finish I could swear I tasted grape lollypop.
M: The mouthfeel was thick and slick and was extremely pleasant.
D: At 10% this was a sipper and improved as it warmed up.
Glad I found this brew.
885 characters

4.5
/5
rDev
+15.1%
look: 4 | smell: 4 | taste: 5 | feel: 4 | overall: 4.5
This beer pours yellow color and hazed just like a good weizen. The head looks like soap foam. The aroma is fruity with hops in a good quantity. Citrusy and piney. Taste is fruity just like the aroma. Dry finish. The alcohol is present in the back of the mouth. The finish is all hops. Full bodied. So easy to drink, this one is a dangerous but who cares, it is so good. Refreshing and comforting like a big abv beers. This is one hell of a good beer for those days where the temperature is hot but you want to sip on a refreshing beer.
536 characters
Impériale Weizen Grande Cuvée from Les Trois Mousquetaires
Beer rating:
3.91
out of
5
with
51
ratings