Grande Cuvée Porter Baltique - Édition Spéciale Vieillie En Fût De Bourbon
| Les Trois Mousquetaires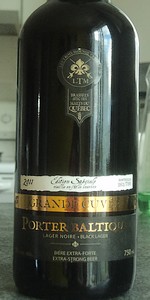 BEER INFO
Brewed by:
Les Trois Mousquetaires
Quebec
,
Canada
lestroismousquetaires.ca
Style:
Baltic Porter
Alcohol by volume (ABV):
9.50%
Availability:
Limited (brewed once)
Notes / Commercial Description:
No notes at this time.
Added by liamt07 on 10-31-2011
This beer is retired; no longer brewed.
Reviews: 9 | Ratings: 32

4.44
/5
rDev
+10.2%
look: 3.5 | smell: 4.5 | taste: 4.5 | feel: 4.5 | overall: 4.5
This was my favourite cask beer at Cask Days 2011 hosted at Hart House. As black and velvety as the bottled version but aged and conditioned in a bourbon cask. It was more complex and sweeter thank the bottled version and was one of the first casks to run out on the day.
It had very little carbonation and only a brim of head after the pour. Smelled astonishingly good and didn't disappoint in all other areas. Was a real treat to enjoy this very successful cask.
465 characters

4.34
/5
rDev
+7.7%
look: 3.5 | smell: 4.5 | taste: 4.5 | feel: 3.5 | overall: 4.5
2010 vintage 408/700 750ml cored and caged bottle poured into tulip 25/12/12 ho ho ho, cheers pappat444 for this big want
A black body with deep cola edge, the thumbs width of foam is pretty dark but doesn't very long and leaves no lace
S chocolate syrup, coffee, dark fruits and the barrel is strong, vanilla, smokey bourbon and a little wood, very faint booze and teriyaki as it warms and just a little molasses. It's been a while since I had the regular version but I cant imagine it smelled as good as this, I'd believe this spent a year in a barrel the bourbon notes are strong yet mellow, I think some age worked well on this one
T a little toned down compared to the smell but not enough for a lower score, more smokey notes and a little sweet caramel and espresso with some dried fruit, the roast is a little darker in the mouth
M thin for the color but I suppose its a lager after all, mellow carbonation and a long char, teriyaki aftertaste
O the smell was near perfection, and it tastes great I'm surprised this one hasn't gotten more love from the few BA's lucky enough to try it
another big thanks to Patrick for shipping this gem my way, a nice Christmas treat for this naughty boy. I know the regular version is one of my highest scores ever but I can't justify that score today even though I may prefer this version. My palate and rating methods are slowly changing
1,390 characters

4.26
/5
rDev
+5.7%
look: 3.75 | smell: 4.5 | taste: 4.25 | feel: 4 | overall: 4.25
Poured from a 750ml bottle into a stemmed tulip glass and shared with friends during a holiday bottle share (that to Ian for trading the bottle).
***2010 Vintage***
A: A deep black color that gives rise to a short dark head that doesn't last very long and leaves minimal lacing.
S: Wow, massive bourbon nose, heavy and boozy; lots of malt giving off dark chocolate, molasses, deep dark roasted grain. The age only bottle has really smoothed things out (I think ;-).
T: A big (massive) aged malt profile, tons of big jammy fruits, dark pits fruits (plums, prunes, raisins); a cola sweetness; massive boozy bourbon notes, vanilla and wood.
M: Low carbonation and a big body; smooth and round.
O: Wow, that is a big, malty, boozy bourbon barrel beer. Lots of really big, in your face flavors; aggressive almost. Incredibly delicious but maybe lacking a bit of subtly.
872 characters

4.2
/5
rDev
+4.2%
look: 4 | smell: 4 | taste: 4.5 | feel: 4 | overall: 4
Deep brown near black, soapy tan head with light lace. Smell is rich with bourbon, chocolate, vanilla, herbal notes as well, some chared notes came and went as well. Taste is roasty, oak comes out with bourbon notes, lightly herbal almost anise like flavours, chocolate, some vanilla, mild bitterness with a chocolatey finish. Lightish feel, light carbonation, medium body. I really liked this, I opened a bottle of the 2011 base beer of this last week and prefered this to the bottle, though I did like this much more than Liam did.
533 characters
4.12
/5
rDev
+2.2%
look: 4 | smell: 4.5 | taste: 4 | feel: 4 | overall: 4
2010 Vintage.
Thanks to Hoppypocket for this bottle.
Poured in to brandy snifter.
A - Poured a very dark brown and settled black with a very thin film of medium brown head.
S - Massive barrel aromas up front - bourbon, oak and vanilla. A brandy-like aroma is also present along with some chocolate and roast. The barrel notes dominate the nose.
T - Barrel flavours up front - bourbon, vanilla and oak. Some brandy flavours come through as well. Chocolate, cherries, molasses and charred oak are also present. The barrel qualities are not as dominant as the nose suggested but they do stand out.
M - Medium body. Light carbonation.
O - Tasted side-by-side with the regular 2010 version. The barrel aging covered up a huge roast profile that was present in the regular version. Almost two completely different beers.
823 characters
4.05
/5
rDev
+0.5%
look: 3.75 | smell: 4.25 | taste: 4 | feel: 4 | overall: 4
2010 bottle. Big thank you to papat444 and unibroue4ever for sending me this one!!
Appearance. Pours a deep dark brown, black in the glass with just a skim of tan head that slowly rose from the depths.
Smell. Vanilla and sweet smooth woody bourbon with a little dark chocolate and molasses.
Taste. Big dark chocolate with vanilla and some oaky bourbon. Slight briny taste with a bit of plum. Almost no heat or alcohol!
Mouthfeel. On the low side of full bodied, low carbonation.
Overall. Very nicely done. The bourbon is complementary and not overwhelming.
561 characters
3.9
/5
rDev
-3.2%
look: 4 | smell: 4 | taste: 4 | feel: 3.5 | overall: 3.75
***2010 Vintage, bottle 385/700***
***MY 800TH HAD ON BA!***
Poured from a 750ml. bottle.
Appearance: Pours a dark chestnut brown with cherry wood hues that looks pretty black in the glass, Lopsided head takes a few minutes to subside and leaves a few rings behind.
Smell: Molasses, chestnuts, sweet bourbon.
Taste: Nice mix of chocolate, bourbon, sherry, bit of minerals, sugar, coffee flavor in the back, charcoal.
Mouthfeel: Very low carbonation, body seems off a bit but probably because it's a lager. Doesn't have that well-rounded feel but it's tolerable.
Overall: I believe it's my first barrel-aged lager and for me, the results are mixed. Expected a fuller body but the flavor was quite good. It may or may not appeal to you.
741 characters

3.48
/5
rDev
-13.6%
look: 4 | smell: 3.5 | taste: 3.5 | feel: 3 | overall: 3.5
On cask at Volo's Cask Days 2011, listed at 60 IBUs.
Pours almost completely black, with only the slightest suggestion of violets/burgundy at the edges when held to the light. Moderate brown head composed of some dense bubbles. Nose has some bourbon, with more dominant barrel character in terms of vanilla and oak. Dark fruits in the form of prunes, with some anise and herbal notes (which I can only compare to rapini - for anyone who knows what that is...). Taste is an improvement, but not by much; more bourbon, dark fruits and chocolate notes. Herbal notes (rapini again) as well as anise. Bourbon and some alcohol in the finish. Medium heavy body, with a light tartness in the finish that I'm not fond of. Certainly different than the bottles that I've experienced (it's one of my top rated beers as well), and I'll certainly review and edit this review once I sample the bottled version of this.
906 characters
3.02
/5
rDev
-25.1%
look: 3.75 | smell: 3 | taste: 3 | feel: 2.75 | overall: 3
Bottle (2011 version): Poured a deep black color porter with a large brown foamy head with good retention and some light lacing. Aroma if a complex mix of dark chocolate notes with light traces of vanilla and some clear notes of Citra which brings out some notes of dill that that work that well. Taste is also a weird mix between some black chocolate and light dry roasted malt notes with some very subtle trace of vanilla which clash with green hoppy notes of Citra with underwhelming notes of dill. Body is full with somewhat of an oily texture and good carbonation with no apparent alcohol. I ma probably going against the grain on this one but way too much Citra for my taste which kind of doesn't hold well against the black chocolate and bourbon notes. Also the second use of the bourbon barrel leaves very subtle notes of bourbon which could be more pronounced.
871 characters
Grande Cuvée Porter Baltique - Édition Spéciale Vieillie En Fût De Bourbon from Les Trois Mousquetaires
4.03
out of
5
based on
32
ratings.