Olvi III (Special)
| Olvi Oyj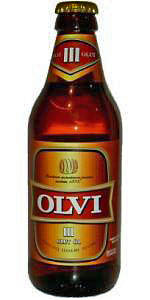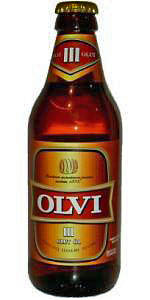 BEER INFO
Brewed by:
Olvi Oyj
Finland
olvi.fi
Style:
Euro Pale Lager
Alcohol by volume (ABV):
4.50%
Availability:
Year-round
Notes / Commercial Description:
No notes at this time.
Added by brewdlyhooked13 on 03-01-2005
HISTOGRAM
Ratings: 14 | Reviews: 3
Reviews by JTuomi:
More User Reviews:
3.13
/5
rDev
+22.7%
look: 3 | smell: 3 | taste: 3.25 | feel: 3.25 | overall: 3
Had in a can while in Finland. A refreshing lager. Not spectacular, but I'd have another if my options were limited.
116 characters

2.9
/5
rDev
+13.7%
look: 2.75 | smell: 2.75 | taste: 3 | feel: 2.75 | overall: 3

1.89
/5
rDev
-25.9%
look: 2.25 | smell: 2 | taste: 1.75 | feel: 1.75 | overall: 2
CAN: 50cl. Aluminum. Standard pull-tab. Purchased at a Prisma supermarket in Kuopio, Finland. Best before: 06/06/15.
4.5% ABV.
Served cold into a pilsner glass at low altitude in Kuopio, Finland. Expectations are low given the brewery (which is known locally as a cheap supermarket brand). Reviewed live as a European pale lager.
No bubble show forms as it's poured.
HEAD: ~2 inches wide. White in colour. Somewhat thin. Fizzy and foamy, but not robust or full. Recedes entirely within 1.5 minutes, leaving no lacing. It's pretty weak - perhaps een pathetic.
BODY: Clear bright yellow with faint copper hues. Clean, lacking any visible yeast particulate or hop sediment.
Suggests a clean crisp lager with refreshing qualities but not much flavour. It's on par with your usual supermarket lagers from anywhere in Europe - at least based on the generally appealing appearance.
AROMA: Barley. Faint diacetyl (manifested via a kiss of buttery character). Water.
There's no real graininess or hop aromatics. I find no booze or yeast.
Aromatic intensity is low. This suggests an insipid, basic lager with no frills or flavour.
TASTE: As simple and shallow as the aroma suggested, with only a barley backbone and an unpleasant diacetyl note to offer the drinker. Has no hop notes - not even a generic floral character - and no interesting specialty malts. I suspect the blandest cheapest Munich or pilsner malt was utilized.
Still, to its credit, it's not watery or adjuncty. Still, even more neutrality (by getting rid of the unwelcome diacetyl) would be preferable. I'd actually prefer it were it insipid.
Poor depth of flavour. Low intensity and duration of flavour.
TEXTURE: Smooth, wet, buttery, light-bodied, and unrefreshing (by virtue of its artificial taste). Has an artificial coating feel akin to creamed corn, which does bend this beer towards the flavour profiles of adjunct lagers. Lacks body, heft, and weight.
There's no harmony between texture and taste whatsoever.
I will say that the carbonation is just about right for the style. That might be the best thing about this beer.
OVERALL: As bland and boring a lager as you'll find on Finnish shelves, Olvi III is the lowest common denominator beer in Finland and has nothing whatsoever to offer the discerning drinker. Even the most casual of beer drinkers would readily identify the blandness of this one. Still, as poor quality as it is, I give it credit for not being watery or suffering from metallic off-notes (both characteristics common in poor examples of this style). And it's not as harsh as many macrolagers. Even in this style category and at this price point, better beers can be found in Finland (e.g. Karhu). Not worth trying. I'd caution against purchasing it - even if you're just looking for a "student beer." All things considered, though, it's still drinkable.
D- (1.89)
2,867 characters

2.64
/5
rDev
+3.5%
look: 2.5 | smell: 2.25 | taste: 3 | feel: 2.5 | overall: 2.5
3.84
/5
rDev
+50.6%
look: 3 | smell: 4 | taste: 4 | feel: 3 | overall: 4
Rather light, but has good flavor. Not at all like most Euro lagers, does not have the tinny taste or harsh bitterness that they so often do. No pronounced hop flavor like American beers, but a nice easy bitterness to it. NOt a completely memorable beer at all, but I could definitely see myself drinking this regularly if I moved to Finland.
342 characters
3.77
/5
rDev
+47.8%
look: 3.5 | smell: 4 | taste: 3.5 | feel: 4 | overall: 4
11.2oz dark brown bottle. Freshness date on side of label.
My sister and brother in law brought this back (and others) from their trip to Finland 3 years ago. I just located my notes yesterday.
It pours a shiny, clear coppery gold with a nice foamy white head on top. Some sticky and patchy lace cling to the glass.
The smell is of a clean and crisp meadow. Distant flowers and herbs.
The taste of light grain and white bread come to mind. The metallic and slightly citrusy hops are a little weak. A bit more pellets in the kettle would have done the trick.
I could have drank these all night, except I only had the one.
620 characters
Olvi III (Special) from Olvi Oyj
Beer rating:
2.55
out of
5
with
14
ratings