Olvi Sandels 4,7%

Olvi Oyj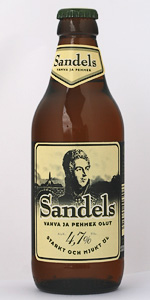 Write a Review
Beer Geek Stats:
| Print Shelf Talker
Style:

ABV:

4.7%

Score:

Avg:

2.6

| pDev:

23.08%

Reviews:

8

Ratings:

From:

Avail:

Year-round

Wants

Gots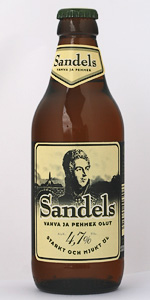 Notes:

2.77
/5
rDev
+6.5%
look: 3 | smell: 2.75 | taste: 2.75 | feel: 2.75 | overall: 2.75
Good basic beer. Mild taste and quite smooth. Sandels 4,7% is a basic finnish upper-mid-class beer.
///////////////
FINNISH: Hyvä perusolut. Mieto ja pehmeä. Perus ylemmän keskiluokan marketolut.
198 characters

2.78
/5
rDev
+6.9%
look: 3 | smell: 2.5 | taste: 2.75 | feel: 3 | overall: 3
First impression: C+
***
2nd impression (05.27.15):
CAN: Aluminum. Generally appealing white/grey label design & art. Best before: 23/12/15. 568ml (imperial pint). Purchased in a Prisma supermarket.
4.7% ABV.
Reviewed live. Expectations are above average given my previous experience. Served cold into a pilsner glass at low altitude in Kuopio, Finland.
No bubble show forms as it's poured.
HEAD: ~1 inch wide. White colour. Somewhat weak. Decent consistency. Subpar complexion. Leaves little lacing (if any) as it recedes.
Retention: Quite good, actually. ~8 minutes.
BODY: Clear translucent yellow copper of below average vibrance. Clean, with no visible yeast particles or hop sediment.
Looks okay for macrolager. Certainly not unique or special.
AROMA: Buttery diacetyl. Barley. Grassy hops. Minerals. That's it...
Aromatic intensity is below average.
Suggests a painfully simple, shallow brew.
TASTE: Follows the aroma in its mediocrity and simplicity. Shallow notes of buttery diacetyl, barley, pilsner malt, and restrained grassy hop character.
Brief flavour duration. Below average flavour intensity. Lacks any complexity or subtlety whatsoever.
TEXTURE: Clean, buttery, smooth, wet, light-bodied, unrefreshing, and over-carbonated. The unexpected softness is pleasant; it's not the sharp harsh feel you'd usually find in a beer of this calibre.
There's no harmony of texture to taste.
OVERALL: A middling hypermarket brew popular amongst students for a reason. This is the local macro-swill, but it's absolutely drinkable. You know what you're getting when you buy this. I won't be revisiting it unless I can't make it down to Estonia to buy some more reasonable fuckaround beer. Won't impress the discerning drinker, but it's no worse than any other European macrolager.
High C- (2.72)
1,814 characters
2.98
/5
rDev
+14.6%
look: 3 | smell: 2.5 | taste: 3 | feel: 3 | overall: 3.5
Pours out a clear, golden color and a very generous white head with decent retention.
The aroma is moderate. There are some malts and grains that the nose easily picks up.
The taste is a combination of sweet beginning and bittery body, coming together with a nicely bitter finish. The aftertaste is bitter and decently lasting.
Nice effort from Finland.
353 characters
1.39
/5
rDev
-46.5%
look: 1.5 | smell: 1.25 | taste: 1.25 | feel: 2 | overall: 1.5
330 ml. bottle. Pours a clear golden colour, with almost no head that fades instantly and leaves no lace. Smell of nothing, well, maybe some herbs and some sweetness (honey?). Oily palate, thin body. Taaste is just some sweetness (honey again?). And maybe some grass. Is this really a beer?
290 characters
1.95
/5
rDev
-25%
look: 2 | smell: 2 | taste: 2 | feel: 1.5 | overall: 2
Poured with a large foamy, frothy, white head that soon settle to a light cover that almost looks scumy and some lace. Color is a clear, bright yellow with lots of large bubble trails that look like carbonated water or soda pop. Aroma is beery with faint hops and malt. Flavor is mostly sweet and tang with a bit of bitterness. Body is highly dominated by the carbonation which leaves a tingly sensation with some sweetness in the finish. I will not consume more of this given a more reasonable option.
502 characters

2
/5
rDev
-23.1%
look: 2 | smell: 2 | taste: 2 | feel: 2 | overall: 2
So, light yellow translucent liquid with unmonolithic soft head. Ordinary hop smell with sour tones. Low-carbonated typical unexpressive taste, light artificial bitterness and not very pleasant plastic aftertaste.
Nothing special at all. Exceptional dead one!
Legend on the can: "Colonel Johan Sandels was known for his love of brisk military life, food and beer."
365 characters

1.82
/5
rDev
-30%
look: 3 | smell: 1 | taste: 2 | feel: 2 | overall: 2
Pours a one finger white head that fades quickly to ring, leaving little lace. Crystal clear amber color. Light-medium carbonation and light-medium bodied. Skunky nose. Flavor is balanced and not as bad as nose but nothing special. 330ml bottle €1.35 Kahvio Ahokylä, Finland. From my notes - 7/11/2008.
304 characters
2.2
/5
rDev
-15.4%
look: 2 | smell: 2 | taste: 2 | feel: 2 | overall: 3
The colour is very yellow; the large white foam sinks quickly down to a thin white lid with lots of lacing.
The smell got an interesting note of… Treacle. And then some artificial hops and dough. I am not very impressed.
The taste is soft and sweet. Some anonymous hops and minerals. The aftertaste got a mild diacetyl-note as well as some bitterness.
The carbonation is light with small bubbles. However, the mild sweet taste makes it very drinkable. The beer was the cheapest I found at a small after-hours shop in Helsinki, so I didn't expect much of this adjunct lager.
A note of the name: Cornel Sandel was a Finish war-hero of the early 19th century. The slogan is "Soft and strong beer".
708 characters
Olvi Sandels 4,7% from Olvi Oyj
Beer rating:
66
out of
100
with
22
ratings