Radical Road
| Stewart Brewing Ltd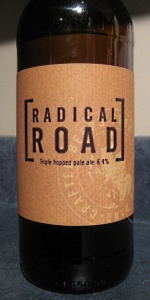 BEER INFO
Brewed by:
Stewart Brewing Ltd
Scotland
,
United Kingdom
stewartbrewing.co.uk
Style:
American Pale Ale (APA)
Alcohol by volume (ABV):
6.40%
Availability:
Year-round
Notes / Commercial Description:
No notes at this time.
Added by Zimbo on 06-30-2012
Reviews: 9 | Ratings: 22
4.4
/5
rDev
+10.3%
look: 4.25 | smell: 4.25 | taste: 4.5 | feel: 4.25 | overall: 4.5
Cloudy deep orange and a vigorous pour produced a fluffy white head - lots of lacing.
Tropical fruits - mango pineapple on the nose and a lots of malt - great.
Palate is full and complex - fruity and very malty - great balance.
Superb beer - modern and hoppy - not usually my thing but very well made.
304 characters

4.43
/5
rDev
+11%
look: 4.25 | smell: 4.25 | taste: 4.5 | feel: 4.5 | overall: 4.5
Bottle pour into 2/3 pint glass
An appealing, slightly cloudy orange hue. Small loose head with moderate retention.
Smells suitably tropical, mainly mango. Tastes of bitter orange with a really nice sweetness behind the bitterness. carbonation is spot on; the mouthfeel is lovely.
A tasty well made beer; I really enjoyed this one. Recommended.
Cheers!
356 characters
4
/5
rDev
+0.3%
look: 4 | smell: 4 | taste: 4 | feel: 4 | overall: 4
Stewart Radical Road
Pocked white froth over dark gold. 4
Flowers, resin, and Tang - best side of Cascade. 4
Thread of apricot compote, some shortbread, then peach, clementine, and light pine hops. 4
Stone fruit finish and spunky little bitter greens linger.
Soft, just past light, slight cling. 4
Magnum, Cascade, Centennial
Drinks lighter than it's strength, and has light-handed but firm hops - a real IPA, in other words. A touch of esters is the only thing that tells you this is British.
"hopped in the fermentation vessel " - haven't heard of that, but it still never gets dank or pissy, not even grapefruity, really. Maybe a touch watery, and light on IBUs, but I'm not complaining. 4
696 characters

3.95
/5
rDev
-1%
look: 3.75 | smell: 4.25 | taste: 3.75 | feel: 4 | overall: 4
500ml bottle poured into a pint glass
Look: Fairly dark, amber gold with a fairly loose, bubbly head. Bottle condition ed, so a certain amount of haze and sediment even after careful pouring.
Smell: Triple-hopped, and you sure can smell it - despite being classed as an American Pale Ale, this has a shred-yer-face-off hop character that any IPA would be proud of. The usual suspects in the nose, with a tilt more towards the floral end of the spectrum although there's more than a hint of mown grass and pine resin in there as well. All in all quite delightfully hoppy.
Taste: Sure, it smells hoppy but the malt backbone is definitely evident after the first mouthful - the hops seem to fade into the background slightly whilst the flavours of toffee and roasted malts come to the fore. There's a hint of hoppiness in the finish but for something that smells strongly of hops it's surprisingly malt forward. Overall, a nice balance of sweet malts and hops.
Feel: Surprisingly smooth and refreshing with a nice, bitter finish. Could be a little bit more hop-forward for me, but not at all bad.
Overall: Despite the smell, this isn't going to assault your tastebuds with alpha acids so if you're expecting a hop-bomb you're likely to be disappointed. Having said that, it's a good example of an American-style pale ale and very refreshing to boot.
1,352 characters

3.53
/5
rDev
-11.5%
look: 4 | smell: 3.5 | taste: 3.5 | feel: 3.5 | overall: 3.5
From a bottle in Edinburgh.
Looks like a lager with a good head and good lacing.
Smells like a mild PA with good balance.
Flavor: nice fruity and slightly floral nature, with the hops dominating the malts.
207 characters

3.65
/5
rDev
-8.5%
look: 2.75 | smell: 3.25 | taste: 4 | feel: 3.5 | overall: 3.75
Triple hopped Radical Road, 500ml. Looks aren't very impressive, 1 finger white head quickly disappearing leaving slight lacing down glass. Pours a cloudy orange. Smell is fairly nondescript but contains the usual citrus fruits. The taste however is fabulous. Yes, definite citrus, mango and grapefruit but a wonderful sweetness hits the tongue long before the eventual bitterness hits your throat. Overall I would definitely, definitely drink again......and again.
465 characters
4.35
/5
rDev
+9%
look: 4.25 | smell: 4.25 | taste: 4.5 | feel: 4.25 | overall: 4.25
Drank from my Ciney sniffer
A -Pours a nice cloudy mandarin colour with a two fingered off White head that retains very well and laces.
S - Heaps of tropical fruit, mango, grapefruit and hopps.
T - Up front some really prominent tropical fruits and some citrus this lingers through the mid palate. The finish is smooth and a little bitter. The balance here is impressive. It has a tiny hint od a Radler to it.
M - Medium body and low carbonation. Just as it should be.
O - This is a very refreshing PA. The balance in the flavours are the stand out and I will definitely have this one again. Its not a double triple imperial IPA, and its not meant to be. It is a very well crafted and thought out brew.
707 characters
3.93
/5
rDev
-1.5%
look: 3.75 | smell: 3.75 | taste: 4 | feel: 4 | overall: 4
500ml bottle. This brewery first approached our province last summer - strange how only now we are seeing distribution of their products. Given the label, this one appears to actually be called [Radical Road], apparently named after a road in Edinburgh's Holyrood Park, so deemed as such after 19th century unionist activities in Scotland.
This beer pours a hazy, murky golden amber colour, with one finger of bubbly, loosely foamy dirty beige head, which slips away rather readily, leaving a bit of low headland lace around the glass.
It smells of somewhat bitter orange and watery grapefruit pith, further musty herbal notes, bready, mildly crackery pale malt, and a softly over-steeped green and black tea hybrid essence. The taste is more bitter citrus and herbal hops, biscuity caramel malt, and subtle tea shoppe essences. Simple, but genial and provocative in its appeal.
The carbonation is low-key and duly supportive, the body a decent medium weight, and mostly smooth, that so-called triple hopping having barely a say at this juncture. It finishes off-dry, sort of, as the hops now enjoy the run of the house, though do little in the way of rockstar destruction, so the malt still is allowed minimal input.
A pleasant enough pale ale on its own, with a healthy dose of seemingly new-world (hybrid?) hops, though not enough to really push this into IPA territory (an unnecessary gambit, really), as the result is drinkable all the same.
1,450 characters

3.8
/5
rDev
-4.8%
look: 3.5 | smell: 3.5 | taste: 4 | feel: 3.5 | overall: 4
A 'triple hopped pale ale' this pours a hazy deep yellow and has a good hop start. And to really jazz things up apparently Junga hops were added during the conditioning of this beer. Although being somewhat hop forward there is also some gentle lingering sweetness too before shifting back to some decent hop grip which the relatively light body tries to support. The beer does hold up in the glass over the long haul showing some complexity but it really could do with more integration of the many positive elements here to make it tighter and firmer.
552 characters
Radical Road from Stewart Brewing Ltd
3.99
out of
5
based on
22
ratings.