Adam & Eve Ale
| Great Sex Brewing, Inc.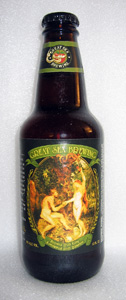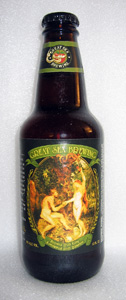 BEER INFO
Brewed by:
Great Sex Brewing, Inc.
California
,
United States
greatsexbrewing.com
Style:
American Pale Ale (APA)
Alcohol by volume (ABV):
6.00%
Availability:
Year-round
Notes / Commercial Description:
No notes at this time.
Added by UncleJimbo on 04-06-2005
HISTOGRAM
Ratings: 8 | Reviews: 6
Reviews by charlzm:
3.17
/5
rDev
+51.7%
look: 3 | smell: 3.5 | taste: 3 | feel: 3.5 | overall: 3
Consumed 08/02/09 direct from bottle.
Cannot comment on beer's appearance due to drinking it straight from bottle, so will judge as "average". Nice packaging, anyway...
Aroma is somewhat sweet, with caramel malt character the dominant component. No flaws to note.
The flavor is... unusual. There are some clean caramel notes and a strong flavor of pitted fruit - prunes or dates. Odd. A hint of diacytel is not the deal breaker it might sound like. Nominal bitterness on finish.
A little crisp in the mouth with some body as well. Lively.
I was at a TV industry event and this was being served free at the bar. Good enough to warrant a second bottle, but not to ever seek out.
681 characters
More User Reviews:
1.82
/5
rDev
-12.9%
look: 4 | smell: 2 | taste: 1.5 | feel: 2 | overall: 1.5
Had to see what all of the "Great Sex" hype was all about before I cast my final judgment, so the kind folk at Great Sex Brewing (marketing company) sent me some samples (contract brewed). Their schtick is that they want you to go around asking for some "Great Sex" ... get it? Yeah. Anyway ... I sampled 4 bottles of this brew, each tasted the same. Bottles were sent "fresh," stored cool, and enjoyed at optimal temperature. With the marketing aside, my thoughts ...
Pours a bright amber colored beer on the lighter-side. A very clear brew, topped with a tightly laced white foamy head. Head retention is average. Looks inviting.
There's some dimethyl sulfide (DMS) in the nose and a musty, earthy, garden aroma that's not very inviting. Some fruity notes, and suggestions of slick diacetyl on its way.
Odd flavor. It's rather sweet, some slickness, with an overdose of husky tannins and a very unpleasant buttery / bready presence. Tannins really overwhelm, and segue into an astringency laced flash of hop bitterness and carbonation. The estery fruitiness seems out of place. Hints of berry and a solvent-like alcohol presence. Dirty finish with residual husky tannins covering the palate. Unpalatable.
This is an extremely unclean brew. Major mistakes were definitely made throughout the production of this beer. Like my bro said in his review: maybe too much protein in the boil. Or maybe too much trub in the fermenter, wacky fermentation temps. Who knows. There's way too many signs of a poorly made beer.
# End
When you talk bold, and market what is essentially a really dumb gimmick, make sure you at least have the beer to back it up.
1,663 characters
2.52
/5
rDev
+20.6%
look: 4.5 | smell: 2.5 | taste: 2 | feel: 3.5 | overall: 2.5
Presentation: 12 oz bottle with no freshness date to be found.
Appearance: Good frothing and great head retention, the pale amber hue shows an active carbonation and a brilliant clarity.
Smell: Odd sweetness, mild fruitiness and musty husk aroma.
Taste & Mouth Feel: Lots of husk and mildly astringent tannins in the palate right from the get go. Musty husk and a dirty malt flavor, the sweetness is a bit too much. Hops stay herbal with a harsh bitterness middle to end, faint solvent alcohol shows off the 6.0% abv.
Drinkability & Notes: This brew just does not come together well, flavors seem all misplaced and it tastes like too much protein made it into the boil … add that to the herbal hop and husk and it just does not go down well.
754 characters
1.66
/5
rDev
-20.6%
look: 2.5 | smell: 1.5 | taste: 2 | feel: 1.5 | overall: 1
When I first opened the bottle, there was a hint of apple. Ok, I thought, maybe it's an "apple" ale, hence the Adam & Eve name. No, this is much closer to the evil snake than the happy nudes on the label.
Pours a hazy orange into a goblet glass. Foams a little, but it disappears to nothing really fast. The color is not bad, but there's no head retention. No positive aromas whatsoever. The apple from before fades away, and all that's left is an unpleasant solvent alcohol and grain husks.
Flavor has some type of fruit or berry upfront, but degrades into papery pale malt and husky, musty grain. Unpleasant vegetal sourness that feels less than intentional. Dirty feel to it (like the brewery namesake?) like musty wet earth mixed with grain. Dry, chalky aftertaste with a peppery, bitter burn.
Why has beer-of-the-month forsaken me??
843 characters
2.53
/5
rDev
+21.1%
look: 3 | smell: 2.5 | taste: 2.5 | feel: 2.5 | overall: 2.5
2 Bottle gift from a friend who knows the owners. I promise not to let that sway me in that review (I hope).
Pours a lightly-moderately (more light than moderate) carbonated golden yellow, very clear, and one of the palest of the pale ales I have seen. Not unattractive, but looks thin. A vigorous pour creates a decent head, but it drops to nothing in seconds.
Aroma is actually more malty than hoppy, slightly sweet. Fine, but nothing exciting.
Flavor is odd. Their web site says they kept the bitterness in check "only to maintain proper balance". I'd say they missed the mark. Mostly slightly sweet malts, then an unrecognizable chemical flavor, then a sour (not bitter) hop finish.
Honestly, I really wanted to like this one for my friend's sake, but I just couldn't. I'm not going as far as saying it's bad, but it's not for me. Gimic over quality- maybe a gateway beer for a craft beer newbie, but that's about it.
925 characters

1
/5
rDev
-52.2%
look: 1 | smell: 1 | taste: 1 | feel: 1 | overall: 1
It has a nice appearance unfortunately, and is the highlight of this offering from Great Sex Brewing. The name itself had me thinking it was just a marketing type brew. It is a piece of work to look at. Big, mountainous rocky head that laces with every pull to the point of coating the entire glass. Be carefull on the pour or you could be waiting a while to sample it.
Rather sweet without anything of interest. It has a cornsyrup feel to it and it sticks to your gums. Sour in the middle and a godawful diaper smell. Alcohol cuts right through the malts and sizzles the palate. Tin comes to mind when smelling it, also it has a buttery side to it as well.
Notes: Not for me at all. This beer deserves 1's across the board as it is that bad, but the appearance was nice for whatever that is worth. In its defense though I was able to drink the six pack and not die. I think the appearance deserves a better score but the bottom line is this is the worst beer I've ever had in my life so how can i grade it above a 1?
1,023 characters
Adam & Eve Ale from Great Sex Brewing, Inc.
Beer rating:
2.09
out of
5
with
8
ratings