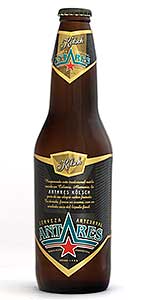 BEER INFO
Brewed by:
Antares
Argentina
cervezaantares.com
Style:
Kölsch
Alcohol by volume (ABV):
5.00%
Availability:
Year-round
Notes / Commercial Description:
No notes at this time.
Added by canucklehead on 08-10-2007
Reviews: 9 | Ratings: 18
2.55
/5
rDev
-21.8%
look: 3 | smell: 3 | taste: 2.5 | feel: 2.5 | overall: 2
Sampled in Breoghans pub, Buenos Aires.
Appearance pale straw with small lacy head.
Yeasty (almost off) smell which was present in a second sample elsewhere.
Sourish, bready flavour - like soda bread. Faintly unpleasant taste but think that serving quality on draft is variable. Bottled reviews seem more favourable
★
318 characters
2.78
/5
rDev
-14.7%
look: 3 | smell: 2.5 | taste: 2.5 | feel: 3 | overall: 3.5
Got this bottle from nearby Supermercado Carrefour off the shelf, second in, Recoleta, Buenos Aires. I can see what they're trying to do here, while not really succeeding as a Kolsch, it's not a bad brew. Poured with a white head and a little lace. Has a hazy golden color. Aroma is malty, a little earthy, a hint of hop, and grain. Flavor's about the same with a little sweetness. Carbonation is decent. Maybe just a tad thin. Good finish. Not a Kolsch, but very drinkable. I'd get it again.
★
492 characters
2.89
/5
rDev
-11.3%
look: 3.25 | smell: 3 | taste: 2.75 | feel: 2.75 | overall: 3
500ml bottle
Appearance: pale bright golden, 2 finger head that dissipates pretty fast. Poor lacing and good amount of carbonation.
Aroma: bready malts and a grassy smell often found in some argentinean macro lagers. More sour tartness than floral.
Taste: bready and grainy malts with a sour grassy dominance. Not horrible, but definitely not great.
Mouthfeel: light bodied despite some crisp carbonation.
Overall: I found this very similar to some macro lagers around here, but a little bit better.
★
505 characters

3.11
/5
rDev
-4.6%
look: 3.5 | smell: 3 | taste: 3 | feel: 3.25 | overall: 3.25
Deep gold in color with one finger of loose, white bubbles that dissipate fairly quickly. Somewhat dark for the style and lacking in head. The aroma is a bit muted—the pale malt is there, as is a trace of DMS, but where are the hops? This beer smells more like a sweeter Blonde or Golden Ale. On the lighter side of medium-bodied, we're missing the dry crispness found in the best examples of Kolsch, too. It's drinkable, but feels flabby. Flavor wise, Antares has brewed a sweetish beer (think: corn flakes) with a muddled bitterness that's more vegetal than anything else. A little refinement could go a long way here.
★
622 characters
3.12
/5
rDev
-4.3%
look: 3 | smell: 2.75 | taste: 3.25 | feel: 3.25 | overall: 3.25
Clear golden color with a thin thick head that keeps a constant plate.
Light fruity aroma of bread and a mild tartness.
Flavor with mild fruity undertones with hints of apples, Kolsch yeast, sour dough, perfumy and herbal hops and mild lemon. Dry aftertaste with a mild bitterness.
Light body with appropriate carbonation.
Fresh flavor, balancing tart and fruitiness, with huge drinkability and faithful to style.
★
413 characters

3.26
/5
rDev 0%
look: 3 | smell: 2 | taste: 3.5 | feel: 4 | overall: 4
It is a good beer for a hard hot summer night here in Argentina,nothing extraordinary but enjoyable for sure.
A- Very pale, a little cloudy(i guess it could be due some wheat addition), white and lasting average foam .
S- Not much to smell here.
T- Very tasty beer, clean malty flavor,a perfect hybrid taste between ale and lager yeasts.Hops are present,balanced with a slightly bitter final.
M- Nice sensation when you drink it, you can feel a medium bodied beer,sounds like there are some carbonates in its water.
O- A very refreshing beer, balanced, clean taste, well brewed definitely.
★
594 characters
3.59
/5
rDev
+10.1%
look: 3 | smell: 4 | taste: 3.5 | feel: 3.5 | overall: 3.5
Thanks to jcwattsrugger for bringing a bottle of this back from Argentina for me.Best before
May, '08 notched on label:
Pours hazed lemon-drop yellow with a thin white head that becomes a slowly vanishing patch. Minimal trailing lace slides down the glass.
The smell is grainy with lemon-grass and floral notes.The taste is of sweet grain - the hops dropped off a bit, though there is some balance to the sweetness. Yeasty and bready (a bit too much). Sweetish finish.
Appropriately light-bodied with a rush of carbonation that relaxes after the first quarter. Rather crisp.Not bad at all, but a bit too "yeasty" to make it anything particularly special.
★
659 characters
3.8
/5
rDev
+16.6%
look: 3.5 | smell: 3.5 | taste: 4 | feel: 3.5 | overall: 4
I don't really got much in the way of Kolsch here in Vancouver, so to find one from an Argentinian brew pub was a surprise.
Pale yellow-golden amber colour. Tight, minimal head. Dry, musty bread and yeast scent. Light floral hop taste, with good malt body. Decent bitterness.
Not bad on the tongue. Initial few sips were tongue numbing with carbonation, but as it was exposed to the air more, the carbonation died off a bit. Very drinkable, and worth revisiting.
★
464 characters

3.97
/5
rDev
+21.8%
look: 3.5 | smell: 4 | taste: 4 | feel: 4 | overall: 4
New to BC , this is a real nice bready version by a Argentinian micro. Pours mid yellow with a slight haze and a fine head. The nose is slightly yeasty with a bready hint. The taste is clean but with a nice hop finish. I found this a tasteful Kolsch ( some versions seem underpowered) with complexity on the finish. A very good attempt at a often ignored style.
★
361 characters
Kolsch from Antares
3.26
out of
5
based on
18
ratings.