Dismiss Notice
Extreme Beer Fest:Los Angeles
Join us December 9th in Los Angeles for the ultimate throwdown of craft beer creativity!
Learn more...
Dismiss Notice
ŽŽŽeliv Castulus
| Klášterní pivovar ŽŽeliv s.r.o.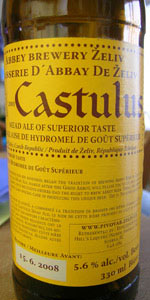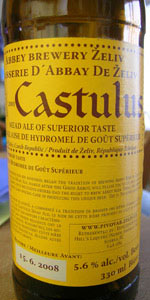 BEER INFO
Brewed by:
Klášterní pivovar ŽŽeliv s.r.o.
Czech Republic
Style:
Braggot
Alcohol by volume (ABV):
6.50%
Availability:
Year-round
Notes / Commercial Description:
No notes at this time.
Added by bark on 06-09-2006
This beer is retired; no longer brewed.
HISTOGRAM
Ratings: 9 | Reviews: 8
Reviews by dmbfrat420beers:
3.11
/5
rDev
-11.4%
look: 4 | smell: 3 | taste: 3 | feel: 3.5 | overall: 3
picked up 4/3/07, drank 4/15/07
good until Aug 15, 2007
5.6% ABV according to my bottle
Slightly hazy ruby red with a fairly small white head that dissipates to a thin rim of foam. Very interesting color – not what I was expecting. Aroma is light and crisp with notes of cherry. Solid, sweet malt backbone with a subdued hop presence – somewhat citrusy and floral, but litter in the way of bitterness. Definitely honey and cherry flavors with chocolate and metallic notes. All in all, interesting, though the lingering sweetness of the honey doesn't settle well, not well balanced. Crisp carbonation up front with medium body, finishes quite dry, almost like a wine. Drinkable enough, but too sweet for my taste.
Unforunately, the label in Czech, so I can't read it, but this beer almost certainly has cherries and honey if not other fruits and spices. Not great, but interesting and worth a try.
908 characters
More User Reviews:
3.74
/5
rDev
+6.6%
look: 3 | smell: 4 | taste: 3.5 | feel: 4 | overall: 4
The colour is pale amber; the low white foam leaves some lacing.
The smell is loaded with honey. Lots of honey. I kind of like it.
The taste is smell with a fine flavour of natural honey. The body is low with some notes of malt. The aftertaste is also dominated by the honey-flavours and a hint of bitterness
The carbonation is mild with big bubbles.
The best honey-beer I have found so far!
404 characters
3.2
/5
rDev
-8.8%
look: 3.5 | smell: 3.5 | taste: 3 | feel: 3.5 | overall: 3
It pours a clear and fairly carbonated genuine amber. A half inch of what seems to be very pale green head drops soon to more whitish traces. Little pips of lacing pop along the inside of the glass.
The aroma is quite succinct, with caramel malt, a touch of brown sugar, and a general but multi-tiered savory spice note.
Upon tasting, the toasted caramel malt is prominent, followed by a soft dough note that is crisped by vague esters. A soft honey sweetness breezes by as a muted blend of herbs and spices assert just a bit, laying a rounded bitterness across the middle. A blip of residual sweetness bows as an airy crispness lingers with distant bitterness in the finish. It's not especially captivating, but it is reasonably interesting.
Medium bodied, it has a creamy consistency, but a somewhat flat presentation deadens in the end.
It's a style about which I'm not very knowledgeable, and while it's worth a try for diversity's sake, it won't likely ever be my first choice, unless it's my only choice. The sweetness and oddly spiced character keep it less than eminently drinkable. So it's absolutely worth a try, but having done so, I'm not anticipating a timely return.
1,188 characters

3.97
/5
rDev
+13.1%
look: 3.5 | smell: 4 | taste: 4 | feel: 4 | overall: 4
A: pours an orangey, amber with almost no head and quite a bit of visible sediment.
S: honey sweetness and a touch of fruit
T: honey and banana flavours with a touch of floral hops and a smooth, honey-sweet flavour on the lingering finish. Unique and quite delicious.
M: light and creamy, sligth touch of carbonation and a very smooth finish - it really feels like you just ate a spoonful of honey!
D: This is my first braggot and, I must say, I am a fan of this style. This beer offers a very interesting taste experience and is very enjoyable to drink. I reccomend this beer to those who have not tried this style - if you can get your hands on one, do it - it's worth the money.
685 characters

3.85
/5
rDev
+9.7%
look: 3.5 | smell: 3.5 | taste: 4 | feel: 4 | overall: 4
How cool is it to see this beer in BC liqour stores. A very tawny colour with almost no head and sed on the bottom. The nose was sweetish with old ale notes. The bottle noted that this was a mead based ale but the intial flavours suggested an English old ale that had been in the cellar. The honey was there but subdued. I really liked the complexity of the flavours as old fruit competed with honey and a yeasty note on the finish. Very different and unlike ant Czech beer I have had.
485 characters
3.36
/5
rDev
-4.3%
look: 4 | smell: 3 | taste: 3.5 | feel: 3 | overall: 3.5
Certainly the most interesting, and possibly one of the better Czech beers I've had. I see this is classed as a Braggot, but I don't consider this as a true mead. More like a very strong honey beer.
Dark amber colour with very little head. Malt-honey scent with faint hop presence.
Bitter-sweet malt/hop flavour with powerful honey notes. More mead like than any other honey beer I've tried, but certainly not like a mead I've ever had,
Too much carbonation in this, and it doesn't really come off as a mead. Too low of an alcohol content, too much hops and too thin a body.
Enjoyable, but not quite a mead or a honey beer. I'm glad to see something close to a mead in a government run liquor stores.
712 characters

3.47
/5
rDev
-1.1%
look: 3 | smell: 3.5 | taste: 4 | feel: 2.5 | overall: 3
Appearance: No head retention - Rather murky, but it seems to fit well enough. A very pleasant red-gold hue that dances in the light.
Smell: Fresh honey on toast, marshmallows, graham wafers, clover, an undercurrent of flemish-like tartness. A surprising hit of alcohol considering the relatively low ABV. It doesn't quite all come together for a singular aroma, but it is nice.
Taste: Fresh honey is prominent, as might be expected. It mingles nicely with a gentle spiced character and a slight dose of peppery alcohol on the long finish. Plenty of candied sugar, too, without being unpleasantly sweet. A grainy maltiness hold everything together quite well.
Mouthfeel: Quite thin and bodiless. Not unpleasant, but could be improved.
Drinkability: I can't see myself pounding through a whole lot of this, and it does become ever-so-slightly cloying over the course of the glass. Overall though, I'd still recommend giving this one a shot as something a little bit out of the ordinary.
998 characters
3.42
/5
rDev
-2.6%
look: 3.5 | smell: 4 | taste: 3.5 | feel: 2.5 | overall: 3
Considering that this beer is a mead I was quite surprised by the low alcohol content. The smell was distinctly honey in nature with no other "real" notable attributes to talk about. The taste left something to be desired; whereas higher in alcohol content meads lift the pallet.
This would be the real lack-thereof in my overall impression of what a mead should be. Since the best before date is found on the label, I cannot see aging it to determine if it would grow in complexity. My overall impression is that it has a decent smell, but if that is the only notable part of a mead go ahead and try something else.
618 characters
ŽŽŽeliv Castulus from Klášterní pivovar ŽŽeliv s.r.o.
Beer rating:
3.51
out of
5
with
9
ratings