Le Roar Grrrz Aardbei
| Bullfrog Brewery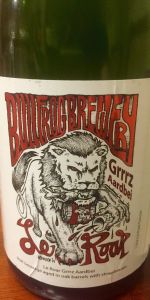 BEER INFO
Brewed by:
Bullfrog Brewery
Pennsylvania
,
United States
bullfrogbrewery.com
Style:
American Wild Ale
Alcohol by volume (ABV):
not listed
Availability:
Rotating
Notes / Commercial Description:
No notes at this time.
Added by orangesol on 09-22-2014
Reviews: 13 | Ratings: 89
4.63
/5
rDev
+6.4%
look: 4.5 | smell: 4.5 | taste: 4.75 | feel: 4.75 | overall: 4.5
Big time gusher, but there was nothing wrong with the beer. Dirty golden color with red tint and no head to speak of. Very nice on the nose with crisp bread, subtle funk, floral notes, and strawberry. All the flavors are clear and rich yet soft and delicate. Soft funk, earth, and floral notes with strawberry, and some lemon. The mouth feel provides a sturdy base for the excellent flavors. This pushes all the right buttons. It never gets too acidic or too sour or too sweet. Very well balanced and this could have merited a higher score if I had a larger pour. I have three more Grrrz variants and I'm very much looking forward to them after this excellent brew.
665 characters
4.32
/5
rDev
-0.7%
look: 4 | smell: 4.5 | taste: 4.25 | feel: 4.5 | overall: 4.25
Bottle purchased at Bullfrog Brewery in Williamsport, PA, and shared by myself this weekend.
This one pours a light reddish amber, with a small head, and patchy lacing.
This one smells very, very strongly of jammy and tart strawberry, with some light funk and oak in the background.
Bullfrog really expressed a great strawberry character in this iteration of Grrrz, but I kinda wish it wasn't so one-note. It's not all that sour, and only mildly funky. The oak character is definitely nice, and is a note that is very nice through all the Grrrz variants that I've tried.
This is medium bodied, with a very jammy and slightly seedy mouthfeel, along with a moderate level of carbonation.
Possibly the least of all the second round of Grrrz's, but still quite tasty. Just not as complex as the others.
803 characters
4.23
/5
rDev
-2.8%
look: 4.25 | smell: 3.75 | taste: 4.5 | feel: 4.25 | overall: 4.25
Bottle #12. 750ml corked and caged bottle into Tired Hands stemware. Shared with schen9303.
Pours a foamy, 1.5 finger white head with great retention. Beer is a clear light copper. Lacing is spotty and slightly patchy with decent retention. A very good looking beer for the style.
Nose is pretty aromatic. Bright aroma of strawberry. Seedy and pulpy with overtones of oak and a spritzy funkiness. Nice and sweet.
Opens lively and aggressive. Hints of seedy strawberry. Pulp sweetness in the middle with a huge dose of Brett funk and oak mixed in. Cobwebs, plastic and hay towards the middle and end. Juicy and tart throughout. Finishes Brett and tart strawberry. Same aftertaste with a light seedy bitterness.
Light bodied with ample carbonation. Prickly and aggressive in the mouth and goes down dry, filmy and puckering. Finishes dry with a bright, lingering aftertaste. Really nice.
Certainly one of the best of the bunch, Aardbei has a huge dose of funk though I do with the fruit presence was a little greater at times. Still, a very solid beer overall.
1,067 characters

4.35
/5
rDev 0%
look: 4.25 | smell: 4.25 | taste: 4.5 | feel: 4.25 | overall: 4.25
Poured from 750 mL bottle dated 2014. Pours a hazy salmon. Smells of mild sour and more potent aromas of strawberries. Acidic and sour flavors up front with less pronounced strawberry character. Tartness bites the tongue to finish.
231 characters

4.5
/5
rDev
+3.4%
look: 4.5 | smell: 4.5 | taste: 4.5 | feel: 4.5 | overall: 4.5
One of the best strawberry beers that I've ever had. Nose is pure strawberry. Flavor is well balanced with fruit and funk in equal parts. My favorite of the Grrrzs.
167 characters

4.4
/5
rDev
+1.1%
look: 4 | smell: 4.5 | taste: 4.5 | feel: 4.25 | overall: 4.25
750ml bottle. Served in a stemmed glass.
Pours similar to the other Le Roar beers of the same year; medium darker copper-orange bondy, half finger white head, fair retention, nice lacing. Smells of authentic strawberry, a little bit of citrus, wheat, mild bread, moderately acidic. Flavour is more authentic strawberry; a bit of lemon, wheat, bread, minerals, oak. Mild funk. Mouthfeel is medium-thinner bodied, very drinkable, fair carbonation and strawberries on the finish. Overall, a very tasty strawberry sour with a nice authentic flavour. My favourite of the night, compared to Apricot and Kriek b2.
607 characters
4
/5
rDev
-8%
look: 4 | smell: 4 | taste: 4 | feel: 4 | overall: 4
thanks mark! poured murky sienna orange. nose is plastic strawberry. taste is fairly medicinal on the first sip, once adjusted a nice strawberry wild, but nothing crazy. very good strawberry wild but strawberry beer is weird itself.
232 characters
4.16
/5
rDev
-4.4%
look: 4 | smell: 4.25 | taste: 4.25 | feel: 4 | overall: 4
750 mL bottle poured into a wine glass. Big white head atop an orange body with a pinkish tint. Really nice strawberry aroma. A little musty. Much less strawberry, but a much more dynamic flavor. Oak. Hay. Some light pepper flavors. Oaky as hell in the finish. Medium body. Well carbonated. Moderate sourness, but nothing crazy. Very impressive.
345 characters

4.24
/5
rDev
-2.5%
look: 4 | smell: 4.25 | taste: 4.25 | feel: 4.25 | overall: 4.25
Light brown, hints of pink, cloudy body with a thin cap. Strawberry, oak, funk, cheesy, piquant, fruity, oak, earthy. Lovely strawberry character with some additional notes of lemon. Quite tasty.
195 characters

4.85
/5
rDev
+11.5%
look: 4.75 | smell: 4.75 | taste: 5 | feel: 4.75 | overall: 4.75
Tried from the bottle on 5/8/2015. This was one of the most unique sours I've had the chance to try. Filled with strawberry as if one were dropped into my glass. I'm fortunate to have a bottle and cannot wait to see how it develops over time as it is superb now!
262 characters
4.31
/5
rDev
-0.9%
look: 4 | smell: 4.25 | taste: 4.25 | feel: 4.5 | overall: 4.5
So this is the strawberry version of Grrrz. Served in a snifter on tap, it appears a clouded pink stained color with a white head that holds well. Some stringy patchy lace hangs to the wall of the glass.
The smell is slightly reminescent of a perfume with a hint of strawberry juiciness. The more the beer rests in the glass, the more the perfume essence fades away giving more of a nod in the direction of natural berry scents with underlying barrel oak, funk and footy cheese (but in a good way.)
The tastes is tart somewhat lemony lactic with a tannic bite that strikes the tongue. Layers of earthen raw oak, must and mild cheese blend to a stale grain flavor in the finish with mild herbal bitterness. Mid palate and into the finish is a fruit essence slightly different from the expected strawberry and it gets progressively more grassy with each sip.
This is a light bodied offering with modest carbonation and overall is well executed. Strawberry is such a dainty and subtle fruit yet they really pulled it off here. I like it a lot but I dont think it is the best iteration compared to the others.
1,108 characters
4.53
/5
rDev
+4.1%
look: 4.5 | smell: 4.5 | taste: 4.5 | feel: 4.75 | overall: 4.5
I enjoyed this on tap at Hunger N Thirst during the Wild Night with Bullfrog event served in a snifter.
The color is rosy hued with slight haze and head that appears and vanishes to small beads ringing the glass. The smell is very good with lots of strawberry aroma with a slight medicinal edge of funk nice blend of fruity floral aroma with wild yeast. The feel is very tart with subtle sweet edge puckering but the fruit adds a nice complexity with sour and carbonation levels very nicely regulated withdry tangy finish.
The taste is great with a surprising amount of strawberry yet not very sweet just enough until the wild yeasts souring comes in with lactic acid and some mild oak tannin with some phenolics for good measure but a nice sweet/sour juxtapostion is felt toward the finish. Overall I was impressed by this a very good sour with strawberry presence that I have not experienced in a wild ale before
I tried this again from the bottle and loved it as much as the first time
golden with light rosy hue and fine bead with white head with spots of lace sticking. The smell is strong jammy strawberry-like smell with light cheese-like yeast smell with slight sweet ester and tangy wild yeast aroma with mild phenolic element. The feel is light in body with tangy yeast texture and slight fruit sweetness more of a sweet/sour with mild woody texture and dry finish iwth medium carbonation.
The taste has a tangy fruity strawberry acidity with gentle yeast and gentle fruit sweetness with dry finish tangy strawberry with juicy and light lemony flavor with lactic and slight sour mid palate with gentle funky taste in the middlewith mild medicinal aspect toward the finish with woody fruity flavor throughout. Overall a very good strawberry sour beer one of the few I have liked this much with nice complexity and level of refinement from extended aging.
1,869 characters

4.47
/5
rDev
+2.8%
look: 4 | smell: 4.5 | taste: 4.5 | feel: 4.5 | overall: 4.5
Served on-tap at Hunger-N-Thirst.
A - Pours hazy golden yellow with a nice one finger tall white head, quickly dissipating down to a light film, leaving spotty streaks of lace on the glass.
S - Smells of fresh strawberries, light must and funk, dash of lactic sourness, oak and some bready malt. More strawberry than I was anticipating.
T - Starts off with tons of strawberry slowly giving way to some must and funk as well as some woody oak and chewy malt. Finish is a bit chewy with some light tartness, lingering long after the finish.
M - Medium body with moderate carbonation. Smooth, fruity feel with only light tartness.
O - Damn, I can't believe the strawberry held up this well. It is there in spades and it is very drinkable. Can't wait to get some bottles of this one.
784 characters
Le Roar Grrrz Aardbei from Bullfrog Brewery
4.35
out of
5
based on
89
ratings.