Unique Singel
| Bullfrog Brewery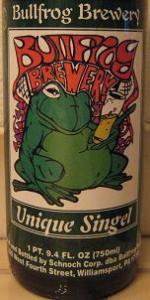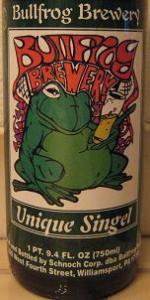 BEER INFO
Brewed by:
Bullfrog Brewery
Pennsylvania
,
United States
bullfrogbrewery.com
Style:
Belgian Pale Ale
Alcohol by volume (ABV):
not listed
Availability:
Rotating
Notes / Commercial Description:
No notes at this time.
Added by HopHead84 on 03-01-2009
HISTOGRAM
Ratings: 10 | Reviews: 7
None found.
More User Reviews:
4.18
/5
rDev
+9.7%
look: 4.5 | smell: 4 | taste: 4 | feel: 4.5 | overall: 4.5
Bottle generously split by RoyMunson. This is my first foray into what has become the most sought after brewery as of late. Let's see how it fares.
The cork was an absolute mofo to get out of the bottle. Came out and released a lot of pressure. Beer pours a golden yellow in color with a nice pure white, pillowy head. The beer is murky and hazey. Smell is belgian yeast, some apricot and some spice. Taste is even more of the apricot with a very large amount of bitterness on the backend. Very enjoyable. Huge and creamy on the mouthfeel. This is a very well made beer. I was hoping to be disappointed so I wouldn't want anymore of their stuff. But this beer is very good. Hope to find and try some more of their stuff.
720 characters

4.42
/5
rDev
+16%
look: 4 | smell: 4.5 | taste: 4.5 | feel: 4 | overall: 4.5
Interesting beer made with Belgian yeast and malts with a healthy dose of American hops (Pallisade, Crystal and Willamette)
A-Light copper with a thin white head. Nice lacing throughout.
S-Sweet candi sugar combined with that unmistakable Belgian yeast aroma. Nice peppery hop aroma becomes more noticable as it warms...along with scents of buttery Frech Oak aged Chardonnay.
T-Total kick ass...Belgian yeast and sweet biscuity malt meets an American hop attack. A wonderful balance with a great hop bite in the background. This is very much like a low ABV version of Urthel Hop-It.
M-Initially sharp and crisp that ends with a slightly sticky feel. Medium body holds up very well to the large hop bill.
D-For a 5% brew this has a lot of flavor going on. Very well done and totally enjoyable.
797 characters

3.9
/5
rDev
+2.4%
look: 4.5 | smell: 4.5 | taste: 3.5 | feel: 4.5 | overall: 3.5
Thanks a hell of a lot to vwcraig for helping me acquire this. This is an Abbey Single, the low alcohol strength beer the monks brew for themselves. Poured into my Russian River tulip, Unique Singel is a hazy tangerine color with a frothy two finger head. The retention is great and the lacing is very solid.
The aroma is of tangerines and orange pith. Earthy hops and a yeastiness are also present, as well as wheat and lemon with some sour characteristics. The flavor is similar to the aroma but is less fruity. The tangerine and lemon in the nose aren't as pronounced in the flavor, but the wheat is still there. The sourness is much more potent in the flavor than the aroma though and there's some tartness. There's also phenolic character in sour finish. There are a lot of flavors in this beer, but one of that I cannot find is alcohol. I don't know the ABV of this beer but I expect that it's low.
The beer is light bodied with a high level of carbonation and a light and crisp mouthfeel.
997 characters

3.73
/5
rDev
-2.1%
look: 4.5 | smell: 4 | taste: 3.5 | feel: 4 | overall: 3.5
750mL bottle courtesy of sholland119 poured into a tulip.
Pours a hazy golden with hints of orange and a big fluffy white head that shows great retention and lacing.
The aroma is extremely clean with some lemony tartness in the nose as well as some earthy and grassy hops. The pale malt sweetness is in the background as well.
The taste is more tart than the aroma and nearly puckers the mouth with lemons up front. There is a Belgian yeast and pale malt backbone that comes through after the initial citrus zing. The finish is a bit musty along with more of the sour fruit.
The mouthfeel is crisp and tart, light bodied with plenty of carbonation.
This is my first beer from Bullfrog and it's definitely a Singel with lots of flavor. The acidity of the taste limits the drinkability a bit but overall an interesting beer.
827 characters
3.85
/5
rDev
+1%
look: 3.5 | smell: 3.5 | taste: 4 | feel: 4 | overall: 4
A - Pours a murky orangish yellow with a good 4 inches of foam
S - lemon and corriander, a bit of some funkyness
T - orange and lemony up front followed by the funky belgian yeast hitting you in the middle with some tartness that finishes with more lemon and corriander
M/D - nicely balanced flavor and good carbonation. I don't know if i'd drink this all the time but definitely a nice beer to have.
403 characters

4.23
/5
rDev
+11%
look: 4.5 | smell: 4 | taste: 4.5 | feel: 4 | overall: 4
2009 rate.
Bottle pops open with a huge bang. Upon pouring a large head quickly rises. Very clear honey gold pour with strange little bubbles rising up. Very pretty. Lots of sour apple and pear in the nose. Fresh apples, an in an ice cider. Smack is of a sharp, tart sourness. Not at all a bone-dry sour feel, but a sharp, somewhat bitter one especially on the finish. Some bread and yeast in there too. Good and interesting. The bottle must be rested for several days upright to properly let any yeast settle.
I had this bottle a few times and it really drank well for about 6-8 months following the release. It became reallt weirdly reminiscent of stewed peaches and had a really cool singular lactic sour quality to it.
725 characters
4
/5
rDev
+5%
look: 4 | smell: 4 | taste: 4 | feel: 4 | overall: 4
Bottle at PPRBSG09. Pours a cloudy yellow with a small white head. Aroma of yeast and sweet fruits (apple, pear, melon). Flavor of spices upfront with sweet apple in the finish. Some sour fruit notes too. I didn't actually realize that this was a sour ale until seeing this page. A bit carbonated but that's my only complaint. Great beer!
338 characters
Unique Singel from Bullfrog Brewery
Beer rating:
3.81
out of
5
with
10
ratings