Wolfsblood Scotch Ale (Barrel Aged)

Bullfrog Brewery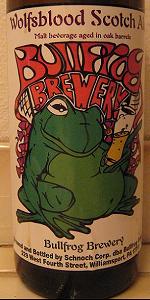 Rate It
Beer Geek Stats
| Print Shelf Talker
From:

Style:

ABV:

8%

Score:

87

Avg:

3.91

| pDev:

9.72%

Reviews:

9

Ratings:

Status:

Active

Rated:

May 04, 2017

Added:

Mar 03, 2009

Wants:

Gots: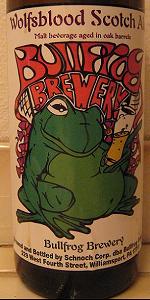 Recent ratings and reviews.
| Log in to view more ratings + sorting options.

Reviewed by Gueuzedude from Arizona
4
/5
rDev
+2.3%
look: 4 | smell: 4 | taste: 4 | feel: 4 | overall: 4
sampled October 2011
A steady pour into my Lost Abbey Teku glass produces a one finger thick, pale amber tinged, tan colored head. The beer is a red plum / amber color that shows a mostly clear, cherry red hue when held up to the light. The beer smells a bit spicy up front, but has a buttery oak finish to it that mixes with some spicy oak character and a fresh cut woodiness. There is a dark fruitiness to the nose that contributes notes of raisins, definite prunes and even a pronounced and an almost concord grape like note. The nose is definitely a bit strong-armed by the barrel character. As the beer warms up it picks up a mustiness that mixes in with the caramelized malt notes and the ample fruitiness.

The flavor is a bit savor in a dried fruit sort of way up front, it picks up more fruit character, touches of vanillin, and maybe a hint of toasted coconut in the middle, but finishes with a lingering, buttery note that seems to be from the oak, but makes me wonder if it is something more. The fruit notes here remind me of tart, slightly concentrated plums, touches of not very sweet raisins and even some tamarind notes that help boost a touch of a savory note here. Speaking of the tartness, there seems to be a touch more tartness here than one would expect from a standard, beer. It seems that something else might have joined the party during the barrel aging process (this might also explain the buttery note that was initially so ample in the flavor). After a bit of time this really starts to taste like a tart, lightly sweet currants. There is lots of astringency in the finish here, but also a lot of woody flavors that taste like a fresh cut oak plank.

This definitely seems to have taken a turn towards the tart; fortunately this seems to work pretty well with the rest of the flavors, but given that this was aged in a fresh oak barrel (at least I am guessing that) it may just be the suggestion of the vinous similarity that makes me think so. Regardless, with its tartness, ample fruitiness and oak structure, this beer comes off as being extremely vinous in character and it has really grown on me as I work my way through this bottle.
Feb 15, 2012
Reviewed by mikesgroove from South Carolina
4.4
/5
rDev
+12.5%
look: 4.5 | smell: 4.5 | taste: 4.5 | feel: 4.5 | overall: 4
from notes

very nice deeep dark brown with an ample two inch head of off white foamy lace on top. This had some very nice retention and left behind about a half inch of frothy white foam on the top when it was done. Very nice side glass lace as well. The smell was nice, although I have to say a little on thel ight side. A nice sweet caramel like aroma mixed in with ample earthy grains made for a full aroma, just a little light. The taste was really smooth. for 9%abv this was remarkable in that you could pick up none of the alcohol. It had a medium to full body that had a great creamy feel to it. Great flavors of caramel with a touch of grassy hops and a decent bread like back. It had a noticable nuttiness to it as well. Overall this was a very very nice beer and something I know I will go back to. It was just so rediculously smooth
Sep 14, 2011

Reviewed by JAXSON from Pennsylvania
3.74
/5
rDev
-4.3%
look: 5 | smell: 3.5 | taste: 3.5 | feel: 4 | overall: 4
2009 rate. Bottle. Pours a deep mahogany, clear ruby when held to the light. Big, creamy off-white head. Tons of little bubbles rising up, forming cloud-like patches and dissipating. A beautiful-looking beer. Aroma is overly sweet butterscotch and a weird soil-like component. Really creamy and soft in the mouth. Lots of dark fruits, super smooth. Faint tobacco leaf presence.
Jun 15, 2011
Reviewed by ArrogantB from Colorado
3.58
/5
rDev
-8.4%
look: 4 | smell: 3.5 | taste: 3.5 | feel: 4 | overall: 3.5
750ml bottle courtesy of vwcraig, thank you so much for hooking me up with all the bullfrog beers! The color is a nice turbid red with a decent filmy head. It sure smells oaky and malty, strong. Flavor is heavy on the wood and then moves on to a nice fruity finish with a slight bit of a medicinal flavor that I sometimes get from scotch style ales. The barrel is very noticeable in this beer but oddly doesn't overwhelm the flavor but still keeps me from drinking this very quickly.
Jul 16, 2009
Reviewed by weeare138 from Pennsylvania
3.78
/5
rDev
-3.3%
look: 4 | smell: 3.5 | taste: 4 | feel: 4 | overall: 3.5
"Whoa! It's Wolfs Blood. It's pumpin like it's fuckin in my veins!"
-Misfits, Wolfs Blood

This beer says it's actually the brewer's tribute to the Misfits(as is my BA screen name). Pretty cool.

Appears a dark haze of turnid chestnut brown with a light tan head. Scattered streaks of lacing are left around the glass.
Smell is of red wine, oak, vanilla, caramel, brown sugar, and toffee.
Taste is of the aromas. Zinfandel with caramelized sugar.
Mouthfeel is medium full bodies with mild oak astringency & tartness.
Jun 14, 2009
Reviewed by joe1510 from Illinois
3.88
/5
rDev
-0.8%
look: 4 | smell: 3.5 | taste: 4 | feel: 4 | overall: 4
750ml

Brewed: 10/1/07
Bottled: 9/25/08

This is yet another treat sent courtesy of the man himself, Heath, thanks for the Bullfrog buddy! Wolfsblood has the look of crimson (or is that wolf's blood?) that has a murky look which brightens up when backlit. A small dirty white head grew to a max of one finger and falls to a skimming with a thick collar in no time. For a thin collar the lacing left behind is incredibly creamy and thick. Small carbonation bubbles rise to the surface and connect to the head in a few spots throughout the body.

The nose has a good deal of fruit present along with a huge malty base. Figs and raisins sit atop a big somewhat bready, somewhat sweet caramel. The barrel aging is well integrated with a touch of buttery oak. The alcohol is clean but manages to tickle the nose slightly. There's a slight vegetal aroma fighting through that seems a little off for whatever reason.

The flavor manages to pick the aroma up where it fell a little short. The figs fall to the back slightly but continue to play a major roll in the overall flavor, there's even a little plum here and there. The oak is a little more woody bitter than buttery like the nose suggested and bready malt brings up the rear. The alcohol is better hidden than I would have thought from the aroma.

The carbonation is on the lighter side of the spectrum which fits well with this brew. The body is a little lighter than I'd like but the carbonation seems to make it seem fuller. The finish leaves a little slickness behind and a tendril of smoky aftertaste.

This barrel aged Scotch Ale goes down very easy. The oak is integrated well and the abv is low enough to make a bottle easy to drink in a sitting.

Wolfsblood is another good brew from the guys over at Bullfrog. The oak aging was done nicely, it maybe could have used a touch more to be perfectly honest but it integrates well into this Wee Heavy. Thanks for the hookup Heath!
May 16, 2009
Reviewed by akorsak from Pennsylvania
4.2
/5
rDev
+7.4%
look: 4 | smell: 4 | taste: 4.5 | feel: 4 | overall: 4
A corked and caged 750 mL bottle purchased at the brewery.

A: The ale is a dark red color, muted by shades of brown. A cider-wassail hybrid that looks like a winter warmer. Several fingers of head didn't linger long.

S: Lots of sweet oak comes out of the nose. Brown sugar and caramel are the stand-out aspects. There is some malty heft behind the wood but overall this is very sweet.

T: Peaty malts are evident at the front of the sip, heavy but fleeting. They quickly give way to the barrel. The result is more sweetness, charddonay flavors with vanilla and brown sugar and caramel. The richness improves as the ale warms, so give it an hour or so out of the fridge, otherwise the sweetness is nearly cloying. The oak and scotch ale play nicely together.

M: The oak is solid, especially when the ale has had an hour or so to breath and warm up. The sweetness is palpable but not cloying.

D: This is a sharing beer, but I'm gonna be sure to pick up another bottle during my next visit.
Apr 05, 2009

Reviewed by Deuane from Pennsylvania
4.5
/5
rDev
+15.1%
look: 4 | smell: 4 | taste: 4.5 | feel: 5 | overall: 5
A-Deep reddish copper with a thin light tan head that held on strong and left spotty lace.

S-Initial malt sweetness followed by those telltale bourbon barrel aged aromas. Vanilla and caramel being the most prevalent.

T-Vanilla sweetness right out of the gate. Oaky dryness comes in on the heels to help moderate things. Finishes with a dry, spicy bite.

M-Medium body and a ridiculous smoothness. Long lasting flavours. with a dry finish.

D-Smooth beyond words. So drinkable and well done. Perfectly done, not too long in the barrel not too short. This beer un-aged was fine...but the barrel aging has done wonders to this beer elevating it to a new standard. This may be one of the smoothest beers I have ever had.
Mar 10, 2009

Reviewed by HopHead84 from California
4.1
/5
rDev
+4.9%
look: 4 | smell: 4 | taste: 4 | feel: 4 | overall: 4.5
Description on the bottle:

Our mammoth scotch ale aged in oak barrel 8 months coaxing out the pagan oak. Blood red in color with a smooth, oak maltiness and an evil richness sure to keep your soul simmering. My tribute to the Misfits!

Deep, dark red with a two finger, dark beige head. The retention and lacing are both great.

The aroma is really strange.
The entire time I was smelling this I couldn't put my finger on the dominant aroma. I can best describe it as a cross between a freshly carved pumpkin and a ripe tomato. It's a really unique and strange smell, but I really like it. An enjoyable oak character accompanies caramel/toffee malt aroma. Earthy hops are also present. The flavor is very sweet. Caramel malt and earthy hops with some oak. The barrel character is low in the flavor and I wouldn't believe you if you told me it spent 8 months in barrels. The finish is sweet and smooth, and the alcohol is well hidden.

Medium bodied with good carbonation and a sticky mouthfeel.
Mar 03, 2009
Wolfsblood Scotch Ale (Barrel Aged) from Bullfrog Brewery
Beer rating:
87
out of
100
with
13
ratings