El Diablo Deluxe
| Bullfrog Brewery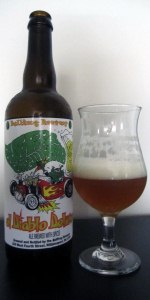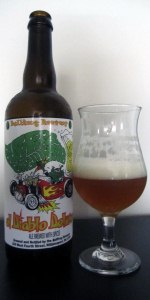 BEER INFO
Brewed by:
Bullfrog Brewery
Pennsylvania
,
United States
bullfrogbrewery.com
Style:
American Wild Ale
Alcohol by volume (ABV):
not listed
Availability:
Limited (brewed once)
Notes / Commercial Description:
No notes at this time.
Added by treyrab on 07-02-2010
This beer is retired; no longer brewed.
HISTOGRAM
Ratings: 87 | Reviews: 55
4.25
/5
rDev
+14.2%
look: 4 | smell: 4 | taste: 4.5 | feel: 3.5 | overall: 4.5
Thanks to urwithdave for bringing this one to our sour throwdown. 750 ml bottle, poured into a tasting glass.
A: Hazy straw color. The pour produced a small, fizzy, white head that dissipated rather quickly, but left some spotty lace.
A: Smells of light lemon, green apples, small biscuit, grass, and funk. The sour notes are appearant, but less than anticipated.
T: Light sour notes play very well with the toasted grains and biscuity notes. The sourness is not overpowering, subtle and nice. It finishes tart and dry, but very pleasing.
M: Light body and heavy carbonation. This one is not as sharp as others in this category.
D and overall impression: I could actually put away an entire bottle of this myself without batting an eye. Overall, I tend to tyer of sours rather quickly, this one however, I did not. I really enjoyed it, but would have liked to see a little more age to let the wild yeast develop fully. Overall, very solid. Skal.
950 characters
4
/5
rDev
+7.5%
look: 4 | smell: 4 | taste: 4 | feel: 4 | overall: 4
Poured a nice hazy golden color to my glass, with a tight-laced single finger head. The nose is sweet and funky. You can pick up the spiced charachteristics here, too. At taste, the beer is very saison-like, with a spiced/floral quality and a definate hoppy presence. Very drinkable and I really enjoyed this one.
313 characters

3.61
/5
rDev
-3%
look: 4.5 | smell: 3.5 | taste: 3.5 | feel: 4 | overall: 3.5
Bottle thanks to MasterSki popped open for a nice improptu tasting. #200/467
Pours a cloudy haze of a dark banana yellow with a fluffy pillow of a head.
Aroma was dirty dirty dirty funk. Lots of grass and hay on the nose and a hint of cat urine. I got a little lemon and spice, along with some gym sock. Actually a relatively pleasant mix, but not something I'm dying to take a whiff of again.
The taste had a mild tartness and really, as Alex put it, was like an Imperial Orval. A little biscuit and lemon, a slight dry grassy finish.
Medium bodied and I actually thought this was well carbonated, especially considering I had a pour after the bottle had been open a while. Still had some good pops on the tongue that brought out flavor and a really clean finish.
Overall, this was a solid and drinkable brew. For an American brewer, I think it's a good venture into developing something a little different but it was still pretty drinkable, especially on a hot evening.
976 characters

3.78
/5
rDev
+1.6%
look: 4.5 | smell: 4 | taste: 3.5 | feel: 3.5 | overall: 4
Thanks to Sean9689 for sharing this endlessly hyped Bullfrog offering. Bottle number #200/467. Served in my Kuhnhenn tulip glass.
A - After the usual battle to get the cork out of any Bullfrog brew, we were greeted by a slow gusher. Don't leave this "frog" unattended. The pour results in a big off-white, orange-tinged foam that has solid retention and leaves attractive sheets of lacework that eventually settles to a thick cap. The body is a hazy orange color with minimal transparency.
S - The funk is pretty heavy here, yielding plenty of pineapple, and hay. The pineapple flavor mingles well with the adjunct orange peel. There is some fairly obvious spice character both from the yeast and actual spices, but thankfully the coriander mentioned on the bottle isn't overpowering. It's slightly medicinal.
T - Taste is very Orval-like. Pale malt, lightly toasted grains, with some funky, fruity brett, and light spicy esters. The finish is lightly sour.
M - Body is medium-light, and slightly gritty. There's adequate carbonation, but this could stand to be a little more lively. Finish is surprisingly sticky - guess I shouldn't be surprised that this isn't very dry or tannic, seeing as it's not barrel-aged (Brett is added at bottling).
D - Two (incomplete) pours was sufficient. This is a fairly middling offering - it's certainly refreshing, but it's not worthy trading the farm to try. I'd rather buy some Orval or Fantôme if I want funky Belgians.
I know that "American Wild Ale" is a catch-all genre these days, but this isn't really wild enough to ride with the big boys. It's more of a funked up Saison or Belgian Pale, and if it were marketed as such I'd probably bump it into A- territory...maybe. I can see this improving over the next year or so as the yeast does its thing.
1,799 characters

3.83
/5
rDev
+3%
look: 4.5 | smell: 4 | taste: 3.5 | feel: 4 | overall: 4
750mL bottle, #200/467, into a Bell's tulip shared with Alex (Masterski). Slow gusher alert!
A - Pours a mirky orange/yellow, light pour yields a large amount off-white head. Good lacing, nice cap on top.
S - Light to medium tart/funk, apples, pears, light floral character.
T - Brett, floral notes, saison-esk funk, some spice. All very subtle and light, perfect for a summers day.
M - Light, crisp, refreshing, dry finish.
D - Something nice for a hot day, very light and easy to drink. Comparable to LA Saints Red Barn or Devotion.
543 characters

4.42
/5
rDev
+18.8%
look: 4 | smell: 4.5 | taste: 4.5 | feel: 4 | overall: 4.5
bottle#2681467
pours a very cloudy copper color with large white fizzy head that sticks around for a while. good lacing and average carbonation. strong wild yeast smell with fruity citrus hints. taste is a bit more tame then the smell, but still pretty sour and tart. light body with average flavor duration that finishes sour and tart. a bit more dry than i usually like in a wild ale but still very delicious.
412 characters

3.44
/5
rDev
-7.5%
look: 3.5 | smell: 4.5 | taste: 3 | feel: 2.5 | overall: 3.5
Thanks to the late, great, jerz for sharing this one at our Sour Fest Eve tasting.
A: The pour is a very highly carbonated clear golden color with a massive white head that sticks around for quite some time.
S: Lots of different fruit notes in the nose: apples, pears, lemon peel, and oranges. The spices come through quite nicely as well, as does a bit of dry Brett and some earthy funk.
T: Unfortunately, the flavor does not live up to expectations. Just some miscellaneous spices, including nutmeg, coriander, and citrus zest. Lots of yeastiness with sweet apple and a hint of tartness at points.
M: The body is medium, I suppose, but the carbonation is far too aggressive to really enjoy what flavors are in this beer.
D: This one is just too foamy and it really detracts from the enjoyment. The flavor is not amazing to begin with, so this detraction does not help much.
880 characters
4.25
/5
rDev
+14.2%
look: 4.5 | smell: 4.5 | taste: 4 | feel: 4 | overall: 4.5
750 mL bottle, numbered 418/467. Cork is removed easily, with a strong pop and immediately foams out of the bottle and is caught by my snifter.
Beer pours a clear golden orange color with strong carbonation supporting a massive frothy white head with long lasting retention and impressive Belgian style lacing. Aroma is strong blend of citrus, florals, funk and very dry. Yeast, orange, citrus rind, coriander, mild barn and funk from the brett. Right now this beer is lacking any real tart or sour character, which wasn't really expected and isn't a problem for this IMO. Front of the palate is covered in earthy, dirty barnyard funk and brett. Middle of the palate onward provides and sweeter and slightly bitter yeasty and floral notes. Finish ends with sweet citric (orange) flavors. Body is medium thick and softly carbonated, with a pleasantly dry finish that is balanced between citric and earthy flavors again. Overall, a very smooth, balanced and complex wild, without being remotely sour or tart, just plenty of brett funk. Like someone else mentioned, sort of reminds me of a funky imperial wit, but more wild than wit. Not the "best" Bullfrog wild or most interesting, but tasting very nice fresh and should age nicely.
1,232 characters

4
/5
rDev
+7.5%
look: 4 | smell: 4 | taste: 4 | feel: 4 | overall: 4
From 4/9/10 notes. Had at a local DC tasting thanks to Edgar, thanks man!
a - Pours a murky golden color with a hint of orange, 2 inches of white head and light carbonation.
s - Smells of citrus fruit, brett, yeast, and spices.
t - Tastes very heavily of spices. Also tastes of brett, citrus, and floral or earhty malts.
m - Medium body and moderate carbonation.
d - A nice beer. I was expecting it to be sour, but it really wasn't at all. Would like to try again sometime.
478 characters

4.12
/5
rDev
+10.8%
look: 4 | smell: 4.5 | taste: 4 | feel: 4 | overall: 4
Bottle picked up at the release this past Friday. It was nice to see another fine gathering of beer lovers!
Appearance: Pours straw yellow with a 1 finger white crown that displays moderate retention and decent lace.
Smell: Loads of soft, young, classic Bullfrog brett over notes of orange, coriander, and a hint of sweet malt. Mainly a young brett yeast bomb.
Taste: Same as nose. Moderate tartness...the citric qualities cut it down. The orange and soft brett work well together. I can't help but think "Wild Wit" when I drink this.
Mouthfeel: Heavy side of light bodied with fairly nice carbonation. A decent job on the mouthfeel albeit a tad light.
Drinkability: If you are into a young brett bomb then this is the icon of sessionable. If you are not, this one will miss the mark for you.
I liked this one much better than the original El Rojo Diablo and while I'm not sure where this one is heading after aging, I think its drinking really well now.
963 characters
3.81
/5
rDev
+2.4%
look: 5 | smell: 4 | taste: 3.5 | feel: 4.5 | overall: 3.5
Shared by schen9303. Poured from a corked and caged bottle into a Duchess oversized wine glass.
A: After a brief struggle with the cork, a pleasant hiss erupts and the beer rushes towards the top. Pour yields a massive 3 finger fluffy white head with great retention. Beer is a clear, golden orange that reveals copious amounts of carbonation. Lacing is thick and frothy with great stick. An amazing looking beer all-around.
S: Flower petals, orange peel, coriander, and other spices. Yeasty in parts but not an overwhelmingly fragrant nose. Funky in parts with hints of oak and woodiness.
T: What's surprising here is that there's no hint of tartness or sour at all. Instead, there's a huge funk, earth, and dirt presence upfront. Yeasty bitterness and flower petal in the back from the middle onward. Orange peel freshness provides some nice overtones throughout. Finish is lip smackingly dry woodiness with no aftertaste.
M: Light to medium bodied, well carbonated but not overly so. Smooth and robust in the mouth without being too much. Finish is dry with no aftertaste.
D: This beer really grew on me through the whole experience and I see it as having a good amount of potential to develop into something fantastic. As is though, probably not well characterized as a sour though the orange is minutely present. Great looking beer with a fantastic feel though and the complexity is definitely there. Just not the intense experience I was expecting.
1,464 characters

4.47
/5
rDev
+20.2%
look: 4.5 | smell: 5 | taste: 4.5 | feel: 4 | overall: 4
Thanks for opening one of these at the release today y'all! The bottle popped open with little effort with a nice pop. Poured into numerous Bullfrog serving glasses.
A: Poured a nice, rather clear, yellow with a nice white head. The head was rather large and about two fingers. Some nice carbonation flowing throughout.
S: Really wonderful. One of the best displays of straight Brett C I have ever experienced. The amount of wet hay and barnyard really cleared my sinuses! Tons of funk and light fruits (orange and pineapple) that blend well with a nice peppery spice.
T: Again, the Brett C is predominant and extremely funky. Light and tart, Brett, and a nice dose of orange and light fruits. The carbonation is pretty spot on and makes this very drinkable.
Overall, this is one insanely funky beer. A job well done!
821 characters
El Diablo Deluxe from Bullfrog Brewery
Beer rating:
3.72
out of
5
with
87
ratings