Johnnie MacCracken's Celtic Pub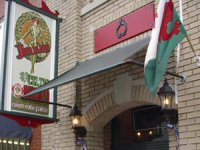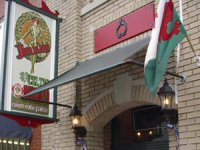 PLACE INFO
Type:
Bar, Eatery
15 Atlanta St SE
Marietta
,
Georgia
, 30060-1985
United States
(678) 290-6641 |
map
johnniemaccrackens.com
Notes:
No notes at this time.
Added by BeerAdvocate on 04-03-2005
PLACE STATS
Reviews:

11

Ratings:

pDev:

12.44%
HISTOGRAM
View: Place Reviews
Ratings: 14 | Reviews: 11
Reviews by Fatehunter:

4.3
/5
rDev
+7%
vibe: 4.5 | quality: 4 | service: 5 | selection: 4 | food: 4
A couple of friends and I rolled in here on a Friday night around 7pm. We wanted dinner and some drinks but the placed looked pretty full so we started to head out the door until we were stopped by a cute bartender/server who demanded to know what we were doing. "Too crowded, headed out for food and we'll come back." She wouldn't have it, sat us at the "bar" in the kitchen area to get drinks while we waited for a table to open up. We never made it to a table but we did eventually get seats at the proper bar. We were so glad that she stopped us because the beer was great and the food was outstanding.
Service was TOPS. That one bartender was the only reason we stayed and she made it worth it. We never had an empty pitcher or were short of witty conversation.
The beer selection was varied from micros to imports. They had around 20 on tap and probably double that in bottles. One or two of the tap beers were unavailable due to distributor issues... didn't affect us. We just drank pitchers and the variety was plenty for us.
The food was great. It was a mixture of Irish fare and Southern BBQ. All three in our group enjoyed the food; big hardy portions and flavorful.
I'll be returning. Don't look to be coddled, it is an Irish Pub.
1,249 characters
More User Reviews:
4.7
/5
rDev
+16.9%
vibe: 5 | quality: 4.75 | service: 4.5 | selection: 5 | food: 4
Wish to say the reason I gave the food a four was due to dietary restrictions and the lack of food on the menu I can actually eat and enjoy. Otherwise, is a must stop when I am in the area simply because of the incredible beer list.
As for vibe, caught Marc Gunn there last night after seeing him for the first time at DragonCon 2015 a couple of weeks ago. Waited till he asked for requests then subtly slipped on my Jayne hat for some Firefly drinking songs.
Downed two Van Steenberge's, a Belhaven and finished with a shot of Wild Turkey.
Service is usually above par unless it is super busy during an event on the Square then there will be a wait.
656 characters



3.51
/5
rDev
-12.7%
vibe: 4 | quality: 3 | service: 3.75 | selection: 3.5 | food: 4
Very authentic irish pub atmosphere with lots of character. Smoking is allowed. At night they often have some kind of live music. They have several rooms with easy chairs to sit in...very rustic though which is pretty cool. They have a second bar with belgians in the back. The food is very good and reasonably priced. They do have a pretty decent draft list, but I must say that after ordering 3 different beers from the beer list, they didn't have any of them, so I ended up settling for what they did have. The draft I got was a breckenridge IPA, but the taste was a bit off...not sure if line cleaning was an issue or just old beer, but after switching to the bottle list all was good for the rest of the evening. They have a pretty good bottle list, so I was happy.
All in all this place is a good fun bar with more pluses than minuses. The only 2 downsides was the smoke, and the fact that I couldn't tell what was on tap. The list was not accurate and most of the taps are hard to see from most of the bar area, so I just had to rely on the bartender to throw out a name or two. So if they fixed up their draft situation, and did away with smoking in the main bar, I would frequent this place a lot more. Good place none the less for this area. Marietta does not have much of a craft beer scene, so this place still stands out compared to other places around here.
1,372 characters
4.15
/5
rDev
+3.2%
vibe: 5 | quality: 4 | service: 3.5 | selection: 4.5 | food: 4.5
I am the GM of this establishment and I fell my review and the others is fair...meaning we have room for improvement. Considering the life span of a Bar in Atlanta is 95% failure within 5 years we are doing ok. I have always said that the most well intentioned Bars could have worked out there issues only if they had enough time!
The purpose of my review was to bring awareness to the well publicized horrible distribution that exists in Georgia. I have tried for several years to bring Belgium's into our market with little success. For instance, I have been trying to get a certain Distributor to sell me what The Brick Store buys and it is apparent it is "closed" to distribution. Is this legal..well my Business law class from College says this is a violation to The Anti Trust Laws and Robinson Patman Act. However, the justice department must initiate action and this is small potatoes. My next issue was the quality of the draft from Belgium..I had noticed that they just didn't last so long and when I inquired about where to see the date...it's not required!
I now am starting a cellar program for Belgium bottles and it literally has taken me 6 months to get this certain Distributor to respond to the following; "e-mail me a list of bottles that are "live" and able to age." This list has never been sent and I must emphasize I promised a sizable order for the trouble. I am not into conspiracy theory so I just feel the service is horrible because certain distributors and sales people are told not to put anything in writing especially pricing for fear of law suit and the fact that they do not operate under a fair trade policy where you compete for business.
Conclusion...the people in our market want and demand good beer and I personally have failed at delivering better products perhaps because I am not the one?
By the way..the guy who said we serve in 12 ounces..well I bet he knows the size of an average....well you know the rest. I promise if anyone ever goes to Ireland..our place is as authentic as it gets!
2,037 characters
4.09
/5
rDev
+1.7%
vibe: 4.5 | quality: 4.5 | service: 4 | selection: 3.5
I LOVE THIS PLACE. This is a great bar to go with friends when you want to have a few beers. It is a dive for sure but a fun one at that. The atmosphere feels very homey. You almost feel like you are at a big house party. They may not know how to pour a proper pint as someone previously mentioned. It is a dive bar not a beer bar. They are trying to get you drinks quickly and get to the next customer. The bartenders are really nice except one lady who works the front bar on Mondays. Trish is the best bartender there. She is extremely nice and personable. Get to know her! I love this bar and is perfect for a great Saturday night.
635 characters
2.55
/5
rDev
-36.6%
vibe: 2.5 | quality: 1.5 | service: 2 | selection: 4 | food: 3.5
This is my first review and I thought I would start out with a review on a pub that I frequent in Marietta, GA - Johnnie McCracken's. This pub is in the original location of the old Marietta square fire dept and and wonderful historic location. This is not your Fado or your corporate run 'Irish Pub in a Box', but the real thing that is very much local.
The down side to this place and the reason I am giving this a lower score is not based on the selection of brews, whiskey's, and spritis...and not for the bubbly staff....but for the simple fact that they do not know how to pour a proper pint.
For me, it has much to do with presentation and quality and when you order a pint of Guinness, Beamish, Hobgoblin, or your ESB, you always get a 2-3" head - and in a 12oz glass. To me, that is not quality nor a good value. Seems like they have the Coors light mentality with beverages and atmosphere that deserves so much more. To bad really as I know I am not the only one who notices when there.
999 characters
3.7
/5
rDev
-8%
vibe: 4 | quality: 3.5 | service: 3.5 | selection: 4
A very cool little English/Irish pub I got a chance to stop into. It did not look like much from the outside and when I walked in I was quite a bit surprised. Very cool atmosphere, albeit it a little smoky, but still very nice. A good amount of nice taps, I saw some Rogue, Terrapin, among others in the main section. Then I saw the Belgian bar and beeline. Very cool, nothing like the Brick Store, but when else is around here. But very nice they had a specific area dedicated to it. I really felt that it was a nice little treat, maybe 6 taps and twice the bottles, but everything was quality and served properly. The staff was super friendly and really made me feel at home. Overall I thought this place was great and would love to stop in again if I had the time. I was down here for a few days so did some exploring, hopefully will have the chance to do some more soon, you seem to find great places that way!
914 characters
4.25
/5
rDev
+5.7%
vibe: 4.5 | quality: 4.5 | service: 4 | selection: 4 | food: 4.5
I walk to this place all the time, as I live right off the Marietta Square. Even if it weren't my neighborhood pub I would have to make a stop in here from time to time. They regularly change their beer selections, and have a dedicated "Belgian Bar" (Much like the Brick Store in Atlanta). There are sitting rooms for those who don't care for the typical "belly-up-to-the-bar" atmosphere, and a patio out back. I bring my dog up there with me from time to time and eat out on the sidewalk, and they always bring her a little tray with water in it to keep her satiated.
Overall its a great little pub, and hands down the best place to get a pint in Marietta.
658 characters
4.03
/5
rDev
+0.2%
vibe: 4 | quality: 4 | service: 4.5 | selection: 4 | food: 3
After the 1hr drive for 10 minutes due to the ATL traffic, I finally arrived at Johnnie Maccrackens. It is in downtown Marrietta on Atlanta street, which is one way. Was able to find parking on the main road through town.
The interior is full of wood, like most Irish bars, with plenty of Irish paraphernalia on the walls, bar, ceiling, bar, etc. Bellied up to the bar and ordered some food and beer. I chose the Buxty, which was a potato pancake rolled and stuffed with corned beef. Not too bad but more pancake than anything else. Served with more potatoes on the side; blah.
The beers I had were Tetleys Pub Ale, Sweetwater 420, and Youngs Double Chocolate stout, all on draft. The Youngs was on nitro and was especially tastey.
Service was very attentive. Food was okay. A little bland and colorless but decent I suppose. A bit pricey; my bill came to 28 bucks before tip. I probably wont go back unless in the immediate area.
They had a Belgian bar that was closed but the beers were still being served. I am not much of a Belgian fan so I passed.
1,064 characters
4.4
/5
rDev
+9.5%
vibe: 5 | quality: 4.5 | service: 5 | selection: 4 | food: 3
Located just off Marietta Square in a former firehouse dating from 1885, its dim but not too dark interior lends a cozy and intimate feeling. This is a good gathering place for small groups. It is also an Official Bookcrossing Zone, so if you are an avid reader you will find lots of books in the back rooms. Service is reasonably fast, and the service people are friendly but not overly so and really make you feel welcome. Food is typical pub fare but well made and delicious.
This is a classic neighborhood pub, and the firefighter theme to the decor adds to the charm. Parking can be a pain in the keestor, but if you are lucky you can find a space on the street or on the Square. Fortunately, parking is free at the nearby courthouse on Saturdays.
755 characters
4.38
/5
rDev
+9%
vibe: 5 | quality: 4.5 | service: 4 | selection: 4.5 | food: 4
This is a bar on the southeast corner of the Marietta Square in Marietta, GA. It is a bar also by Georgia state law definition meaning that you must be 21 to enter and smoking is allowed. They a large numbers of beers on tap and seem to concentrate more on English, Irish, and Scottish styles more than others although there is a nice selection of German and Belgian styles as well. At last count they had 31 beers on tap and have really taken advantage of the change in GA law allowing for a higher ABV.
The service is good and friendly and the atmosphere is awesome. It is a little dark inside but it looks exactly like what I would expect a Irish pub to be like (though I have never been in one). The beer selection is excellent again and the food is better than the standard bar fare. The food is also slanted more to the English/Irish/Scottish pub fare. The price is reasonable. I'm going to miss this place when I move from Atlanta. Knocked back a lot of pints in the summer following softball games.
1,010 characters
Johnnie MacCracken's Celtic Pub in Marietta, GA
Place rating:
4.02
out of
5
with
14
ratings