't Kroegske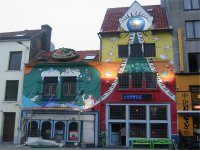 Reviews by TheLongBeachBum:
TheLongBeachBum from California
3.56
/5
rDev
-0.8%
vibe: 4 | quality: 3.5 | service: 4 | selection: 3
Think of Ostende & seasoned drinkers that regularly visit Belgium will most probably immediately wax lyrical about the 2 "Must-Do's"; Tim's Bar & The Bottelje. The more experienced will also recommended the 1 "Try Also"; TheatreCafé Illusie; beyond those 3 bars, a weekend in Ostende can be rather boring. As a result, those that crave more choice may have to result to visits to English/Irish/Strip/Crap/Noisy/Yoof Bars, & Ostende does indeed have a rather large quantity of these.
However, there is a sub-class amongst the Other Bars, the "May Try Also if you have Time" Bars; ones which have a beer list that is between 30+ beers, but which has a few stand out offerings & is indeed also worth visiting for its character, or a special point of interest. "The Kroegske" (Little Pub) is most certainly one of these.
Situated close to the Railway Station & on the way from here to the 2 better known Beer Bars in Ostende, 't Kroegske is located on Sint Paulusstraat. It is actually at the epoch of 3 streets; Sint-Franciscusstraat & Paster Pypestraat the other two. This triangle is also home to an annual Beer Festival organized by the DOB, a member of the Ostend Cultural Council. De Bierjutterij Beer Festival is held once a year here, the next one is on Saturday 9th July, 2005.
It is quite literally impossible to miss this Bar, for the entire exterior of the 4-storey building is covered in a multi-colored rainbow mural which spreads onto the full frontage exterior of the next door building also. It really does have to be seen to be believed. The actual building that houses the bar is topped off with an attic room that is painted with a single large blue eye, cleverly lit at night it stares ominously down at you. The adjoining building goes one better & is complete with a large green dark fiberglass Reptilian head situated on the sloping tiled roof, the eyes of which light up a sinister red at night time!
Inside is a characterful but cramped interior, hence the name. Immediately inside you have 3 choices. Down a couple of steep wooden stairs lies the Bar which faces you, but be prepared to be stared at by the assembled punters when you enter at night, this is a locals bar. To your immediate left is a doorway which is cloaked at quiet times, but which opens up into a small cellar bar during busier ones. A small staircase to left rises to a platform that actually perches over the bar. A single table with 2 phones (WTF?) furnishes this upper 'balcony' area & seats around 6 people. Certainly a unique interior that matches the exterior for its eclectic DNA.
The owner/barman, an older artistic looking dude with white hair, is an exceptionally friendly chap & he will invite you in warmly, as you stare around, questioning why the heck you even bothered to enter here.
Once down the steps, the musty woody smelling (& often smoky**) Bar has several draft brews, most notably "Keyte", a local beer commissioned from Brouwerij Strubbe. "Keyte" is a 7.5% beer that was launched in 't Kroegske on the 10th of January, 2004. "Keyte Ostêns Belegeringsbier" (Ostende Siege Beer) to give its full name, commemorates the 400th anniversary of the siege of Ostend (1601-1604), one of the bloodiest events of the 80 Years' War & described as a 'long carnival of death' for it lasted an amazing 3 years, 2 months & 17 days – the conclusion of some serious fisty-cuffs between the Spain & the Dutch. The word "Keyte" is written in red lettering, this is meant to symbolize the blood of the 100,000+ people that died. Beyond that a Pilsner & Hoegaarden are also available on draft. The bottled beer list numbers around 35 or so, including some decent brews, though upon questioning the owner, bottles of unlisted brews appeared from the back room. Several Grimbergen brews dot the list too, including the rather tasty "Optimo Bruno" which at a healthy 10%certainly slowly creeps up on you!
** My first visit here during my Easter trip was on a smoky Friday Night. Yet another nice touch at 't Kroegske, which I never knew about until my last Easter trip visit here, was the fact that it is entirely #No-Smoking# all day Monday. So what I hear?? Well this in fact very rare in Belgium & a rather trail-blazing thing to do in a country where it seems that everyone & their pets smoke.
Whilst this is not worthy of a special visit, if you are in Ostende for a few days & have already done the 2 'Must Do's' & the 1 'Try Also'; & if you are a Non-Smoker in Ostende on a Monday Night…then this really is worth a visit, it's a great refuge form the Carcinogenic climes of the other BeerBars & a rather cool place to hang & while away a few hours. Pester the owner kindly & he will share some unlisted brews too. Better still, arrive in daylight hours & you can wow your friends with a snap shot posing outside the unbelievable exterior.
A Classic-Idiosyncratic-Slightly-Crazy-Belgium Bar.
't Kroegske…only in Belgium!
Last Visit: Monday 28th April, 2005.
Apr 20, 2005
More User Reviews:
TrevorB from England
4
/5
rDev
+11.4%
vibe: 5 | quality: 4 | service: 4 | selection: 4 | food: 3
I've been going to the Kroegske now for twenty years now and next week I'll be paying another visit. The long white haired guy referred to by previous reviewers is called Iwein and is one of nicest chaps known to Humankind. I have often been the beneficiary of his genorosity and have always been touched by the regard with which he is obviously held by his regulars.
Certainly the bar is as cramped and fusty as others have noted but the advantage of its smallness is that it is a relatively easy task to achieve an agreeable intimacy with the regulars- it is frequently the case that there is a discussion involving all the occupants. Cynics will no doubt point out that eight drinkers is a crowd in this tiny ramshackle bar with its rather seedy appearance but I find it hard not to be liftedby the warmth and intelligence dispensed in liberal measures by almost all who tipple at this wonderfully idiosyncratic establishment.
To my great relief almost all the regulars speak virtually flawless English and have frequently done so for my benefit. I have passed many an agreeable evening listening to music ranging from Hungarian folk music through some of the more obscure classical pieces to pieces by some of the local
luminaries whilst sipping a cool refreshing wheat beer. tkroegske is the only watering hole where I have been bought beers by people I have never even met before since the call "Tournee Generale" is often shouted by some generous soul or other.
The beer menu may not be as extensive as other bars in Ostend but neither is it too narrow and you can be quite certain that you won't be able buy whatever is your poison anywhere else in Ostend quite as inexpensively as this place.
Without reservation i would counsel anyone who has not done so to visit the kroegske, ignore the dust and bric a brac and meet and enjoy the company of Iwein and his regulars.
Sep 10, 2010
BlackHaddock from England
3.2
/5
rDev
-10.9%
vibe: 2 | quality: 4 | service: 3 | selection: 3
This place is everything 'TheLongBeachBum' says but in double helpings. There is a rickerty canopy over the front at the moment, bamboo and string keeping a grubby, thick polythene cover above your head if you wish to drink outside.
My wife and I popped in on a Friday lunchtime before catching the train to Brugge. It was sunny, be we decided not to drink under the canopy. We dropped down into the bar, cramped, filthy, disgusting, and that was just the bloke behind the bar! The place is an absolute mess inside, I don't think it has been cleaned since, well since ever really.
There were four male customers when we arrived, all smoking, they were joined by two females who also smoked. There isn't enough space for eight people in the little bar, stuffed with junk, crates and rubbish, especially if you don't smoke (we don't), so we were forced outside under the polythene. This area is obviously cleaned by the weather as the fag ends were all blown towards one end of the terrace.
My Orval was fine, as was my wifes De Konnick and the guy behind the bar, although unkempt, was pleasant enough even though we speak no Flemish or French. I even found one of his long white hairs wrapped round my glass once we were outside and could see clearly again, so free hair with your beer here.
Different is just about the best word to discribe this place. My wife choose another words, but I'm not printing those.
Jul 22, 2008
't Kroegske in Oostende, Belgium
Place rating:
3.59
out of
5
with
3
ratings