Caballero Aguila 100% Malta
| Cerveceria Mexicana S.A. De C.V.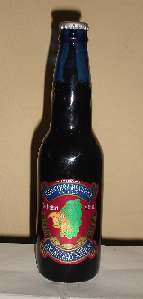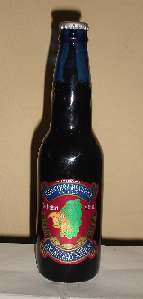 BEER INFO
Brewed by:
Cerveceria Mexicana S.A. De C.V.
Mexico
mexicalibeer.com
Style:
English Stout
Alcohol by volume (ABV):
5.00%
Availability:
Year-round
Notes / Commercial Description:
No notes at this time.
Added by tesguino on 02-03-2006
HISTOGRAM
Ratings: 8 | Reviews: 8
Reviews by moonman00:
4.2
/5
rDev
+8.8%
look: 4 | smell: 4 | taste: 4.5 | feel: 4 | overall: 4
I can only get this beer on a local supermarket chain. It is from the makers of Potro (Cervecería Mexicana).
It has a nice presentation, comes in a blue bottle, with a Caballero Águila (eagle knight) that comes from Aztec culture.
I poured it on a Beer Glass. Nice black beer, with decent head.
Very nice smells, coffee and chocolate predominance.
Tastes a lot like coffee, with a touch of dark chocolate, almost no bitterness. Carbonation is fair.
Along with Potro, the best stout ever produced in Mexico.
523 characters
More User Reviews:
3.7
/5
rDev
-4.1%
look: 4 | smell: 4 | taste: 3.5 | feel: 3 | overall: 4
Got this one on a supermarket... (ive always seen this beer and ive never have wanted to taste it)
Surprisingly good this stout pours with a nice thick body and a one inch head and a beautiful lace that lasts.
You can notice the malts and notes of cofee and chocolate in the smell a little bit of alcohol too.
Taste like coffe, the aromas helps a lot to the taste.
The mouthfeel is a little watery and little carbonated.
I can surely drink more than one bottle...
Best surprise of the month so far im enjoying it very much.
523 characters

3.5
/5
rDev
-9.3%
look: 3.5 | smell: 3.5 | taste: 3.5 | feel: 3.5 | overall: 3.5
Strange blue bottled beer from Mexico found at San Roque in Santa Barbara CA.
Pours an extremely dark colored beer that can't pass light, no real head formation.
Smell is a little sweet with lots of chocolate and some dark caramel scents to it. Milder scents of figs, raisins coffee and a faint wisp of smoke.
Taste is sweet and chocolate with some smoke and coffee at the beginning. Very tasty but is more milk stout than English Stout in taste because of the sweetness. Flavor stays all about chocolate and coffee with a bit of smoke.
Mouthfeel isn't all it could be needs a bit more carbonation.
This here this is a milk stout and a good one. Sweet chocolate and coffee in a very dark beer that can't pass light? That is a Milk Stout in my book! I suggest you try this if you see it.
801 characters
3.37
/5
rDev
-12.7%
look: 3 | smell: 3.5 | taste: 4 | feel: 1.5 | overall: 3
In the appearance is dark brown, almost black, the foam is creamy but dissapears quickly; the smell have roasted malt and prunes; the taste is roasted malt, very roasted; the drinkability is hard to drink, i'll prefer without food; i don't liked the mouthfeel, very dry, with a medium bitterness, in the mouth the sensation is acid, i guess this effect is because the malts were very roasted.
392 characters
4.5
/5
rDev
+16.6%
look: 4 | smell: 4 | taste: 5 | feel: 4 | overall: 4.5
good for the Cervecera Mexicana, they are in the right way; without pimping, this is a genuine stout,in the mexican version of this beer clearly read 100% Malta; NOT AN EURO DARK LAGER, although the gringos get angry, in mexico also is made good beer, this is an excelent example, the beer is offered in stores by USD$1.70 every bottle, the price does not matter, this is a good beer and point. Earthy notes, chocolate malt, precise bitterness, round and special mouthfeel for demanding drinkers are perceived, special for English and American cuisine, strong for the Mexican food, take in a pint glass for enjoy its smell and deep brown color, recommended 97%
660 characters
3.41
/5
rDev
-11.7%
look: 2 | smell: 3.5 | taste: 3.5 | feel: 3.5 | overall: 3.5
Presentation: Funky looking tall & thin 355ml [12 fl.oz.] blue glass bottle which has a distinctive shaped main label and a logo'd silver & blue crown cap. The main label is a colorful dark red, blue, gold and green affair which has a picture of some dues head covered in some kind of Indian head-dress, linked to the name Eagle Horseman obviously, this design is also embossed on the bottles neck. Listed as a "Dark Ale" and labeled as "Cervecera Mexicana – Caballero Aguila". The reverse label states that this is Lot 00101, that it is 5% ABV and that it is imported by the Wine Warehouse in LA.
Appearance: Dark brown body, with little to no head when it settles. Finishes looking like a flat lifeless Porter. The head is a thin light brown colored halo which struggles to survive. Staid rather depressing looks.
Nose: Rich home-made toffee ice-cream nose blends with malts and a light hint of freshly roasted Coffee beans. After the disappointment of the appearance, the nose make sup somewhat for that.
Taste: Very much like the nose, molasses, sweet toffee and dark malts with some dark roasted coffee beans. Finishes with a somewhat chocolate-peanut-fudge feel, rather distinctive. Rather simplistic, but not that bad to be honest.
Mouthfeel: The sweetness and toffee feel gives this brew some wide shoulders, but overall it manages only to feel above average in the torso. Nice body but nothing to write home about.
Drinkability: As it warms it develops a toffee like milk chocolate laden Ale feel which is rather nice, the sweetness is not too high, I found this one rather easy to get on with, and I'm no fan of overt sweetness. That said, a few bottles would be enough for me.
Overall: I had prejudiced opinions prior to sinking this one, shame on me but there are not that many great Mexican brews out there (bar say Casta). But this isn't all that bad really. Nothing outstanding and it is fair to say that the bottle is much more impressive than the contents, but that said - appearance aside, it is worth trying, there aren't that many micro-brewed dark ales from Mexico after all. Give it a whirl.
2,141 characters
4.02
/5
rDev
+4.1%
look: 3.5 | smell: 4 | taste: 4 | feel: 4.5 | overall: 4
Another brew from Cervecera Mexicana, which is not based in Baja California, but in Guanajuato State.
It's name honors an elite Aztec warrior clan: The Eagle Knights.
The style puzzles me since making an English Stout in México is, to say the less, a hell of a task.
After talking to some officials from the brewery, I learned nothing on the intentions of the owners, only that this beer and another of the house, named Potro, are both English Stouts.
Well, here we go:
Pours a very dark ale, with a tan and small yet compact head. Lacing forms groups of small dots along the glass in a pattern that resembles me a jaguar skin. Ironic here since the other elite Aztec warrior clan was known as Jaguar Knights.
Smell is of roasted malts, some ripe fruits, maybe figs.
Taste goes along the lines of the smell: Roasted malts, round body.
Mouthfeel is balanced between the malts and hops. Mild bitterness.
Good ale with a fair price. I'll have once and again, although I guess I prefer Potro.
You just have to have in mind that these guys are better known for making an exceptional tequila: Corralejo.
¡Salud!
1,141 characters

4.2
/5
rDev
+8.8%
look: 4 | smell: 4 | taste: 4.5 | feel: 4 | overall: 4
A very nice blue bottle but a very good brew from Cervecera Mexicana.
It pours a very dark color, almost black; No head and very little lace; Smell is sweet, smoked and roasted malts; Taste is of roasted malts but especially coffee; Good carbonation and very drinkable.
Caballero Aguila is a good beer but I think Potro is better.
337 characters
Caballero Aguila 100% Malta from Cerveceria Mexicana S.A. De C.V.
Beer rating:
3.86
out of
5
with
8
ratings