Dismiss Notice
Blanco Basura
| Cerveceria Mexicana S.A. De C.V.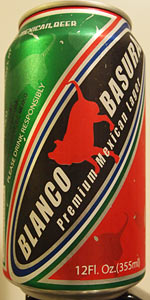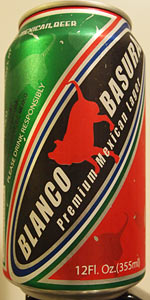 BEER INFO
Brewed by:
Cerveceria Mexicana S.A. De C.V.
Mexico
mexicalibeer.com
Style:
American Adjunct Lager
Alcohol by volume (ABV):
5.00%
Availability:
Year-round
Notes / Commercial Description:
No notes at this time.
Added by Zorro on 10-24-2010
HISTOGRAM
Ratings: 7 | Reviews: 5
Reviews by tone77:
2.73
/5
rDev
+13.3%
look: 3.5 | smell: 3 | taste: 2.5 | feel: 3 | overall: 2.5
Note: This bottle is labeled Bruvado Premium Mexican Lager. Poured from a brown 11.2 oz. bottle. Has a light golden color with a 1/2 inch head and lots of carbonation. Smell is of corn and grains. Taste is crisp, mild, light grains, a touch of malts, rather bland. Feels light in the mouth and overall is so-so at best.
319 characters
More User Reviews:
3.42
/5
rDev
+41.9%
look: 3 | smell: 3.5 | taste: 3.5 | feel: 3 | overall: 3.5
From a 12 fl. oz. can marked: Best Before: 080412. Sampled on November 20, 2011. I expect the alias to this beer is Bruvado Premium Mexican Lager. That's what is on the can and it is the only listing I see for this brewery. It pours a slightly heady pale yellow. The aroma is grains, malts, and sugar but also a little fruity element like apple or pear. Interesting. The body is a bit better than thin or watered down. The taste is also light roasted malts, apple, and a hop ending. Better than many Mexican beers I have had.
525 characters

2.5
/5
rDev
+3.7%
look: 2.5 | smell: 2.5 | taste: 2.5 | feel: 2.5 | overall: 2.5
Adding this beer here. The only brewery in Tecate is this one:
Cervecería Mexicana, S. de R.L. de C.V
Blvd. Morelos #750
Colonia Industrial
21430 Tecate
This webpage explicitly says they do contract brewing: http://mexicalibeer.com/private_label_authentic.html
The Beers webpage: http://www.blancobasura.com
The beers name translates to "White Trash" in bad Spanish.
Clear yellow colored beer with a small white head.
Smells of corn and metal. There is some grain in this and a slight lemon and tobacco hop scent. Really this smells mostly of corn, what else would they have lots of in Mexico?
Starts out sweet with a toasted grain aftertaste. Little bit of hop here more grassy or saffron than lemon. Some cooked vegetable flavor.
Mouthfeel is light.
Fizzy yellow beer here. A $5 a six pack beer from Mexico what more can you expect but hope it is better than Corona. NOT a craft beer but I have had much worse.
944 characters

2.43
/5
rDev
+0.8%
look: 3 | smell: 2.5 | taste: 2 | feel: 3.5 | overall: 2.5
This is what gives Adjunct Lagers a bad name. If you were blindfolded I'm not sure you'd immediately guess it was beer. What flavor there is is rather sweet, like a denatured malt liquor. The mouthfeel is OK, with enough carbonation. Poured from the in the Stella glass, to give it a little tone. Yellow color, a few large bubbles floating up. But a little lacing in the glass.
"Brother of no color" is almost flavorless but it would go down easy with something really hot. I can't think of any reason to buy this unless you need to show off your Spanglish.
558 characters


3.3
/5
rDev
+36.9%
look: 3.5 | smell: 3.5 | taste: 3 | feel: 3.5 | overall: 3.5
This "White Trash" beer (as the name rather crudely says Spanish) is surprisingly good, basic pale lager.
Gold, it has a big white head, steadily shrinking to a thin ring and a couple weak bits of lace.
Aroma is sweet canned pears, hint of raw grain and uncooked bread dough, and ultimately fairly pleasant.
Taste is very light, sweet apple cider, hint of grain, hint of metal, light zestiness. Overall, it's a bit simple and somewhat bland, but it's a fairly good, quite pleasant pale lager with no off tastes and with a nice zestiness throughout that, combined with the light flavour it has, keeps it going nicely.
627 characters
Blanco Basura from Cerveceria Mexicana S.A. De C.V.
Beer rating:
2.41
out of
5
with
7
ratings