Dismiss Notice
Fox and Parrot Tavern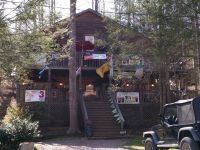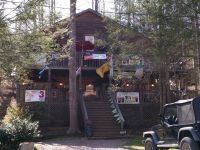 PLACE INFO
Type:
Bar, Eatery
1065 Glades Rd
Gatlinburg
,
Tennessee
, 37738-5555
United States
(865) 436-0677 |
map
fox-and-parrot.com
Notes:
No notes at this time.
Added by brewdlyhooked13 on 04-07-2005
PLACE STATS
Reviews:

9

Ratings:

pDev:

8.82%
HISTOGRAM
Ratings: 11 | Reviews: 9
Reviews by brewdlyhooked13:

3.23
/5
rDev
-18.6%
vibe: 4 | quality: 3.5 | service: 2.5 | selection: 3 | food: 4
We found this place last year but were unable to visit. So for a full year I stewed, planning my return (not really) - but my wife remembered it when she was thumbing though a visitor's guide. So off we went with our 5 and 3-year olds for lunch...
Gravel parking lot, sparse parking, this place doesn't appear to be well known. That is generally a bad sign because without a good profile and sufficient patronage there's no way a place can afford to stock quality beers. However, they do have a web site. What does it all mean?? Hmm...
It's located in the upstairs of a 2-story setup with a wood-burning craft shop below. Par for any outfit located in the official Gatlinburg Arts & Crafts Community. So be it. We walk upstairs - it's early April but they still have St. Pat's day streamers on the deck, maybe milking the Irishness/Englishness for its max potential.
Anyway, the inside is cool - lots of memoribilia, tin signs and such, mounted on walls joined by rather high ceilings as if you're in a hall or something. This place is family owned and operated, so don't be surprised if your order is taken by the owner's cousin, aunt, son or whatever. They know the drill and know what to do.
Authentic menu and a nice selection of beers. However, just my luck, I ordered a Welsh ESB and was told they were out. For lunch, I ordered the Toad in the Hole and was told point blank that they were out of pork. Hmph, 0 for 2. I settled for a nice Caledonian organic beer and this Australian meatloaf with 'special' sauce. It tasted a lot like my mom's meatloaf with A-1 sauce, but I was hungry and thought it was good, plus my mom's a top shelf cook anyway so that's not a knock. It was definitely made-to-order, that's nice.
My wife had fish & chips and *loved* them. Then it hit me, the nice atmosphere, the family-bit...they don't need an extensive clientele to be successful, they have a fairly low overhead and can afford to offer a decent cross-section of beers without going broke or serving old product. Most of the folks that came in while we were there knew the owners, they help keep the place going with their patronage, it must be working.
We'll do our share, I'll go back again, I may even call ahead and tell them to stock up on pork and Welsh ESB... :-)
2,283 characters
More User Reviews:

3.49
/5
rDev
-12.1%
vibe: 3 | quality: 4 | service: 3 | selection: 3.75 | food: 3
Scotch egg was pretty good. Beer selection was surprising for a beer bar off the beaten path. My wife and I thought our GPS has led us astray. Beer selection was surprisingly good for atmosphere surrounding pub (dirt/gravel driveway with puddles and old wood fascia on pub/photography studio).
Waitress was very attentive, but then we were the only people in bar at the time. I think we met the owner...not sure. There was a little dog in the place and when it started drinking the puddle it created we told "owner" and he seemed annoyed we mentioned problem.
All in all beer was solid. Clean draft lines and solid selection on draft. I would go back if I come back out this way. I did my best to engage "owner" with beer discussion but to no avail.
752 characters
4.13
/5
rDev
+4%
vibe: 4.5 | quality: 4 | service: 4.5 | selection: 4 | food: 3.5
Great place that advertises itself as "The only TRUE British Pub in the region." Not only that, but it is the only bar with good craft beer in a 30-mile radius of the Great Smokies(knowing that the Smoky Mountain Brewery really doesn't produce all that great of beer). Unless you want to drive to Asheville or Knoxville, this really is the only craft beer bar surrounding the mountains. And thank goodness it's a good one.
Whenever I go down to NC, I love Highland Gaelic Ale and this place always seems to have it on tap. Sweetwater 420 and IPA are staples here, as well. Huge selection of bottles that, honestly, I haven't ever much looked at since I just order one of their 29 beers on-tap.
Never got to talk to the owner much since he disappeared with his beer distributor down into the basement, but he made quick conversation and thanked me for coming in before he went downstairs. My waitress was very nice and sold me a couple of 6-packs of the Gaelic Ale at retail price since the grocery stores in the area don't even carry local TN or NC craft beers, either.
Tried the beer cheese fries, which they make with Sierra Nevada Pale Ale, and they were really good, as well. The Fox & Parrot Tavern is a great, off-the-beaten path place to come whenever you visit the Smokies.
1,286 characters
4.25
/5
rDev
+7.1%
vibe: 4 | quality: 4 | service: 4.5 | selection: 4.5 | food: 4
My sister & brotherinlaw recently moved to Gatlinburg so I flew down for a visit. Knowing I enjoy the abundance of good beers in the Northwest and hearing my tales about the great pubs I frequented while working in England and Scotland, they took me there for lunch.
The pub, on Glades Road and just off the Arts and Crafts loop, is a rustic and comfortable place with steps up to the second story and a large porch with a sitting area. It has an assortment of tables, sofas and a place for darts.
The menu met my expectations for a typical British-styled pub and the food was good. Had good fish & chips battered the way I was used to in the UK. Sister had shepards pie & liked it.
However, I was most impressed by the list of over 30 draft beers & ales and a whole bunch of bottled varieties. Like UK pubs, they had several ciders on the menu also. Living in Washington state, I'm an IPA fan. So I immediately looked for a one. They had Sweetwater IPA on draft but, because I had a couple of bottles that in my sister's fridge, I had a Yazoo Pale...good but not as good as the Sweetwater.
Service was prompt and friendly with waiting time for food being appropriate for freshly cooked fish & chips. The waitress's follow up for more beer and to check on our meal was good.
On our way out, owner asked how we liked his pub and our food. I complimented him on the beer selection and commented that I was glad to see IPAs on the list. So we talked about beer, his pub, etc for a few moments before he said he had a beer he wanted me to try. He gave me a bottle of Hoptober to take with me...no charge. Nice friendly guy with an appreciation for beer and his customers.
Liked this place and would have asked to be taken back while visiting but we had a lot of other restaurants to try. Will defnitely go back to this pub on future visits.
1,846 characters

4.35
/5
rDev
+9.6%
vibe: 5 | quality: 4 | service: 4.5 | selection: 4.5 | food: 4
Before my wife and I left for vacation in the Smokies, I did my research on BA to find out where the best craft beer drinking holes were. On the last day of our vacation, we ended up in this neck of the woods. After a day of arts and craft shopping, a few fantabulous brews were in order, so we ended up here. What a treat!
Awesome atmosphere, with a massive staircase leading up to the pub, bookcases to give it that homely feel, and some TVs to keep customers entertained.
Some of the beers: Sweetwater IPA and Blue, a couple of Yazoo selections, some Highland standards, and many more. The bartender wasn't exactly a beer afficianado, but she was very friendly and more than willing to find out the answers to any questions we had if she didn't know them offhand.
After a while, the owner came out and talked to us for a good bit. When I mentioned that I learned about his place from BA, he lit up. Before we left, he gave us a business card and handed me a brand new Fox and Parrot/Magic Hat collaboration pint glass. Whoa! Not only does he have a lot of care and respect for the reputation of his business, he also treats his customers like gold.
Also, definitely order the Scotch eggs. They're dynamite!
1,213 characters
4.05
/5
rDev
+2%
vibe: 4 | quality: 4 | service: 3.5 | selection: 4.5 | food: 4.5
We were out doing the arts and crafts scene and did a phone search and came across The Fox and Parrot. They were short staffed and it took awhile to get our food. The place has a large selection of bottle beer. The count was 106 different kinds and 8 taps. The owner told us he was starting that night to brew their own beer. This was a very nice find and is out of the way in a very tourist place. I had the bubble and sqeak and the wife had fish and chips. If we get back that way we would go back.
500 characters
4.47
/5
rDev
+12.6%
vibe: 5 | quality: 4.5 | service: 4 | selection: 4.5 | food: 5
I went in late fall when there are not a lot of tourist. ( in fact along the 8 mile loop where this is located there are few to no tourists) So when we found this place quite by accident it was a pleasant surprise. When we arrived and found the parking lot empty I will not say I was excited. In fact I was kind of scared but that all melted away once I entered. The layout has a welcome home feel to it. Couches by the fireplace all the tables and chairs are mismatched. There was one person playing darts by himself and that is it. Scared some poor guy coming out of the back who told us to grab a beer or if we wanted something from the tap to let him know. Considering how late in the season it was they had a great selection on hand. Did they have EVERYTHING on the menu in stock? No, but that is not what I expect from a place that has this many beers to select from. I like going to the case anyway and picking my own. The place has a very laid back vibe to it especially in the off season. Everyone was just chatting and hanging out even if you were a tourist like myself you felt right at home.
We ordered our food which is made to order so as others have pointed out this may take a while if it is the busy season, lucky for us it was not the busy season and we got the food pretty quick. I recommend trying the Ruben which is out of this world good, and the fish and chips which were fabulous. In fact everything I had on the menu was delicious. (Oh, in case you are wondering I went back a few times during my visit)
The staff was always very accommodating and the locals we met there were all very nice. This is by far one of my favorite places in Gatlinburg to go now and will always stop in whenever I am in town. I highly recommend this place.
1,762 characters

3.88
/5
rDev
-2.3%
vibe: 4.5 | quality: 4.5 | service: 2.5 | selection: 4 | food: 4.5
A very interesting place to say the least. It is well off the beaten path, which in Gatlinburg is a good thing. It is housed in a 3 story building with the top floor dedicated to the tavern. The atmosphere is very eclectic. A variety of chairs, couches, and tables fill the main room, with a balcony that gives a great view of the area. A bar at the back of the room services everyone.
I believe 8 tap handles at the bar, and an unused cask handpull adornes the bar. I almost jumped out of the building when I saw the handpull, with thoughts of cask conditioned ales in the hills of Tennessee, but this was dashed when I was informed that no distributor would get the casks in stock for them. The bottle list was about 85 deep which is very respectable, with an obvious focus on English beers, but with several microbrews sprinkled in.
The menu is small, but mainly full of authentic English-style foods, with the exception of a few things for the kids. The food was excellently prepared, with good sized portions and was a great value for the price.
The only knock I have on the place is the service. The teenager that was handling the place was, well, a teenager. Service was spotty at best, and it was not a crowded night. I did get to talk to the owner a bit, and he seemed like a very passionate beer lover. He talked about opening up a brewery for the tavern in the near future which is a huge plus.
I recommend this place, but have patience. If you are wanting your food quickly, this is not the place, but if you don't mind a bit of a wait, then stop in and enjoy.
1,573 characters
4.03
/5
rDev
+1.5%
vibe: 4 | quality: 4.5 | service: 3 | selection: 4.5 | food: 4
The experience you get at the Fox and Parrot varies greatly depending on when you are there. Gatlinburg is a tourist town so there are days when tourists are there in full force, on other days it is locals coming in for a beer.
The food is excellent and is all hand made which is good and bad. If you are in during a slow period you are going to get great food in a relatively short time. If you should happen to be in on a busy night the quality of food will still be there but the wait can be long.
They keep about 8 beers on tap but have a nice selection of bottled offerings, both imports and microbrews. Beer prices aren't bad, 20 ounce imperial pints of guinness for 5 bucks bottles in the 3.50 range.
710 characters
Fox and Parrot Tavern in Gatlinburg, TN
Place rating:
3.97
out of
5
with
11
ratings