Old Rasputin XXI Aged in Rye Whiskey Barrels

North Coast Brewing Co.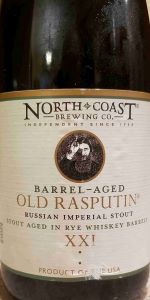 Write a Review
Beer Geek Stats:
| Print Shelf Talker
Style:

ABV:

11.2%

Score:

90

Avg:

3.95

| pDev:

8.61%

Reviews:

7

Ratings:

From:

Avail:

Retired (no longer brewed)

Wants

Gots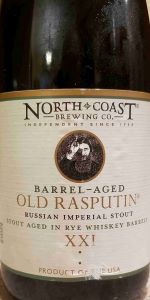 Notes: We aged special batches of our much-loved Russian Imperial Stout in Rye Whiskey barrels for the XXI release. The depth, intensity, and complexity of the flavor profile of this special release, like its predecessors, make it a worthy tribute to Old Rasputin.
Reviews by MonDak_Joe1953:

MonDak_Joe1953 from Minnesota
3.77
/5
rDev
-4.6%
look: 4 | smell: 3.75 | taste: 3.75 | feel: 3.75 | overall: 3.75
500ml bottle pours deep dark brown for color, and has garnet back lit high lights. 2018 production.
First pour brings forth a three finger deep tan head, which collapses in time and leaves behind a webbing of lacing.
Aroma of dark roasted malts with chocolate and char. Has spicy rye barrel note.
Taste of dark roasted malts and chocolate, along with the tangy, and almost sour rye barrel.
Thinner mouth feel for this high ABV& stout. Good carbonation.
I like regular Old Rasputin more than this special release. This beer is thinner and is less complex in aroma and flavors. Initially I thought this beer had soured since bottling, but the tangy/sour taste could be from the rye barrel influence. I am not getting the char and dark fruit as what is found in regular Old Rasputin.
Feb 25, 2019
More User Reviews:
Korbynlehr from Kentucky
4.43
/5
rDev
+12.2%
look: 4.25 | smell: 4.25 | taste: 4.5 | feel: 4.5 | overall: 4.5
Tried in a 2015 in 2019
Mar 31, 2019

REVZEB from Illinois
4.02
/5
rDev
+1.8%
look: 4 | smell: 3.75 | taste: 4.25 | feel: 3.75 | overall: 4
I have come to find the ba old rasputin to have its own niche, in that the stout is west coast so the body is thinner, the aftertaste is spicier, and it really goes well with more summery food. This was no exception to this trend, though a touch thinner in the feel. Not lacking in flavor however with charred wood, roasted malt, rye whiskey, cocoa, leather, tobacco, and some dry leaves. Robust yet lighter, thought this combo was a winning one in a world of heavy and sweet. Smell was rye whiskey and malt, shallow and disappointing there. Good when in the right mood, but thought other vintages were better
Apr 15, 2019

maximum12 from Minnesota
3.5
/5
rDev
-11.4%
look: 3.5 | smell: 3.5 | taste: 3.5 | feel: 3.5 | overall: 3.5
It's anniversary beer night! 500ML bottle that defines this brewery for me.
The liquid is black, the nose is cocoa, spicy rye, with a touch of roast. Pretty tame.
Old Rasputin XXI – Rye Barrel Aged is a throwback to a more innocent age. One of this beer's forebears was the first barrel-aged beer I ever saw on a shelf, back in '08 or so. Thin by today's standards, with barely the heft of a Keanu Reeves performance. Soft rye, roast, mild sweetness, creamy, dried leather soaked in oak. Light.
This should really come in $14 four packs & compete with Central Waters & Boulevard barrel aged stouts. For the rather obscene price, this is one & done for me; just "pretty good" for $20/500ML is not acceptable.
Apr 06, 2019
jmbeerdude91 from Arizona
4.55
/5
rDev
+15.2%
look: 4.75 | smell: 4.75 | taste: 4.5 | feel: 4.25 | overall: 4.5
Dec 14, 2019
hoptheology from South Dakota
3.89
/5
rDev
-1.5%
look: 4.25 | smell: 4 | taste: 4 | feel: 3.25 | overall: 3.75
Bomber into Old Rasputin Nonic Pint.
Dark black color with a towering creamy brown head of almost half the glass. Lots of lace in specks and sheets as it begins its climb down to beerland.
I smell fresh paint, aged wood, rye, root beer, chocolate, caramel, and whiskey.
Flavor is decent but doesn't exactly translate to a killer beer for me. I get dark chocolate, hops, toasted malt, paint chips, whiskey barrel, whiskey sweetness/dryness, and some of that root beer I was mentioning earlier.
The feel has a nice acidic bite with a good whiskey burn, but is far too thinned out for me to score this highly.
Overall, I sat on this bottle for a year after I bought it, waited for a depressing night which is definitely tonight, and this just makes life suck even more. Still gonna finish it, it's not abhorrent, just not particularly enjoyable
Aug 14, 2019
jettjon from Florida
4.09
/5
rDev
+3.5%
look: 4.5 | smell: 4.25 | taste: 4 | feel: 4 | overall: 4
From a bomber capped in somewhat unconventional fashion with a bottlecap, into a Sam Adams Perfect Pint glass. Pitch brown body with no penetrating light. Thick, creamy head of chocolate ice cream float tight bubbles with a slow fade and lots of residual clingy foam. There is a definite whiskey scent on the nose along with some sweet and toasted malt and boozy hints. In the mouth, the dry rye whiskey flavor asserts itself up front and nicely assimilates with the dark charred flavor of the malts. Nice hops edge goes well with the boozy whiskey burn at the finish. Mouth is silky with a bit of carbonation bite that accentuates the overall bitter character of the beer. Overall, enjoyable though a bit more on the acerbic side. That said, it's possibly the closest to a "whiskey – beer" fusion I've tried that was 100% beer.
Dec 08, 2019

mwilbur from Minnesota
3.61
/5
rDev
-8.6%
look: 4.25 | smell: 3.75 | taste: 3.5 | feel: 3.5 | overall: 3.5
Poured from 500 mL bottle into snifter.
A: Pours a super dark brown with 3 inch bubbly dark mocha head with excellent retention. Nice lacing.
S: Strong whiskey note with hints of dark chocolate, leather, and oak char around the edges.
M: Whiskey note is too strong and overpowers the rest of the beer. Hints of chocolate, leather, and oak char.
T: Medium body. Strong whiskey burn. Some dark fruit sweetness. Whiskey note lingers into the finish.
D: The whiskey note unfortunately overpowers the rest of the beer. The bourbon barrel version of this is much better.
Mar 18, 2019

Tracker83 from Michigan
3.77
/5
rDev
-4.6%
look: 4 | smell: 3.75 | taste: 3.75 | feel: 3.75 | overall: 3.75
Dec 25, 2018
StoutSnob40 from California
3.47
/5
rDev
-12.2%
look: 4 | smell: 3.25 | taste: 3.5 | feel: 3.5 | overall: 3.5
Dec 24, 2018
WilliamD from Minnesota
3.73
/5
rDev
-5.6%
look: 4 | smell: 4 | taste: 3.5 | feel: 3.75 | overall: 3.75
prale
Mar 30, 2019

mbw314 from California
4.04
/5
rDev
+2.3%
look: 4.25 | smell: 4 | taste: 4 | feel: 4.25 | overall: 4
Nov 11, 2019
bigred89 from Maryland
4.5
/5
rDev
+13.9%
look: 4.5 | smell: 4.5 | taste: 4.5 | feel: 4.5 | overall: 4.5
Apr 19, 2020
DefenCorps from Oregon
4.1
/5
rDev
+3.8%
look: 4.25 | smell: 4.25 | taste: 4 | feel: 4.25 | overall: 4
Bottle from Market of Choice.
A very dark brown with a dense brown head with good retention and lacing, this looks solid. The nose is noticeably heavy on the rye barrel character with dark, grainy, earthy, spicy rye complementing the base stout. Y'all know what I'm talking about. Soft creamy medium dark chocolate, a little licorice and anise, some dark brown sugar. Cookie dough. A little vanilla. Gingerbread? This is really rye forward in the nose and is awesome. The palate opens boozy and brash, biting, boozy and strangely appealing as our holds no punches. Light coffee, some medium dark chocolate, light dark fruit with a little dark raisin. The star of the show, though, is the rye. Spicy, deep and complex, or adds real depth and complements the base beer. Make it better? Debatable. This is an altogether different beast. The finish is long, boozy and with lingering rye, vanilla and a little chocolate. Boldly bodied , this is the antithesis of the modern pastry stout. Quite excellent.
Apr 27, 2020
Old Rasputin XXI Aged in Rye Whiskey Barrels from North Coast Brewing Co.
Beer rating:
90
out of
100
with
14
ratings