Black Hart
| North Coast Brewing Co.
BA SCORE
82
good
61
Reviews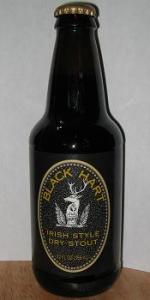 BEER INFO
Brewed by:
North Coast Brewing Co.
California
,
United States
northcoastbrewing.com
Style:
Irish Dry Stout
Alcohol by volume (ABV):
not listed
Availability:
Winter
Notes / Commercial Description:
No notes at this time.
Added by BeerManDan on 02-21-2003
Reviews: 61 | Ratings: 69

3.87
/5
rDev
+8.4%
look: 4 | smell: 4.5 | taste: 3.5 | feel: 3.5 | overall: 4
03/15/05- Purchased at Trader Joe's in San Francisco, CA
Presentation- 12 oz bottle with no expiration dates listed. Poured into a standard pint glass.
Appearance- Medium black colored pour with a nice tight 1/2 inch head and moderate lacing.
Smell- Nice scent of combined coffee grounds and chocolate.
Taste- A front taste of coffee and a back taste of chocolate the slyly works it's way in towards the finish. A bit on the bitter side overall though.
Mouthfeel- Higher carbonation for a stout and a decent dry finish.
Drinkability- Overall not a bad stout. Good in the taste department, but a bit too much fizz for me.
638 characters
3.27
/5
rDev
-8.4%
look: 4 | smell: 2 | taste: 4 | feel: 3.5 | overall: 3
Bought this on sale at Trader Joe's, where they're pushing "Irish" food and drink this month 'cause of St. Paddy's day. This is an intersting beer, definitely not run of the mill. About the color of Coca-Cola, it pours out thick, with a tall, creamy tan head. Smells a bit sour; tastes "earthy" and somewhat on the bitter side. Not a session beer, however. More the kind you'd drink one at a time. Should go well with rich and heavy foods. Overall, I'd give this about 3.5 points on a five-point scale, and maybe I'll buy it again next March ... but I wouldn't drink it on a day-in, day-out basis.
597 characters
3.62
/5
rDev
+1.4%
look: 3.5 | smell: 4 | taste: 3.5 | feel: 3.5 | overall: 3.5
Presentation: Rather strange looking "simple" 12 fluid ounce [355ml] brown glass bottle with just one label. The single rectangular label covers 270° of the bottles body and has a yellow rimmed oval on the front of it. Inside this the words Black Hart are above a white Stags head which in turn is above a castellated tower. Below it is described as an 'Irish Style Dry Stout'. The small print finally reveals that this is from the North Coast Brewing Company of Fort Bragg, CA. No strength or Best Before dated is listed.
Appearance: Dark black body with some mahogany and a ruby red hue when flash lit from behind. Yellowy head is decent at first but soon relaxes to a broken thin covering leaving some light thin lacing. Minimal carbonation means that it is hard to reinstate the head with a gentle swirl.
Nose: Roasted malts, coffee and cocoa, dry and powdery on the nasal passage, but a treat nonetheless.
Taste: As with the nose, it is not a complex offering, it is a simplistic Dry Irish Stout that has all of the classic traits; dry roasted coffee, roasted malts, astringent cocoa powder head and a nice tasty finish.
Mouthfeel: Pretty average all round, mainly due to the low carbonation I feel. The dry roasted feel gives a decent lick though making this a 3.5 as opposed to just a 3.0.
Drinkability: Not that bad, it was easy to sink this one but it is very dry and would make for a hard session brew, nevertheless it goes extremely well with some aged Canadian Cheddar.
Overall: One of those "weird singles" that I picked up at Trader Joes for next to nothing, I think it was about 86cents all told. A nice tasty effort from Lost Coast Brewing Co., but a tad too dry for the long haul.
1,722 characters
3.22
/5
rDev
-9.8%
look: 3 | smell: 3.5 | taste: 3 | feel: 3 | overall: 3.5
Nice dark brown, close to black. Good frothy, slightly sticky brown head.
Lots of dark roasted malts. Some rich coffee present. Slight alcohol sweetness noticable.
Quite dry, but with strong coffee and roasted malts. Dry, slightly bitter finish.
Light, but extremely flavorful. Tannic dryness throughout. Somewhat fleeting finish.
A nice beer. I prefer a sweeter stout, but I enjoyed this dry style. Worth a try if you can find it.
443 characters
2.94
/5
rDev
-17.6%
look: 4 | smell: 2.5 | taste: 3 | feel: 3 | overall: 3
At $.83 for a single at Trader Joe's, I figured, "why the hell not?" On the bottle it mentions "dry" - no kidding. Black Hart pours black with a ruby toned edge. Has a nice thick and creamy mocha colored head with good retention. Left spotty lace.
Smell was an acrid mix of stale coffee and cocoa.
Taste was a, well, dry blend of old, sour coffee, bittersweet baking chocolate, and grainy malt. Had a hint of smokiness in the finish.
Feel was full and dry, almost too dry.
This brew was a real strange one for me. "Dry" almost doesn't begin to describe the mouth-imploding desert-like character to this beer. I had to stop halfway through to get some water as my tongue was turning into sandpaper. Not one I'd hurry back to, even at the bargain price of 83 cents
767 characters
2.58
/5
rDev
-27.7%
look: 4 | smell: 3.5 | taste: 2 | feel: 2 | overall: 2.5
Presentation: 12oz. brown bottle; no "bottled on" or "best before" warning; purchased as a stray single from Trader Joe's for $0.83; tracheotomized deer head atop a winged castle turret on the label.
Appearance: Pours a ruby-tinged, dark brown; big, mocha-hued head; c-cup's worth of lace; good head retention.
Aroma: Faintly of chocolate with a slight hint of stale coffee.
Taste: Lightly sweet chocolate flavor upfront; watery, grainy middle; mild hop bitterness; acrid, sour finish; medium bodied; oily, milky mouthfeel.
Notes: Thin, watery and sour; even at $0.83 a bottle I feel shortchanged.
609 characters
3.67
/5
rDev
+2.8%
look: 5 | smell: 3 | taste: 4 | feel: 3.5 | overall: 3.5
12oz. bottle.
A good offering but it does not compare to North Coasts other stouts. This stout gets carried away with the dry.
An awesome black with magenta hues when held up to the light. A big fat foamy off-white bubbly head with great retention and superb lacing. The lacing is like cave drawings from some ancient civilization. The scent is unfortunately weak. Very dry and not stout like at all. It smells like flour. There is some cream and mild espresso. Not much else.
The dryness of this stout can get to you. It has a nice cream flavor. Very mild coffee and brownie flavors. Some burnt bread and a crisp dry finish. A minor hop bite. No sweetness to the finish of this stout.
The mouthfeel has a slight oily quality. It is not bad but not what I want. There is a nice full bodied feel to this stout. Its drinkability is fine but this one is so dry that a person might need some water to go with it.
All in all a very fine but different stout.
969 characters
3.88
/5
rDev
+8.7%
look: 4 | smell: 3.5 | taste: 4 | feel: 4 | overall: 4
Eclipse Black color, small head. Aroma is coffee and a little coca. A dry stout. Full bodied and flavorful. Roasted malts. Coffee and cocoa flavor. There is a very slight metallic flavor to this beer, not unpleasant. Nice beer. Mouthfeel is full and round. Finish is clean and smooth. Aftertaste is slightly bitter. A nice dry stout.
333 characters
3.43
/5
rDev
-3.9%
look: 3.5 | smell: 3 | taste: 3.5 | feel: 3 | overall: 4
I originally sampled this beer on 4 May 2003. I am writing this review from my notes. This wins the "bang for the buck" award in my book. At 84 cents per bottle at Trader Joe's, you can't go wrong. Very dark brown w/ a 2 finger tan head. Lots of cocoa flavor w/ some hop zingers. Very enjoyable.
295 characters

3.35
/5
rDev
-6.2%
look: 3.5 | smell: 3.5 | taste: 3.5 | feel: 3 | overall: 3
Black black.
little collar, no head.
Dry roasted coffee nose.
mouthfeel, dry and puckering.
drinkability, average.
Pair this drink with a dark desert.
give it some sweetness to
counteract the dryness.
tastes better as it warms up
I am liking it more and more.
268 characters
3.8
/5
rDev
+6.4%
look: 4 | smell: 4 | taste: 3.5 | feel: 4 | overall: 4
It poured a dark reddish brown with very little foam and some lace. The smell of roasted malts was the really strong aroma in the nose. The taste was of roasted malts with a hint of chocolate. The after taste was pleasant, not over bitter. The bottle says, "Black Hart" then on the bottom, "Irish Style Dry Stout".
314 characters
Black Hart from North Coast Brewing Co.
3.57
out of
5
based on
69
ratings.