Millennium Release Old Rasputin Imperial Stout
| North Coast Brewing Co.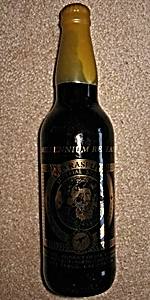 BEER INFO
Brewed by:
North Coast Brewing Co.
California
,
United States
northcoastbrewing.com
Style:
Russian Imperial Stout
Alcohol by volume (ABV):
8.90%
Availability:
Limited (brewed once)
Notes / Commercial Description:
No notes at this time.
Added by stoutlove77 on 03-20-2003
This beer is retired; no longer brewed.
Reviews: 9 | Ratings: 20
4.19
/5
rDev
+4.2%
look: 3 | smell: 4 | taste: 4.5 | feel: 3.5 | overall: 4.5
I received this beer at least 6 years ago as some kind of award from my Brew Club, The Kuykendahl Gran Brewers (KGB). Well, I have been cellaring it for what seems like forever and I can't help but keep thinking that this beer is in its prime right now...so after eyeing it for at least the last six months...I guess March 7, 2011 is the time to give the beer that rang in the millennium a shot.
Appearance: Though there was a little off-gas when I popped the top, there was a very tiny amount of bubbles rising to make anything that looked like a head. Holding the beer up to the light doesn't show that it is capable of passing any through the actual liquid, so it is dark, as to be expected.
Aroma: I initially got a decent amount of oxidation, but it was playing well with the rest of the aromas. There was also a large amount of dark caramel and toffee and even some bitter cocoa and a lesser amount of sweet chocolate syrup. The sweetness is the main thing going in in the aroma, but as the beer has sat a bit, the oxidative aromatics are lessening and the maltyness with a reserved alcohol is really being showcased...nice!
Taste: The flavor is surprisingly drinkable considering everything about this beer (ABV, age, style, etc.). Though the carbonation is low, the beer is medium bodied and pretty well attenuated for the style so it has a bit of dryness that you wouldn't expect. The palate sensations in the finish are also contributed by the alcohol and the acidity that you get from the roast, but neither is a dominating force. Overall the flavor showcases the dark caramel and the chocolate, and I really don't get any of the oxidative notes that I did earlier.
Opinion: This is a pretty good beer. I can definitely say that I have liked some of the other Impy Stouts better than this one, but Old Rasputin has always been on the light side of the style, and is awesome for what it is. This style has evolved, so maybe this beer that I am drinking is a stamp in history. I assume so since the new Rasputin XII is almost 12%. I am glad that I am drinking this beer now. In hindsight, I probably should have tried it about 3 years ago or so, but it is still good now.
2,184 characters
4.05
/5
rDev
+0.7%
look: 4 | smell: 4 | taste: 4 | feel: 4.5 | overall: 4
Many thanks to dmeadows for bringing this to our tasting.
A: Not entirely pitch black but dark with a rim of mocha head. Some light penetrates the edges.
S: Slight roasted malt.
T: Slight bitter roasted malt with some dark chocolate. It has aged pretty damn well over these 9 years.
M: Light bodied and very smooth. It seems to have thinned over the years.
D: The lightness adds to the drinkability. Pretty good.
417 characters

4.62
/5
rDev
+14.9%
look: 4 | smell: 4.5 | taste: 4.5 | feel: 5 | overall: 5
Thanks to dmeadows for bringing this and holding on to it for 9 years.
A: Mostly black with some brown around the edges. There was some head. Really more than I thought there would be.
S: Nice musty basement smell. I love this smell when it comes from a cellared beer. Very smooth nose if that makes any sense
T: So smooth. Hints of wood in there. I think this was barrel aged. If not time has really transformed this. I really can't state how smooth this was.
M: Smooth. One more time.
D: Incredibly drinkable. A tad oxidized but it added something nice. Ok just once more. Smooth. I love when you have a nice aged beer like this. All the angular tastes just melt into one another to create a wonderful overall taste.
723 characters
3.38
/5
rDev
-15.9%
look: 4.5 | smell: 4 | taste: 3 | feel: 4.5 | overall: 2.5
22 oz bottle
I wish I could share upsjeff's enthusiasm. Here, however, is the rare case where I was too successful in hiding something from myself.
A case of this beer quickly turned into two lonely bottles, which I stashed away for future tasting. 5+ years later, more than a touch of oxidation has hit my beer.
The pour remains beautiful, black, with a light brown head of impressive height and staying power. Much better than I expected after this much time. Borderline 5.
The first glass has a nice aroma, showcasing coffee, a nice heavy roastiness, ample alcohol, and a rich earthiness that I really enjoyed. The second glass, served as it continued to warm and evolve, was highly cardboard-y. Too bad. I'll skew towards the first glass in the rating, but this deserved a 4.5 or 5 on initial impression.
Taste is similarly different for the two glasses. There is a lot of coffee up front, the alcohol is everpresent but never overpowering. There is ample bitterness here from the heavily roasted and charred malts, but the Sahara-dry finish is the single most noticeable aspect of this beer. I can't say that I recall it being THAT dry earlier. I really dig it, but unfortunately this finish is where the oxidation would finally show up. As the beer warmed this would grow to an annoying distraction of an otherwise world class beer. At one time this was one of my 5 favorite beers, rated better than the original Rasputin, and easily a "5" in flavor. This bottle is a shell of its former self, but enough remains to show how high quality this was.
Not changing the mouthfeel. This remains a smooth, medium-bodied top notch stout. Drinkability has been dropped a point - initially it went down quickly, but as the oxidation grows on my I find the sips getting smaller, even as my palate gets increasingly dry.
I great lesson on the effects of time on your beer, while remaining a more-than-decent beverage. I plan to share the last bomber with friends soon. Maybe I'll get lucky and get an even better result.
Looks like a 4.1, from what was originally a 4.75. If you've got some lying around, I'd give it a shot.
2,124 characters
4.5
/5
rDev
+11.9%
look: 4 | smell: 4 | taste: 5 | feel: 5 | overall: 4
I must start out by saying that I typically don't review beers. However, after pulling this from the cellar for a special occasion(parent's wedding anniversary) and saw that the last review was 3 years ago I decided to put up this review to let anyone who may still be holding on to a bottle of this how it was holding up. I must say that while never having experienced this beer fresh I cannot imagine it would compare to what I am tasting right now in my glass. This is my first experience with a Russian Imperial Stout with some long term aging and I finally understand what everyone has been talking about. This beer is so good it makes me lament the fact that I will more than likely never have it again.
And now for my attempt at reviewing this beer...
A - dark black/brown with just a hint of red at the bottom of the glass when held up to the light with a deep beige head comprised of tiny bubbles that fades quickly to a very thin layer on the glass and the beer
S - sweet roasted malts, slight oxidation, and a bit of alcohol can be detected on the nose
T - burnt/roasted malts playing a major role probably due to the fact that the hops have faded over time...however, there is enough left that you feel the hops on your tongue in the finish
M - creamy yet light on the tongue...the word fluffy comes to mind...with a surprising amount of carbonation left that I feel is right at home with the amount of flavor packed into this beer
D - usually the only problem with drinkability in heavy stouts like this is the alcohol content...but at 8.9% I would have no problem drinking a couple glasses of this in one sitting...now if only I had that much available to me
1,678 characters

4.02
/5
rDev 0%
look: 3.5 | smell: 4 | taste: 4 | feel: 4.5 | overall: 4
A beer that is definitely enjoyable. However, I prefer their usual Old Rasputin too this. Velvet black pour, with a decent foam head. Some ruby red was detected through the pint, when the light hit the glass just right. Milk chocolate head that faded ever so slowly. Big malt smell. Coffee, chocolate, smoke, mushroom! Yes, I detected a little mushroom. Burnt bread. All the good imperial stout smell. Bittersweet taste. Coffee was a little too overpowering. A minor complaint for a major brew. Dark chocolate caressed the tongue like a high class escort. Big dark malt character. And just enough bitter burnt bread to balance. Terrific mouthfeel. Creamy silk texture that was just simply great. I have one more bottle of this that I'll be cellaring. Perhaps for the next millenium, so that future generations can enjoy this limited beer.
838 characters
4.12
/5
rDev
+2.5%
look: 4 | smell: 4.5 | taste: 4.5 | feel: 4 | overall: 3
It poured very dark, revealing a slight amber color around the edges when held up to a light. The head is very minimal, with large bubbles that dissipated quickly, leaving a very thin film of small ones resting on top.
It smelled of cherries, slightly sour, and roasted malts with notes of coffee. I can also detect a dusty earthiness to its smell. The first taste packed quite a punch, overwhelming me with a mouthful of bitterness. After a few more sips, I was able to border the hops punch with a slight cherry sour on the front and a smoky coffee/ almost carbon on the back. There's no sweetness to carry this beer, but the mouthfeel is very thick, kind of like tar, which I guess is kind of the point.
This beer doesn't sit high on the drinkability meter. My tongue is still withered from the power punch of burned bitter flavor. I'd hate to kiss me right now. My tongue feels like it needs a shave
.
913 characters

4.15
/5
rDev
+3.2%
look: 4.5 | smell: 4.5 | taste: 4 | feel: 4 | overall: 4
A wonderfully heavy, smoky, hoppy brew: in short an imperial stout. Unlike its namesake, there's not much subtle or devious about Old Rasputin. But, like its namesake, it's bold and brazen. It pours dark and deep with a dark tan head. There a overlying citrus smell that is not at all evident to me in the taste, which is highly smoky--something that covers nicely the high alcohol content. This is a fine brew.
411 characters
4.28
/5
rDev
+6.5%
look: 4.5 | smell: 4 | taste: 4.5 | feel: 4.5 | overall: 4
Whoa! what can I start to say about this rare bottle that grabbed my senses and appealed to my mind in way that enchants the wisest of all. The first thing that captured my brown curious eyes was the bottle. It was something unique and rare. My buddy DavidBanner pointed it out when we had a little trip to a new place that might be eventually placed as a spot for real beer. The look on this bottle as it placed itself in between other microbrews with respectable reputation, was that is stood out loud with a bold golden shine. The bottle was something that I never witnessed before. The look, a brown bottle with gold plated lettering all over and had Rasputin looking in such a fashion that was really a respectful "Your not worthy look". I've had Old Rasputin before so by coming across this bottle was quite a suprise to me. The bottle, which was sealed with a wax top (looked like it was dipped) was really intriging and was the hightlight to my rookie experience. I felt as I was being dominated by just looking at the bottle. When the gentleman at the Stuft Sandwich asked us want we wanted, and I suggested this bottle, he looked at us with such a pridefull look and said "this is one of the only brews he had that no one knows about ", I felt proud so I said lets do this , I believed myself to be on a mission for BA!. This brew was a pleaser, as soon as my partner in crime poured, I started to see the character this beer really had. This bottle claimed to be a millenium release, and it proved itself as it poured; a thick dark syrup type stout is what came out of this waterfall from the bottle. The color was a deep rich dark, jet black look with hints of caramel from the shade it placed on the table it was residing on. The smell is real maple, a knockout of hard caramel, toffee and coffee like no other. The taste was a unique blend of smooth toffee and bitter coffee with a mild aftertaste, also was the potent presence alcohol with some licorice hints. Last but not least the mouthfeel, this was exquisite with the sandwiches this place served, it hit right on the gut as I would feel it satisfying my appetite. I had an honorable privlidge to taste this sensational brew, if you come across it, dont question it, like Nike says "Just Do It!"
2,265 characters
Millennium Release Old Rasputin Imperial Stout from North Coast Brewing Co.
4.02
out of
5
based on
20
ratings.