Harbin Beer XiaomaiWang Wheat King
| Harbin Brewery Group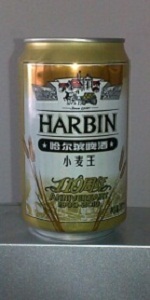 BEER INFO
Brewed by:
Harbin Brewery Group
China
Style:
American Adjunct Lager
Alcohol by volume (ABV):
3.50%
Availability:
Year-round
Notes / Commercial Description:
No notes at this time.
Added by whtguitarguy on 12-25-2009
Reviews: 6 | Ratings: 14
Reviews by flyingpig:
1.16
/5
rDev
-59.9%
look: 1.75 | smell: 1.25 | taste: 1 | feel: 1.5 | overall: 1
330ml Can, bought in Singapore (SGD$2.30):
Very clear, pale straw with no head other than a bubbly patch on top.
Watery with a hint of light, grassy hops and some very basic malts and adjuncts, There was nothing going on with this one really other than perhaps some citrus around the middle.
A watery tasting, skunky taste despite it coming from a can, lots of grain, a few adjuncts and a faint taste of maize and cheap hops. The finish had a tiny hint of bitterness as well.
Incredibly thin bodied and watery with some hints of bitterness and a skunky taste to the beer that made it pretty much undrinkable.
One of the worst beers I think I've tried, terrible from start to finish. This one was nothing more than drain pour and one that I could finish drinking.
766 characters
More User Reviews:
3.96
/5
rDev
+37%
look: 4 | smell: 3 | taste: 4 | feel: 4 | overall: 5
Appearance: Has a good yellow color. On pouring, the head disappears quickly. Lively bubbles.
Smell: Slight malty smell, no detectable hops. Almost grassy.
Taste: Not a lot of body, but very pleasant taste. A nice hops balance. Since this was my first, I wasn't expecting much (knowing Chinese beers) but was surprised at how nice this beer was.
Mouthfeel: Appropriate to the style. Actually, one of the better adjunct lagers I've had. Clean finish, helped by the good level of carbonation.
Drinkability: Give this one a try (if you can find it). Very drinkable. Lagers, especially adjunct lagers, aren't close to the top of my favorite beer style list, but this one is very nice.
684 characters
2.41
/5
rDev
-16.6%
look: 2 | smell: 2.25 | taste: 2.5 | feel: 2.5 | overall: 2.5


3.51
/5
rDev
+21.5%
look: 2.5 | smell: 4 | taste: 3.5 | feel: 3 | overall: 3.5
Boatshoes sent me this beer, along with several others from China, some time ago and I have had them sitting in the reefer ever since. I even have his translations posted on my microwave so that they would not also get lost in the overwhelming onslaught of all things CANned and Kvass. Fletch, many, many thanks! The CANQuest (TM) forges on!
From the CAN: Well, if you thought that I struggled with Russian Cyrillic, you CAN bet that I have no clue on Chinese characters. Here is what boatshoes sent me: "Harbin Beer, 3.6% abv, made by Harbin Beer, Hubei Province, China. American Adjunct Lager (although it claims to use wheat in brewing as well)". Mine was not only a 2010 FIFA commemorative CAN, but a pop top as well! Holy 1970's, Batman! It was a seamless Ball Co. CAN, but with a pop top! Color me flabbergasted.
No Crack in this case, but instead, Pop! and Glug, resulting in a finger-and-a-half of fizzy bone-white head with low retention. What, just because I do not read or speak Chinese, you gotta run off? Aw. Color was a pale lemon-yellow with NE-quality clarity or whichever region in China is known for their production of corn. Nose led me to believe that their claim was true - it may have been AAL in style, but it was not pronounced and there was a sweetness to it that may have been wheat in nature. Mouthfeel was thin-to-medium with a sweetness on the tongue not usually found in the AAL style. I am going to buy their claim of using wheat in the brewing process. Finish continued to be sweet and while a pleasant addition to the style, I just could not get behind it.
1,591 characters
3.22
/5
rDev
+11.4%
look: 3.25 | smell: 3 | taste: 3.25 | feel: 3.5 | overall: 3.25
Had in Beijing.
330ml can poured into a pint glass.
Born on date: 6/25/13.
ABV: 3.6%
Ingredients list water, barley, corn, wheat, hops
A- Golden-yellow. Lots of carbonation.
S- Corn, metal.
T- Sweet corn, wet hay. The slightest hint of hops.
M- The wheat might be a factor in making this not quite as thin as most other Chinese adjunct lagers. Finishes surprisingly dry after the sweet taste.
If this were not called "Wheat King" I suppose few would guess it contained wheat as it is overpowered by the corn. However, the corn and wheat do make this distinct from most other Chinese adjunct lagers that contain rice.
625 characters

2.32
/5
rDev
-19.7%
look: 2.5 | smell: 3 | taste: 2 | feel: 2.5 | overall: 2
This is a gift from Doug B; thanks Doug! Poured with a fizzy, white head that quickly settled down and no lace. Color is a clear pale yellow with some small bubble trails. Aroma is beer, malt, fresh baked white bread. Flavor is on the sweet side with some carbonic tang to cut it. Body is thin and carbonation is ok. Finish is like flavor and a little on the short side.
370 characters
4.17
/5
rDev
+44.3%
look: 3.5 | smell: 4 | taste: 4.5 | feel: 4 | overall: 4
Pours to a golden, actually very shiny, angelic color. I was given a short tulip to drink it from. It was lovely. Reminds me of Sapporo Reserve Malt. This is much better than regular Harbin Lager, it has a heavy malty grainy flavor, but it is a lighter beer. The Chinese Short Wheat grown in China, definitely complements this beer.
332 characters

2.5
/5
rDev
-13.5%
look: 2.5 | smell: 2.5 | taste: 2.5 | feel: 2.5 | overall: 2.5


Harbin Beer XiaomaiWang Wheat King from Harbin Brewery Group
2.89
out of
5
based on
14
ratings.