Cinco De Drinco - The Beer Shoppe 5th Anniversary Ale
| Iron Horse Brewery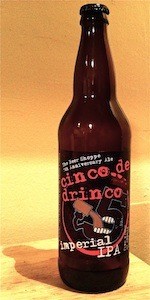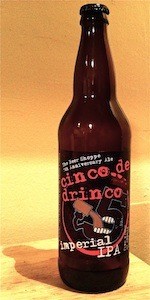 BEER INFO
Brewed by:
Iron Horse Brewery
Washington
,
United States
iron-horse-brewery.com
Style:
American Double / Imperial IPA
Alcohol by volume (ABV):
8.50%
Availability:
Limited (brewed once)
Notes / Commercial Description:
No notes at this time.
Added by suncrust on 11-22-2011
This beer is retired; no longer brewed.
HISTOGRAM
Ratings: 12 | Reviews: 8
Reviews by Smurf2055:

3.55
/5
rDev
-3%
look: 3 | smell: 3.5 | taste: 3.5 | feel: 3.75 | overall: 3.75
Poured into tumbler from bottle.
About a centimeter of white head. Amber color
Very fruity and inviting aroma. Doesn't smell overpoweringly of pine.
Almost sweet. Very balanced. Piney, resiny, little bit of hops near the end. Mostly citrus.
Pretty light body, decent carbonation.
Not a big hop head, but this is a very nice IPA.
340 characters
More User Reviews:


2.86
/5
rDev
-21.9%
look: 1.5 | smell: 3 | taste: 3 | feel: 2.5 | overall: 3
22oz bomber snagged from Bottleworks, poured to a pint glass.
A- Murky hay, off-brownish yellow with lots of sediment floating around. Light one finger head. Really ugly, cloudy beer and the chunks of yeast are unbelievable, especially for an IPA.
S- Oranges and light tropical notes of mango and papaya hit the nose first. Some wet hay, pale malts, and light sweetness reminiscent of honey and graham crackers.
T- Aggressive, juicy hops. Bitterness lingers a bit too much, giving an almost sour taste. Pungent orange and grapefruit rinds mixed with mild pine boldness. Really bitter. Buried back in there are some rye bready flavors, hay and mild malt sweetness.
MF- Hops are active and sparkly on the tongue. Resiny finish, but the lingering bitterness turned sourness is not very pleasing. Some juiciness to the body, which is sort of nice.
O- Overall, this isn't a full blown aggressive beer, just overly bitter in a way that isn't flavorful. Some filtering would have helped to clean this beer a bit. The sediment was terribly overwhelming.
1,060 characters

4.05
/5
rDev
+10.7%
look: 4 | smell: 4 | taste: 4 | feel: 4.5 | overall: 4
P-As a hispanic individual i liked the "Cinco de Drinko" slogan and will be using it on the 5th of march next year.
A-Got a nice finer and a half of head. A heavy, cloudy, thick dark orange color.
S-Tons of grapefruit and hops. Small amount of malts and also has a gum smell to it which is nice. Pineapple and sugar come through as well. Almost smells like a fresh bunch of flowers.
T-Nice, tons of bitterness and sweetness. Lemon squeeze and a small alcohol presense appear. Smooth and rough. A little stale at the front but strong on the back.
O-Really nice and heavy up front. Also rough but clean and smooth, a bit in the back. Easy drink with lots of flavor. Medium body as well. Does have a heavy draw. Finish lingers a bit and is a little dry. Good beer for a small local brewery.
793 characters
1.9
/5
rDev
-48.1%
look: 2 | smell: 2 | taste: 1.5 | feel: 3 | overall: 2
bottled: unk
A: hazy amber with a transient finger of peanut foam. Only a central cap and border are left. Spotty lace to speak of.
S: alcohol, malt, propane (?), a bit of resiny hop character. Not very lively for today's level of IIPA.
T: Some bitterness up front, but then mostly an english style malt profile with some hints of pineapple at the finish. Again, very mediocre for today's expectations. The alcohol is also very present.
M: Medium bodied on full with moderate on hi carb. Semi dry finish.
O: This tastes like a mediocre homebrew to be honest. It also appears to have bottle conditioned for quite some time before release (based on the 1/4" yeast cake"). Not impressed at all.
692 characters

5
/5
rDev
+36.6%
look: 5 | smell: 5 | taste: 5 | feel: 5 | overall: 5
This beer is freakin fantastic! Seriously the people who are reviewing this beer are crazy. I signed up to be a member of beer advocate just so I could give this beer its due credit. It is the most fantastically smooth, hoppy, delicious beer that I have tried in a long time. My girlfriend bought me a growler of it for christmas and I could have proposed to her right then and there! Like all of their beers it was unfiltered wich gave it a great, full mouthfeel. It was so smooth that I never wanted to put it down. It was just one gulp after another until it was gone. The hoppy flavor was over the top! Love it!
615 characters

3.5
/5
rDev
-4.4%
look: 3.5 | smell: 3.5 | taste: 3.5 | feel: 3.5 | overall: 3.5
On draught at the Dog and Pony, Cinco De Drinco is black with a small tan head that leaves scattered lace.
Smell is pungent, lots of hops, but very phenolic as well. A bit of a plastic, phenolic vibe.
Taste is okay, it's a little dirty, fermentation wise. A little green apple, and some caramel. All these Iron Hourse brews, they come off a little ruff, rustic, unpolished. The hops are fierce though, resin.
Mouthfeel is oily, chewy, medium bodied.
Drinkability is ok. If you like a more rustic DIPA in the PNW style, you're golden. Fans of elegance and nuance should pass. Not smooth, but in spite of the angular flavors and fermentation by-products, it's not hot really, just dirty.
691 characters
4.06
/5
rDev
+10.9%
look: 5 | smell: 4 | taste: 4 | feel: 4 | overall: 4
Appearance pours a mild hazy mid amber (havng a thick sediment haze at the end of the bottle) creating a healthy head that sticks around awhile leaving firm lace. Smell of sweet malt, grapefruit citrus, a little grainy, seems to have a good aroma balance. Taste is rich in malt, citrus orange, piney. Upfront the hops aren't what I would have expected, but the aftertaste sure coume out with it. Mouthfeel is medium with mild carbonation. A solid brew, a little rich making it a feel good cold weather brew.
507 characters
4
/5
rDev
+9.3%
look: 4 | smell: 4 | taste: 4 | feel: 4 | overall: 4
22oz bottle poured into a big mug
Pours cloudy with a nice thick head which seems to be leaving sheets of lacing. A lot of the cloudiness came due to a bunch of sediment that got disturbed when I poured the bottle. I don't know what it looked like before this disturbance. Smell is pleasantly hoppy, fresh and grassy, fair amount of citrus.
Taste has a sweet floral beginning and a deep bitter hoppy finish. Lots of grapefruit rind bitterness. Nice for the style.
Mouthfeel is thick and a little gritty. Overall, this is a pretty solid beer.
544 characters
Cinco De Drinco - The Beer Shoppe 5th Anniversary Ale from Iron Horse Brewery
Beer rating:
3.66
out of
5
with
12
ratings